When it comes to spotting exotic animals, an African safari often comes to mind. But you don't have to go so far, when there are so many amazing national parks for wildlife viewing. After all, America is far more affordable and easier to get to.
From snow capped mountain ranges to verdant rainforests, your next wildlife adventure awaits. No matter where you go in the country, you can have amazing wildlife holidays in the USA. But few places beat U.S. National Parks for wildlife viewing.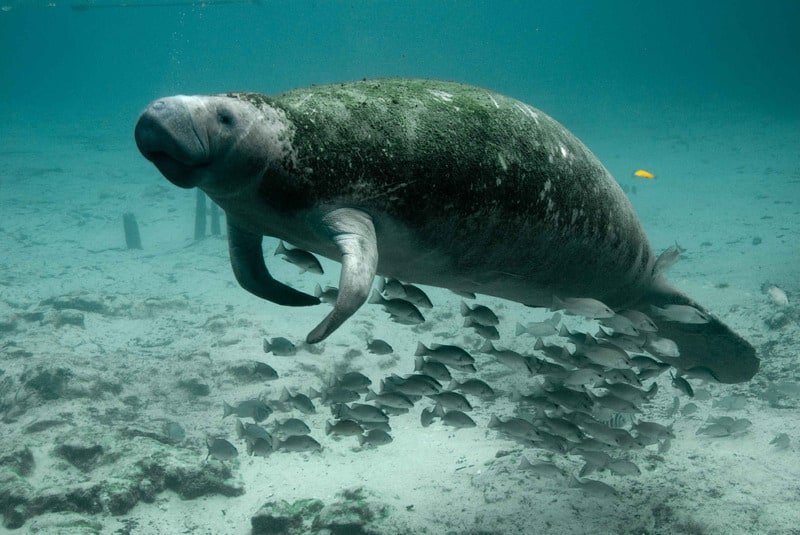 Here are ten of our favorites, in alphabetical order:
1. Denali National Park, Alaska
Be it the grizzlies of Lake Clarke Park or whales at Resurrection Bay, most people agree that the 49th state holds the most intriguing variety of animals in America. Even if you're just talking about birds, Alaska boasts of over 430 bird species and the largest population of bald eagles in the whole of the United States. Seriously, a wildlife safari in Alaska is as wonderful and wild as it can get.
Apart from an Alaskan cruise, the best way to see wildlife is to visit Denali National Park. Covering over six million acres (25,400 km2), you get everything from taiga to tundra, glaciers, forests and mountain ranges.
Denali is home to North America's highest peak as well. Once called Mount McKinley, Mount Denali has become the park's namesake icon. Hiking the hills around the mountain is one of the most unforgettable treks in the world and offers some of the most mind-boggling scenery on the planet.
ⓘ TIP: The best place to see polar bears is in the small town of Kaktovik on the Northern Coast. This isolated spot gives a rare opportunity to observe polar bears at close quarters when they come to rest and feed on leftovers. And as a bonus, the village has maintained its Inupiat Eskimo traditions.
Find places to stay in Denali National Park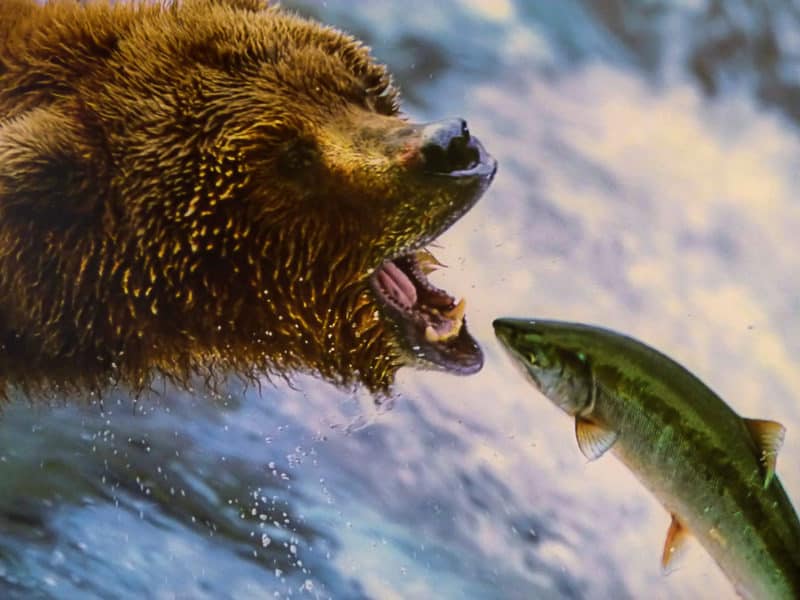 2. Everglades National Park, Florida
Home to the largest surviving tract of subtropical wilderness in the country, the Everglades National Park, near Miami, USA, is spread over an astonishing area of fifteen million acres of swampy land. The park can be traversed by boat, canoe, bicycle and extended hikes on many of the scenic walking routes.
The Everglades section of Tamiami Trail has a fifteen mile path for cycling and is the best way to explore the park at leisure. Some of the highly endangered species of animals often encountered here are the American alligator, manatee and the extremely elusive Florida panther.
The National Parks Service has are a number of night stay options inside the park. Campsites are spread over different areas like beaches and raised platforms.
Find places to stay near the Everglades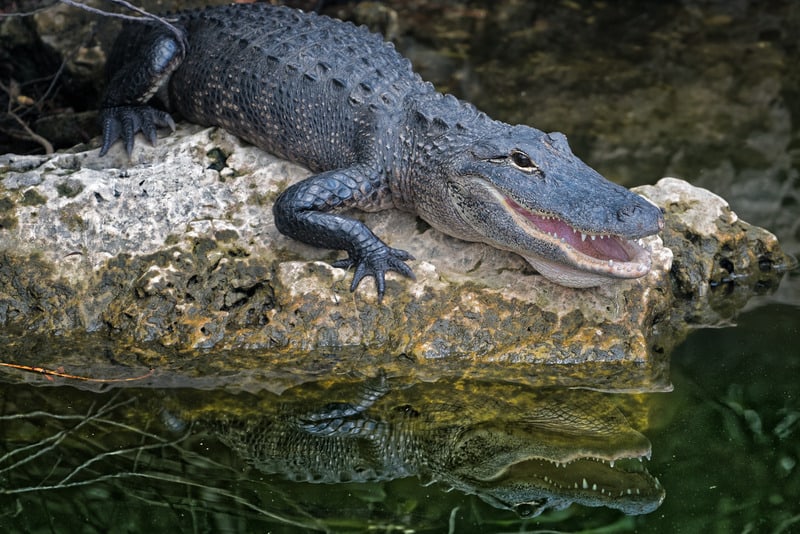 3. Glacier National Park, Montana
Not to be confused with Glacier Bay National Park in Alaska, Glacier National Park shares a border with Canada's Waterton Lakes National Park. Together, these two parks form one massive ecosystem that has been dubbed the world's first "International Peace Park."
If you've always wanted to see grizzly bears in the wild, here's your chance. With a larger area for wildlife to roam freely, it's home to the largest grizzly population in the lower 48.
Find places to stay at Glacier National Park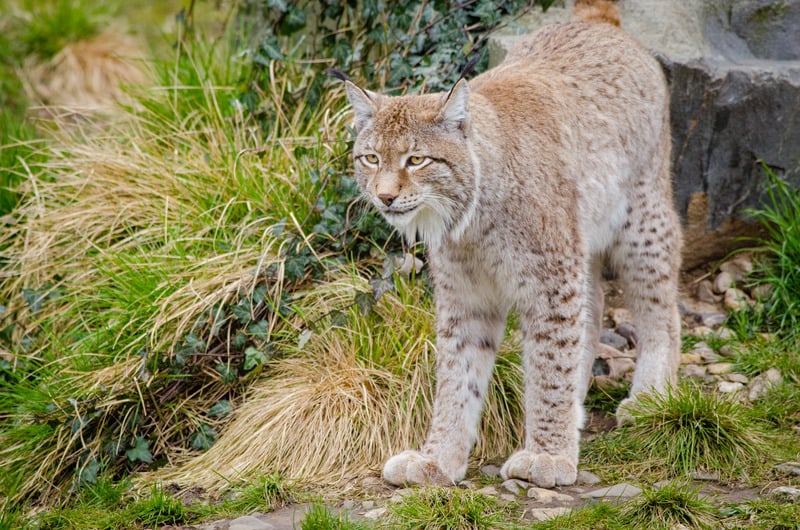 4. Grand Teton National Park, Wyoming
The beautiful and scenic Grand Teton National Park lies just south of Yellowstone. This 26-mile long park is known for its majestic mountain range, pristine lakes, and bountiful wildlife. It offers a wealth of picturesque spots for campers and hikers to enjoy.
ⓘ TIP: Click here to view the park's complete guide to wildlife viewing.
Find places to stay at Grand Teton National Park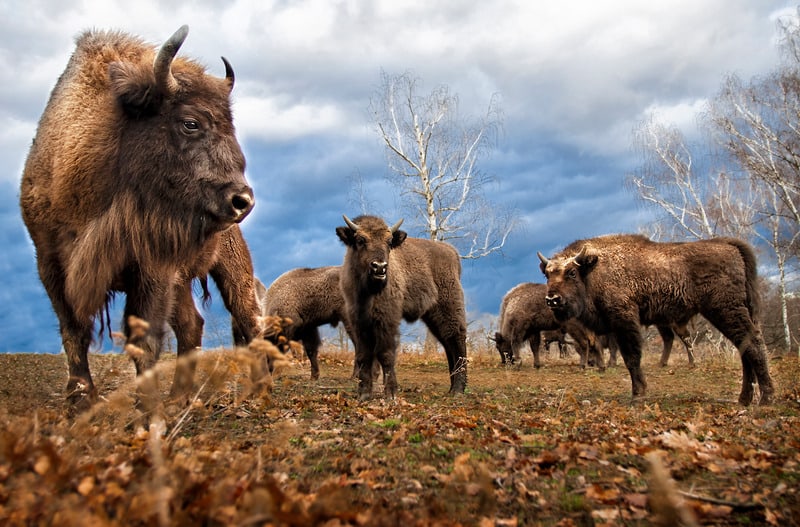 5. Great Smoky Mountains National Park, Tennessee/North Carolina
One of the most visited national parks of America, Great Smoky Mountains National Park is easily the best of all national parks on the East Coast.
This densely forested region is a favorite haunt of wildlife lovers. They flock here to spot some of the 65 different types of mammals found in the park, including the black bear. With a population of approximately 2000 animals, you stand a good chance of seeing one if you're there early or late in the day.
Lying on the border of Tennessee and North Carolina, both states have a special place for wildlife viewing. The one in Tennessee is at Cades Cove (near Gatlinburg), and is the easiest place to spot black bears. If you want to see elk, the best viewing spot is on the North Carolina side, at Cataloochee Valley (near Maggie Valley).
Find places to stay using the map below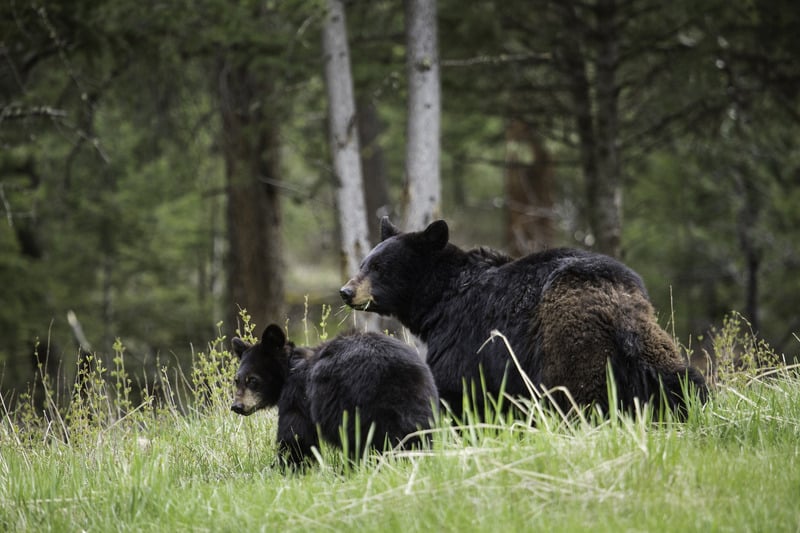 6. Olympic National Park, Washington
Tucked along the Pacific coastline in America's northwest corner, Olympic National Park has a varied range of landscapes. Its ecosystems range from temperate rainforests to snowcapped mountains, meadows, and sandy beaches.
Find places to stay using the map below
Naturally, that provides a home to a wide variety of animals. Sea otters, sea lions, and seals flourish along the coastline. You'll see deers and bears if you hike the mountains, but the Roosevelt elk prefer the meadows.
This park also has some remarkable animals on the smaller side of the spectrum. This is the only place on the planet where the Olympic torrent salamander, Olympic snow mole and Olympic marmot can be found. And there's also the banana slug, which can grow almost a foot (25 cm) long. That counts as wildlife, too.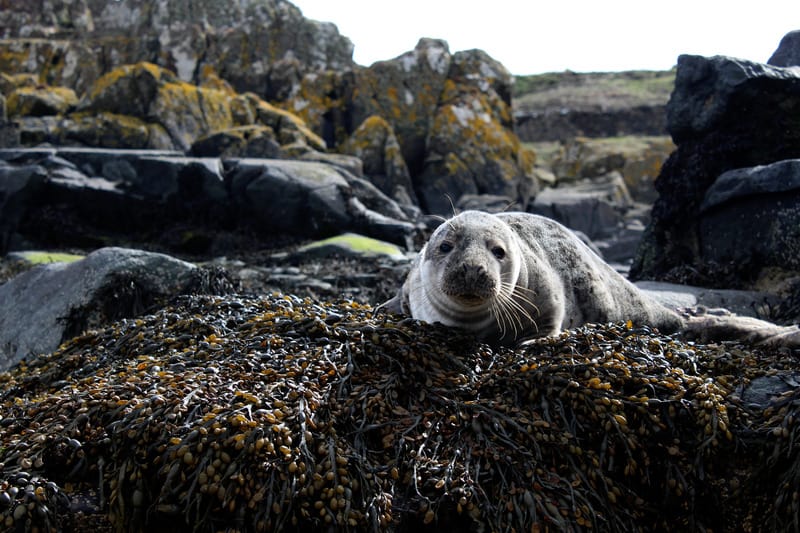 7. Redwood National Park, California
With over 300 km of prime hiking routes, Redwood National Park is best explored on foot. Located in northern California, the park gets its name from the large number of tall redwood trees which are endemic to the region.
Find places to stay using the map below
Each step will allow hikers to soak in the atmosphere of this vast reserve's meandering rivers, fragrant woods, flowering prairies and rocky coastline. There is plenty to see for the wildlife enthusiast as well. It's a haven for bird life, including the nearly-extinct Marbled Murrelet and the threatened Western Snowy Plover.
Roosevelt elk can be commonly seen in this area, but the star attraction by far are the killer whales. They migrate here in large numbers between the months of March and April. You can see them best on Golf Bluffs Beach and Crescent Beach Overlook.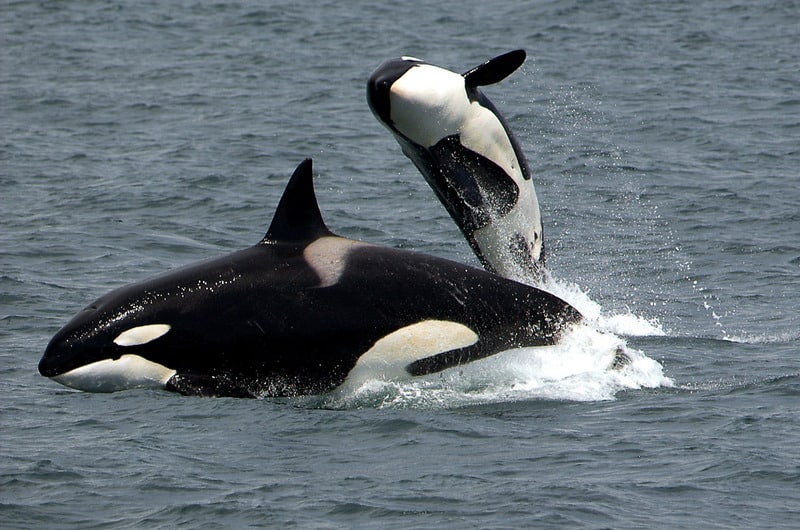 8. Theodore Roosevelt National Park, North Dakota
North Dakota's Theodore Roosevelt National Park is 260 miles north of Mount Rushmore. Named for our 26th president, this is where he spent his wilderness years and why it was established in 1978 in his honor.
Find places to stay using the map below
The park is comprised of three separate units, far apart enough that it takes an hour and a half to get from top to bottom. Of the three sections (the north, the south, and Elkhorn Ranch in between), the south unit has the most abundant wildlife.
Whoever composed the folk song "Home on the Range" may have had this park in mind. It is one of the few that feature American prairie habitats and wildlife. Bison graze on the range, prairie dogs pop out of holes in "towns" to watch for predators, and wild horses are protected, roaming free.
9. Yellowstone National Park, Wyoming/Montana/Idaho
If you only had time to visit one, Yellowstone is the best National Park to visit in America. As the oldest national park in America, it is easily the most-loved.
Find places to stay using the map below
Covering approximately 3,500 square miles (9000 square km), Yellowstone is one of America's UNESCO world heritage sites. It lies in the massive crater of an extinct volcano and has a wide variety of natural features, from steaming geysers to dramatic mountains and verdant forests.
Many consider it to be the greatest place to see the biggest North American animals, as the park is home to nearly 60 mammal species. If you ever want to go on a national parks wildlife safari, this is the place for you. Yellowstone offers some of the best wildlife viewing experiences in North America, and you can easily see many animals from the comfort of your car.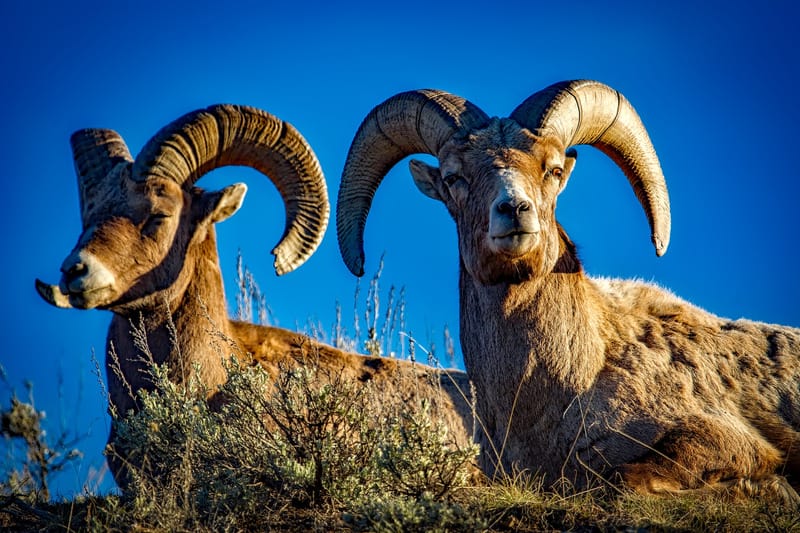 10. Yosemite National Park, California
If you're a photographer, it's likely you're already aware of the phenomenal black-and-white images of Yosemite that Ansel Adams captured in the early 1900s. Established in California in 1864, this 2000 square kilometer UNESCO World Heritage site of raw wilderness is known for its awe-inspiring beauty.
Visitors throng here for the scenery and to get up close to a mix of eclectic wildlife. A free shuttlebus can take you to the most notable spots. The park's iconic spots include El Capitan, Half Dome, and Ribbon Fall, the longest single-drop waterfall in North America.
Yosemite National Park is haven to some of the most endangered species of mammals in America. Your best chance of seeing them is away from the roadway, such as on one of the many paths or on a camping trip. Some take a mule ride or a horseback riding adventure. Others hire a bicycle to get around or just explore the park on foot.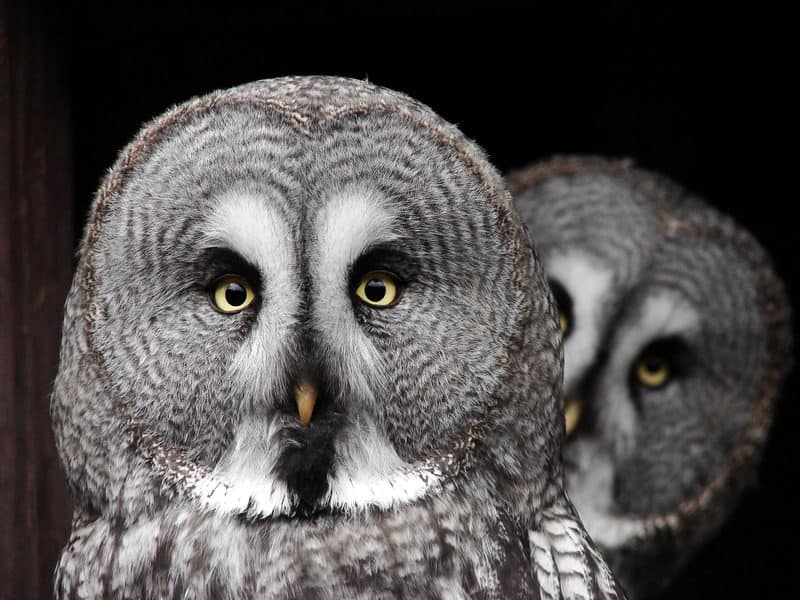 One thing's for sure: America has a lot to offer nature lovers. These handpicked destinations only scratch the surface of the national park wildlife that you can see. Despite any number of videos and pictures showcasing the wild denizens of this continent, nothing compares to witnessing them in reality.
With only the very best that nature has to offer, you need to make a beeline for an unforgettable holiday in the land of the free and home of the brave.