From its coastlines to its large lively cities, the United States of America is home to some of the world's top tourist destinations. Unfortunately tre are so many tantastic places to see in America that many people don't know how to choose from among them!
Rather than suggest you begin with the usual suspects — New York, Washington, Las Vegas, Hollywood, etc. — why not try a different approach? Plan your entire trip around UNESCO's list of world heritage sites in America.
Not all American UNESCO sites are the same.
Currently, there are 24 World Heritage Sites in America – 11 cultural, 12 twelve natural, and one mixed – and most of them are in the United States National Park system as well. They are all worthy destinations, but some are more interest-specific (earthworks, anyone?).
We've weeded through and selected 10 of the best American heritage sites to inspire your vacation planning. If you enjoy Americana, some are sites of great cultural and historical significance. For those of you who enjoy the outdoors, others preserve and protect rare animal, plant, and bird species. And for those others of you who enjoy road trips or have mobility issues, many on our list are accessible by car.
If this post was helpful, please share it with your friends. Are you on Pinterest? Remember to pin this image!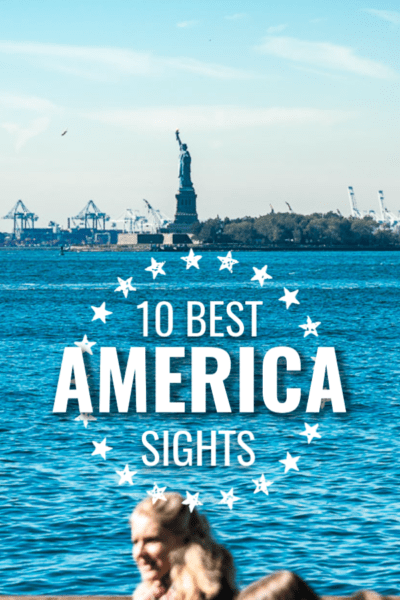 Best American UNESCO world heritage sites
Not knowing how else to organize them, we've put our list of American heritage sites into alphabetical order. Some of the photos are ours, and with the exception of Taos Pueblo (credit Wikimedia.org), the others are courtesy of the US National Parks.
ⓘ TIP: The National Parks Service has created a fun Passport to Your National Parks that you may enjoy, Read our article to find out more about this inexpensive souvenir.
1. Everglades National Park, Florida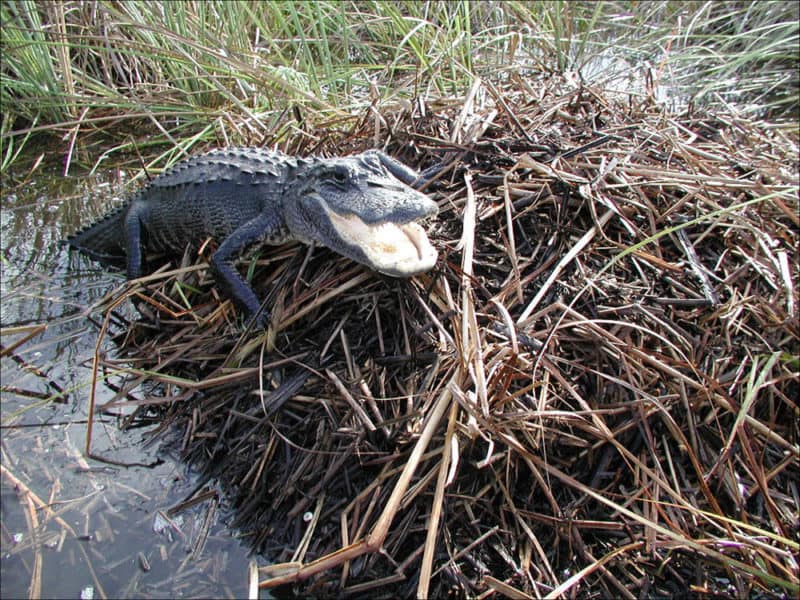 First on our list of world heritage sites in the United States is Everglades National Park,. the largest subtropical wilderness reserve in America. This amazing destination is a 1.5-million-acre ocean of grass which flows gradually from central Florida all the way south to the sea. This makes it an important habitat for numerous rare and endangered species like the manatee, American crocodile, and the elusive Florida panther.
There's a lot to do in the Everglades besides look at a bunch of 'gators, and since the park covers such a large part of south Florida, planning is a must. Begin a visitor center at one of the three visitor centers and ask a ranger for advice. They know about a wide variety of interests (kayak fishing advice, anyone?) and can guide you in the right direction.
Backwoods camping is available, too. Staff naturalists give talks and lead hikes, canoe trips, tram tours, and campfire programs. Also, visitors can enjoy an airboat tour of the "River of Grass" or a narrated boat tour into Florida Bay or along the mangrove coast. Or if you'd prefer, you can also rent a bicycle, kayak or canoe and go out to explore on your own.
ⓘ TIP: Plan for Florida weather. Mornings and afternoons are coolest. Florida regularly gets late afternoon rain showers in the summer time. Bring an umbrella, as well as mosquito repellent.
2. Grand Canyon National Park, Arizona
Grand Canyon National Park is home to one of the largest canyons in the world, 1 mile deep (1.6 km) deep, 277 river miles (446km) long, and up to 18 miles (29km) wide. Around 5.5 million people each year see the Grand Canyon each year, and we think it is one of the prettiest spots in America.
If you visit between mid-May and mid-October, you can see the Canyon from the North Rim. About 90% of all visitors see it from the "South Rim," because it is open all year and has easy-to-get-to overlooks. You can drive to the South Rim by car, or take one of the free park shuttle buses.
Plan to spend a while visiting the canyon, and be sure to visit the Visitor's Center for the best places to visit. You do yourself a particular disservice if you only stop long enough to snap a few photos.
The national park is full of Native American dwellings, garden sites, food storage areas, and artifacts. Modern tribes still consider Grand Canyon their homeland.
ⓘ TIP: If you can choose a time to visit, pick spring or fall, when the heat and crowds won't be as oppressive.
3. Great Smoky Mountains National Park, North Carolina/Tennessee
With over ten million visitors annually, Great Smoky Mountains National Park is the most popular National Park in the country. By some estimates, it gets more annual visitors than the Grand Canyon, Yosemite, and Yellowstone combined.
This part of the Appalachian Mountains is best known for its remarkable smoky-blue haze. Even before the White Man, the Cherokee considered the mountains to be a sacred place and referred to the area as "land of the blue smoke."
That "smoke" is actually the visible respiration that comes from 816 square miles (2,113 square km) of old-growth, virgin forest. The pristine forest is home to many endangered plant and animal species and claims the greatest variety of salamanders in the world as well as almost as many species of trees as in all of Europe.
We lived only a few miles from the park for years and often took advantage of its miles of roads and hiking trails. I mean, who wouldn't be enchanted by the park's many waterfalls and beautiful vistas? Bring your camera, because driving over Newfound Gap offers incredible panoramic views of ridge upon ridge of forested beauty. We often encountered animals like bear, whitetail deer, turkeys, and elk, particularly in the historic Cades Cove area.
Temperatures never rise above 80 degrees, so this is a perfect summertime destination, but the fall color is unmatched. There is no charge to enter the park,
ⓘ TIP: Be sure to visit Cades Cove while you're there. It's one of the most visited cultural sites in America, with well preserved homesteads, scenic mountain views, and easy-to-see wildlife.
4. Independence Hall, Philadelphia, Pennsylvania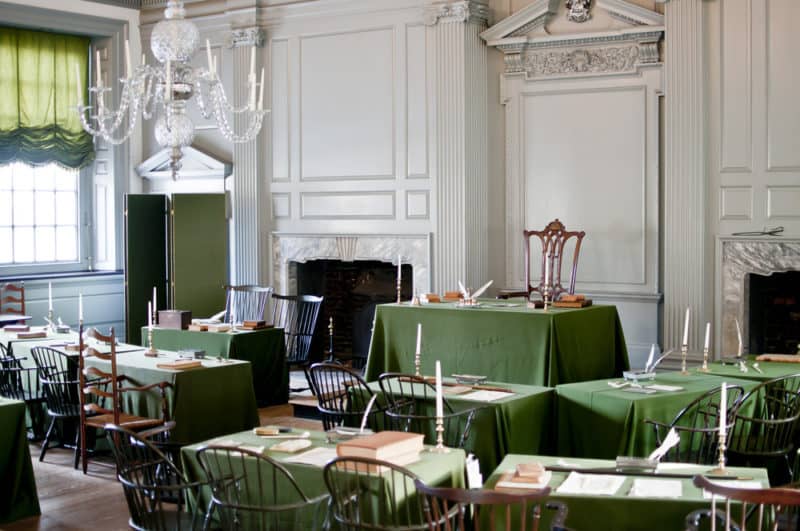 Independence Hall is the birthplace of the United States of America. This is where the Declaration of Independence and the U.S. Constitution were both signed. These two documents have had a great influence on leaders and lawmakers all over the world.
For ten years (1790-1800), Philadelphia was the capital of the country and the U.S. Congress met in Congress Hall. Presidents George Washington (second term) and John Adams both took the oath of office in this building.
The place has an amazing history that very few people know about. See the room is not only rich in history, but there are also tons of things to explore within the building. The distinguished brick establishment is where the constitution of the United States and declaration of independence were signed. The place also hosted the Liberty Bell that is currently situated in the liberty bell center. There are guided tours available that begin directly from the courtroom.
ⓘ TIP: From March through December, you will need a timed ticket for entry. No tickets are required in January and February.
5. Mammoth Cave National Park, Kentucky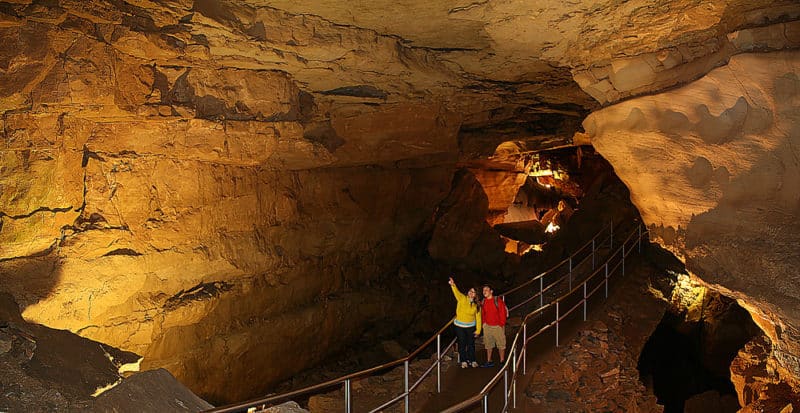 Mammoth is right – more than 400 miles of Mammoth Cave's underground caves and passageways have been mapped and they aren't finished yet. The cave has nearly every variety of cave formation, including stalagmites, stalactites, gypsum needles, giant rooms and mirabilite flowers.
The caves house 200 animals, most of them being invertebrate species. 42 of these species live in total darkness. These caves are incredible enough to be featured in Planet Earth-a must-see BBC documentary series.
Mammoth Cave National Park offers a variety of cave tours, including a Wild Cave Tour that goes into some of the cave system's more remote and extreme sections. If you'd prefer to stay on the surface, you can go hiking, canoeing, picnicking, horseback riding, bicycling, camping and more.
ⓘ TIP: The cave temperature remains at a constant 54 degrees, so bring a sweater.
6. Olympic National Park, Washington
Outdoor lovers could spend weeks hiking in Olympic National Park without getting enough of it. The park, located near Seattle, is an International Biosphere Reserve and a living laboratory for scientists.
Olympic National Park has a little bit of everything – rugged Pacific coastline, high mountain peaks, broad sandy beaches, crystal clear lakes, lush temperate rain forests. With such a wide variety of ecosystems, Olympic is one of the most diverse wilderness areas in the United States. The park is an essential habitat for species like wild salmon, northern spotted owls, and marbled murrelets.
Bring your umbrella and raincoat – here, the annual rainfall is measured in feet, not inches! (The park gets 12-14 feet per year!)
ⓘ TIP: Olympic National Park is very large and there are no roads that cross the park. See the NPS's Trip Ideas for recommendations based on your available time. If you visit in April or May, you may see gray whales pass by on their way to Alaska.
7. Statue of Liberty, New York
The Statue of Liberty is one of America's most familiar icons and included on almost every New York City travel itinerary. Created by Fredrick Bartholdi, the statue was a gift of friendship to the American people from France. Highly potent symbolic elements of the design include the United States Declaration of Independence, which the Statue holds in her left hand, as well as the broken shackles from which she steps.
You can see the Statue from many points in New York City, but to see her up close you will need to take a ferry to Liberty Island. If you're visiting New York in Winter, dress warmly for this!
You will need to get your tickets in advance to be allowed inside the Statue of Liberty.
ⓘ TIP: To avoid ticket lines and ridiculous crowds, take the first boat out if you're visiting on weekdays.
8. Taos Pueblo, New Mexico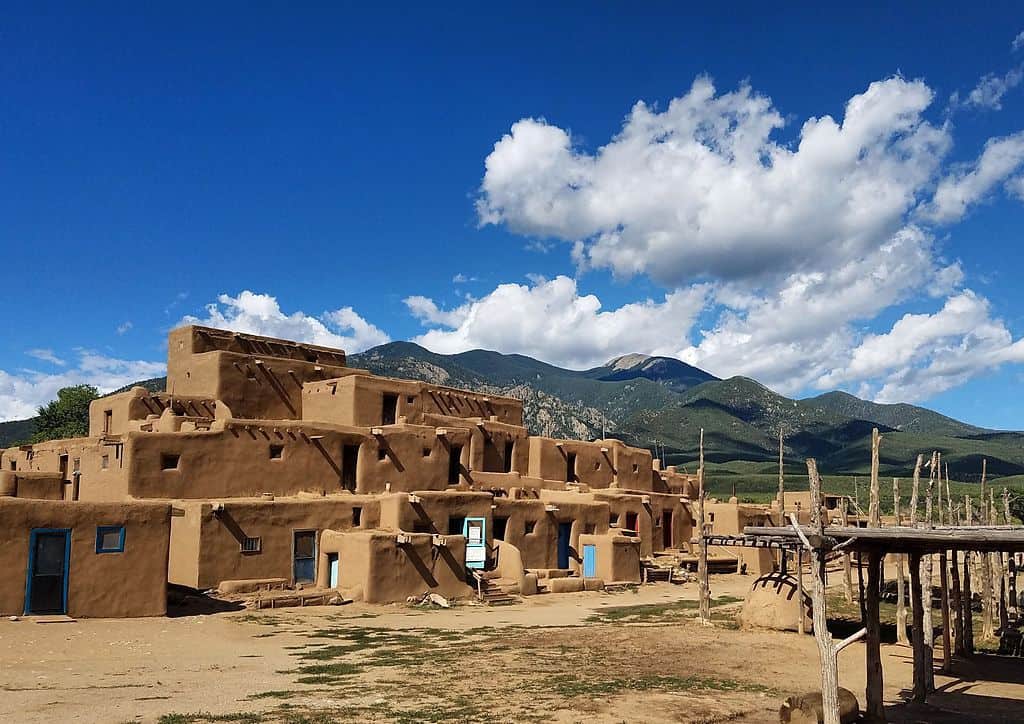 Taos Pueblo is a living cultural and archaeological site, located about an hour north of Santa Fe. It was once one of the major centers of trade between the Rio Grande pueblos and the Plains Indians. These days, Taos Pueblo attracts thousands of visitors every year.
The Native American settlement is made up of ceremonial buildings and dwellings, all built of characteristic adobe (a mixture of dirt, straw, and water) and wood. Its multi-storeyed buildings are believed to be as much as 1000 years old. They are entered through the roof, which makes them a secure refuge during enemy attacks: Just pull up the ladders and bar the doors.
We didn't buy any of the beautiful silver jewelry while we were there, but we did buy some fry bread from a Navajo woman. Try it with honey butter. Delicious.
ⓘ TIP: Check online before you go. The pueblo closes for some religious events – but not all. It also closes for 10 weeks from late winter to early spring. There is a fee for admission, and although the website says you can also pay a fee for photography, they refused to sell us tickets until we had put our cameras and cell phones in the car.
9. Yellowstone National Park, Wyoming/Idaho/Montana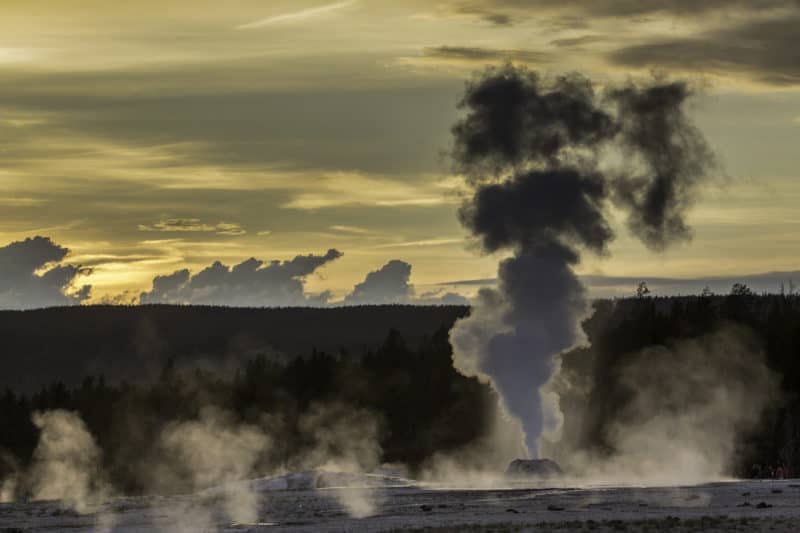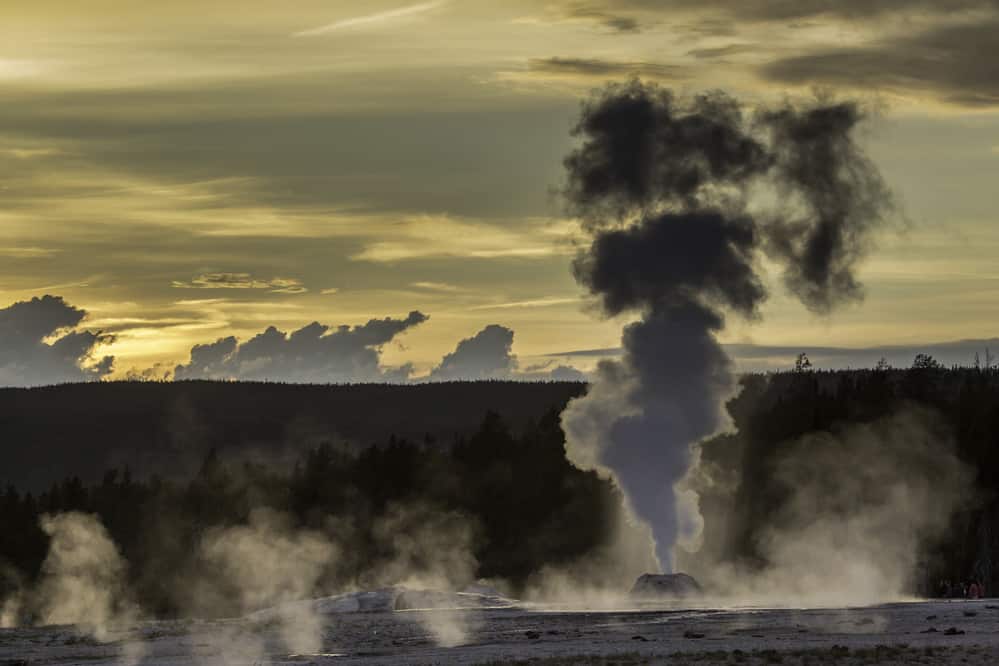 Covering three states, Yellowstone National Park is a favorite among visitors. Its best-known feature is Old Faithful Geyser, which spews its hot water 130 feet or more into the air every 60-110 minutes.
With so many mountains, forests, and lakes, few visitors realize that Yellowstone is actually the caldera of a supervolcano. It has more than 9000 geothermal features – including colorful hot springs, mudpots, and geysers – which is half the number found in the entire world. It also has more than 300 concentrated geysers.
If you enjoy the outdoors, you can drive, camp, bike and boat throughout the park. Yellowstone is one of the best places to see animals like moose, pronghorn, elk, bears, wolves, and bison.
ⓘ TIP: Spring is one of the best times to visit. Many animals calve in April and May. Plus, you can enjoy fewer crowds, wildflowers … and BABIES!
10. Yosemite National Park, California
Thanks to photographer Ansel Adams, Yosemite National Park may be the best-known American park in the world. His black-and-white photos captured its granite Half Dome and El Capitan, and countless waterfalls, rivers, meadows, canyons, and lakes.
Over three million people visit the park every year, mostly in the summertime. For the fewest crowds, visit Yosemite in winter and don't focus on Yosemite Valley only. That's where most of the attractions are, like Yosemite Falls, which is the highest waterfall in America.
All of Yosemite is a UNESCO site, though, and nearly 95 percent of it is designated wilderness. Thus, it stands to reason that the best way to experience the park is to explore. Yosemite is huge and there are so many things to do, from backpacking to horseback riding to stargazing to auto touring. Plus, over 750 miles (1,200 km) of hiking trails and 12 miles (19 km) of bicycle paths are available.
Yosemite is home to nearly 2,000 plant species, including the famous Giant Sequoia, the tallest tree in the world. As to fauna, if you get away from the crowds, don't be surprised to see beasts like American black bears, bobcats, and white-headed woodpeckers. The park has 250 species of reptiles, birds, fish and other animals. So get away from the tourists and explore.
ⓘ TIP: From spring through fall, arrive in the park before 9 am or after 5 pm to avoid delays and traffic congestion.
BONUS: La Fortaleza and San Juan National Historic Site, Puerto Rico
We're adding this site as a nod to cruise lovers. UNESCO includes San Juan among America's World Heritage Sites, and Puerto Rico is the jumping-off point for southern Caribbean cruises. So try to spend some time in port before or after your cruise.
Countries fought for control of this tiny yet strategic island for centuries, and that's why there are four forts in Old San Juan. During the 16th century, Spain used this island as a base as it plundered Mexico, and Central and South America of its gold, silver, and gems.
That's why Spain spent over 250 years fortifying this prized location with a total of four forts in Old San Juan: Castillo San Felipe del Morro (El Morro), Castillo San Cristobal, Fort San Juan de la Cruz and La Fortaleza.
ⓘ TIP: Three of the forts are in Old San Juan and are accessible by foot or free tram. If you can manage the heat, the best time to visit is May through October, when cruise ship passengers don't crowd the streets.
Advice for visiting United States world heritage sites
Here is some more information to help you plan your own trip.
UNITED STATES TRAVEL ESSENTIALS
✔ Guidebook: Take a look at Lonely Planet USA and Moon USA State by State on Amazon.
✔ Flights: We like Skyscanner. It lets you check prices for an entire month. And the Search Everywhere feature is fantastic!
✔ Accommodation: Tripdavisor is a massive price comparison site. Check Vrbo for apartments.
✔ Airport transfer: Book a shuttle between your hotel and the airport here.
✔ Getting around: Most Americans fly or drive. For bus, train, and flight options, click here. Check car rental prices here.
✔ Travel visas: You can apply for a visa here. If you're not a legal resident, apply for a U.S visa 90 days prior to your trip to ensure you'll get the visa on time. Check the State Department website for current immigration details.
✔ Travel insurance: Covers medical emergencies, cancellations, flight delays, baggage delays, lost luggage, and more. This one is good.
✔ Tickets & tours: Find endless fun ideas on GetYourGuide and Viator
✔ International SIM card: Drimsim provides roam-free internet access in 190 countries
✔ Currency: This website helps you calculate currency exchange values.