Are you dreaming of going to Europe in December to celebrate the holidays? Here's some good news: Travel in Europe is back!
After a 61% drop in European travel over the past year, European travel numbers are slowly creeping back up. Travelers are planning to spend December in Europe again, and we can't imagine a better idea. Europe has something for everyone, with dozens of histories, cultures, cuisines, and sceneries waiting to be explored.
If you're having a hard time figuring out where to go in Europe in December for the holidays, we have you covered. Read on for the best places to visit in Europe in winter for some trip planning inspiration!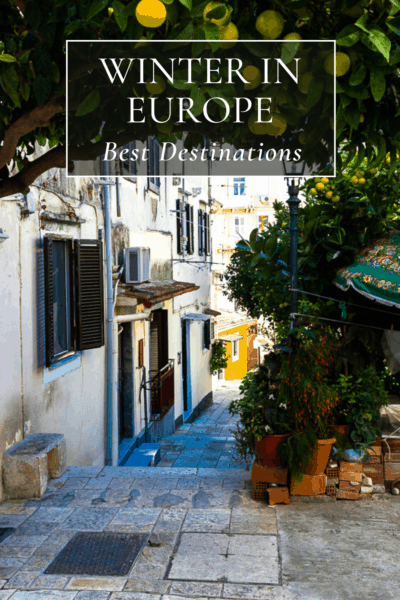 1. Budapest, Hungary
In our opinion, Budapest makes one of the best winter city breaks in Europe. One of the biggest reasons is that there are so many thermal baths on offer, such as the Széchenyi Baths. There are also plenty of places to stay, no matter your budget.
If you spend any time wandering the city, you'll quickly understand why the banks of the Danube river, the Castle Quarter, and the surrounding area is a UNESCO World Heritage site.
You can also take a boat along the river to view the city from another perspective; it's one of the best things to do in Budapest.
Take time to see Budapest in all its glory at the Fisherman's Bastion and Gellert Hill viewpoints. Check out the assorted Christmas markets and stop in Central Market Hall for some traditional food and souvenirs.
2. Barcelona, Spain
Do you have a limited Europe travel time frame but can't decide between a city or a beach destination? Consider Barcelona, a destination that should be on every European traveler's bucket list. The weather stays relatively mild all year round, making winter in Barcelona a favorite Christmastime destination. Plus, this northeastern corner of Spain has a unique mix of Catalonian and Spanish culture, which can be found nowhere else in the country.
Barcelona's architecture is also unique, thanks to Antoni Gaudi. Visit his Park Güell at sunrise to watch the colors of the city light up, and watch the light dance through the windows of Basilica de la Sagrada Familia later in the day. Also, be sure to visit the charming Gothic Quarter, or Barri Gòtic. Its narrow medieval streets are filled with trendy bars, clubs and Catalan restaurants.
Las Ramblas offers tapas and other delightful cuisines, but take a wander down one of the many winding streets for hidden gems. There are so many unique places to discover. And when you are ready to relax, head to La Barceloneta beach to catch some rays or take a day trip to the mountains for a hike.
3. The Greek islands
Greece has so much to offer, from Athens to its food. However, for relaxing travel in Europe during the holidays, consider one or more of Greece's islands. Most islands are very quiet in the winter, making them a good alternative to typical winter city getaways.
If visiting the Greek Islands sounds interesting, you can visit Serifos for quiet sandy beaches and nature, or take a trip to the beautiful Kefalonia. It has sandy coves to explore and is home to Melissani lake. There is also the colorful fishing village of Assos, with a castle to explore.
Alternatively, opt for a well-known base and take day trips. Crete and Santorini are popular Greek islands for this time of year, as many places remain open. They have excellent facilities, plenty to do even in winter, a complete range of accommodation options, and beautiful architecture on offer.
4. Slovenia
Slovenia is roughly half the size of Switzerland and smaller than America's state of New Jersey, but it packs a serious punch. You can spend days at scenic Lake Bled, exploring nearby hiking trails and castles.
However, if you have the time during your trip, add a few other stops to your itinerary. If you like hiking, take the time to visit Soca Valley and Triglav National Park. Enjoy views of the Julian Alps, lakes, and rivers.
You can also try parasailing, kayaking, skydiving, rafting, and other activities. There are also mines and caves such as Postojna Cave. You do not just have markets to enjoy during winter, but a live nativity scene at Postonjna cave!
Also, spend several days in the capital city. Winter in Ljubljana is less crowded, and the December Christmas market along the river is a joy to experience. You can also visit the castle, central market, and sample Slovenia's cuisine while you're there.
5. Vienna, Austria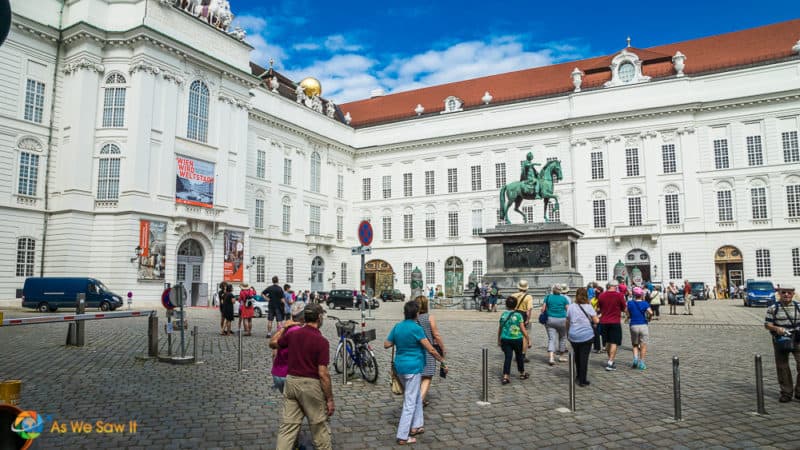 Austria's capital city is famous for its coffee culture, opera, architecture, Carnival, and music. It is a city that offers something for everyone.
Visit the Schönbrunn Palace, a UNESCO world heritage site that was built for the Habsburgs in the 1700s. Enjoy a fun family trip to Prater amusement park. And of course, spend an evening at the Vienna State Opera, famed as one of the best opera houses in the world.
Vienna is centrally located in Europe, making it an extremely convenient base for doing day trips to neighboring countries or other parts of Austria. We thought Hallstatt in wintertime was especially charming.
6. Berlin, Germany
Berlin is an eclectic mix of history, culture, music, and art. Visit the classic Berlin travel essentials of the Berlin wall, Brandenburg Gate, the Reichstag, and museum island. Also, enjoy the new sites, such as the long-awaited opening of the Humboldt Forum.
Berlin has some of the best museums in the world. Five of them are on Berlin's Museum Island, and each appeals to different interests. You'll want to spend a few days here, as it is the largest museum ensemble in the world and is listed as a UNESCO World Heritage Site. We especially recommend the Pergamon Museum for Greek and Roman art and the Babylonian Ishtar Gate, and the collection of classical antiquities at the Neues Museum, which has the world-famous bust of Nefertiti.
Transport around Berlin is easy, but it is a good idea to pick your hotel location wisely. Mitte is nearby many popular attractions in the city. Others opt for Kreuzberg, Charlottenburg, or Prenzlauer Berg.
Germany's rail system is efficient and well-planned, so Berlin is also a good base for exploring the region.
ⓘ TIP: If you plan to travel to Europe for several weeks, we recommend a wintertime visit to Munich. This Bavarian city will offer a complete contrast to Berlin, and also has dozens of attractions to visit.
If this post was helpful, please share it with your friends. Are you on Pinterest? Remember to pin this image!
7. London, United Kingdom
London is a great place to add to your Europe travel list, no matter the time of year. For history lovers, there are many walking tours to capture poignant moments in London's history. You can also visit iconic sites such as the Tower of London and Buckingham Palace.
There are also plenty of ways to see the city from above, including the London Eye, the Shard, the Emirates cable car, or the free Sky Garden (with booking).
The train connections also make it easy to reach the coast or other nearby attractions. Visit Windsor Castle, the seaside city of Brighton, or explore the Jurassic Coast. You can also take a trip to the Warner Brothers Studio if you're a fan of the Harry Potter film franchise.
London also offers a cultural melting pot of cuisine. Wander down Brick Lane to sample some famous Indian dishes or visit Bombay-inspired Dishoom. Another fun idea is to visit one of the many food courts, or combine food with the theatre in Covent Garden.
8. Croatia
Croatia boasts many places to add to your Europe travel list. The most picturesque spot is the walled old town of Dubrovnik, with views of the Adriatic sea. We think it's a great place to start exploring Croatia, as it is also home to one of the largest airports.
Croatia's capital city consistently wins awards for the best Christmas markets in Europe, which is why we have a guide to visiting Zagreb in winter. Enjoy the historical city with its many cozy private villas, cafes, and sights.
Also, visit the coastal city of Split for history, food, and relaxation. Diocletian's Palace is a sight to behold! Nature lovers should take a trip to the famous turquoise lagoon of Plitvice National Park, the oldest park in Croatia. Or if you're in Dubrovnik, you can take ferries to the Elaphiti islands of Koločep, Sipan, and Lopud. The Mediterranean forested hilly islands with picturesque small villages and beautiful beaches are worth a visit or two.
9. Ghent, Belgium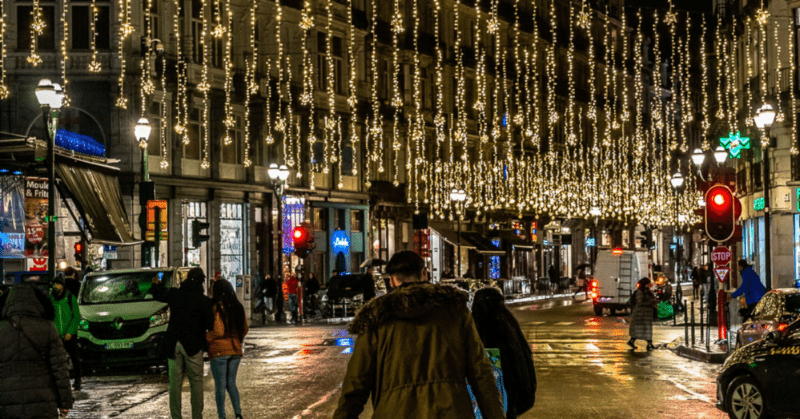 Ghent combines history with culture, art, and food. There are many museums and cultural venues to visit, such as a former city hospital. It is often called Belgium's canal city, and every three years, there's a festival of lights in the medieval city.
Try some of the interesting sweet treats, such as a neuzeke, which means 'little nose.' There is also an 'ironed mastel' to try, the bagel version of a cinnamon bun. Opt for their waterzooi chicken stew if you prefer savory dishes, or try their beef stew.
10. Swedish Lapland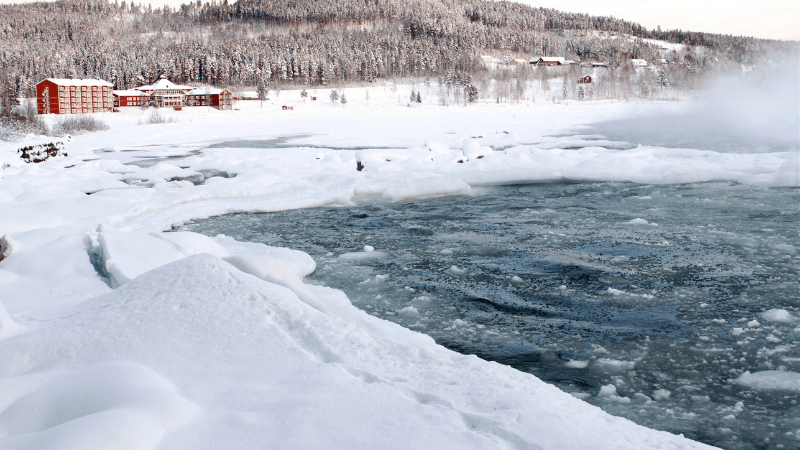 The further north you go in Europe in December, the longer the night will be. So your best opportunity to see the northern lights will be in Swedish Lapland. This European travel destination is all about nature, with adventures such as ice fishing, traditional dogsledding, cross-country skiing, and more. There's even a 6-day winter survival course for those who can't get enough of the snow!
Indoors, Swedish Lapland has cultural museums, cooking classes, and other activities on offer. Learn about the Sami people who have lived in the Arctic region for thousands of years. You can visit at any time of year of course, but the activities you can do will change dramatically.
11. Rome, Italy
As they often say, Rome is an open-air museum! It also has lots of Christmas markets, which is why we recommend visiting in December. The nice thing is that if you visit outside of the peak summer months, prices are lower and sights like the Colosseum and Pantheon are also relatively quiet.
Rome's incredible variety of museums will keep you warm and Vatican City is a favorite Christmastime attraction. And then there's all that incredible Italian food you can enjoy every day….
If you stay for a while, train connections make it easy to visit other areas of Italy. We recommend a few days exploring the warmer southern region and cities like Florence.
ⓘ TIP: The Vatican Museums may be busy in December. You can avoid freezing on the ticket line by buying your ticket ahead of time.
Best places to go in Europe in December
In our opinion, these are some of the best places to travel in Europe in December. As always, we tried to offer a mix of the known and the lesser-known destinations. All have the same rich mix of history, good food, and adventure.
Wherever you decide to visit as part of your Europe travel, we're sure you'll have a unique experience. This is why going to Europe for the holidays is never a bad idea. You will likely want to go back for more.
Check out all the destinations we have explored for more vacation inspiration!
ⓘ Need some more wintertime destination inspiration? If you're an American, we've covered the best New England winter getaways, things to do in NYC in winter, warm winter vacations in the USA, and the top day trips from Orlando and Miami. For winter in Europe, read about the best European Christmas markets, Christmas in Crete, and places to visit in Europe in December, We also have cold-weather guides to Vienna, Munich, Salzburg, Hallstatt, Zagreb, and Ljubliana, as well as a winter packing list. We're here to help you enjoy traveling in the winter!