India is a democratic country situated in the southern part of Asia. One word that completely defines this place is 'diverse'. From geographical variations to climatic conditions, from modernization to sustaining values, this country witnesses the mutual survival of more than 1.25 billion people communicating in over 720 dialects and practicing about 10 different religions.
Such a simultaneous existence is indeed victorious! This contrast is very well depicted through the lifestyle of Indians: the clothes they wear, the languages they speak, the festivals they celebrate, the different modes of entertainment and definitely through their food.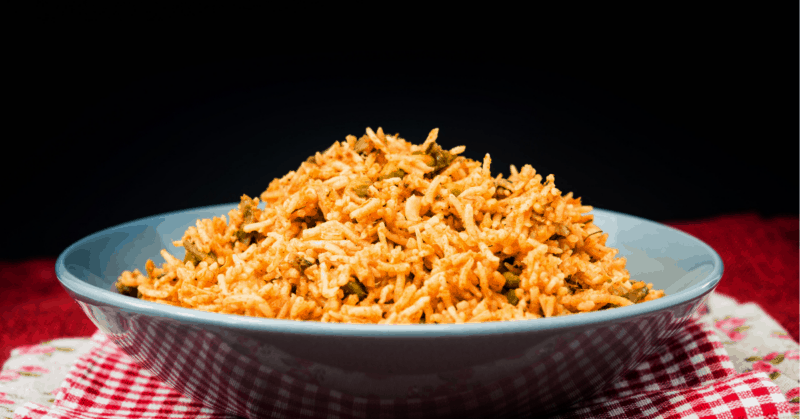 7 famous Indian dishes to try – tour the country with your mouth!
If you are lucky enough to visit many places in India, you will experience a variety of flavors and cultures.
Indian food is particularly famous for the spices and flavors used, its rich color, the distinct and pleasing aroma and its wonderful taste. Here is a shortlist of 7 famous Indian dishes you should try, which will showcase the diversity as captured by this land of 'many'.
ⓘ TIP: If you don't have an Indian restaurant nearby, you can often buy many of the best Indian dishes in the international foods section of your local grocery store. There are also several delicious Indian foods on Amazon.
1. Rogan josh
Let's begin with one of the most famous Indian dishes of all, right from the beautiful, serene valleys of Kashmir. This is the best-loved food from the region, so if you ever book a Kashmir tour package, you will definitely have a chance to enjoy it!
Like many other Indian foods, rogan josh is a lamb dish that was brought to India from Persia. The name is derived from Persian words, rogan meaning oil and josh meaning intense heat. Thus, this dish is cooked in oil at intense heat. The lamb is seasoned with savory spices including asafoetida (hing), cumin (zeera), cloves (laung), bay leaves (tej patta), fennel (sauf) and cardamom (elaichi). It tastes best with boiled rice.
Sounds yummy? Trust me, it is.
ⓘ TIP: If you enjoy rogan josh, consider booking a Leh Ladakh tour package. Staying a few extra days will give you a chance to try more dishes from this part of northern India.
2. Makki ki roti aur sarson ka saag
Well, you can't imagine India without this dish. It is eaten mostly during winters in the Punjab region of India and Pakistan. Makki ki roti is a bread made from corn flour and is baked on a tava (pan), whereas sarson ka saag is prepared by first boiling and then grinding mustard leaves and spinach. It forms an indispensible part of the rural Indian diet.
So now you know the secret behind the strength and hard work of the Indian farmers!
3. Tunday kebab
Sometimes called Tunde Ke Kabab, Tunday kebab is a popular mutton dish from Lucknow. This kebab is very soft and dissolves in one's mouth as soon as it enters. It is believed that over 150 spices including sandalwood, mint, and ginger and garlic paste are used to cook this particular kind of kebab. The richness of Nawabs (kings) of Lucknow is perfectly reflected in this delicious delicacy.
You want to taste it too? Book your tickets, mate!
4. Hilsa Fish Curry (Ilish Maccher Jhol)
Another must try Indian food is Hilsa Fish Curry, one of the prime fish curries eaten in Bengal. It is prepared for special occasions like feasts and festivals. The salted hilsa fish is sliced and fried with soybean oil and cooked with onion and garlic slices and ginger paste, turmeric and red chili powder. What is the best part? The hilsa fish can be preserved for over 2 years when layered with salt.
So maybe, if you don't feel like eating it right away, you can just save it for 'more' crucial times!
Save this list of Indian foods to try later – pin it!
5. Vada Pav
Here enters the very famous fast food dish from 'Aamchi Mumbai', or the state of Maharashtra. The fried potato filling is put inside a bun along with spicy garlic, ginger, tamarind and mint paste. It is served with dry red chili powder and green chilies.
Interestingly, this Indian dish surpasses the financial barriers of rich and poor as it is cherished by all!
6. Hyderabadi Biryani
Hyderadi Biryani is a mouth-watering rice dish from the 'pearl city' of India, Hyderabad. It is a combination of Mughali and Iranian cuisine.
The main ingredients consist of Basmati [rice], chicken, yogurt, spices, onion, lemon, coriander leaves and saffron. It is available with multiple variations, where chicken is replaced by other meat or even converted into a vegetarian biryani. The fanciest part is the large handi (vessel) covered with dough in which the biryani is prepared.
Take my advice; this heavenly biryani is a treat!
7. Dosa
What all south India gave us: Classical music and dance, crystal-clear beaches, a lot of humidity, Rajnikaant and masala dosa!
Dosa is basically a crepe made of a fermented rice and lentil batter. It comes with a variety of fillings, usuallly potato and onion, and can also be served plain. Dosas taste best with sambar, a vegetable stew made with tamarind, and coconut chutney.
It is one finger-licking dish, my friend, literally!
Bonus: Indian chaat
Not exactly a dish, chaat is a term describing savory snacks, which are typically found in stalls and food carts in India. India can't be imagined without its street food, with delicious bite-sized morsels like gol gappas, tikki, pav-bhaaji, raj kachori, dhai bhalla, samosa, etc. … the list is never ending.
Come to India and discover for yourself. You just can't miss it!
Is your mouth watering yet?
Here are some books and foods that will help you experience Indian food yourself.
Prepared foods you can try
Here's a low-cost way to try a variety of Indian dishes: buy ready-to-eat packaged meals. While they won't match the flavor and texture of freshly-prepared meals, they are a quick and easy way to enjoy the flavors of India. To help you know whether you will enjoy the spice level, you can read the reviews before ordering.
Indian spices
Why not make it for family and friends?
Books on Amazon
Cookbooks are fun! They also let you customize dishes to your own taste.
Want to read this later? Save it to Pinterest!
Save this pin to one of your Pinterest boards for future reference. Follow us on Pinterest for even more travel ideas.