The island of Sri Lanka is becoming one of the most popular places to visit when traveling around Asia. This probably has something to do with the country's endless beaches, scenic mountain views and vast array of incredible wildlife.
There are amazing things to see and do all over this magnificent island, so when you visit you want to make sure you hit all of the best places. Read our guide to discover all the awesome places to visit in Sri Lanka and ensure you don't miss out on any of the top things to see and do.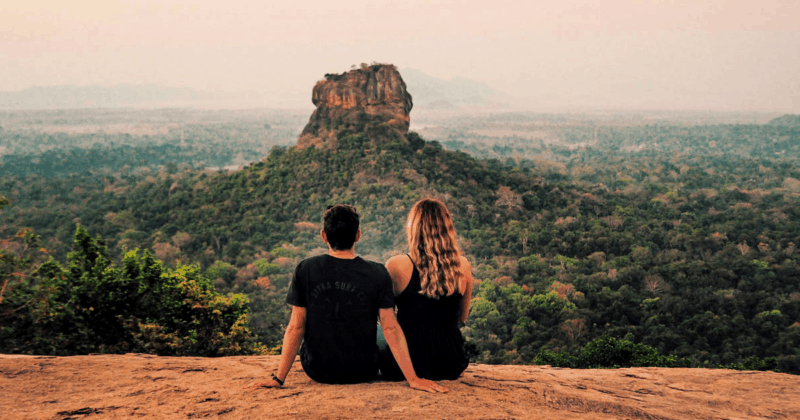 Why visit Sri Lanka?
Although Sri Lanka is not a particularly large country, travelling between different towns and attractions can take much longer than you would expect. Keep this in mind when you are planning your trip here as you may not be able to squeeze everything in if you are here for a short time.
That being said, even on a short trip you can still take in lots of the amazing sights that Sri Lanka has to offer.
Is Sri Lanka expensive?
Sri Lanka is one of the most amazing countries that we have ever visited. The beautiful scenery, friendly locals, unique culture and delicious food all combine to make this a pretty special island.
On top of all the amazing things there is to do here, you won't believe how far your money will go here. Food and lodging are incredibly cheap! Sri Lanka is also one of the cheapest countries to backpack through.
1. Palm Tree Rope Swing
This is the most famous rope swing in Sri Lanka and quite possibly the world. The palm tree rope swing is located right by the ocean at Dalawella Beach. It has become one of the most popular tourist spots on the south coast and for good reason. The rope swing is set up perfectly for you to get that magical sunset photo as you swing out over the water.
Head to the front of Dream Cabana at Dalawella Beach to find this awesome place. As it is part of Dream Cabana Resort, there is a fee of 500LKR ($2.83 USD) to use the rope swing, but that doesn't seem like much to enjoy such an epic experience.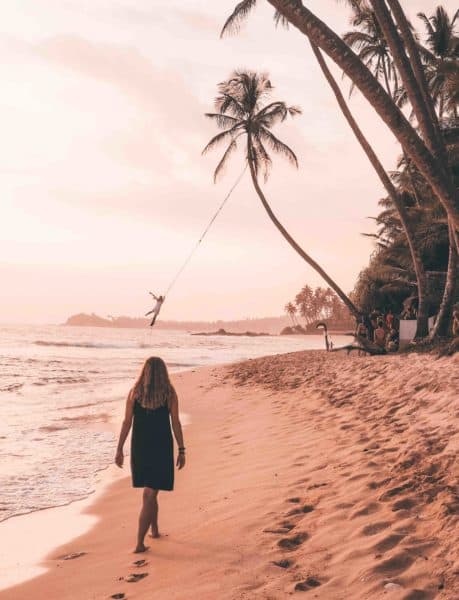 2. Wijaya Rock
Just a few hundred metres down the beach from the rope swing is Wijaya Rock. This large chunk of rock protrudes out of the beach and into the ocean giving an awesome view of the turtles from above. A horizontal palm tree also hangs over the rock, making it an even more beautiful location. This is another great spot to take in the sunset as the sky behind lights up.
Both of these places are just a short tuk-tuk ride from Unawatuna and are very easily accessible.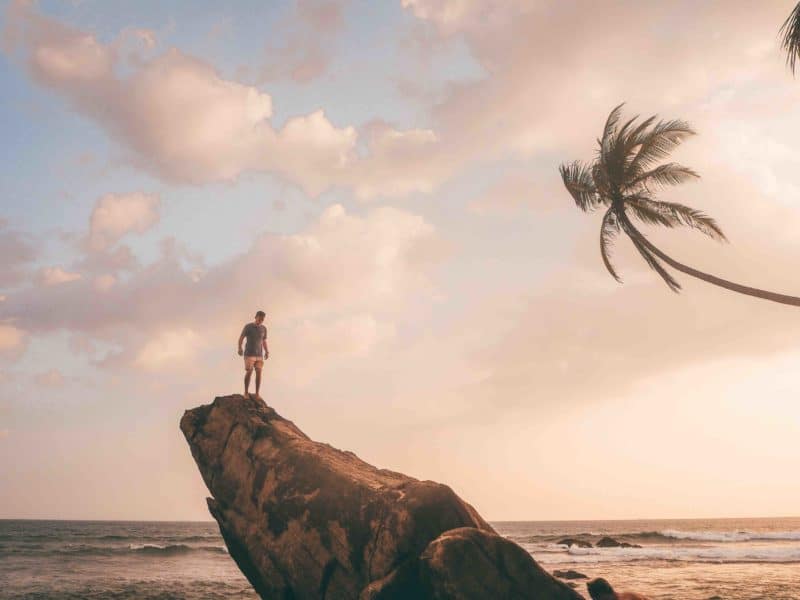 3. Sigiriya
Sigiriya Rock is a UNESCO world heritage site and one of the most famous landmarks in Sri Lanka. This 200-metre high rock juts out of the ground and dominates the landscape.
Our trip to Sigiriya Rock was different than expected, as actually we didn't end up climbing Sigiriya Rock. We had heard that a much better way to see Sigiriya was to hike Pidurangala Rock, which is just over a kilometre away. We hiked up in the dark to catch sunrise and watched as Sigiriya was bathed in golden light. It was such an epic morning.
Whether or not you choose to climb Sigiriya itself or nearby Pidurangala Rock, this could be tops among all the must see places in Sri Lanka. The sunrise views across the valley are absolutely magical, a just reward for waking up at the crack of dawn for an early morning hike.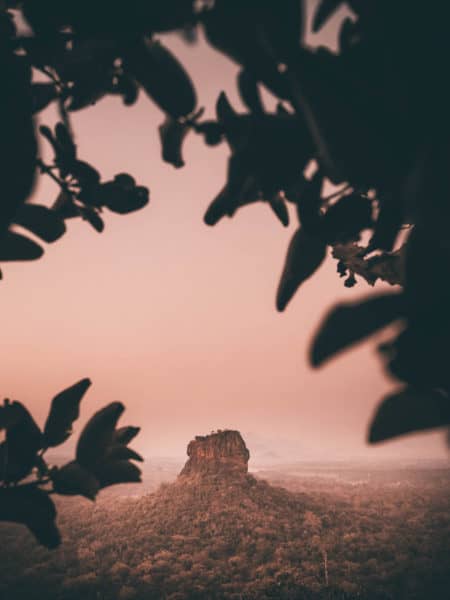 4. Hiriketiya Beach
Hiriketiya Beach, or Hiri as it is known locally is an epic little bay on the south coast of Sri Lanka. It's a really fun place to hang out and catch some waves. The reason we thought it was one of the most beautiful locations in Sri Lanka is because it looks so good from the air. While you can definitely appreciate Hiri from ground level, its funky mushroom-shape blew our minds when we saw it from above.
Hiri is an extremely popular place for tourists to surf. You can rent surfboards from the beach for 500LKR ($2.83 USD) per hour. The waves in the middle of the beach are quite mellow making it a great place for beginners to learn how to surf. If you are an experienced surfer, there is a right hand point break that is much more advanced.
If you don't fancy going surfing, grab a drink at one of the beach bars and watch all the action from shore. Hiri has a chilled out vibe that made it a wicked place to hang out at for a few days.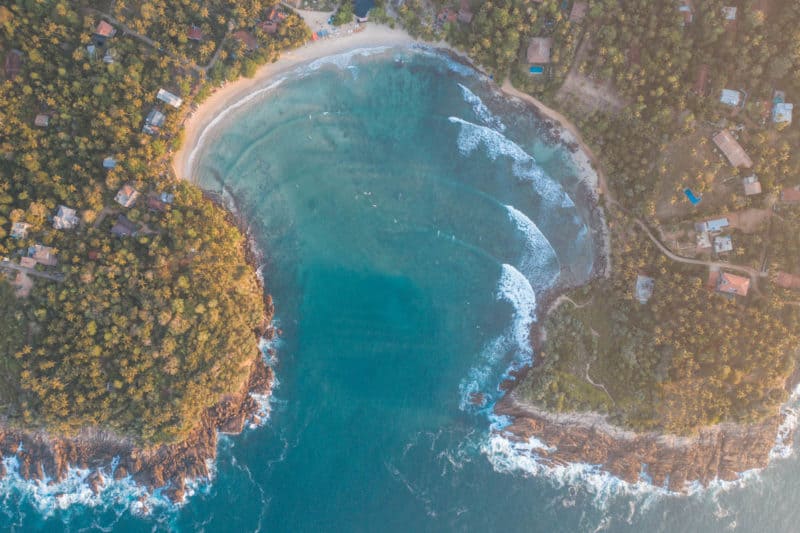 5. Yala National Park
Sri Lanka is famous for its wild animals and a great place to experience this wildlife in all its natural glory is in Yala National Park. You can find Yala in the southeast corner of Sri Lanka bordering the ocean. It is so popular as it is home to a large number of leopards and offers tourists a good chance of catching a glimpse of these big spotted cats.
Unfortunately for us, we didn't get to see any leopards but that didn't dampen our spirits as we saw several elephants, crocodiles, water buffalo and so much more.
A full day on a jeep safari here should cost around 6500LKR ($36.83 USD) and leaves from the nearby town of Tissamaharama. For such a reasonable price, you'd be mad to not go on at least one safari while you are in Sri Lanka.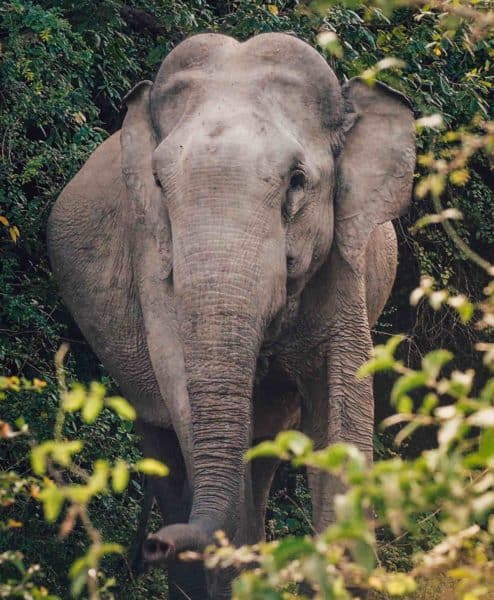 6. Arugam Bay
A lot of people skip Arugam Bay as it is more isolated on the east coast and takes a few hours to get to. Don't make the same mistake. Arugam Bay is so cool and we found that it was an even better place to spot wild elephants than Yala National Park. You can rent a scooter and do a sort of DIY safari from Arugam Bay that will probably end up being the highlight of your trip.
If you drive down towards Kumana National Park in the late afternoon, then you are likely to come across loads of wild elephants. We managed to spot 11 elephants the day we went and this is a very common occurrence.
Arugam Bay is also one of the best places to surf. If surfing is your thing you will definitely want to make a trip out to the east coast of Sri Lanka.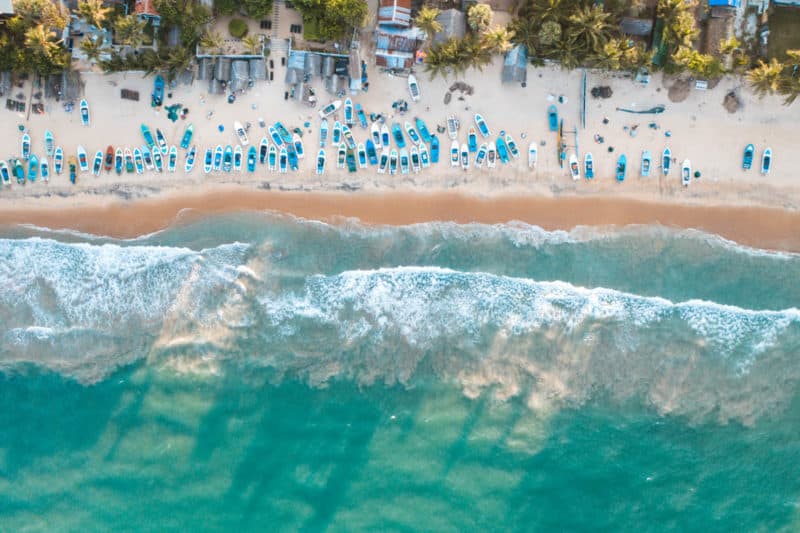 7. Diyaluma Falls
Diyaluma Falls is the second highest waterfall in Sri Lanka at 220 metres high. The view from the bottom is very impressive but the real appeal to visit here is found at the top of the falls. You will find several natural infinity pools right at the top of Diyaluma Falls which you are able to swim in.
Once you drive to the top of the falls it is about a 30-minute walk to the infinity pools, giving you the opportunity to appreciate the chance to cool down. There are local guides here who will take you to the infinity pools for a small fee.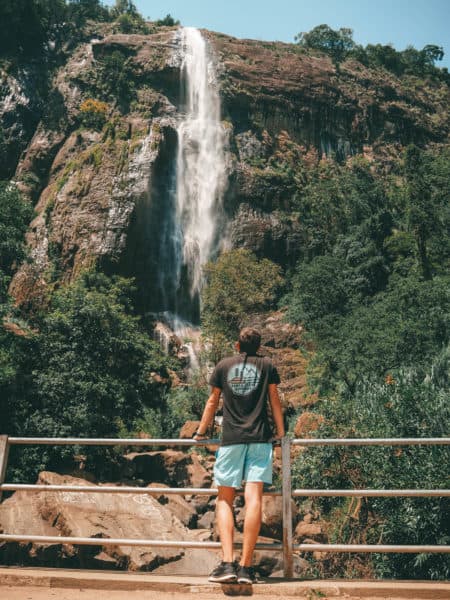 8. Nine Arches Bridge
If you have done any research on Sri Lanka this is one of those places that you have probably seen loads of photos of and have pretty high expectations for. The good news is that you will not be disappointed when you visit here.
Watching the famous blue train cross over this stunning bridge, nestled in amongst the hills and the tea fields was one of the top things we did in Sri Lanka. A short trek from Ella will lead you to this magical spot that feels a million miles away from civilisation. It's one of those places that is so good that one visit probably won't be enough.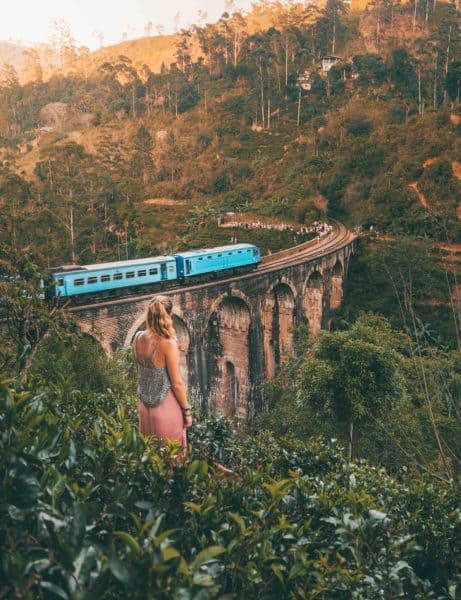 9. The Ella to Kandy Train
Tied with the DIY scooter safari in Arugam Bay, this was the best experience we had in Sri Lanka. This scenic train journey offers 7 hours of spectacular mountain views as you wind through the country's interior.
Sit in the open doorways and watch the world pass by to get the full experience. This train journey is something you will remember forever. Being able to hang out the side of this train makes it a truly unique experience and one that should be on your backpacking bucket list.

10. Coconut Tree Hill
Coconut Tree Hill is located in our favourite town on the south coast of Sri Lanka, Mirissa. At the eastern end of Mirissa Beach you will find this unique spot. We absolutely loved this place but couldn't believe how many people were there for sunset.
The next morning, we headed back for sunrise to catch some good light and ended up sharing it with only a few people. If you are willing to wake up early, you will be well rewarded. From the hill you can watch the surfers and keep an eye out for turtles popping their heads up.
It's such an unusual place as the palm trees rise up from the red dirt and it was one of the main factors as to why we loved Mirissa so much. Definitely a place you must visit.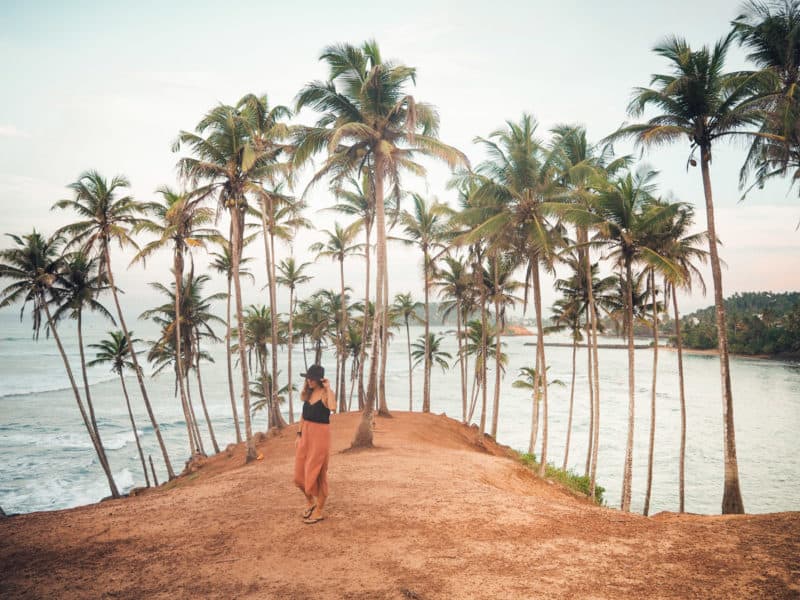 If you travel to Sri Lanka, make sure that you visit as many of these amazing places as possible. You won't be disappointed!
Read more
Online
On Amazon
These Amazon books will enhance your Sri Lanka holiday:
If this post was helpful, please share it with your friends. Are you on Pinterest? Remember to pin this image!