Are you looking for some things to do around Orlando that don't involve theme parks? We have good news for you: Many of Florida's best attractions make perfect day trips from Orlando.
Whether you want to relax on a beach, watch Florida wildlife, do an Everglades airboat safari, be blown away by a rocket launch into space, or swim with manatees, you can do it all on day trips from central Florida.
And bonus—they won't cost nearly as much as tickets to Walt Disney World!
We lived in Florida for years and know Florida well. It's a big state, and it can take a ridiculous amount of time to get from place to place by car. If your bucket list of Florida attractions is all over the state, it's best to split it up. You can do all of South Florida on day trips from Miami, and then use a few Orlando day trips to check out the northern half of the state.
In this article, we're focusing on the best day trips from Orlando, Florida. They're all sorted according to travel distance from downtown Orlando.
Planning your Florida trip
Before we do that, though, here's a list of resources that will help you organize your trip planning.
Whatever your travel style, we want to make it easy for you to navigate Florida and enjoy the state's attractions and activities hassle-free.
FLORIDA TRAVEL ESSENTIALS
✔ Guidebook: This Florida travel guide is a best-seller on Amazon.
✔ Flights: Florida is served by 3 airports: Miami (MIA), Orlando (LAG), and Newark (EWR). Compare prices before you book.
✔ Accommodation: Booking has amazing deals. Check Vrbo for apartments.
✔ Airport transfer: Pre-book transportation to your hotel from the airport
✔ Getting around: The best way to get around Florida is by renting a car.
✔ Travel visas: Do you need a visa to visit the U.S.? Check here.
✔ Travel insurance: You need coverage for medical emergencies, cancellations, flight delays, baggage delays, lost luggage, etc. Check prices here.
✔ Tickets & tours: Find dozens of fun ideas on GetYourGuide and Viator
Save this list of Orlando day trips for later
When it comes to travel planning, Pinterest is your friend. Pin this image to your favorite board to bookmark it for later.
Best day trips from Orlando Florida
This article includes some of the best day tours from Orlando, Florida. Most of them are less than a 2- to 3-hour drive from Orlando and we've ordered the list with the closest-to-Orlando options first.
ⓘ BUDGET TIP: If you want to visit several sites during your stay in Orlando, buy the Go Orlando City Pass. You'll get discounts on many Florida day trips, tours and Orlando attractions, including some on this list.
1. Wekiwa Springs State Park
Drive time: Approx. 35 minutes
Just a few minutes from Orlando, Wekiwa Springs State Park is a conveniently located attraction for nature-lovers. The park has a large river which is fed by natural springs and various trails that visitors can use to see local wildlife and explore the area.
This is the perfect Orlando day trip if you like off-road bicycle trails, birding, camping, horse trails and horseback riding, fishing, geo-seeking and geo-caching, hiking, and paddling on canoes and kayaks. Guided kayak tours are also available.
It's also a great area for snorkelling because the spring water is so clear. The underwater visibility is fantastic.
2. Mount Dora
Drive time: Approx. 40 minutes
The city of Mount Dora in Florida's Lake County oozes with southern charm and is known as the 'Festival City'. It's also popular with antique collectors and enthusiasts as it has several antique shops in the downtown area.
Some of the popular things to do in Mount Dora include adventure tours across Lake Dora and along the Dora Canal, which can be done in a 2-person powered CatBoat. Guided Segway tours also offer an interesting way to get around the small town, and if you're up for a spooky adventure you can join a Mount Dora Ghost Tour.
3. Blue Spring State Park
Drive time: Approx. 45 minutes
From mid-November until March each year, hundreds of manatees gather around Blue Spring State Park.
The warm spring waters are crystal clear, which makes kayaking in the park an unforgettable experience. You can paddle round the biggest spring on St Johns River and get up close to manatees—and a lot of other Florida wildlife too, like bald eagles and osprey, river otters, turtles, maybe even a 'gator or two.
While the manatees are the park's main attraction, you can also enjoy a wide range of other experiences. They have a playground for children, an interpretive exhibit, a nature trail, and you can visit Thursby House which once hosted steamboat passengers who travelled along the river.
There's also birding, boat tours, fishing, hiking, paddling, picnicking, scuba diving, snorkeling, swimming and tubing. Trust us, you won't be bored!
4. Wild Florida & the Florida Everglades
Drive time: Approx. 50 minutes
Wild Florida is one of the most family-friendly day trips from Orlando. This adventure park offers airboat tours into the Florida Everglades, up close encounters with alligators, and even a drive-thru safari.
Exploring the Everglades National Park's headwaters and its swamps, rivers and marshes on Wild Florida airboats is an unforgettable experience.
The Gator Park boasts over 200 different species of animals and the safari drive-thru is a great way to see some native and exotic animals like bison, zebra, oryx and giraffes.
5. Ocala National Forest
Drive time: Approx. 55 minutes
Spanning 607 square miles, the Ocala National Forest is the second largest protected forest area in Florida, the southernmost protected forest in America and the oldest national forest east of the Mississippi River.
Nature-lovers will enjoy exploring this large forest with its hundreds of lakes and ponds, streams and two rivers. You can take part in many different outdoor recreational activities here, like dune buggy rides, boating, canoeing, skiing, and nature walks.
Popular canoe expeditions travel along the crystal clear waters of Alexander Spring Creek, Juniper Creek, Salt Springs and Silver Glen Springs.
The forest is also known for its great backpacking and hiking with a variety of different trails. Some of the best known trails here include the Bear Swamp Trail, Juniper Springs Nature Trail and the Yearling Trail.
Drive time: approx. 1 hour
Only about an hour's drive from Walt Disney World, Canaveral National Seashore has an expansive 25 mile long stretch of pristine beach, dunes and a large lagoon. This natural area is an undeveloped barrier island along Florida's east coast, and is home to hundreds of plant and animal species.
You can enjoy walking along coastal nature trails, fishing, boating, canoeing, swimming, surfing in the Atlantic Ocean, and learning about the history of Cape Canaveral.
You may be lucky enough to see some of the area's endangered wildlife here, such as loggerhead turtles, leatherback sea turtles, West Indian Manatee, Southern bald eagle, and the Florida scrub jay.
ⓘ TIP: The John F. Kennedy Space Center—where visitors go to watch rocket launches and visit the visitor complex―is located along the southern part of the Canaveral National Seashore barrier island. That means that sometimes the area will be closed to visitors when launches and other space activities are taking place.
7. Cocoa Beach
Drive time: Approx. 1 hour
This family-friendly East Coast beach town is the best known along Florida's Space Coast. Cocoa Beach is a combination of a tech hub and a surfing town, which makes it popular for both business trips and leisure travel.
The fantastic waves at Cocoa Beach make it a surfer's paradise. You can rent a board and take surfing lessons, spend a beach day on the sand, or simply go shopping at the legendary Ron Jon Surf Shop, the largest surf shop in the world. There's also an abundance of exciting adventure activities suitable for both families and couples on a romantic holiday. This includes a range of options, from golf and fishing to relaxing at a spa, parasailing, exploring the Westgate Cocoa Beach Pier, or simply chilling on the beach.
Because it's the closest beach to Orlando, day trips here are super popular. Plus, it's also within easy reach of museums and historic sites, as well as the highly popular Kennedy Space Center. Cocoa Beach also offers a vibrant nightlife with live music venues, beach cafes and bars, and many restaurants.
8. Daytona Beach
Drive time: Approx. 1 hour
Daytona Beach is a city that lies northeast of Orlando. It is well known internationally for motorsports as well as for offering a range of family-friendly entertainment options.
Daytona is often called the 'World Center of Racing' as it's home to the famous Daytona International Speedway and hosts various motor events each year. These events include the Speedweeks in early February which attracts hundreds of thousands of NASCAR fans for the opening of the Daytona 500.
Even when there's no race on, visitors flock to Daytona Beach to enjoy a beach day, swimming, surfing, and relaxing on its superb packed sand. Other activities include sailing and eco boat tours, the Daytona Beach boardwalk, and visiting the Daytona Beach Pier and the Motorsports Hall of Fame of America. The Daytona Lagoon water park is also popular with families as it has a range of thrill rides.
ⓘ BUDGET TIP: The Go Orlando City Pass includes free admission to Daytona International Speedway, a 60-minute tour of the grounds, and admission to the Motorsports Hall of Fame of America.
9. New Smyrna Beach
Drive time: Approx. 1 hour
New Smyrna Beach is known as one of the best surf towns in the world. This chilled out beach town is located along the Central Atlantic Coast of Florida and is known for its distinctive coastal architecture, art galleries and its pet-friendly parks.
It's a wonderful place to relax on the beach, enjoy a wildlife eco-tour, go surfing, or go fishing … but we should mention that it's also quite famous among motor racing enthaustsis for the New Smyrna Speedway.
10. Kennedy Space Center
Drive time: Approx. 1 hour
Named after the former US president, John F. Kennedy, the Kennedy Space Center is a fascinating place to visit for any budding astronomers, astronauts or cosmologists. That's because the Kennedy Space Center is where the US launches rockets and space expeditions from.
Even when there aren't any space rocket launches taking place, you'll be mesmerized by the many exhibits at the Center. Favorite exhibits include artifacts from the Apollo 11 mission to the moon, the Space Shuttle Atlantis, a two-hour Shuttle Launch Experience, a Rocket Garden tour, and the two-hour bus tour of the Kennedy Space Center and Apollo/Saturn V Center.
Kennedy Space Center is one of the most popular day trips in Central Florida. We recommend booking a tour ahead of time to bypass the long ticket lines.
ⓘ BUDGET TIP: The Go Orlando City Pass includes entry to the Kennedy Space Center's permanent exhibitions and displays, admission to the IMAX theater, and a Kennedy Space Center tour.
11. Bok Tower Gardens
Drive time: Approx. 1 hour 20 minutes
Centrally located between Orlando and Tampa, Bok Tower Gardens comprises almost 50 acres of spectacular botanical gardens that were designed by the famous landscape architect, Frederick Law Olmsted, Jr. This biodiverse eco-attraction is home to over 100 species of birds and is a designated site on the Great Florida Birding Trail.
Open 365 days a year, Bok Tower Gardens are also home to a large children's garden (Hammock Hollow), an impressive Mediterranean-style mansion (Pinewood Estate), and an iconic Art Deco carillon (the Singing Tower).
As a visitor, you can enjoy the serenity and expansive beauty of the botanical garden and relax, have an outdoor picnic, or take part in an eclectic mix of weekly events.
12. Crystal River
Drive time: Approx. 1 hour 30 minutes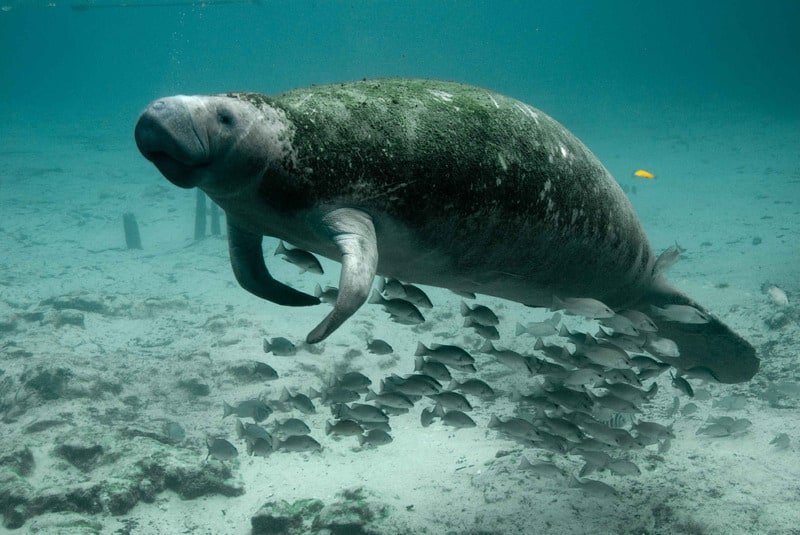 Crystal River is a coastal city in the heart of the Nature Coast, located along the Gulf of Mexico in west central Florida. Nicknamed the "Home of the Manatee." Crystal River has an abundance of warm springs (including the famous Three Sisters Springs) and a large pristine waterway at Kings Bay.
Crystal River is one of the only places you can swim with manatees in the wild, which make it one of the most unique day trips you could hope for. Swimming with these gentle giants will certainly create some wonderful memories!
It's also within close proximity to the beautiful Crystal River National Wildlife Refuge, Crystal River Preserve State Park, and the Crystal River Archaeological State Park, so you definitely won't get bored.
This nature lover's paradise offers a range of outdoor activities. These include swimming, diving, boating, playing golf, kayaking, paddle boarding, water skiing, fishing and going on nature walks. Scuba diving is also popular.
13. Homosassa Springs Wildlife State Park
Drive time: Approx. 1 hour 30 minutes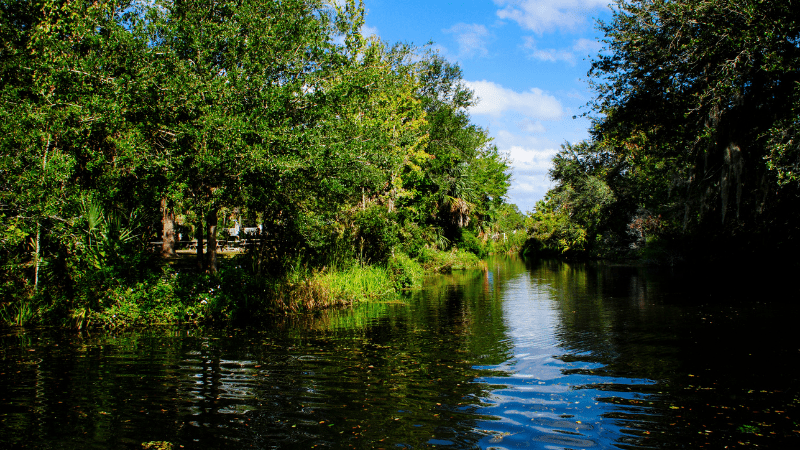 The Ellie Schiller Homosassa Springs Wildlife State Park is a nature area with a diverse range of plants and animals. The area's natural springs and river create a unique habitat for a range of captive and wild animals that can be seen here. These include the endangered Florida panther, black bears, bobcats, flamingos, alligators, red wolves, manatees and the whooping crane.
Popular activities at this park include birding along the Pepper Creek Trail (which is accessible by wheelchair), exciting Geo-seeking and Geocaching activities for enthusiasts, and hiking. There are also various picnic pavilions and elevated boardwalks for wildlife viewing.
ⓘ TIP: If you have limited time, this Orlando day trip covers four popular Florida attractions in one day: Homosassa Springs, Yulee Sugar Mill Ruins, Weeki Wachee, and Tarpon Springs.
14. Tampa
Drive time: Approx. 1 hour 40 minutes
Tampa is the biggest city in the Tampa Bay area and is a vibrant urban hub on the Gulf Coast of Florida. Tampa has lots of cultural attractions – from bustling shopping districts like Hyde Park and vibey nightlife areas like Ybor City.
Speaking of Ybor City, it was once known as the "Cigar Capital of the World," and you can still watch cigars being hand rolled here. The Historic District is a National Historic Landmark.
In Tampa, you can visit the Florida Aquarium, ride the wild roller-coasters at Busch Gardens, laugh at animal antics at ZooTampa at Lowry Park, or explore outdoor recreational areas like Hillsborough River State Park and Lettuce Lake Park. The city also offers interesting museums like Tampa Museum of Art and theme parks like Busch Gardens and Adventure Island.
ⓘ BUDGET TIP: The Go Orlando City Pass includes free entry to ZooTampa at Lowry Park, the Water Play area, and the zoo's kid-friendly rides.
15. Weeki Wachee Springs
Drive time: Approx. 1 hour 45 minutes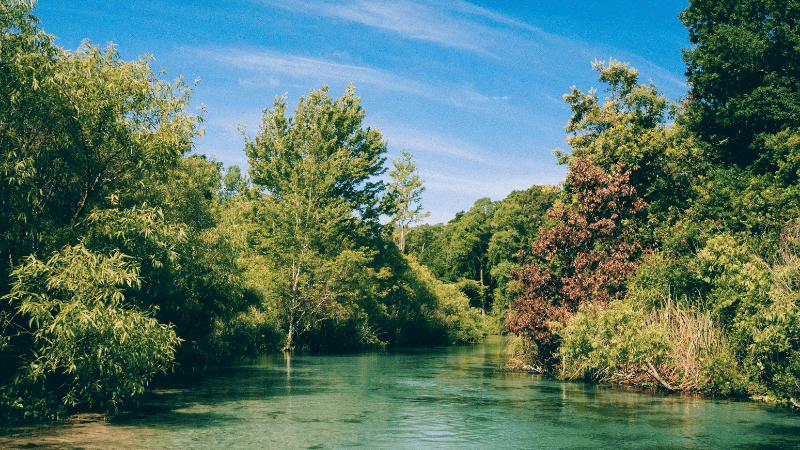 Would you like to see a real life mermaid? Well, you can do just that at Weeki Wachee Springs. It's famous for its daily mermaid show!
This natural spring has pristine, clear waters that are perfect for paddling adventures on a kayak or boat cruise. It's also home to the deepest freshwater caves in the country!
You can swim and snorkel in the spring waters and learn about Florida's incredible wildlife. Families will enjoy the waterpark at Buccaneer Bay.
16. St. Augustine
Drive time: Approx. 1 hour 50 minutes
The city of St. Augustine has a long history, dating back to Spanish settlement in 1565. It still maintains its European charm and character – from its cuisine and historical Castillo de San Marcos to its Spanish Colonial architecture, cobblestone streets, and horse-drawn carriages.
Some of the top attractions in St. Augustine are the Castillo de San Marcos National Monument, the hop on-hop off trolley, Ripley's Believe It Or Not! Museum, Fort Matanzas, and the Lightner Museum.
Saint Augustine also has gorgeous beaches that are miles long, excellent restaurants, world-class art galleries, and a range of boutique shops and live music venues.
17. Tarpon Springs
Drive time: Approx. 2 hours 20 minutes
This city on the Gulf of Mexico, in Pinellas County, is known to have the highest percentage of Greek Americans in the USA. As such, the city's culture is infused with Greek heritage and cuisine. It's also known as the "sponge capital of the world" because of its sponge industry.
A golf cart tour of Tarpon Springs will take you past its many art galleries, museums, shops, and beaches. And of course, you can also enjoy fishing, kayaking, diving, shell hunting, boating and walking through its waterfront parks.
We always enjoyed walking through the sponge shops and having lunch at one of the Greek restaurants. The food is always delicious … though nothing comes close to the authentic Greek salad we enjoyed in Greece.
18. Clearwater Beach
Drive time: Approx. 2 hours 30 minutes
Award winning Clearwater Beach is one of Florida's most popular beaches, and is a world-famous attraction. The water temperature is warm year-round and is also clear. Hence the name. In fact, it was recognised by Trip Advisor as the top beach in the USA in 2018.
The town of Clearwater Beach itself has a quaint atmosphere. It is home to the Clearwater Marine Aquarium (where you can meet Winter, the dolphin from the "Dolphin Tale" movies), and has a range of great restaurants and boutique shops.
There are a host of water-based activities you can take part in here. Walk along the half mile beach, swim, surf, take a Sea Screamer Boat Ride, or watch a spectacular sunset from one of the many beach bars.
19. Sarasota
Drive time: Approx. 2 hours 30 minutes
Sarasota will keep you entertained, whether you enjoy lazing on the beach, wildlife watching from a boat on the Gulf, or indulging in the host of cultural attractions on offer. That's why we're recommending it as a top day trip from Orlando.
When we lived in Sarasota, we enjoyed visiting Mote Marine Laboratory and Aquarium to see manatees, sharks and other marine life. Our other favorite spot is Marie Selby Botanical Gardens, a 15-acre garden on the bay that still feels like the private sanctuary it once was. They have an outstanding collection of orchids and air plants from all over the world as well as a fanatastic orchid shop.
Sarasota is best-known for its various keys – including Lido Key, Otter Key, Coon Key, Siesta Key, and Longboat Key. The brilliant blue waters and dazzling white sands along the coast are mesmerizing.
The rest of Sarasota is full of art galleries, museums, boutique shops, restaurants and performing art venues (like Sarasota Opera and Florida Studio Theatre) – which is why it's known as the Cultural Coast. Don't miss out on its many cultural festivals. Sarasota's annual St. Barbara Greek "Glendi" festival is in February, the Sarasota Film Festival takes place in April and then the Sarasota Chalk Festival happens in November (photo above).
20. Lion Country Safari
Drive time: Approx. 2 hour 50 minutes
Situated on almost 600 acres of land and home to almost 900 animals, Lion Country Safari offers a 4-mile safari drive-through and a 55-acre walk-through adventure park. All attractions all are included in the ticket price.
Some of the animals that you can see on safari include the giant-sized Aldabra tortoise, Brazilian tapir, ostrich, gemsbok antelope, wildebeest, chimpanzee, giraffe, zebra and even the mighty African lion.
The adventure park offers a range of fun mechanical rides and water attractions, animal encounters, shopping, gemstone mining, mini gold, water slides, and more.
This safari park is located in Loxahatchee, which is 20 miles west of Palm Beach.
ⓘ BUDGET TIP: The Go Orlando City Pass includes admission to both the drive-through safari and walk-through adventure park.
Orlando day trip packing list
Orlando's subtropical climate means that it is usually warm all year around, and sometimes the heat is downright oppressive. It can also rain quite often. Here's an essential list of things to pack and take along on any day trips from Orlando:
Final thoughts about Orlando day trips
If you are pressed for time when staying in Orlando, remember that our day trips are ordered by proximity. You may also like to consider day trips that include transport, because it will be easier and quicker to get around. Try to also combine several day trip destinations into one day to save time.
Don't forget to buy a Florida guidebook before you go! Orlando is close to many exciting nature areas and state parks, beaches, cultural and historic sites, and adventure activities that make it the perfect base for exploring the best of Florida.
ⓘ Read all our Florida articles: We've covered Florida spring break destinations, the best spots in Miami for Nature Lovers, the best day trips from Miami, fun day trips from Orlando, and how to do an Everglades day trip from Miami. We also have an article for people looking for warm winter vacations in the USA.
Photo credits: Ashley Edwards, Andrew Roberts, SpaceX