No trip to Rome is complete without visiting the Vatican Museums. With their world-famous artwork and awe-inspiring architecture, these museums offer visitors a glimpse into the history and culture of the Catholic Church. But with so much to see, it can be difficult to know where to start.
We'll answer all your questions in this article. This guide to the Vatican Museums will help you make the most of your time so you can enjoy every minute of your visit.
ⓘ TIP: If you'll be visiting Rome for a few days, be sure to check out the helpful travel planning links at the end of this article.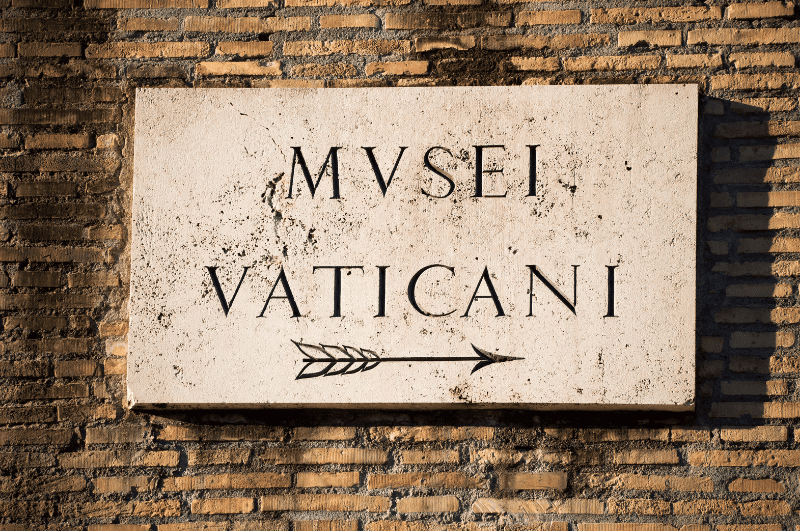 Where is the Vatican in relation to the City of Rome?
Vatican City is located on the west bank of the Tiber River, about 2.5 miles (4 kilometers) north of Rome City Center. The area that is now the Vatican City was once part of an independent country known as the Papal States.
Is Vatican City a separate country? Do I need a passport?
You do not need a passport to enter Vatican City. The Vatican has an open-border policy with Italy, so if you have a visa or the right to enter Italy, you can enter the Vatican City too.
In 1870, the Papal States were annexed by Italy and became part of the Kingdom of Italy. Then in 1929, an agreement known as the Lateran Treaty was signed between Italy and the Holy See (the governing body of the Catholic Church), which recognized the Vatican City as an independent state.
How to get to the Vatican Museums
Fortunately, getting into the Vatican is super easy. Depending on your preferences, you can either take the Metro, a bus, a cab, a tram or just walk.
ⓘ TIP: For exact directions to the Vatican Museums, use this Google Maps link.
How to take the Metro to the Vatican
The Metro is the most convenient way to get to Vatican City. Take Line A to Ottaviano-S. Pietro metro stop. From there, it's a 5-minute walk to both the Vatican Museums and St Peter's Square.
ⓘ TIP: The two metro stops closest to the Vatican are Cipro and Ottaviano. If you arrive early in the morning or later in the afternoon, use Cipro, which is closer to the Vatican Museums' entrance. Ottaviano is preferable when the crowds get larger during mid-day.
How to take the bus to the Vatican
If you don't want to walk or take the Metro, another option is to take one of Rome's many buses. Bus numbers 40, 64, 81, 982, and 990 all go to Vatican City.
Bus 49 stops in front of the Vatican Museums. Bus 64 stops at Cavalleggeri/S. Pietro, which isa 10-minute walk from the Vatican Museums.
How to take a taxi to the Vatican
Finally, if you're feeling lazy or are in a hurry, you can always take a cab. Just be warned that cabs in Rome can be expensive, so this may not be the best option if you're on a budget. Uber is also an option, but it's even more costly.
How to take the tram to the Vatican
Depending on where you are located, you may be able to take the #19 tram down to the St Peter's metro stop. It's not a convenient option if you're coming from Rome city center, however.
Can I walk to the Vatican from Rome City Center?
Yes. From Piazza Navona, you can walk to Vatican City in 15-20 minutes. However, it may be a bit too much walking for some people, especially in the summer heat. If you decide to walk, be sure to wear comfortable shoes and bring a bottle of water with you.
How large are the Vatican Museums?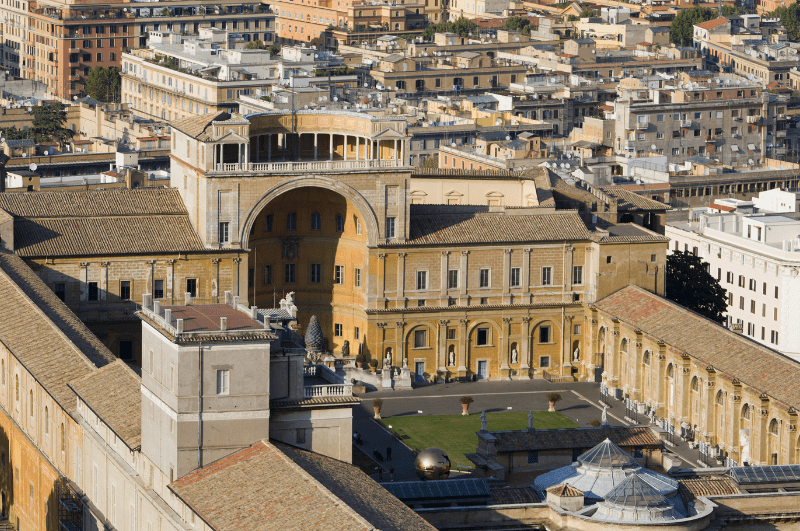 The Vatican Museums contain over 70,000 works of art, which are held in 54 galleries spread out over 7 miles (12 kilometers).
To put that into perspective, it would take you about 2 hours to walk through all the Vatican Museums if you walked at a brisk pace without stopping to look at anything!
How much time is needed to visit the Vatican Museums?
This is a difficult question to answer, because it depends on your interests and whether or not you have skip-the-line tickets. In peak summer months, with queues up to 1 km long, it could easily take 90-120 minutes just to get inside the building.
If you only want to see the Sistine Chapel, you will still have to go through the Vatican Museums to reach it. The museums are so extensive that it takes 30 minutes to walk directly from the Vatican Museum entrance to the Sistine Chapel. You also have to clear an additional metal detector to enter once you arrive at the Sistine Chapel door. Reserve an hour for this.
If you intend to see any of the attractions along the way, such as the papal apartments or the Raphael Rooms, plan on spending at least 2 hours there. Most people spend 3-4 hours touring the Vatican Museums, even if they're only spending one day in Vatican City.
To ensure you see all the Museums' highlights, it's best to book a guided tour. Most guided tours last for about 3 hours.
Museumgoers should seriously consider spending a full day here. There are so many things to see that you could explore for days and not see it all.
Some museum highlights include classical sculptures and Renaissance paintings in the papal art collection, frescoes by Michelangelo and Raphael, painting and sculpture galleries, Egyptian mummies, and the private apartments of Pope Julius II.
And of course, there are two Michelangelo masterpieces in the Sistine Chapel that you absolutely must see during your visit: The Last Judgment altarpiece (with more than 300 figures!) and the ceiling of the Sistine Chapel itself.
Want to read this later?
Save this pin on your favorite Pinterest travel board.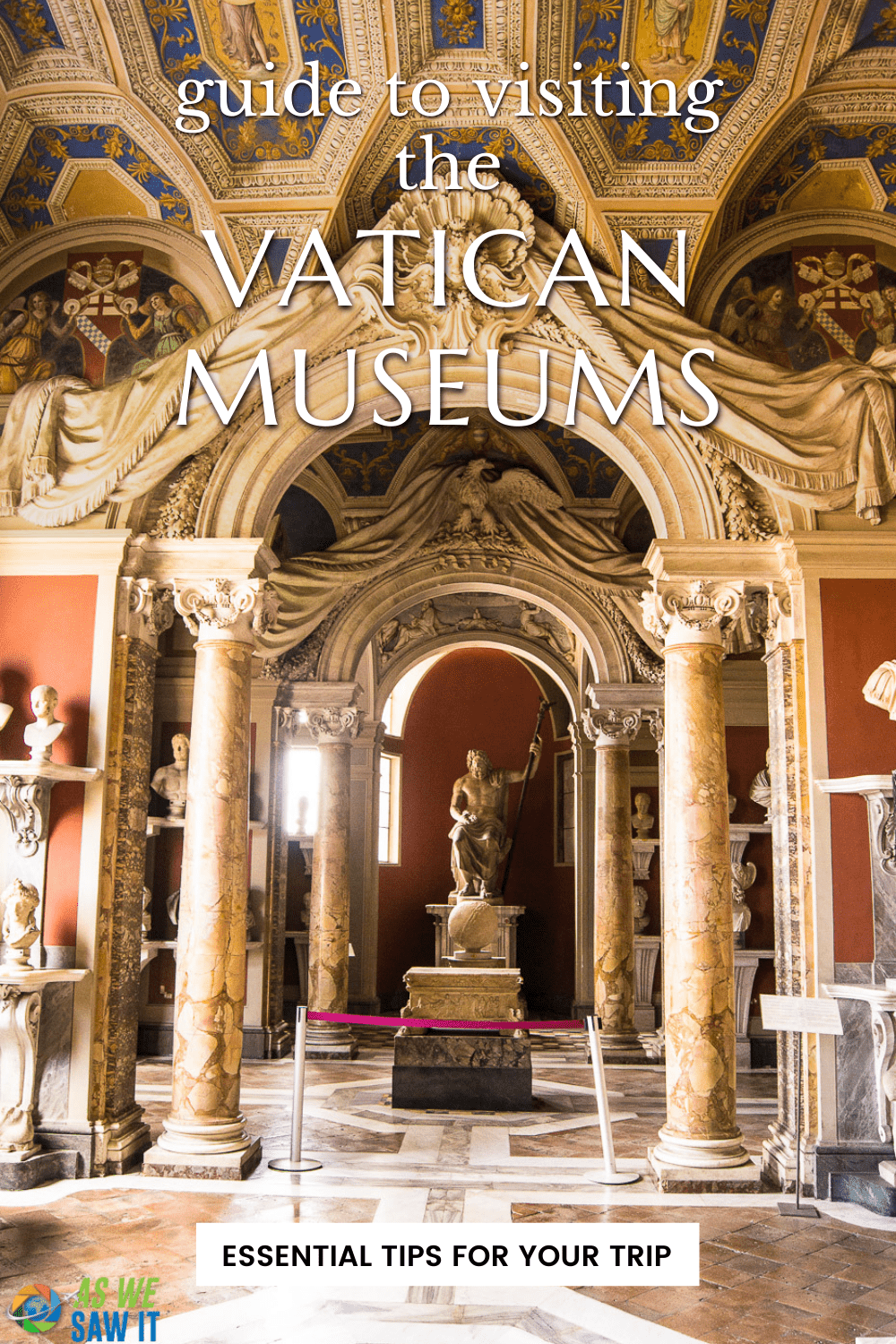 What are the opening hours for the Vatican Museums?
The Vatican Museums opening hours are as follows:
From Monday through Thursday, the museums are open from 9:00 am to 6:00 pm, with final entry at 4:00 pm.
On Fridays and Saturdays, the museums close at 10:30 pm, with final entry at 8:30 pm.
The Vatican Museums are closed on Sundays. However, every last Sunday of the month, you can visit between 9:00 am – 2:00 pm. The final entry is at 12:30.
What are the best days to visit the Vatican Museums?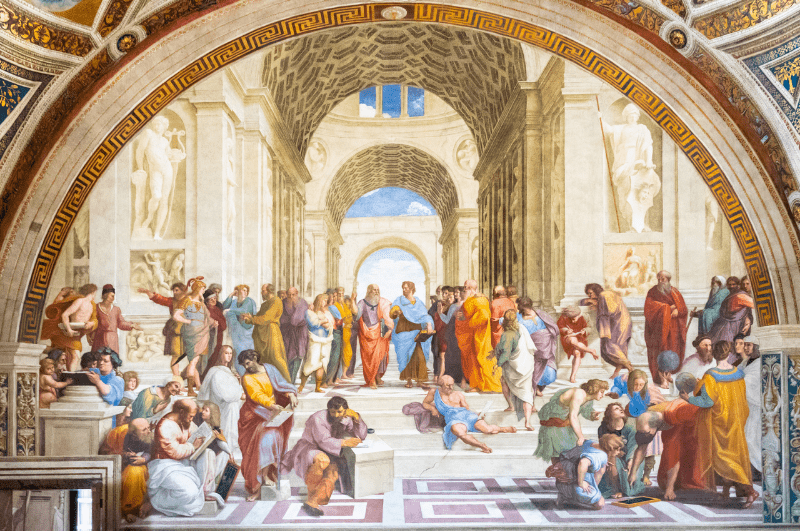 If you want to avoid the tourist hordes as much as possible, plan to visit on a Tuesday or Wednesday. Avoid Mondays, when most museums in Rome are closed, so more visitors come here.
Also avoid the last Sunday of the month, when admission is free. They are extremely crowded at this time, which makes it harder to see the art.
The Vatican Museums are always closed on Easter Sunday, June 29 (the feast of Sts. Peter and Paul), December 8 (Feast of St. Mary), December 25 (Christmas Day), and December 26 (Feast of St. Stephen).
How do I avoid the long ticket lines?
If there's one thing you should do on your visit to the Vatican, it's to buy your Vatican Museum tickets in advance. Trust us: It's not fun to stand in the hot sun for hours on end, wasting valuable sightseeing time.
The best ways to skip the lines at the Vatican Museums are:
Buy a skip-the-line ticket online from a trustworthy seller. Once you have it, all you'll have to do is show up on the day of your visit and breeze through the entrance. (Tip: This skip-the-line ticket from Get Your Guide includes a free audio guide and a 20% discount at the Vatican Museums online shop.)
Book a guided tour. This is the best way to be sure you don't waste time and don't miss a thing. In addition to breezing right in, you'll also learn a lot about the art and history of the Vatican Museums from a knowledgeable guide. We recommend Walks of Italy for exceptional tours with a unique twist.
Stand in the right queue. There are 3 lines to enter the Vatican Museums: one for people who don't have tickets yet, one for those who already purchased regular admission tickets online, and a third, fast-track one for skip-the-line ticket holders. Make sure you're on the right queue.
Buy a combination ticket that includes museum entry along with other attractions in Rome. One example is the 3-day OMNIA Roma Pass Vatican Museum card. It includes all top sights in Vatican City, free admission to your choice of 2 top Rome attractions, a 3-day hop-on hop-off bus tour, discounts at 30 other sights, and a travel card. You will also receive a free guidebook and map to help you plan your itinerary as well as dedicated itineraries that allow you to explore the city at your own pace.
As I've mentioned, some guided tours offer exclusive access to the Vatican Museums outside of posted times. If you only have one day at the Vatican, you should consider this. It will leave you more daylight hours to explore the rest of Vatican City.
The best place to book Vatican tickets is online, long before you arrive.
How much does it cost to visit the Vatican Museums?
The cheapest way to get into the museum is always going to be by buying the regular Vatican Museum admission tickets at the door. A standard Vatican Museum ticket costs €17 (about $18). If you want to visit after 4:00 pm, you can purchase a reduced-price admission from the ticket office for €8 (about $9). But you won't have much time to look around.
The next cheapest is the fast-track "skip-the-line" option, which lets you zip right in.
Guided tours are a bit more expensive but very worth it if you want to learn about the fine art you came there to see. Your tour guide will take you directly to the best works in the building while offering an informative commentary along the way. You'll save time and energy while having a great time.
Is there a separate admission for the Sistine Chapel?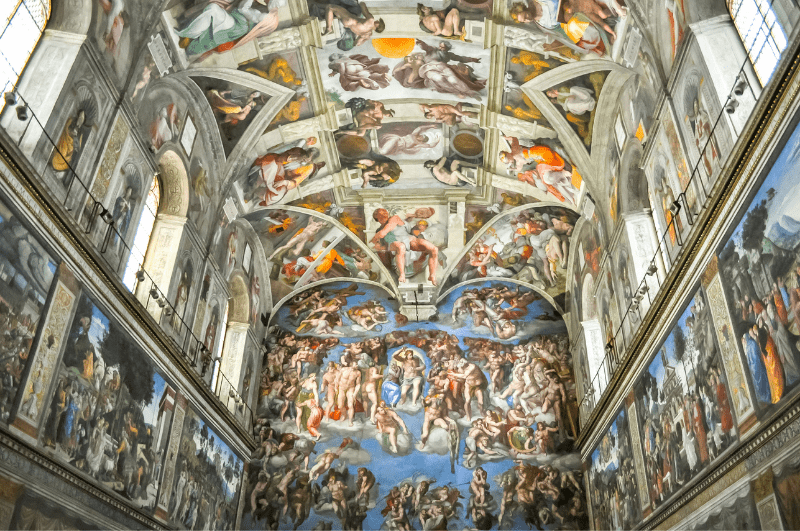 No. The Sistine Chapel is included with your museum entry at no extra charge. Anyone who tries to sell you a separate Sistine Chapel ticket is a fraud.
What does a Vatican Museum ticket include?
With a purchased admission to the Vatican Museums, the Sistine Chapel, the Raphael Rooms, and all of the other galleries and collections are included.
Once you enter the Museum, you can stay inside for as long as you want. However, should you choose to leave for any reason, there is no re-entry.
How do I avoid crowds in the Vatican Museums?
Time your visit wisely. If you arrive when the museums open or right before closing time, you'll avoid the worst of the crowds. The busiest time for visiting the Vatican Museums is between 10:00 am and 3:00 pm.
Book an early morning tour. A few select tour companies have access to the museums outside of normal visiting times. Walks of Italy offers an early-entrance small group tour that will let you visit without the crowds.
Tour after the museums close for the day. This special access tour includes a full tour of the Vatican Museums and Sistine Chapel (excludes St Peter's Basilica, which is closed at this time of day).
ⓘ BUDGET TIP: You may see touts approaching the queue, offering tours that will let you skip the line. Avoid them. They are often sub-par and a waste of your precious money.
What is the dress code for visiting the Vatican Museums?
The dress code for visiting the Vatican is relatively strict. Both men and women must cover their shoulders and knees.
This means no tank tops, strapless shirts, miniskirts, or shorts. If you're not sure if your outfit meets the Vatican visitor dress code requirements, it's always better to err on the side of caution and dress more conservatively.
If you're visiting St Peter's Basilica after the museums, dress more conservatively because there is a stricter dress code here. You will be asked to remove your hat.
ⓘ TIP: Vatican visits in the summer months can be quite hot and stuffy. Be sure to wear light and comfortable clothing.
What's the security like? Are there any prohibited items?
All visitors to Vatican City must go through a security screening, which includes a bag check and metal detector. Prohibited items include weapons of any kind, pocket knives, scissors, spray cans, and umbrellas.
It is also important to note that taking photos inside the Sistine Chapel is strictly forbidden. If you ignore this rule you can expect to be removed from the chapel by security guards.
Can I bring a backpack or a large bag into the Vatican Museums?
No, backpacks or large bags are not allowed within the Vatican museums. You will have to check them.
Where can I eat in the museum?
If you bring food or beverages, they are forbidden in exhibition rooms. However, if you are on a tour you may bring your own lunch and eat in the gardens. (You cannot access the gardens unless you're on a tour.)
You can also eat at two facilites: a cafe-style eatery and a pizzeria. The food hall is downstairs near the museum entrance. But don't expect to be impressed.
Alternatively, some of the more enchanting tours include meals, like the pre-opening VIP Pristine Sistine Vatican Tour with Museum Breakfast or After Hours at the Sistine Chapel: Vatican Museums & Aperitivo.
Is photography allowed in the Vatican Museums?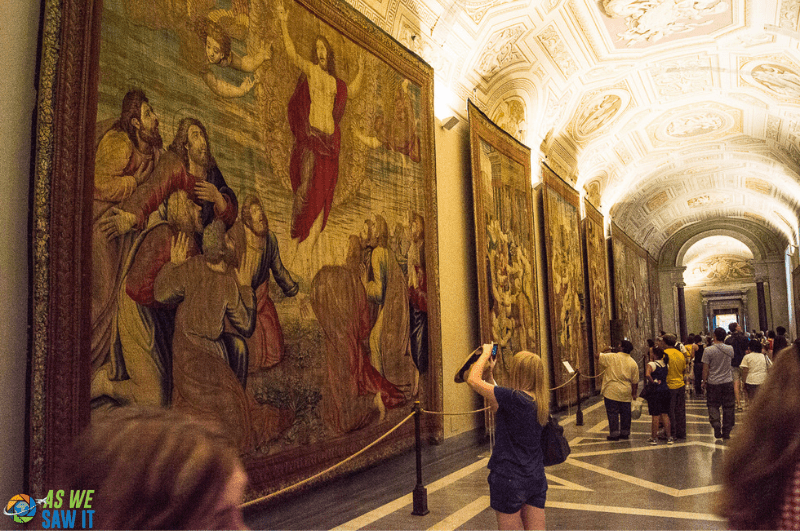 Yes, but only without a flash. You can take photos and videos throughout the museums (excluding the Sistine Chapel) and in the Vatican Gardens.
Remember that the Vatican Museums attract millions of tourists each year, so keep your camera or phone stowed away (without a flash!) when visiting some parts of the museums. Be mindful to avoid disrupting other visitors.
Finally, note that selfie sticks are not allowed in the museums or St Peter's Basilica.
Are there any other things to do in Vatican City?
Sure! In addition to visiting the museums and St. Peter's Basilica, there are quite a few things to see and do in Vatican City. However, you'll need to be on a guided tour to access some of them.
Read all our Rome & Vatican articles: Best Things to See in Rome in 2 Days, How to See Rome on Your Own from Civitavecchia Cruise Port, Things to Know Before Visiting Vatican City, Best Things to Do in Vatican City, and Guide to the Vatican Museums.