If you're traveling to Italy for the first time, visiting the Colosseum is probably on your itinerary. It is one of the most famous landmarks in the world, and a designated UNESCO World Heritage Site.
The Roman Colosseum is important because it is the largest amphitheater ever built. It could accommodate 50,000 spectators and was built in only 10 years. And for the next 500 years, it was used for public spectacles, contests between gladiators, fights with exotic beasts, and public executions.
In this article, I'll share my best advice for visiting the Colosseum in Rome, so you can make the most of your trip.
Tips for visiting the Colosseum
With its iconic arches, intricate stonework and captivating atmosphere, no visit to Rome is complete without setting foot inside the iconic amphitheater. Here's what you need to know.
1. Getting to the Colosseum is easy.
The Roman Colosseum is located near many other points of interest. You can easily get to the Colosseum on foot from anywhere in central Rome and by public transportation.
To get there, you have several different transportation options.
By metro
The metro is the fastest and most economical way to visit the Colosseum. The metro runs every day from 5:30 am to 11:30 pm, and on Fridays and Saturdays, it runs until 1:30 am. This gives you plenty of time to explore the rest of the city.
The entrance is only 3-4 minutes from the Colosseo metro station.
By bus
Rome's buses run 24/7, and buses 3, 8, 75, 85, 87, 810, 870, 117, 204, 40, 60, 51, and 175 stop directly in front of the Colosseum. It's a cheap way to see the city.
You can buy tickets at tobacco shops (tabacchi) and magazine stands, or online here. Single-ride tickets cost €1.50, or you can choose from a variety of multi-use passes.
On foot
Getting to the Colosseum is easy from anywhere in the city center, where you'll find the most iconic landmarks, like the Pantheon and the Trevi Fountain.
However, this might not be the best option all the time as the weather might be too hot. Moreover, some streets in the city center aren't pedestrian-friendly.
2. You must buy your tickets ahead of time.
You can't just show up to buy your ticket and walk in anymore. To control crowds, they've stopped selling tickets at the Colosseum, the Roman Forum, and Palatine Hill). They now use the "ticket office" to help people download their electronic tickets and book online.
These days, they only sell skip the line Colosseum tickets, which means that you must select a specific date and time when you book your visit.
Can you buy colosseum tickets on the day? It may be possible to book standard entry tickets at the last minute, but you will likely end up with a later time slot.
The best slots can sell out quickly, especially during peak tourist visiting seasons. So, if you want to visit the Colosseum at a specific date and time, book your tickets early.
3. There's a lot to see at the Colosseum without paying for entry.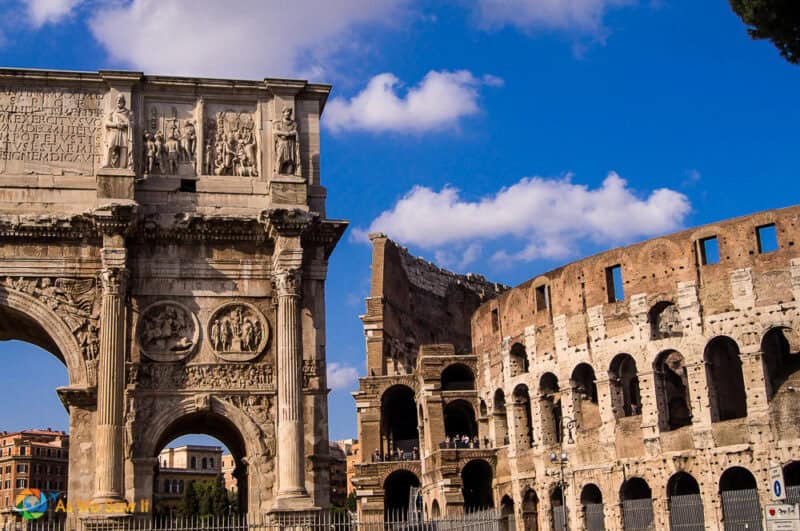 Not all of the Colosseum requires an entry ticket!Much of what to see at the Colosseum is outside the gate or nearby.
Top sights at the Colosseum include:
The arches and exterior of the structure
The Main Entrance
The first and second levels, which overlook the arena floor below
The Arena Floor
The Hypogeum (Underground)
The upper levels of the Colosseum
The restored Emperor's box, located on the uppermost level of the Colosseum
ⓘ INTERESTING FACT: In 72 AD, the Roman emperor Vespasian ordered that an amphitheater be built as a gift to the people of Rome. Ten years later his successor, Titus, opened the Colosseum with 100 days of games. Around 2,000 gladiators and 9,000 animals were killed during the event.
Sights near the Colosseum include:
The Roman Forum
Palatine Hill
The Arch of Constantine
The Arch of Titus
The Ludus Magnus (Great Gladiatorial Training School)
Circus Maximus
The Roman Forum and Palatine Hill are located next to each other and you can walk freely between them. They are included with your Colosseum ticket. The other sites on this list are free to view.
4. A basic Colosseum entry ticket offers limited access
The cheapest Colosseum ticket lets you through the gate so you can walk around the first two levels on your own. It includes one entry each to the Colosseum and the Roman Forum/Palatine Hill. It also includes admission to temporary exhibitions at these sights.
The ticket is valid for 24 hours, so you don't have to visit all three sites in the same day. You can decide in which order you visit the sites included in the ticket. The 24 hours start when you access the first monument.
You can visit the Forum and Palatine Hill whenever you want during the day. However, you will only be admitted to the Colosseum at the time you booked. If you miss your slot, you will not be admitted.
After buying this ticket, we were super disappointed to find that the Colosseum site is not well marked, and a guidebook is impractical on-the-fly. We ended up wandering around, trying to eavesdrop on what all the tour guides were saying.
ⓘ TIP: If you buy this ticket, download a free audio guide and bring along some good earphones to explore at your own pace.
How to buy tickets for the Colosseum
The Colosseum uses a third-party Italian website called Co-op Culture to manage its bookings. People say it's a confusing and frustrating experience. The site doesn't always load, and the payment gateway often does not work for international visitors. But that's not the worst of it.
The biggest problem with buying from Co-op Culture is that you can't get a refund if you need to cancel or change your dates or times. You can only get an exchange, which can be a nightmare if you're only in town for a few days.
That's why most people book through a reliable operator. It's worth the extra cost.
5. You can visit the Colosseum for free.
There are ways to get in without paying admission. You'll still need to reserve your entry time for all of these, and pay a €2.00 reservation fee for each ticket.
First Sunday of the month
All archeological sites in Rome are free every first Sunday of the month. This is great news if you're traveling on a budget … but the down side is that the crowds are ridiculous.
Tickets are available on a first-come, first-served basis, and they sell out fast. Only the first and second levels are accessible; the arena, underground area, and S.U.P.E.R sites aren't included.
Children / People with disabilities
Children under 18 and disabled people (plus one family member / helper) don't have to pay to visit the Colosseum. However, everyone still needs a reserved entry ticket and the €2.00 reservation fee still applies.
If you buy a city pass like a Roma Pass or Omnia card, your basic ticket will be free. You must present your city pass or you won't be allowed in.
6. It's worth paying for a guided tour.
If you want to see the areas of the amphitheater that are not open to the public, you'll need to book a tour.
Tour guides are licensed experts who have an extensive knowledge of the Colosseum and its history. They can answer any question you might have about the iconic amphitheater, from how it was built to its use as a venue for spectacles and games, and its eventual decline.
One of my favorite reasons to hire a guide is that your guide can customize your tour to fit your specific interests and needs. If you're interested in architecture or learning more about the bloody gladiator games that took place at the Colosseum, for example, he or she can go more in-depth on that topic and give detailed insights.
Touring the Colosseum Arena
Originally, the Colosseum's arena was a wooden floor on which the gladiator games and mock battles took place. On some rare occasions, the spectators could watch gladiators fighting wild beasts.
The arena is closed to the public, unless you visit on a guided tour. Imagine entering the great arena through the Gladiator's Gate, as the combatants once did. Once inside, you'll head straight to the reconstructed arena floor, where you'll get a 360-degree view of history's greatest sports stadium and look down into the dungeons where the gladiators prepared themselves beforehand and where wild animals were kept.
Colosseum underground tours
Here's another area that you can only visit with the help of a tour guide.
Under the arena floor, there's a two-level labyrinth that connected the rooms where the gladiators stayed to the cells where wild beasts were kept. The labyrinth contained large and complex machines that moved these big animals from their cages to the arena floor.
Some parts of the underground structure were destroyed by earthquakes.
Colosseum upper tiers
Previously, it was possible to visit the third tier and up for a special fee. However, the upper tiers of the Colosseum are temporarily closed for restoration. So, you can't access these tiers even if you have a full experience ticket.
Colosseum night tours
Between late March and October, you can visit the amphitheater after dark. This experience is only available as a guided tour, so you won't be able to visit on your own or use a City Pass.
These visits feel quite exclusive because you get to experience the Colosseum from a different perspective. And while the Roman Forum and Palatine Hill aren't included, you will be able to visit the underground area as a part of the experience.
These night visits aren't included in your Roma city pass or any other membership that makes you eligible for a visit to the Colosseum.
7. Don't miss the Roman Forum and Palatine Hill.
One of my favorite visiting the Colosseum tips is to schedule enough time to visit the Roman Forum and Palatine Hill during your visit.
If you purchase a ticket to the Colosseum, it will include entry into the Roman Forum and Palatine Hill as well. These sites served as the political, cultural and religious hubs of Ancient Rome and are well worth seeing.
Roman Forum
The Roman Forum was the center of ancient Rome, where people engaged in several social and political activities.
This site was home to several of ancient Rome's most important buildings, but you can only see their ruins today. Some of the highlights include the Senate buildings, cremation point of Julius Caesar, opulent palaces, and the Temple of the Vestal Virgins.
Some of the temples were turned into churches, and they're partially preserved.
Palatine Hill
Palatine Hill is one of the famed Seven Hills of Rome and was once where the palaces and houses of the rich people of Rome were located.
You can visit several houses, palaces, and corridors on Palatine Hill. You can also visit the ruins of ancient baths and the Palatine Museum, which is home to marble sculptures and reliefs that belong to different eras. Some of the ruins on Palatine Hill are available for a visit for an additional fee.
Visiting this site can show you how the ancient Romans lived. However, since people have lived here since the 10th century BC, it's challenging to tell the exact age of the different structures without the help of a tour guide.
That said, seven areas of the Forum and Palatine Hill have restricted access due to space considerations. If you're a history buff, you need a SUPER Ticket.
The SUPER sites (an acronym for Seven Unique Places to Experience Rome) contain precious paintings, frescoes, marble, and sculptures.
Aula Isiaca & Loggia Mattei
the Domus Transitoria
the House of Augustus
the House of Livia
the Neronian Cryptoporticus
the Palatine Museum
the Temple of Romulus and
Santa Maria Antiqua Church.
ⓘ TIP: Many of these SUPER sites can only be visited at certain times of the week. Be sure to check the opening times ahead of time.
8. Avoid visiting during the summertime.
The summer months are the most crowded in Rome, because most tourists choose to go during the summer when temperatures are warm and sunny. Visit during the off-season to visit to avoid the Roman heat, humidity, and crowds.
When is the best time of year to visit the Colosseum?
In the summer, the weather is humid, lines are longer, attractions are more crowded, and finding good accommodation at an affordable price is more challenging.
Early spring and late autumn bring cooler temperatures and fewer tourists, but November is Rome's rainiest month.
The low season, from November through March, has relatively mild winter temperatures, and the lowest rates. There's a bump in tourism and crowds – and prices – during the Christmas and Easter holidays though, and it's worth noting that the days are shorter during this time of year.
ⓘ TIP: If you must travel in the summer, avoid visiting between 11 AM and 4 PM when the heat is at its worst.
9. Dress comfortably.
I can't stress this enough. The Colosseum is a huge structure, and the Forum and Palatine HIll cover a lot of ground. You will be walking around for quite some time.
Make make sure you wear comfortable footwear with good traction. Timeworn paths can be slippery, and the hard stone is rough on knees and joints. Also, if you want to explore the Palatine Hill or upper levels of the Colosseum, there is a fair amount of climbing required.
Be sure to pack a hat to protect your eyes and face from the midday heat and glare. The sun is deceptively strong in Rome, even in the wintertime.
ⓘ TIP: A midday change of footwear will help you avoid blisters, back pain, and foot fatigue.
The Colosseum doesn't have a dress code, but wearing comfortable clothes is recommended. Here are some tips for what to wear at the Colosseum.
You'll spend most of your time outside, so dress for the weather.
Make sure that you wear sunblock to protect your skin, whether you're visiting in summer or winter.
Wear comfortable shoes with good traction to protect yourself from slipping. You'll be walking on uneven stone structures, so you might slip if you're not wearing the right shoes.
If you're visiting in the summer, shorts, lightweight t-shirts, loose dresses, linen shirts, and khakis will work.
In winter, the temperature can significantly drop, so put on a sweater, a jacket, or even a coat.
10. Make a food plan
There are no restaurants inside the Colosseum, the Imperial Forum, or the Palatine Hill. I've heard that there are a few vending machines, but they may not have what you want or might require exact change.
Remember, the basic entry ticket only allows one entry to each. So if you plan to be spending some time here, bring a snack to tide you over.
11. Bring a water bottle.
It can be easy to get dehydrated, even in winter. A refillable water bottle is a smart idea, and you can easily refill them at the water fountains around the city and inside the Colosseum.
Yes, Rome's tap water is safe to drink.
12. Avoid visiting another major site on the same day
Visiting more than one major tourist attraction in one day might sound like a great idea, but places like the Colosseum or the Vatican require a lot of mental and physical energy.
Unless your cruise ship is only docked for a day, it's not wise to try to fit two such attractions into a single day. It could leave you feeling exhausted and unable to appreciate either one.
You'll also have a greater chance of losing track of time or getting lost, which could lead to missing your tour or a transportation connection.
13. Be respectful.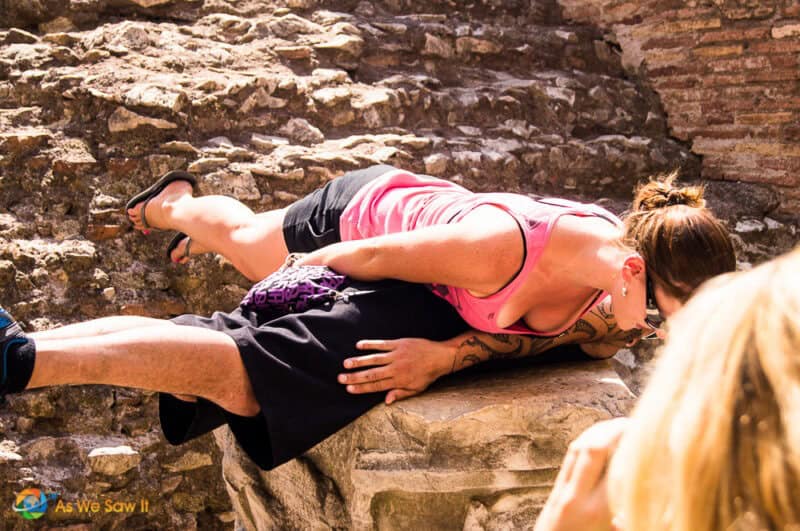 Visitors should stay in designated areas and not climb on structures. This is to avoid risk of injury to yourself and the ruins. Besides, the Colosseum is 2000 years old and deserves a bit of respect.
Tripods and selfie sticks are also forbidden due to concerns about safety and potential damage to the building.
Per Colosseum rules, only small backpacks or handbags are allowed inside the amphitheater, and they will be scanned by security. Also, there are no storage facilities, so if security believes your bag is too large, you will not be able to enter.
Final thoughts about seeing the Colosseum
Your visit to the Colosseum starts with good planning. Remember that this is one of the most popular monuments in the world, so booking your ticket in advance is a must.
There are several types of tickets available, and you can buy an additional service to enjoy a richer experience. You might even be eligible for a free ticket, and there are free tickets available every first Sunday, but these tickets are quickly sold out. It's essential to arrive on time because the number of visitors is limited, so you might lose access to the Colosseum if you're late.
Frequently asked questions about visiting the Colosseum
What is the best way to see the Colosseum?
The best way to see the Colosseum is by taking a guided tour. Tours are available in many languages, and they provide visitors with privileged access to parts of the building that are otherwise off-limits. Additionally, a tour guide can provide visitors with interesting information about the history and architecture of the Colosseum and point out things you might otherwise miss.
Is visiting the Colosseum worth it?
There's no doubt that the Colosseum is a must-see for any visitor to Rome. Not only is it an impressive sight, but it's also a tangible reminder of the city's rich history and a great example of Roman architecture. It's also really interesting to learn about the amphitheater's history and how it was used for gladiatorial combat in ancient times.
Read all our Rome & Vatican blog articles: Things to See in Rome in 2 Days, Things to Know Before Visiting Vatican City, Best Things to Do in Vatican City, Guide to the Vatican Museums, and Tips for Visiting the Colosseum.
Cruising to Rome? Best Things to Do in Civitavecchia Cruise Port, How to See Rome on Your Own from Civitavecchia Cruise Port, and How to Go from Civitavecchia Port to the Train Station will be helpful.
ROME TRAVEL PLANNING ESSENTIALS
✔ Travel Guide: This Italy travel guide is a top seller on Amazon. If you're only visiting Rome, Rick Steves Rome is better.
✔ Visas/ETIAS for the EU: Find out what you need, and apply here.
✔ Travel Insurance: Covers lost bags, delays, injuries, and more. We like SafetyWing
✔ Currency: This free app calculates exact currency exchange values.
✔ Flights: Rome's airport is FCO. Check flight prices here.
✔ Airport transfer: Prebook transportation to your hotel
✔ Accommodation: For Rome, check Booking ● Vrbo ● HostelWorld. For Vatican City, click here.
✔ Getting around: Fastest by metro or on foot. Outside of the city, take the train, use Flixbus, or rent a car.
✔ City Discount Card: The OMNIA Vatican Card and Roma Pass includes the most attractions.
✔ Tickets & tours: GetYourGuide and Take Walks offer a wide variety of options.
✔ Organized trips: G Adventures has insanely affordable small-group tours + guaranteed departures.