Most first-time visitors to Venice spend the majority of their time around its (rightfully) famous Saint Mark's Square. Those with a bit more time in Italy also fit in a visit to Murano, a nearby island.
Or perhaps I should be more precise and say islands. Murano is actually a collection of 7 individual islands, all linked together by bridges.
This is the place to go if you're interested in the famed Murano glass, where you can watch a glass making demonstration and maybe buy a Venetian glass souvenir or two.
Murano has a totally different atmosphere than Venice does, and we promise you'll enjoy it.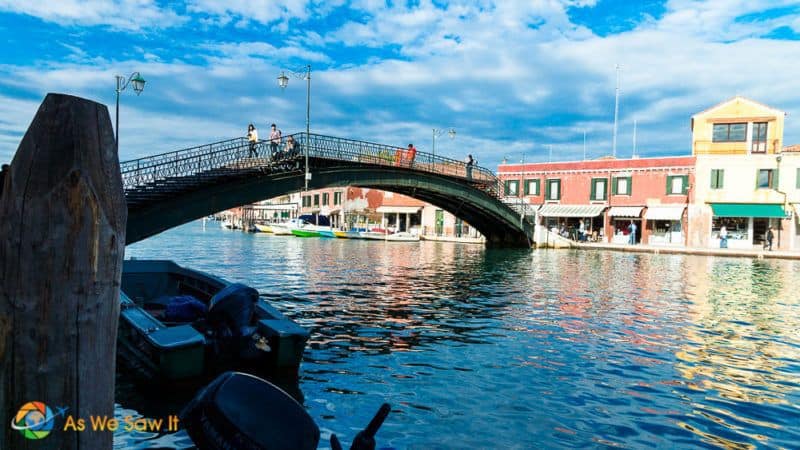 What to see and do in Murano Italy
Most Mediterranean cruises stop in Venice, and ours was no exception. We had the luxury of two days in Venice, but we'd seen the main sights on our previous trip. So we set our sights on the islands of Burano and Murano, Italy.
We began our day near St. Mark's Square, where we caught a vaporetto to Murano. Unlike our trip to Burano, the weather was cool, with feathery wisps of clouds high overhead.
Stepping off the boat brought us into a different world. Suddenly we were on a quieter island, more laid-back island. Murano comes complete with its own Grand Canal, fascinating glass shops, and romantic sidewalk cafes.
Want to read this later? Save it to Pinterest!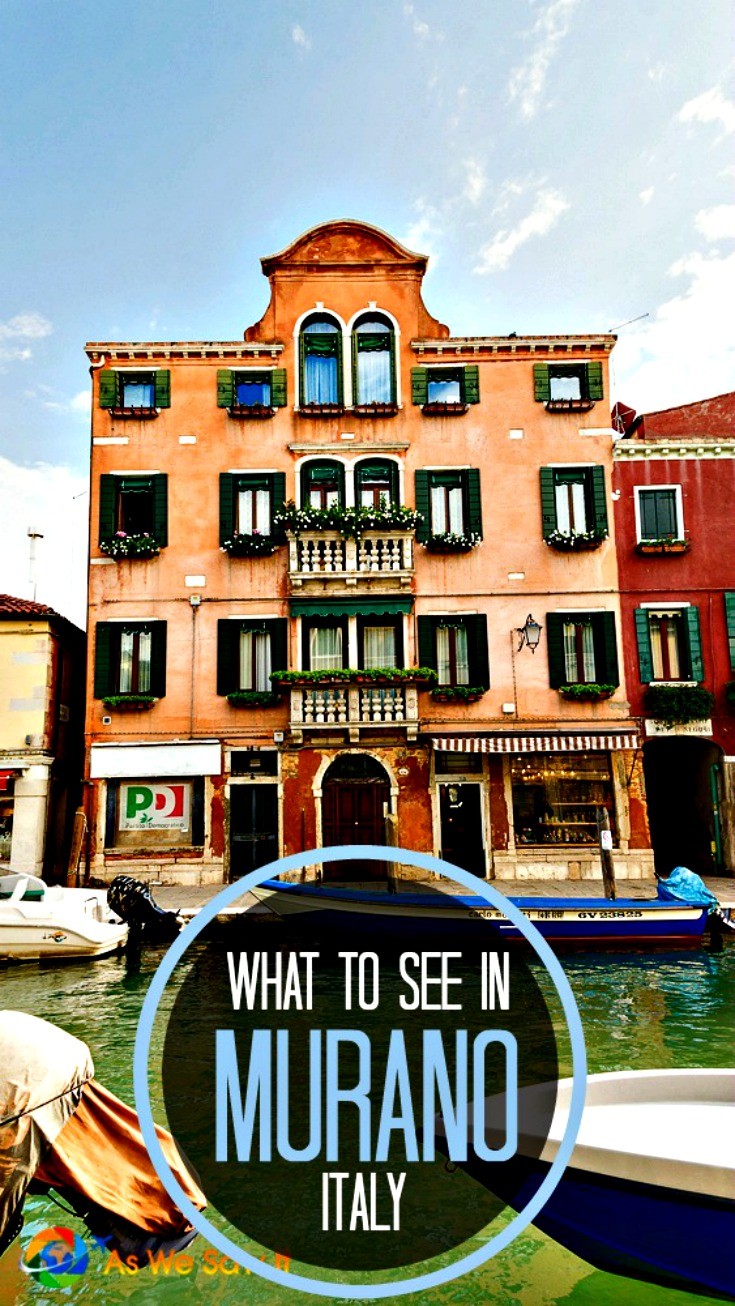 Murano has been occupied since Roman times, and each century brought its own architectural style to the island. They're all still there, all vying for attention, and that makes Murano that much more attractive.
Unfortunately, our Adriatic cruise itinerary only gave us a few hours to enjoy what the island had to offer. We couldn't fit everything in, but here's my list of the top things we were able to see. Maybe you'll have more time and can do more than we were able to.
ⓘ TIP: If you want to make the most of your time, Get Your Guide offers a variety of organized excursions in Venice. The Murano and Burano Half-Day Glass and Lace Tour is especially popular.
1. Museo del Vetro glass museum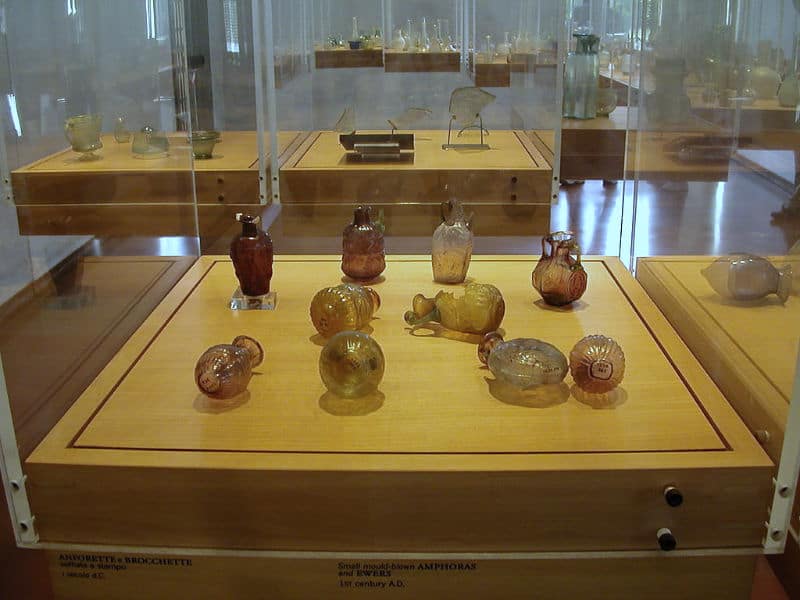 If you're interested in the art of glass making, Museo del Vetro is for you. This history museum showcases Venetian glass techniques over the centuries, and displays varieties of glass from as far back as Egyptian times.
The building itself has served a number of purposes over its lifetime: first built as a patrician's palace, it became home to the bishops of Torcello in 1659, then two centuries later it became Murano's town hall. It only became a museum when Murano was annexed to Venice in 1923.
2. Basilica di Santa Maria e San Donato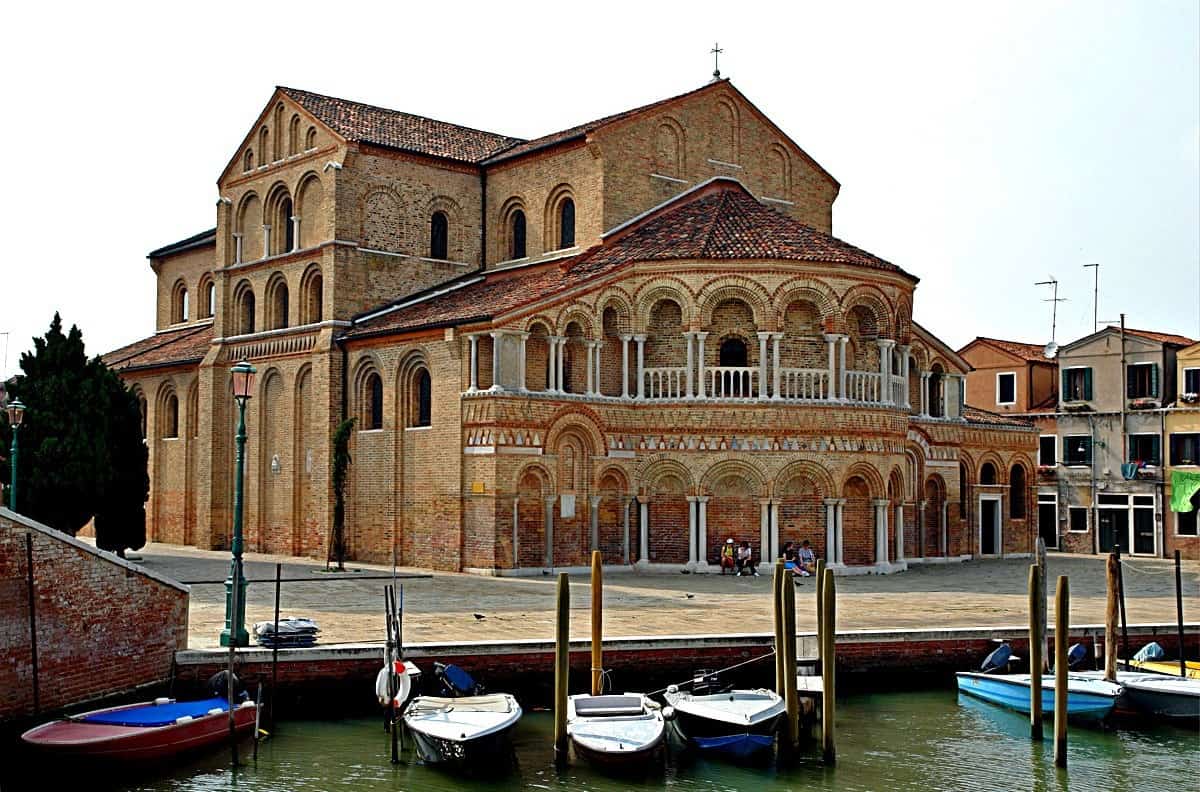 Dating from the 7th century, the Basilica of Saint Mary and Saint Donatus is the duomo for Murano Island. Inside, exquisite, Ravenna-quality Byzantine mosaics cover its floor and dome. Outside, the bell tower, like most bell towers, is separate from the Church.
While many churches contain the bones of saints, this basilica contains more than just the relice of St. Donatus. Suspended behind the altar are four rib bones, measuring more than 1 meter long. According to legend, these bones came from a dragon that St. Donatus slew in Greece. Who knows? Maybe it's true.
3. Chiesa di San Pietro Martire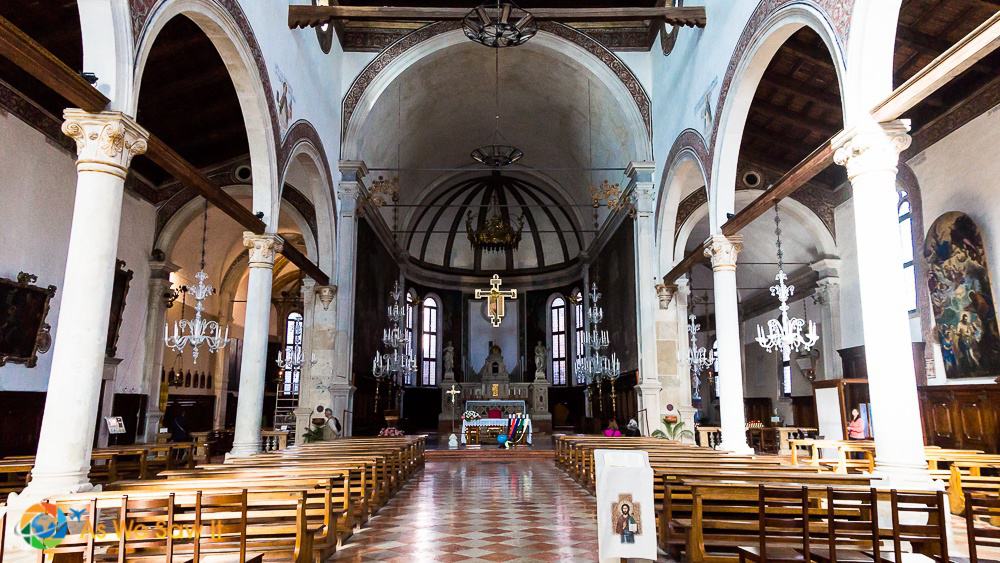 The Roman Catholic Church of Saint Peter the Martyr was built in 1506 and still functions as a parish church. This naked brick building is popular with tourists because it houses the chapel of the Ballarin family, notable for their glassmaking skills, as well as excellent Renaissance art works by artists such as Tintoretto and Bellini.
4. Campo Santo Stefano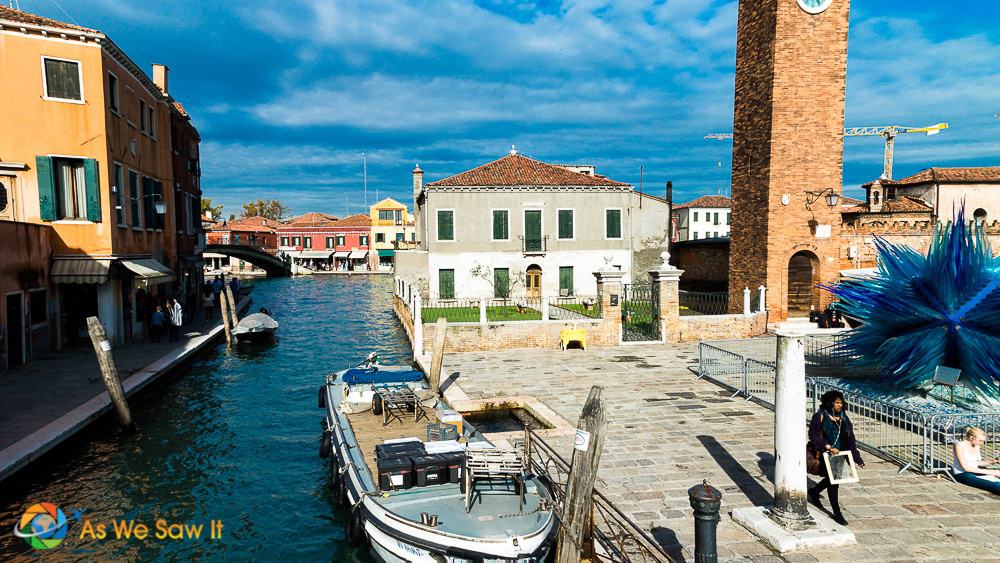 Campo Santo Stefano is best known for Simone Cenedese's 'Comet Glass Star,' an abstract blue glass starburst sculpture in the middle of the square. Next to it are the Church of St. Stephen and a 19th century clock tower. Both dominate the island and can be seen from far away.
Maybe as a result, this is one of the most visited spots on the island.
5. Palazzo da Mula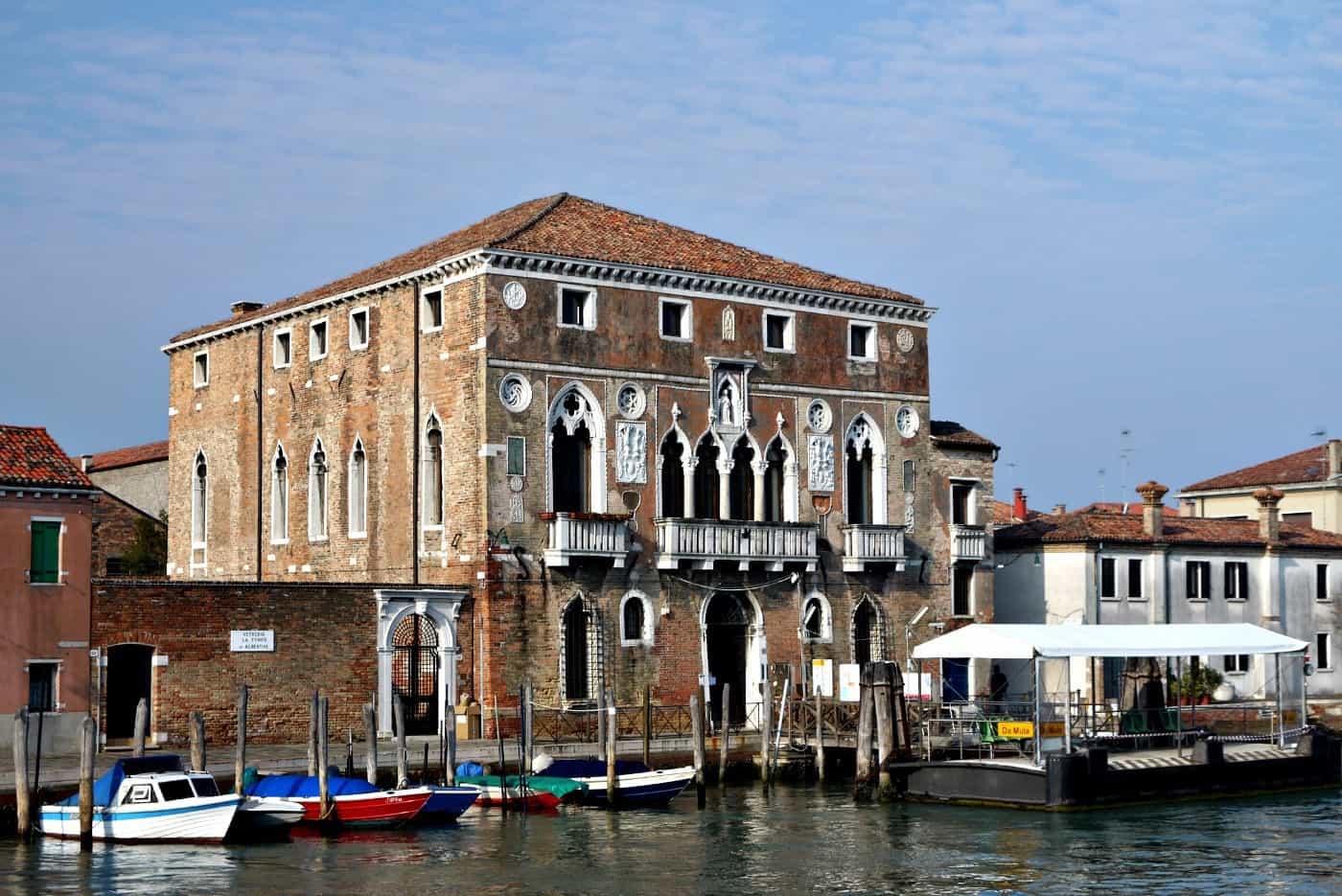 The Palazzo da Mula is one of the last remaining examples of Venetian Gothic architecture. The building was once a luxurious summer residence of the Venetian patricians, who could afford an ornate facade with large Gothic windows. A garden and courtyard made Palazzo da Mula unique among Venetian palaces due to the high price of land in the island empire.
6. Glass factories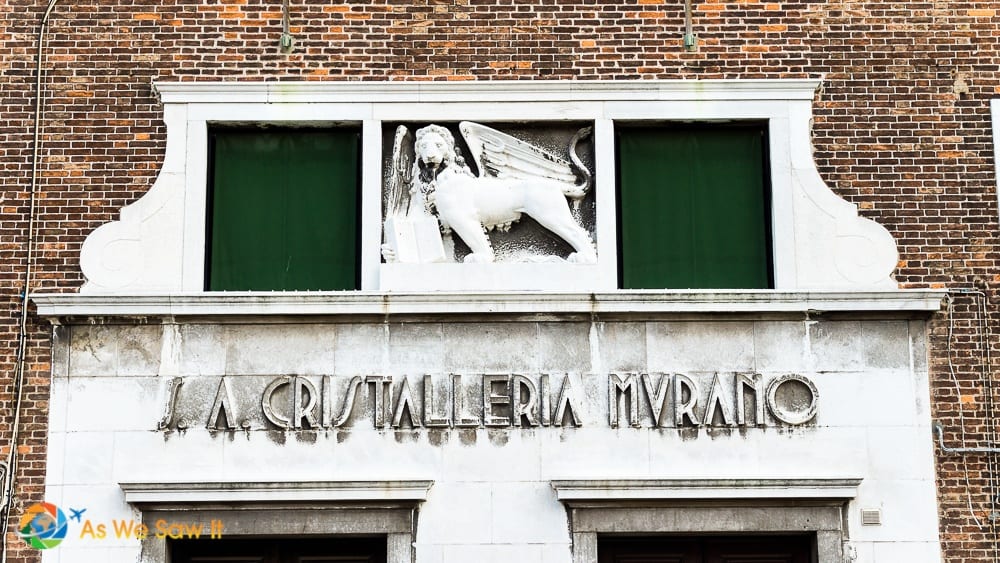 As a precaution against fires, the Doge of Venice ordered all Venetian glass makers to move their furnaces (fornaci) to Murano in 1291. This worked out well, as glass was becoming a coveted craft. Moving to another island kept the workshops safe from prying eyes that were eager to steal the secrets of the trade.
It didn't take long for Murano to become associated with the most coveted and high quality glass in the world.
Their reputation secure, many of Murano's glass factories offer demonstrations and have a shop for visitors. They even offer glass artistry workshops these days.
That would have been fun, but I enjoy watching glass blowers so much that I have been known to completely lose track of time. Only later did we find out that it's possible to take a quickie Murano factory tour and demonstration for time pressed visitors like us.
*sigh* Maybe next time.
7. Venetian glass shops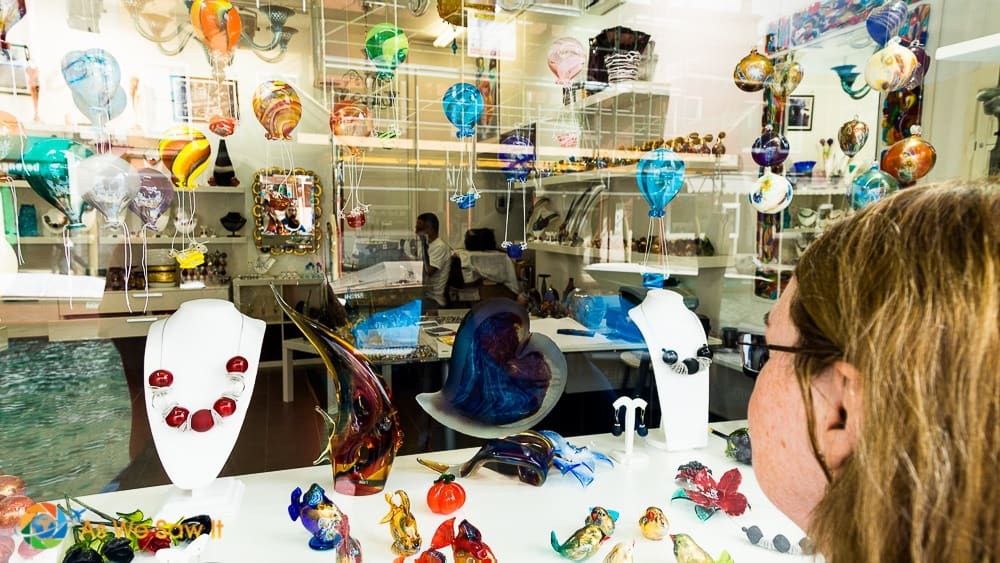 Murano Island is best known worldwide for its exquisite, blown glass. If you're not in the market for glass and just want to look at it, it's still fun to visit a shop. Just about every Murano glass factory has a showroom where they display their best products.
Besides its glass, few other souvenirs are worth buying. Don't waste your time in a souvenir shop. That is, unless you're in the market for postcards and other standard tourist stuff.
ⓘ TIP: No matter where you travel, never sign a contract that's not in English. Use a healthy dose of skepticism if anyone offers to "translate" it for you.
Enjoy the island of Murano
In addition to these "must-see" places during your Murano visit, there's an even more important "must-do" item you must put on your itinerary: Savor every moment. Avoid the temptation to rush from place to place so you can squeeze everything in.
You will miss so much if you rush past the island's many ancient buildings, beginning with all those details that make Murano so uniquely Venetian, and ending with the quirky things that its creatives have sprinkled around their island.
Murano doesn't just live in its past glory. It has a fun, modern vibe as well. We got a real kick out of these zany lamp posts.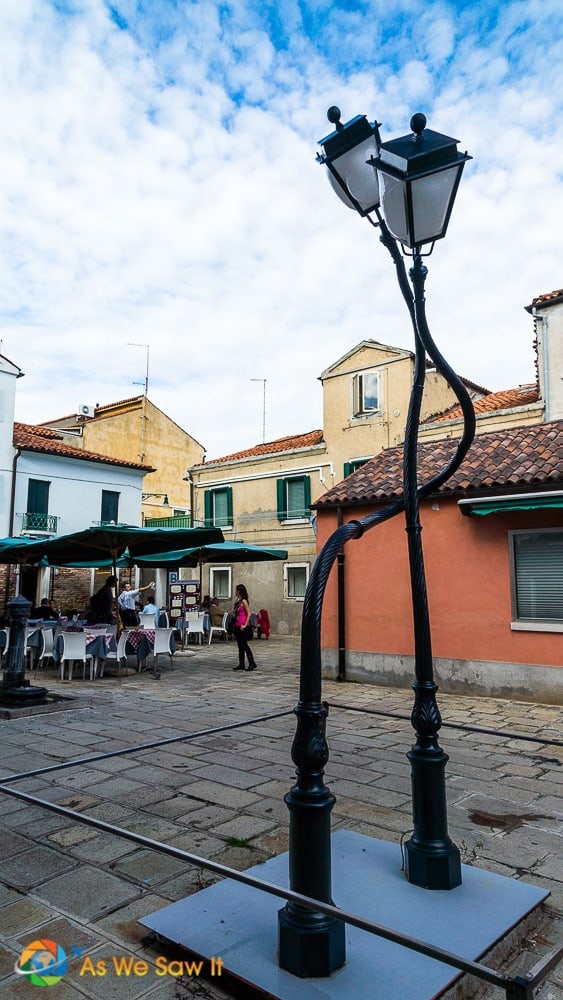 Why should you visit Murano?
The most precious thing about travel is the opportunity it offers to expand your horizons. It's a chance to see new things, experience new traditions, meet new people, taste new foods.
We've learned that Italy should not be rushed. Take a bit of time to just sit and watch Murano's daily life: exasperated mothers with crying children, excited teens with cell phones in their ears, wizened old ladies walking hand-in-hand with their beloved husbands.
Sit quietly in a church for a while and savor its peace. Sip a glass of the local wine and enjoy the waiters' foreign chatter.
Just because you can. It's all part of the travel experience.
This is your trip and your opportunity. Take your time and make the most of it.
Murano FAQs
Even if you're on a tour of northern Italy and have limited time in Venice, you can visit Murano. Here are some answers to common questions:
How do I get to Murano from Venice?
Getting to Murano is pretty straightforward. Catch Line 4.2 at the San Zaccaria vaporetto stop, which is near Piazza San Marco. This line will take you there in about 40 minutes. Alternatively, Line 4.1 will get you there in about an hour. Stop at Colonna for glassblowing demonstrations. Museo is better for the Glass Museum and the Basilica.
Where can I stay on Murano?
Staying in a hotel on Murano is the perfect way to enjoy all the glass island has to offer. Imagine exploring after the tourists have left for the day!
Murano Palace offers an exceptional experience and gets good reviews. For other places to stay in Murano Italy, click here.
Can I book a tour to Murano?
Sure! Plenty of companies offer guided tours. You can also opt to tour Murano, Burano and Torcello islands on one trip. We haven't been to Torcello yet, but Burano is a must because of all the colorful houses. You can read about Burano Island here.
To find a Murano tour operator who will bring you to reputable factories (selling real Murano glass at a fair price), we recommend Get Your Guide. They have a large selection to choose from, and they carefully screen each company on their list. We use them ourselves and have never been disappointed. Check Prices Here.
How can you tell if Murano glass is real?
Because so many souvenir shops try to pass off cheap Chinese counterfeits as authentic Venetian glass, all true Murano glass now carries a label. Shops and showrooms that sell real Murano glass art will always display the "Vetro Murano Artistico" trademark decal.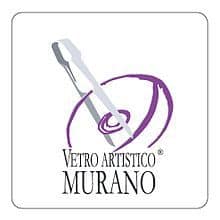 Are there any scams to be aware of?
Yes. Beware of the touts offering a "free" excursions to watch glass blowing in Murano or the lace-making in Burano. It's a common scam, and they get a kickback from the shop. You'll often get a crowded shop, high pressure, and a higher final price.
Do I need a visa to enter Italy?
Italy might be one of the passport-free zones in Europe (depending n your nationality), but, in 2023 it will be required to get the ETIAS visa.
Plan your Murano excursion with these helpful links
ⓘ TIP: If Greece is on your itinerary, there are ferries that go to some Greek Islands.