If you're planning to visit Belize—maybe on a cruise stop—you probably have already figured out that the country has a lot to offer. Two of its top day trips are:
a heart-stopping zip-lining tour through the jungle, and
a more relaxing experience cave tubing through spring fed, underground rivers.
Watching Travel Channel, it's obvious people have a blast doing both of them.
Okay, Travel Channel makes practically everything look like fun, but who cares? When we took our first Caribbean cruise together, we were pretty psyched that those excursions were offered in our cruise catalog.
Only problem: Both were priced out of our budget.
What to do? What to do?
Places to stay
What to do when you can't afford a cruise excursion
Aside from enjoying the on-board amenities, one of the best things about cruising is the variety of experiences you can have on shore. Cruise lines do offer incredible experiences, but many cost over $100 per person.
You need a Plan B when your budget is limited: Book a tour yourself.
There are some advantages to not taking a cruise tour.
Cost is often a fraction of the price that the cruise ship charges
You'll be in a smaller group, which means better photos and a more personal experience.
Guides can more easily accommodate special needs, like bad knees.
Why should you book a tour on the cruise ship?
The biggest reason you should go with one of the ship tours: They guarantee that the ship won't sail without you. If you make your own plans, they have no obligation to wait for you.
This is a huge advantage. However, most private companies are committed to getting passengers back to the ship in time. After all, if they miss the sailing, they have just ruined their reputation. Word travels fast on cruise forums.
Speaking of which, when it comes to cruising, one of our favorite resources is Cruise Critic, an online community of people who love the cruising lifestyle. Users share their favorite tour operators, review experiences, offer tips.
We also use TripAdvisor forums, but don't find the site quite as easy to navigate.
What to do in Belize in one day
Every port has something to offer, and the best things to do in Belize in one day include options such as
snorkeling
diving the Blue Hole
We chose to go cave tubing because it's a unique experience you can't get anywhere else.
Booking a cave tubing excursion on your own
It's not hard to find cave tubing tour companies in Belize. The challenge is to find a safe, professional tour company that will meet you at the dock and promise—no, swear—to bring you back from your adventure on time. I mean, sure we wanted a memorable experience, but we didn't want it marred with worrying all day that we'd be back on board the cruise ship before it sailed.
I made a short list of tour companies with good reviews and finally chose Vital Nature and Mayan Tours, a family-owned business with high ratings. Then I saw they had the cavetubing.bz URL, which told me that they had been around a while.
We had to email them our dates to book. They responded to my inquiry email quickly and then confirmed pick-up details a few days before we cruised. It's nice to know you're hiring an experienced company, isn't it?
That pre-trip confirmation was brilliant. It helped us relax on our cruise without wondering if we'd have anything to do when we docked in Belize.
Our day in Belize cave tubing
Only cruise line vendors are allowed to enter the cruise terminal. Following the instructions, we wound between the teeming crowds and hesitantly exited on the other side. Aha! Sure enough, there was the cavetubing.bz sign we were told to look for, held by the owner of the company himself.
Vitalino smiled and thanked us for having decided to book with them, then introduced us to our guide, who escorted our group to a clean and comfy passenger van.
Our destination was Nohoch Che'en Caves Branch Archaeological Reserve, an archaeological park 35 miles out of town. That's where all cave tubing expeditions happen.
ⓘ TIP: You can compare cave tubing prices on Get Your Guide and Viator. Their tour suppliers are carefully vetted, so you won't need to worry about getting back in time.
What to see in Belize City
We got an unexpected bonus when our tour guide and driver offered to give us a brief tour of Belize City on the way to our destination. Well, everyone thought that was a great idea, especially since we wouldn't have time to see the capital city on our own.
Umm … No wonder all the forums said it was not a good city for sightseeing. Belize is often pummeled by hurricanes, and the buildings and infrastructure are pretty beaten up. I imagine it might seem like a losing battle to keep repairing the same things again and again. Not to mention costly.
Belize City is home to St. John's Cathedral, the oldest Anglican church in Central America, St. John's Cathedral, as well as a historic lighthouse. Unfortunately, we thought the city so unattractive that we didn't even want to take a single photo. (What does that tell you?)
Okay, to be fair, this article makes us think that we need to take a second look. Maybe spending a bit of time in Belize City is worth it.
Belize itself is beautiful. As we drove through the countryside, our guide shared more things to know about Belize, and we learned about its history, the Maya, and the cultures of their country. Having interesting, knowledgeable and friendly guides makes all the difference, especially in a once-in-a-lifetime, memorable adventure such as this. Both our driver and tour guide were very good conversationalists.
We learned that most or all of the tour guides are Mayan/Belizean. I'll bet that combination has created some very interesting cultural traditions.
Decision time: Should we zip-line in Belize?
Once at the park, it was decision time: cave tubing alone vs. cave tubing plus zip-lining. How to choose?
Cave tubing alone offers the opportunity to take a longer route, tubing through more caves.
Cave tubing + zip-lining groups start further down the river and only tube through a couple of caves, then go off to zip line. The zip-lining is an additional charge.
Ultimately Dan and I opted to spend our one day in Belize cave tubing along the entire route. We reasoned that zip-lining is offered all over the world and we could do it somewhere else. But your mileage may vary.
ⓘ TIP: Some underground hiking and jungle trekking is required. Because you will be getting wet, it is recommended that you bring extra clothes.
Cave tubing tips — what to bring
If you plan to go cave tubing on your cruise, here's what you'll need to pack in your suitcase:
Pants or shorts and t-shirt
Bathing suit—You change into your bathing suit after you arrive.
Water-friendly shoes with thick soles—strap-on sandals or old tennis shoes are ideal. NOT flip-flops
Mosquito repellent
Sunscreen
Towels
Why they call it 'butts up' cave tubing
As he handed out safety gear, our guide explained the procedure for safe river tubing. "As you tube down the water," he instructed, "use your arms like oars. Also, the water can be extremely shallow if it hasn't rained recently. If you hear 'Butts up!', lift your rear ends out of the water."
He advised us that if we didn't heed his warning we might end up caught on the rocks—or worse, bruise our rear ends. In that case, we could expect a very uncomfortable ride back to the ship.
Want to save this for later? Pin it to your favorite Pinterest board!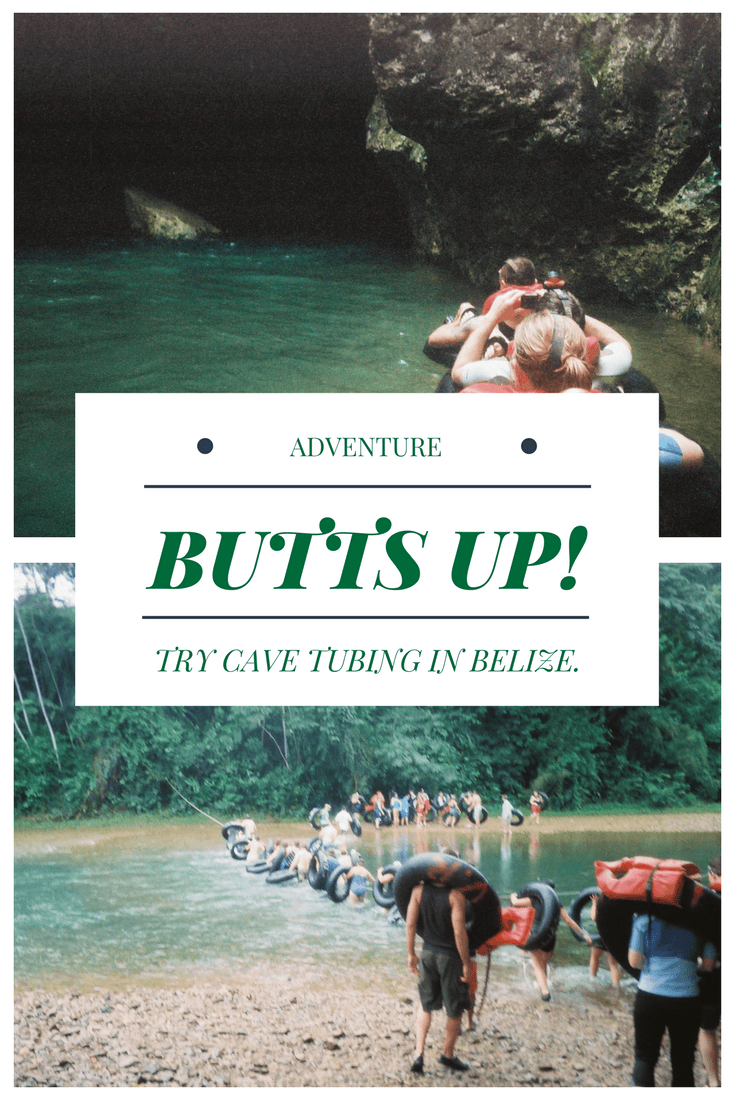 Hiking to the river
Equipment in hand, we left the parking lot and started off through the rainforest. I stayed close to our guide so I could hear him above the friendly laughter among our fellow tubers. It was fascinating to hear his comments as he pointed out the flora and fauna along the path.
The path was well-worn and it was an easy walk. Hardly a hike The hardest part was crossing a small tributary on our way to our departure point.
Entering the river
We entered the water by jumping off a rock. Total immersion.
The water felt very refreshing, especially after our hike. The water stays about the same temperature year-round, between 70 to 74 degrees.
Cave tubing down the river
Although some reviewers said that their trip down the water was exhilarating, we found it quite relaxing. I'm guessing that the difference is due to the time of year and how much rain the river is carrying.
While our tubes took us downstream, we just laid back and enjoyed the passing scenery, grateful for the fluffy clouds overhead that shielded us from the hot sun.
All we needed to do was listen for an occasional "Butts up!" and keep our feet hooked to the tube ahead of us. (Update: They use cables now; I'll tell you about it later.)
By the way – life preservers make good neck rests.
Our big photo regret
High end cameras have no business in wet situations like river tubing. You need something waterproof, like a special cell phone, disposable camera, or camera housing. Cell phones and disposables don't take photos in low light situations, so it's hard to capture images while underground.
We tried to compensate by setting our (disposable waterproof) cameras to a higher ISO, but that caused another problem: graininess.
Dan did as much as he could with our photos and was disappointed with the results. I told him that a poor photo is better than none at all. Do you agree?
Finally, we were cave tubing in Belize
As we entered the caves, our guide told us more about how the river system worked and how it had created the nine caves in the area over millennia. Inside the caves we also heard about the geological formations we were looking at.
After our group left the first cave, we began noticing more groups in the water, as other tour groups joined us along the way. Apparently, various tour operators have assorted departure points. I felt a bit sad for those who joined us further downriver. They had missed the cave we'd been through upstream and the beautiful scenery we'd already seen.
It might have been a silent sightseeing excursion for some lucky tubers, but not on our journey. Some of the other groups decided it would be fun to yell in the caves. I didn't appreciate it; all that noise made it super hard to hear what our guide was saying.
We've been to hell and back.
The Mayans believed that going into the caves was heading into the underworld (hell), thus they used the caves for sacred ceremonies.
If you've tubed through the caves, you can now brag about it with a t-shirt that says "I've been to hell and back." Vendors sell them in the parking lots.
Enjoy an authentic homemade Belizean meal
After such an exhilarating experience, we had all built up an appetite so it was good to see our driver awaiting us downstream. After a quick dry-off and changing in the park's well-equipped facilities, we hopped in the van and headed off. Before long, we were sitting down to plates of authentic Belizean food at Vitalino's home, cooked from his grandmother's recipes.
Fresh and local, our chicken, rice and beans dish was seasoned the way the Belizeans like it. As memorable and fun as the tubing had been, for foodies like ourselves this was probably just as much of a highlight.
Beverage choices included a deliciously refreshing punch that was a lovely balance of fruit and local rum. It was one of the tastiest drinks we'd ever had, but so potent that we were afraid to accept a refill.
My biggest regret about our entire excursion is that I didn't get the recipes for the drink and food.
Returning to the cruise ship
When it got to the point that we couldn't eat another bite, it was time to head back. Our guide's wife and family joined us for the ride. When we arrived back at the dock—in plenty of time for sailing I might add—I knew: This had been a great day.
Plan your cave tubing trip to Belize
Where to stay in Belize
if you're not on a cruise, we recommend using Booking to make your lodging arrangements. Check prices and ratings before you book. Very reassuring.
Belize activities & tours
Read more about Belize
Online
On Amazon
Want to see more of Belize?
Want to save this for later? Pin it to your favorite Pinterest board!