Places where you can stay
Today was another overcast day and the clouds threatened rain long before we woke up. We didn't let that bother us, though: We were really looking forward to today's Romantic Road excursion.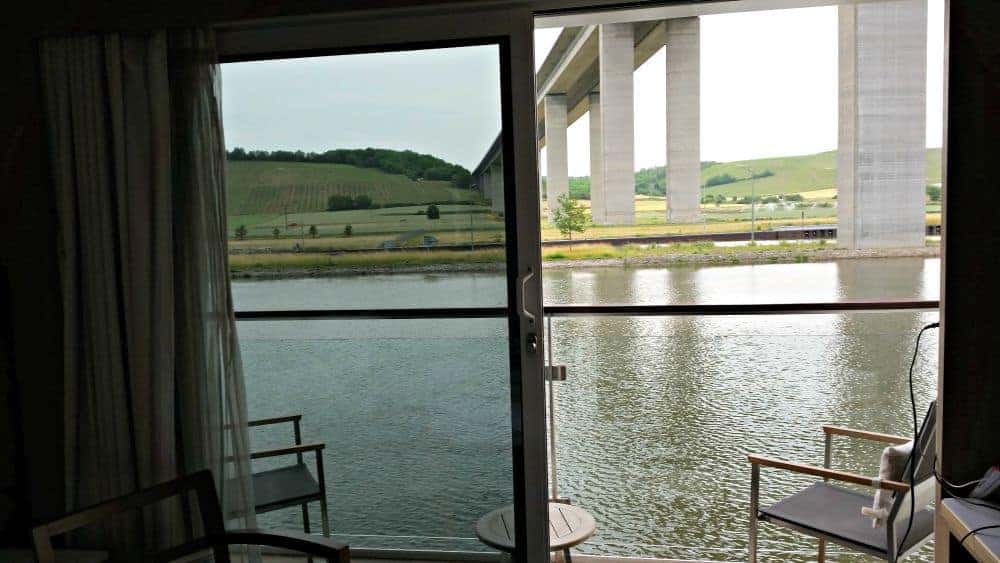 For €64 per person, Viking offered an optional tour that would take us through the heart of Franconia along the famous "Romantic Road" to the medieval city of Rothenburg ob der Tauber. In Rothenburg we would enjoy a morning walking tour, free time for shopping (or photography) and an included "traditional German lunch." After this, we would return to Wurzburg to tour its Residenz.
Armed with umbrellas we all climbed on the bus at 8:30, eager to see what was in store. Dan confessed that, of all the sights on our 15-day cruise, this was probably the one that he most looked forward to. Rothenburg is a photographer's dream.
We had the bus ride to look forward to as well. After all, we'd be riding along the Romantic Road.
What's so romantic about a road?
The Romantic Road may have begun as a medieval trade route, but these days most of its travelers are tourists seeking "quintessentially German" scenery and culture. Think wrought-iron signs hanging out from quaint half-timbered houses, winding cobbled streets, and biergartens full of laughing Germans. The 350 kilometer route begins in Wurzburg and ends at Neuschwanstein Castle, near the Austrian border.
Rothenburg ob der Tauber
Our coach meandered along the winding route and we were all enchanted by the picturesque towns, vineyards and farmland along the way. (It's such a shame that the raindrop splatters on our windows made photos impossible. We'd have liked to show how pretty it is.)
Finally our bus climbed the long hill from the banks of the Tauber River and parked. Everyone piled out and followed our guide along the town wall and through a gate, where we began our tour of the old town.
As you can see from this photo, the city is still encircled by towered walls. Actually, Rothenburg is considered one of Germany's best-preserved villages. Rothenburg because it emerged from both the Thirty Years' War and WW2 relatively unscathed, miraculously. God must have been watching over it.
Rothenburg has its share of historic sites of course, but then most every old thing is historic if you think about it. Like most visitors Dan and I were far more interested in its ancient ambiance than in remembering names for all the sights. We were literally enchanted. This must be what Germany had looked like, once upon a time.
And then there are the Schneeballs, which were in all the bakery windows. They are mainly made of flour, eggs, sugar, butter, cream, and plum schnapps. Schneeball is the German word for snowballs, and they sure look like it: strips of pastry rolled into a hand-sized ball and then frosted with various sugary glazes.
Schneeballs are very popular around Rothenburg. It's a safe bet that you could take it home as a souvenir to share with friends … it lasts for two months without refrigeration!
We had some free time between our tour and lunch time. As we headed off to walk the city walls for better views we passed by the well-known Kathe Wohlfahrt Christmas Shop where the staff actually police the store to make sure no one takes photos. Crazy, right? We hadn't planned to go in anyway, but just because of that he took a picture of a life sized nutcracker standing next to the door. (Ha – they can't do much about that!)
As you can see here, we got a unique perspective from atop the walls.
[ezcol_1third]
[/ezcol_1third] [ezcol_1third]
[/ezcol_1third] [ezcol_1third_end]
[/ezcol_1third_end]
As I suspected, our "traditional German lunch" consisted of sausages and potatoes. Germans like their pork and bread, that's for sure, so if you follow a special diet you should ask what a dish contains before ordering.
We avoid both of them, so Viking had thoughtfully arranged for us to be served an alternate meal instead. We really appreciated that.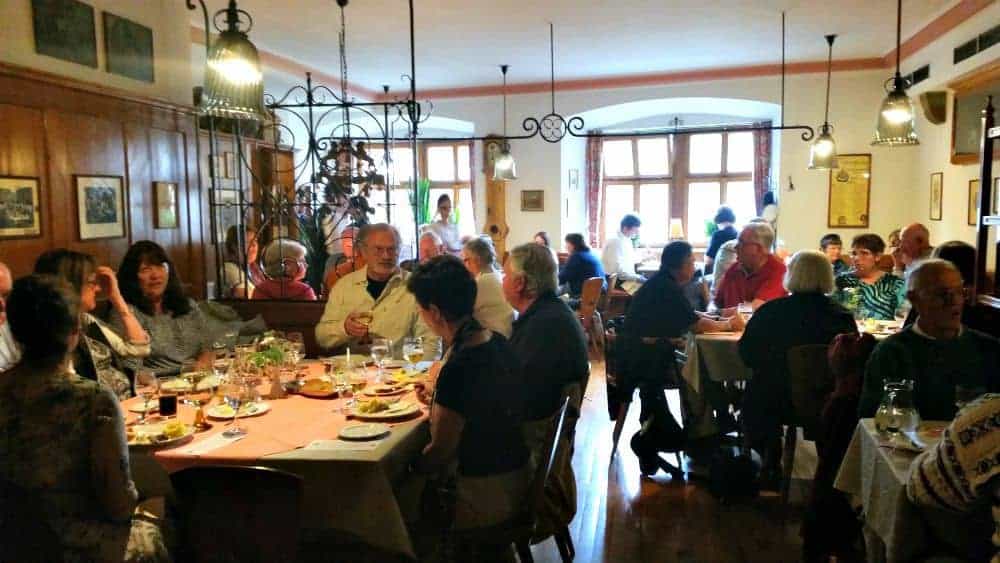 This was a half-day excursion, which left us plenty of time to explore Wurzburg and see its UNESCO world heritage site, the Wurzburg Residenz.
Save for later
Hover over the top left of any image to save it to your Pinterest gallery. There's even more to see in our various photo galleries, where you can enjoy free, full-screen slideshows.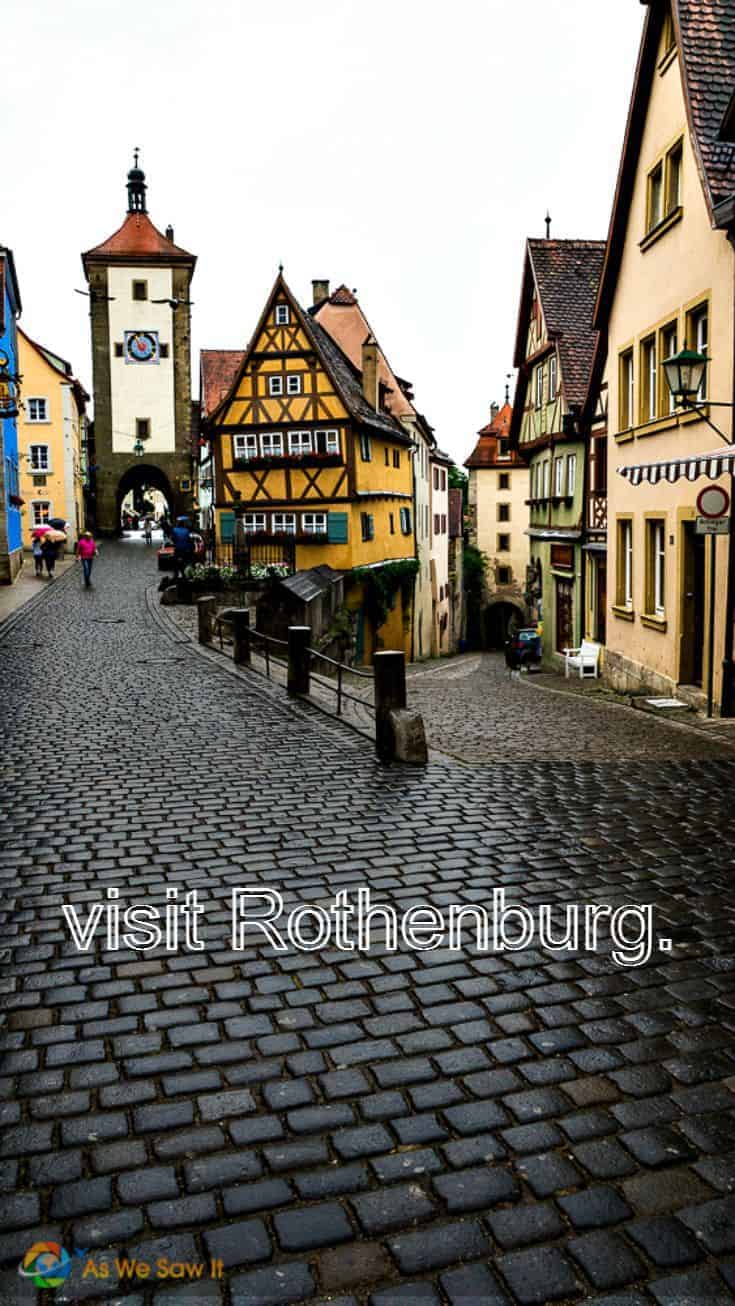 Note: As is common in the travel industry, Dan and Linda were provided with a complimentary cruise package for the purpose of review. While it has not influenced coverage, AWSI believes in full disclosure of all potential conflicts of interest. For more information, see the Disclosure page.