Northern Ireland may be small in size, but it's a giant among British destinations for natural beauty, historic sights and delicious food and drink. The best way to fully explore this country is by car, and a road trip on the Causeway Coastal Route is the ultimate way to do it.
Actually, few road trips on the planet can match the one between Belfast and Derry along Northern Ireland's Antrim Coast. The scenic drive on the A2 consistently ranks among the best scenic road trips in the world, and that's even without considering that its attractions include Giant's Causeway and Carrick-a-Rede rope bridge!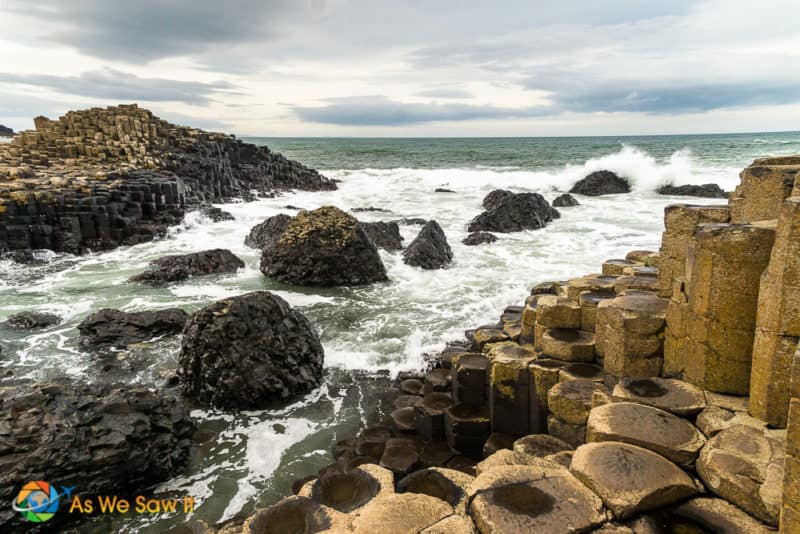 Rent a car in Northern Ireland
Sure, you could take a bus tour, but touring by car gives you the flexibility and independence to discover Northern Ireland's true magic, off the beaten path, and in your own time.
For our Northern Ireland road trip, we rented a car in Dublin. No one blinked an eye as we crossed the (invisible) border into Northern Ireland, and it was no problem doing it in a rental, either.
You just need to remember that driving in Ireland requires some adjustment, especially if you are not used to driving on the left side and along very narrow country roads. Take your time and pull over often to breathe in the clean Irish air and savor the stunning vistas.
For more about driving in Ireland, check out this guide.
How much time does it take to drive the Causeway Coastal Route?
We don't recommend trying to do this Northern Ireland road trip in one day. The 120-mile Belfast-to-Derry drive might seem doable, but what's the point in rushing from Point A to Point B?
Half the fun of a road trip is the scenery, and the other half is stopping. Even if you make only a few stops, you'll probably have a camera … and the views will drive you to distraction!
Pun intended.
What if you don't want to risk driving on the left-hand side of the road? You can book a 3 day tour from Dublin that includes the Antrim Coast, Giants Causeway, Belfast and the Titanic Quarter, and a few other attractions like Mount Stewart House and Gardens, the Mourne Mountains and several of the dramatic "Game of Thrones" film locations. As a bonus, you'll have a guide who knows the area well.
If you only want to visit the Giant's Causeway in Northern Ireland and nothing else, save yourself the trouble and just book a day trip to the Giant's Causeway from Belfast or Dublin.
Create a complete Northern Ireland itinerary
You should plan to spend a minimum of three days to see the Antrim Coast (more if you're a Game of Thrones fan):
Day 1: Leave Belfast (or Dublin) early, stop when you want, spend the night in Bushmills or Portrush.
Day 2: Backtrack to finish your sightseeing and continue on to Derry, where you'll spend the night.
Day 3: Sightseeing in Derry and a leisurely drive back to Belfast or south into the Republic of Ireland.
Along the way, you will encounter most of Northern Ireland's points of interest. Actually, you will come across so many incredible sights that you will probably have to make some tough decisions on what to leave out or what to see quickly.
Want to read this later? Save it to Pinterest!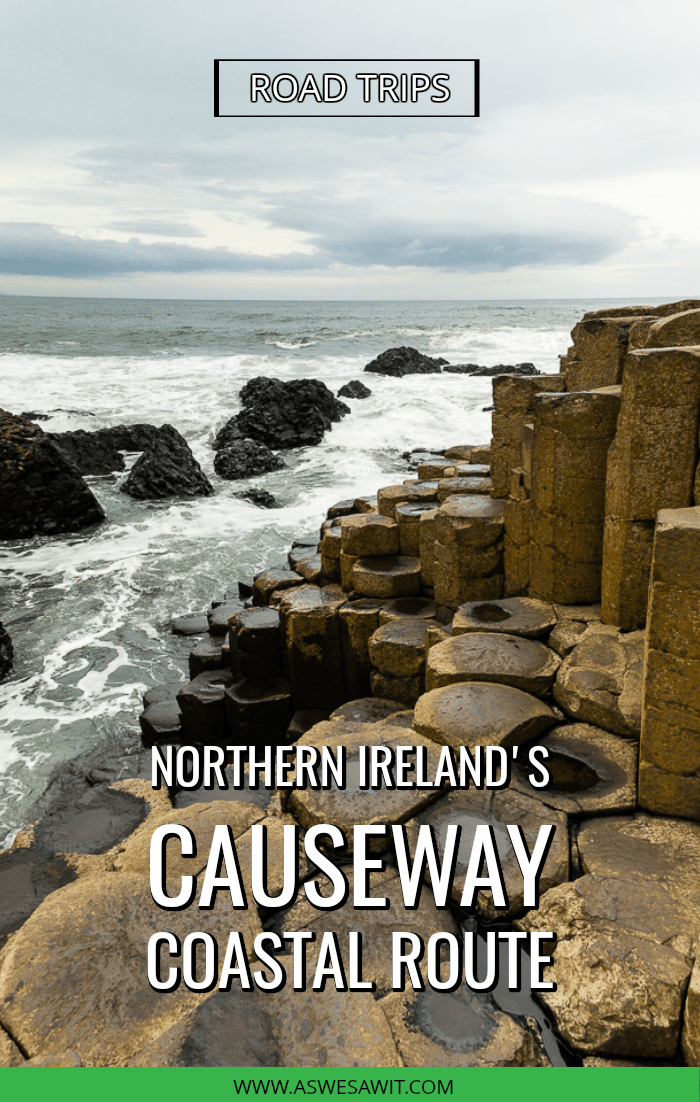 Causeway Coastal Route itinerary
This epic road trip begins in Belfast and will take you to all of the major attractions along Northern Ireland's coast before it finally ends near the walled city center of Derry. Derry borders the Republic of Ireland (where they call the town Londonderry).
If you can, you should couple driving the Antrim coast with 2-3 nights in Belfast for the full Northern Ireland experience, because Belfast is the country's capital and largest city and there's a lot to see there. On the other hand, if you don't want to stay in Belfast, you can begin this itinerary in Dublin. Just keep in mind that it takes 2 hours to drive to Belfast to Dublin so you'll have to set off early on Day 1.
Day 1: Belfast to Bushmills or Portrush via A2 (Antrim Coast Road)
The Coastal Causeway was constructed between 1832 and 1842 by civil engineer William Bald. Instead of building the road inland, Bald envisioned a road at the foot of the cliffs instead. He wanted to avoid steep gradients, which could be quite dangerous.
The workers blasted parts of the cliffs, and then used the fallen debris as the base for the coast road. It was a great engineering achievement for its day and made a great difference to the people of the Glens. Before the road was built, they sailed their goods across the sea to markets in Scotland, because the sea crossing was easier than travel by land.
This part of the road is also relatively narrow and rather lightly used, which is great for a road trip. Let the sea breeze flow through your open windows and start cruising.
From Belfast, we follow the A2 to Larne. This mid-sized town is the starting point of the Antrim Coast road. The road starts following the shoreline to the North.
Glens of Antrim
As we drive further, we'll pass the Glens of Antrim. These nine valleys radiate from the Antrim Plateau to the coast.
Eventually, we arrive in Cushendall, a small coastal town. It lies at the meeting point of three of the Glens of Antrim: Glenaan, Glenballyemon and Glencorp. Much of the historic character of this 19th century settlement remains. In 1973 it was designated as the second Conservation Area in Northern Ireland, and includes the largely intact Irish Georgian buildings of the town's four original streets.
ⓘ TIP: The Glens are an area of outstanding natural beauty. Great spot for hiking.
Torr Head
At Cushendall, the A2 is heading inland, but we keep following the coast by taking the spectacular Torr Road. This small road is winding and climbing its way up to Torr Head. From there you can easily see Scotland (which is only 16 miles away) on a sunny day.
We keep following the Torr road and eventually rejoin the A2 at Ballyvoy.
Carrick-a-Rede Rope Bridge
Leave the A2 at Ballycastle to take the B15 towards the famous Carrick-a-Rede Rope Bridge.
Take the exhilarating rope bridge challenge across to tiny Carrick-a-Rede island (a Site of Special Scientific Interest) and enjoy a truly cliff-top experience. Set amid unrivalled scenery on the North Antrim Coast, the 30-metre deep and 20-metre wide chasm is traversed by a rope bridge that was traditionally erected by salmon fishermen. It's a bit more sturdy these days, but there's still only one way off the island – back across the swinging bridge!
This rope suspension bridge links the mainland to the tiny Carrick Island. The bridge spans twenty meters and is hanging thirty meters above the rocks below. The bridge is open all year round.
After this little walk, continue along the B15. It will rejoin the A2 after a few miles.
Giant's Causeway
Further down the road, our next exit is the B147, also known as the Causeway Road.
The top attraction on any Northern Ireland itinerary, the Giant's Causeway is the center of an Area of Outstanding Beauty. It gave the coastal road its name and is Northern Ireland's only World Heritage Site.
Famously steeped in myth and legend, this geological wonder is an area of about 40,000 interlocking basalt columns that were formed by a volcanic eruption. The tops of the columns form stepping stones that lead from a cliff and disappear under the sea, only to reappear again in Scotland. At some spots the columns are about 12 meters (39 ft) high, and 28 meters thick.
Visiting the Giant's Causeway is a memorable experience. Begin your visit at the state-of-the-art Visitor Centre, then stroll down to the intriguing polygonal stones to search out distinctive formations such as the Camel, Wishing Chair, Granny, and Organ.
ⓘ TIP: Stay at the historic Causeway Hotel for a truly memorable trip. The Giants Causeway Visitor Centre is literally next door. Plus, overnight guests receive free entry to the Giants Causeway.
Bushmills
We keep following the B147 and arrive in Bushmills.
This little village is home to the world's oldest licensed distillery: The Old Bushmills Distillery. Take a guided tour through the heart of Ireland's oldest working distillery, its original grant signed by King James I in 1608.
The finest Irish whiskeys have been produced here for over 400 years, using the same traditional methods and the water from the distillery's own stream. Several of these whiskeys have won international prizes.
ⓘ TIP: Try a meal at the Distillery restaurant. They serve Northern Ireland fare with a Bushmills twist.
Dunluce Castle
After the whiskey tasting, we continue on the A2.
Just after leaving Bushmills, you can already see the Dunluce Castle ruins. The castle is surrounded by extremely steep drops on either side and is only accessible via a bridge connecting it to the mainland.
Over the years, Dunluce has been the site of tales of wailing banshees, smugglers and tragic lovers. Perched dramatically on the cliffs of the North Antrim Coast, 100ft/30 metres above the wild ocean, it was built around 1500 by the local MacQuillan family and later seized by the Scottish MacDonnell clan who eventually established a small town here.
During the Middle Ages, the castle resisted several sieges. But on a stormy night in 1639, dinner was interrupted as half of the kitchen fell into the sea during a monumental storm, taking the servants with it (Ireland's first fast food?). That was the last straw for the lady of the castle. The countess of Antrim packed up and moved inland, and the castle "began its slow submission to the forces of nature."
Nowadays, Dunluce remains only in ruins, but it's still utterly stunning.
ⓘ TIP: You can enter and explore what is left of the castle for a fee, but it's worth a stop even if you don't go inside to view such an iconic image.
Day 2: Bushmills/Portrush to Derry
Whiskey lovers might prefer to stay in Bushmills so they can enjoy a wee dram or two after parking for the night. We stayed in Portrush and thought it made an ideal place for an overnight stay.
Whichever you choose, you can easily backtrack to catch more sights on Day 2, as we did. It's only 8 miles from Portrush to Giant's Causeway.
Portrush
While it's seen its best days, Portrush retains the atmosphere and architecture of a genteel seaside resort. Its peninsula is filled with lowbrow, family-oriented amusements, fun eateries, and B&Bs. Summertime fun-seekers promenade along the tiny harbor and tumble down to the sandy beaches, which extend in sweeping white crescents on either side.
Superficially, Portrush has the appearance of any small British seaside resort, but its history and large population of young people give the town a little more personality. Along with the usual arcade amusements, you'll find nightclubs, restaurants, summer theater productions in the town hall, and convivial pubs that attract customers all the way from Belfast.
Portrush is also the end of the most scenic part of the Antrim Coast drive. After a little walk on the peninsula, we keep following the A2. The road turns more inland and heads for Derry.
Derry (aka Londonderry)
This city goes by two names, which makes it a bit of a controversy to some and a source of jokes to others. We won't go into the history and politics here, but if you're interested you can learn more about the Derry~Londonderry name debate in this article. Let's just say that it is probably best for you to call it Derry while you're in Northern Ireland.
Derry is a perfectly preserved 17th-century walled city and is one of the finest walled cities in all of Europe. Aside from the walls, this historic city also boasts a beautiful setting and architecture, as well as a thriving arts and culture scene.
As Northern Ireland's second-largest city, It's also a great place to eat and drink, which was a huge plus for us!
ⓘ TIP: For more information and images, visit the official Visit Derry website.
Day 3: Derry-Londonderry to Belfast
Day 3 depends on your interests and obligations. You can spend more time touring Derry / Londonderry or take your time with a leisurely drive back to Belfast or Dublin.
Driving from Derry/Londonderry to Dublin is 237 km (147 miles), and takes about 3 hours to drive.
Driving from Derry/Londonderry to Belfast is 116 km (72 miles), and takes about 1.5 hours to drive.
Detours on the way back to Belfast or Dublin
If you have the time on your way back, take a detour to Northern Ireland's Fermanagh Lakelands. Few people know that County Fermanagh is an outdoor-lover's paradise thanks to its miles of lakes and rivers.
The Caldragh Cemetery on Boa Island
For something truly unusual, you'll want to detour to Boa Island. The Caldragh Cemetery contains two unique stone carvings. The larger one has faces on its two sides, which has made some call it a Janus figure, but all that they really know is that one is quite obviously male, and the other clearly female. The smaller carving, "The Lustyman," was brought to the cemetery from another location.
Some theorize that the statues are Celtic or from the British Iron Age, but the truth is that they are a mystery. No one is sure of their age or origin, or why they were carved.
From Fermanagh Town, take the A32 North, then the B82 for about 10 kilometres then drive onto Boa Island (sign-posted). The Cemetery at Caldragh is also sign-posted on your left about 2 km down this road.
Northern Ireland trip planning resources
Where to stay on the Antrim Coast
Depending on where you want to stop for the night, we can recommend:
We stayed in Portrush.
Thoughts about our Northern Ireland itinerary
If you follow this itinerary, you will be assured of seeing the top sights of Northern Ireland and will undoubtedly fall in love with this stunning country just as we did. But please take our advice and don't look at this road trip as just a check list of must-sees.
As we said before, having a car gives you the opportunity to really explore and discover your own new favorite spots. If you see a side road, a village, a local pub, an overlook, or anything else that calls to you, do yourself a favor and answer that call. Some of the best memories are made when you get off the beaten path … and Northern Ireland is a perfect place to do it.