Palestinian Territory. West Bank. Words that might strike fear into many travelers' hearts will make others curious enough to jump at a chance to visit. Spending a day in Bethlehem is one of those must-dos for people on a "pilgrimage" to the Holy Land.
But it's a pilgrimage of another type as well: The city lies outside of Israeli authority.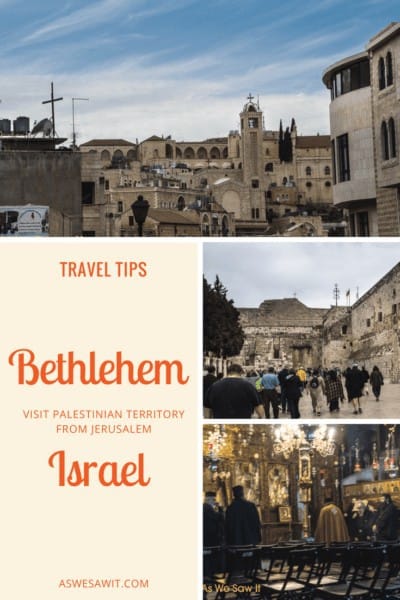 Is it safe to travel to Bethlehem?
Be prepared, because as soon as your friends and family hear you are heading to Israel, they are going to bombard you with their concerns. You can thank the press for that; they will hype anything to get viewers and readers, because that translates into advertising dollars.
Here's our advice: Don't believe everything you hear. Instead, do your own research. Nothing can match boots-on-the-ground experience, so check the travel forums to read other travelers' recent experiences. You will soon realize that the reality of visiting Israel or spending a day in Bethlehem is nothing like the propaganda the media likes to spew.
One thing to keep in mind is that tourism dollars are a vital source of revenue to Palestine. So relax. The Palestinian Authority are vigilant to any possible security issues.
ⓘ RELATED: 10 Cool Facts about Bethlehem
How do you visit Bethlehem on a day trip from Jerusalem?
While Israelis are forbidden to cross the border into Palestinian territory, there are no restrictions for other tourists. Whether on a day trip for visiting for a few days, no visa is required. They will ask you to show your passport, which takes mere moments. Your passage into Palestinian territory should go smoothly, unless you take photos of the checkpoint. That's a strict no-no.
Once within the West Bank, all security is handled by the Palestinian Authorities. Palestinian soldiers are in uniform. You'll see them carrying guns just as they do in Israel. That's for your protection. They are there to keep the peace.
ⓘ TIP: Remember that the Gaza Strip and the West Bank are two distinct areas and are nowhere near each other. The high-risk Gaza Strip lies along the Mediterranean coastline, whereas Bethlehem is located in the West Bank­, which borders Jordan.
How to get to Bethlehem
Most people travel to Bethlehem (Palestine), on a day trip from Jerusalem (Israel). It's quite easy to take a taxi on your own, but it's far easier to take a day trip, as we did. We like taking guided tours because we want someone to answer our questions and point out things we might miss on our own. Besides, they take care of all the travel arrangements and will take us to where the best eateries are.
Either way, you MUST bring your passport. Everyone has to pass through a guarded checkpoint.
ⓘ TIP: You can see everything in only a few hours. Take a half-day guided tour of Bethlehem like this one … or make it a full day trip and visit other locations as well, like Jericho or the Dead Sea.
What is the border between Israel and Palestine like?
There will be no doubt when you've arrived at the Israel-Palestine border. You can't miss the looming 8-foot concrete wall, decorated in political graffiti and lined with watch towers, cameras and barbed wire.
This is an Israeli-run checkpoint and it is a very visual reminder of the difficult political situation both sides are in. We're not taking sides, but for what it's worth our guide told us that one reason they built the wall was to protect drivers from snipers.
Although the town of Bethlehem is best known as the birthplace of Jesus of Nazareth, it is also famous as the traditional burial site of patriarch Jacob's beloved wife, Rachel. Jacob is beloved by all Peoples of the Book, so everyone wanted access to Rachel's tomb.
This created a big problem when the high security wall was built to divide Palestine and Israel. Ultimately, they planned the border so that Israelis could still have access to Rachel's tomb. The wall detours for a few blocks so that the tomb is on the Israeli side.
Arab food for lunch
Bethlehem is actually called Bet Lechem. Translated, its name means "House of Bread" (Hebrew) or "House of Meat" (Arabic), so it was rather fitting that we arrived in Bethlehem just in time for lunch.
This was a highlight of our Bethlehem visit, because we really enjoy Middle Eastern food. Our guide took us to a hidden place called Palms Café. We had to pass through a tempting bakery full of trays of mouth-watering local pastries, then out the back door and down some stairs to get there.
Here's what you need to know: In the Middle East, they don't just put out a basket of bread before a meal, they put out a spread!
The tradition is to begin a meal with a number of small salads and a basket of warm pita bread. Hummus, cole slaw, roasted eggplant, cucumber salad, Turkish salad, and red cabbage slaw …
As usual, the hardest part was to leave room for the main meal, which was our choice of falafel, meat skewers, or barbecued chicken. So Dan and I ordered different dishes so we could try two, and as good as my kebabs were, his smoky chicken was even better.
When I mentioned that I was sorry I couldn't have tried a falafel, the waiter brought one out to try. Let me just say that if you're a vegetarian, you'll be amazed at the light texture. It was fried to just the right amount of golden-brown deliciousness, too.
Just when we thought we couldn't eat another bite, they served dessert – cardamom-scented Turkish coffee and a bite-sized bit of baklava. Baklava is the region's traditional dessert, made of flaky phyllo pastry, walnuts, honey and fresh dates. Oh. My. Goodness. What a brilliant marketing move, as we'll pass through their store on the way out….
Bethlehem's famous Church of the Nativity
We lugged our full tummies back onto our tour bus and soon were standing at Manger Square, where the Church of the Nativity stands. This is where faithful Christians gather every Christmas Eve to commemorate the birth of the Messiah.
Church of the Nativity is one of the oldest churches in the world. It was built above the cave where, according to the Bible, Jesus Christ was born to Joseph and Mary Christ.
Not really. I just wanted to see if you were paying attention.
Wait a minute … Jesus was born in a cave?
I know what you're thinking: Nowhere in the Bible does it say Jesus was born in a cave. Mary "laid him in a manger because there was no room for them in the inn." (Luke 2:7).
Here's the thing: Some sources say the Greek can also mean, "she laid him in a manger because they had no space in the room." So Jesus could easily have been born in a quiet back section of an overflowing one-room house.
Interestingly, both Justin Martyr and the Protoevangelium of James say Jesus was born in a cave. Biblical archaeologists don't have a problem with that, because many houses in the area are still built in front of caves. The cave part would have been used for storage and stabling animals – hence the cave-manger connection.

History of the Church of the Nativity
Here's a timeline of the church's early history:
135 AD – Roman Emperor Hadrian had the Christian site converted into a worship place for Adonis, the Greek god of beauty and desire.
160 AD – Justin Martyr identified a specific grotto as Jesus' birthplace.
326 AD – Helena, mother of Roman emperor Constantine, had a church built on the spot in 339 AD.
It was destroyed by fire during Samaritan revolts in the mid-500s.
530 AD – Emperor Justinian destroyed the church so he could build the much larger church that remains today, using the same foundation
A 14-point silver star was embedded in white marble in the grotto to mark the exact spot where Jesus was actually born.
I have no idea why they chose to give the star 14 points, but it probably has some esoteric significance. I also don't know how they could be sure that Mary gave birth in that exact location, centuries after it happened. But that's what they claim, anyway.
In any case, the Church of the Nativity has seen renovations and additions but it's still basically the same structure. Thus, it has been designated a World Heritage Site and is protected by UNESCO.
ⓘ Interesting fact: Jerome, who first translated the Hebrew scriptures into Latin, lived and worked in Bethlehem. He was buried in a cave beneath the Church of the Nativity.
What's inside the Church of the Nativity
Because it's so central to the Christian faith, many sects have laid claim to this church. Governments too; crusader kings were crowned there church for until the 12th century. When the silver star was stolen in 1847, it brought everything to a head and caused a war. It took an actual political treaty to finally settle the disagreement.
Today, the church is controlled jointly by three Christian denominations – Armenian, Greek Orthodox and Roman Catholic. Each church controls a different part of the basilica, but all share access to the grotto.
What's in the Grotto of the Nativity
We descended the ancient stone stairs to the grotto. There, throngs of tourists waited on queue to enter the Grotto of the Nativity and kneel at the altar there.
Waiting for those few moments will take up a lot of precious visiting time. Instead, we chose to explore another part of the grotto. "The star is on the other side of this wall," our guide told us. "This is the closest you can get without actually being in the room."
The Roman Catholic segment under St Catherine's Church is much more low key. Simple and sedate. This is where you'll want to come if you wish to worship in quiet prayer and reflection.
O little town of Bethlehem …
The Christmas song may ring in your head, but with nearly 30,000 inhabitants, Bethlehem isn't such a little town anymore. We walked the few blocks back to the bus, passing a Starbucks and a shop with an inflatable Santa. And a Bethlehem wine tasting, even though most Palestinians are Muslim.
Yep, it's all about the tourists. Kids played in the side streets while locals beckoned to us as we passed. "Two minutes. Come visit my shop for just two minutes."
Bethlehem is known for its beautiful olive wood carvings. Our guide took us into a Christian-owned gift shop, so others could buy souvenirs and food and snacks for tomorrow's Sabbath. The prices were good but I found a better deal on the corner. A guy was selling liter bottles of water for $1 … and he took U.S. dollars as well as Israeli shekels.
"What is life like for a Christian who lives in Palestinian territory?" we asked our Christian guide. We wanted the unique perspective of a non-Muslim/non-Jew who lives in the territory.
She began by telling us that Bethlehem is inhabited by one of the oldest Christian communities in the world. Then she continued, "Due to social pressure, Muslims will only patronize Muslim businesses, so the small Christian population must rely on income from tourists and others."
No wonder the number of Christians still living in Bethlehem has shrunk dramatically in recent years. I'd probably emigrate, too.
Plan your Bethlehem visit
Bethlehem has many useful trip planning resources on the official website.
Click here to see if you need a visa.
Prepare your taste buds with our list of 8 Healthy Middle Eastern Foods You Must Try.
For more sightseeing, see our photo album from Bethlehem.
Google Maps offers an aerial view of Manger Square, Bethlehem. Zoom, scroll around and explore!
How to get to Bethlehem from Jerusalem
If traveling from Jerusalem to Bethlehem, locals suggest to leave from Damascus Gate. You can either take a taxi or Bus #21.
This website shows how to get anywhere by plane, train, bus, ferry and car.
Where to stay in Bethlehem
If you plan to stay overnight (we didn't), Hosh Al-Syrian Guesthouse gets good reviews on both TripAdvisor and Booking.
Travel styles and budgets differ. Whether you prefer a hotel, hostel, or vacation rental, Booking will help you find the best accommodation for your visit.
Read more about Bethlehem
Online
On Amazon
Want a private tour?
Get Your Guide offers affordable, custom tours to Bethlehem from all over Israel. Here are two from Jerusalem.
If you prefer a full tour, G Adventures offers some nice itineraries. There are so many things to see and do in Israel that we recommend spending at least two weeks there. If that doesn't fit your needs, some of their itineraries also visit Jordan and Egypt. SEE ALL THEIR ITINERARIES HERE.
Want to read this later? Save it to Pinterest!