'Tis the season of lights, Santa Claus and gift wrap. It's that time of year when Bethlehem once again becomes a hot news story around the globe. The real town of Bethlehem, that traditional site of Jesus' birth, still stands only a few miles from Jerusalem, but these days it's mostly Arabs who live there, not Jews.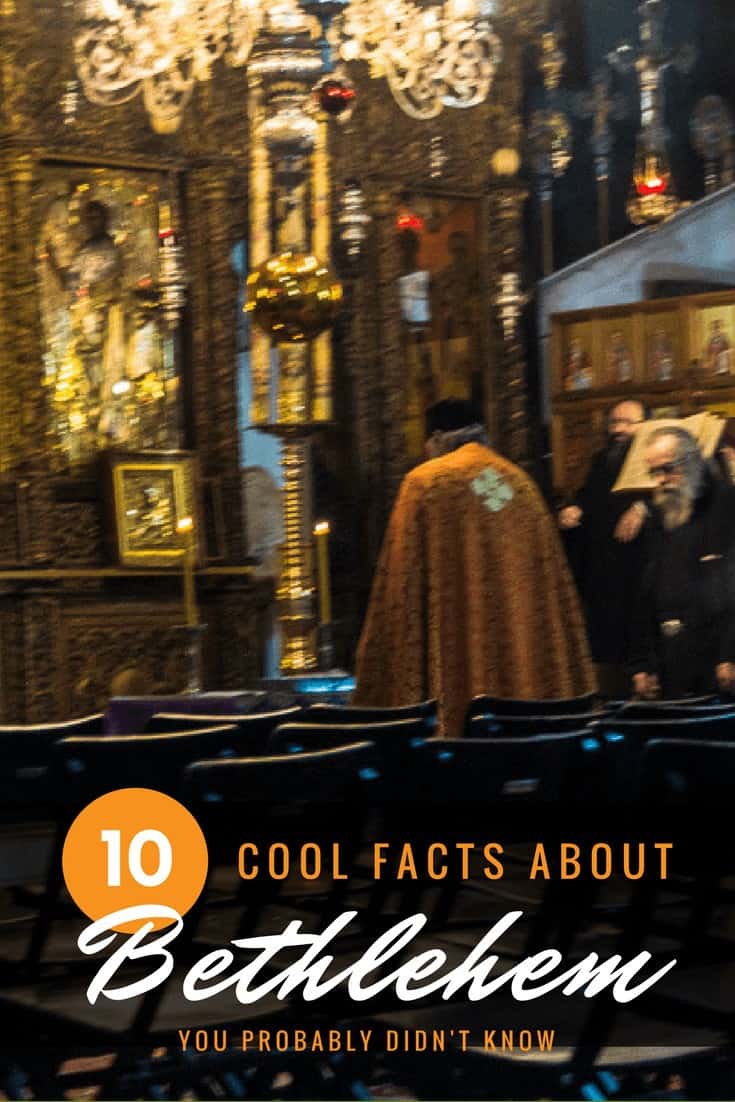 Every Christmas Eve, faithful Christians gather at Bethlehem's Church of the Nativity to worship. For many it's a once-in-a-lifetime opportunity to commemorate Jesus' birth in the city where he was born.
Maybe it's on your bucket list as well. If so, to ensure you get the most out of your visit, here are a few things about Bethlehem that you should know before you go, from entry and culture to tours, sites and souvenirs.
1. You will need your passport.
You'll have to cross an official border to get to Bethlehem from Jerusalem. Most tourists fly to Israel and visit Bethlehem on a day trip from Jerusalem (8 km away) or Tel-Aviv. Regardless of entry point, everyone has to pass through a guarded checkpoint with passport in hand.
Another thing: Don't take photos of the checkpoint, or aim your camera in the direction of the checkpoint. It's a standard security procedure here, and you can take all the pictures you want after you enter the territory.
2. Bethlehem is actually called Beit Lechem.
If you translate Bethlehem's name into English, Beit Lechem means either "House of Bread" (Hebrew) or "House of Meat/Flesh" (Arabic). Either way, the name is a pretty good clue that this is a great place for delicious Middle Eastern food.
Be prepared to spend your entire time in Bethlehem completely stuffed. This is a culture that knows how to feed its guests.
3. The most visited site is the Church of the Nativity.
The church has seen its share of renovations and additions but all the improvements were built around the original structure. It is the oldest Church in the Holy Land still in use and one of the oldest churches in the world.
4. The Grotto of the Nativity, traditional site of Jesus' birth, is beneath the church.
A 14-point silver star embedded in white marble marks the exact spot where Jesus was actually born. At least, that's what they say. There are always really long lines to see the star, so if you don't care that much about seeing the actual star, you can opt to visit a different part of the grotto via an alternate route.
5. The Grotto of the Nativity was originally a cave.
Some scholars believe that this cave was originally a cultic shrine to the pagan god Adonis-Tammuz (lord Tammuz), stating that the word Bethlehem could also mean "House of Lahmu." (Lahmu was the serpentine gatekeeper in pagan lore.)
On the other hand, Jerome claimed that it began as a shrine to Jesus and was later rededicated to Tammuz. Read this article for more about that.

6. The church is jointly controlled by three Christian denominations.
Each of them — Armenian, Greek Orthodox and Roman Catholic — controls a different part of the basilica, but nobody gets special treatment. All have equal access to the Grotto.
7. Bethlehem is also the traditional burial site of Rachel.
Bethlehem has a second pilgrimage site, the tomb of Rachel. Rachel was a Biblical figure, the favorite of Jacob's two wives.
Rachel is also beloved as the mother of Joseph and Benjamin, two heads of the 12 tribes of Israel. (Jacob was renamed Israel after he wrestled with an angel.) She died in childbirth with Benjamin and was buried on the road to Efrat, just outside Bethlehem.
ⓘ TIP: Rachel's tomb is open to the public 24/7. However, it is temporarily closed due to Security Restrictions, on Shabbats, holidays, and Sunday thru Thursday 10:30 pm thru 1:30 am.
8. Bethlehem is famous for its handicrafts
Olive wood carvings are tops on the list, and plenty are available all over town. You'll find the prices are far better than you can get anywhere else. (Be sure to haggle!)
Even better deals can be found on the street, where people hawk huge bottles of water for $1.
9. Muslims rarely patronize non-Muslim businesses
To do so would result in being ostracized socially. Both family and community are extremely central to Arab culture. Because of this, many Christians and other non-Muslims rely on income from tourists and others in a similar situation.
10. Merchants are willing to take U.S. dollars
It's easy to make purchases in American dollars as well as Israeli shekels. This means you can buy souvenirs without worrying about exchange rates. Have fun shopping!
Plan your Bethlehem visit
Bethlehem is a short trip from anywhere in Israel.
Click here to find out if you need a visa.
For more sightseeing, see our photo album from Bethlehem.
Google Maps offers an aerial view of Manger Square, Bethlehem. Zoom, scroll around and explore!
Where to stay in Bethlehem
If you plan to stay overnight (we didn't), check Booking.com for comfortable and convenient accommodation.
Want a guided tour of Bethlehem?
Get Your Guide offers a number of affordable Bethlehem tours. You can easily visit Bethlehem in few hours, which leaves you time on your day trip to visit other places:
Cruisers can easily visit Bethlehem from Ashdod port. This Jerusalem And Bethlehem Small Group Tour gets high reviews.
For a longer guided tour, G Adventures offers some nice itineraries. There are so many things to see and do in Israel that we recommend spending at least two weeks there. But if that doesn't fit your needs, some of their itineraries also visit Jordan and Egypt. SEE ALL THEIR ITINERARIES HERE.
Read more about Bethlehem
Online
On Amazon
Want to save this for later? Pin it to your favorite Pinterest board!