Check the label in your clothing – was it made in Indonesia? While there's a good chance it may have been, this country is more than just an exporter of mass-produced goods. You can also find exquisite handmade textiles, both woven and hand-painted, as we discovered when we went to watch batik artists at work in Ubud, Bali.
What is batik?
You may have heard of batik, as it is a well known art form. While it has been done for millennia, many say it originated in Java: The word batik is a combination of the Javanese word amba ('to write') and titik ('dot'). It is unique enough that UNESCO chose to designate Indonesian batik as a Masterpiece of Oral and Intangible Heritage of Humanity in 2009.
Basically, batik is a wax-resistance technique that involves
drawing an intricate pattern of dots and lines onto fabric,
soaking the cloth in one color,
removing the wax with boiling water, and then
repeating one-by-one with other colors, as needed.
Batik is created either with a special tool called a canting, or (for larger patterns) by using a special copper stamp.
Watching Bali batik artists at work
Either way, these hand-painted fabrics are intricate patterns made layer by layer. They require a large amount of time and patience. Not to mention focus.
We watched a man work on his pattern so intently that it was obvious he was completely absorbed in his work. He was oblivious to everything around him.
Once the pattern is completed, the artist then dips the fabric into a vat of dye. The fabric receives the color everywhere that the wax hasn't been applied. Once it has been dried, he will apply a second intricate wax design on top of his creation, and then dye it yet again. He will repeat the same procedure until all colors have been applied.
All this attention to detail pays off in the end. When all the layers of wax and dye have finally been applied, a hot bath removes the wax to reveal the final, beautiful pattern beneath.
ⓘ TIP: These batiks are worthy to be framed as art. Many people bring them home as a souvenir for just that purpose.
Getting a dress hand-painted in Ubud.
A popular thing to do in Bali is to watch the batik artists at work. When you visit, do what this wise woman did: Make sure you wear a plain dress or shirt.
The batik artists in Ubud have seized the tourist attraction opportunity and now also use their technique to hand-paint clothing for tourists. This lady had worn her dress to the shop but you probably can buy a ready-to-paint one in their shop. Unfortunately, I missed out. I wasn't dressed for the occasion and that idea didn't occur to me until after we left.
When we go back, getting my own hand-painted dress will be high on my to-do list!
Want to read this later? Save it to Pinterest!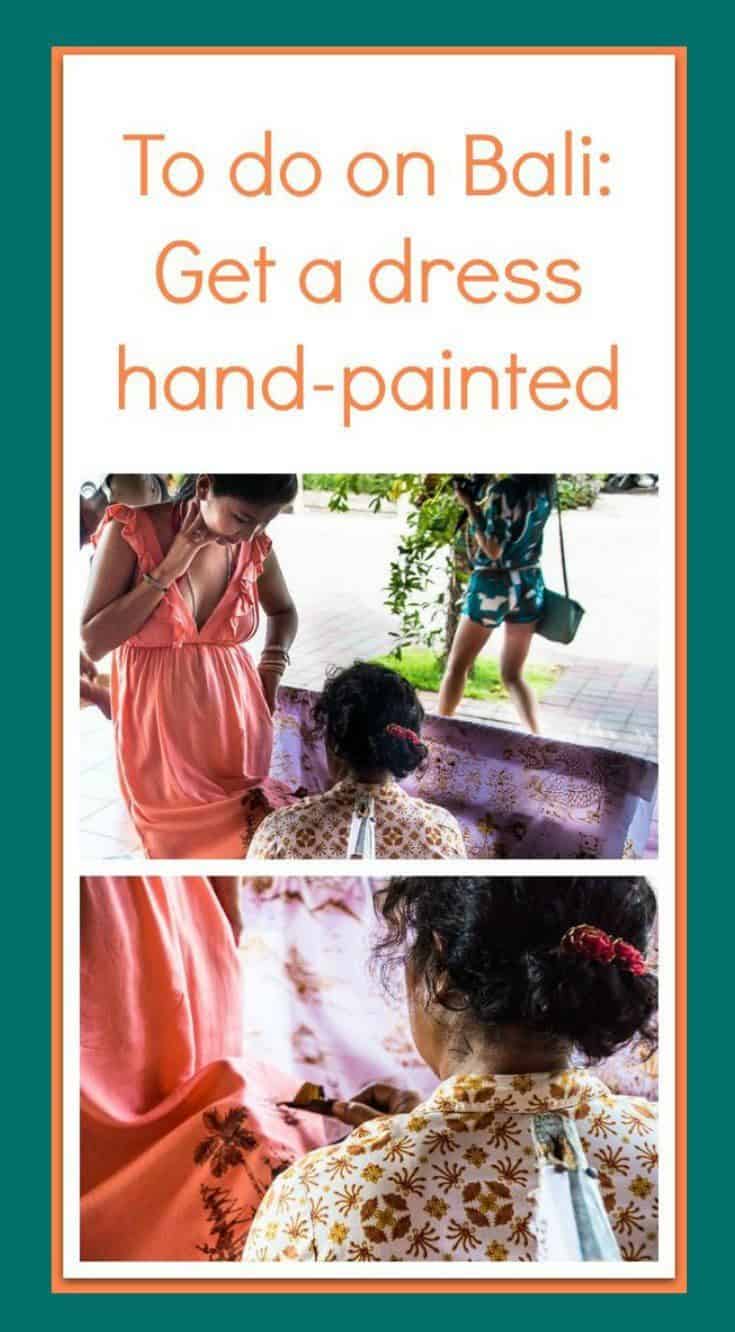 Woven fabrics – Balinese sarongs
Traditionally, sarongs are hand-woven, and the craft is still practiced on Bali. Just as with batik, each Indonesian island creates its own unique designs. But be warned: Handmade products can be expensive. It will take 8 hours for a weaver to create one meter of cloth, and sarongs are two days' worth of work. But if price isn't an issue, these high quality fabrics are ideal for table cloths, shirts, dresses and sarongs.
As I mentioned, sarongs are little more than a two-meter bolt of cloth. Most of them are inexpensive mass-produced prints like you'd buy in any fabric store. But never mind the type of fabric. A little imagination can turn a sarong into anything from a skirt to a bathing suit cover-up, and even multiple dress styles. And not just for women: Indonesian men wear them, too, although the style and method of wrapping it is different.
It even fit Dan when he weighed 275 pounds.
Sarongs are unique inexpensive souvenirs. Almost any Indonesian will be happy to show you how to wrap it.
There are also ways to create pretty bows when tying the sarong, like this one.
Want to visit a Bali batik shop?
You can watch batik artists at work at Batik Popiler, a shop in Tohpati. It's located between Sanur and Ubud.
If you'd like to try your hand at it, you can find batik workshops and other classes in Bali. Many are in the Ubud area.