Bali may be famous for its spectacular beaches, nightlife, nature and spas, but there's one thing that makes it unlike any of Indonesia's other islands: its temples. Bali's religion is a curious blend of Hindu and indigenous practices, and it shows in Balinese temple architecture and design. You won't find anything like them anywhere else on Earth.
But even among Bali's holy sites, some temples are more equal than others. The Balinese believe that a small group of them work together to protect the island from evil spirits. These nine directional temples sit atop cliffs, on mountainsides, on lakes and in caves, and their beautiful surroundings make them some of the best places to visit in Bali.
9 directional temples in 10 days
We enjoy foreign cultures and we like to learn and enjoy new things. We also like our creature comforts when we travel. Thus, we created a fantastic 10-day itinerary that would include all of Bali's directional temples yet still leave time to enjoy what the island is known for.
This will easily fit into any American's two-week vacation allotment. Even considering the long flight time, you will have plenty of time to explore the island further after finishing this itinerary.
And best of all, you can visit Bali on a budget.
But we digress.
While temples are a must-see for any Bali trip, we're not crazy enough to visit without also enjoying resort amenities, beach time, Balinese massages, and some of the best Instagram-worthy photo ops on the planet.
Oh – and Balinese cuisine. You have to try that… It will send your taste buds into the stratosphere!
Where to stay in Bali
We mapped out all 9 directional temples, figured out travel time between them, and took a look at what was in the area. Then we chose our accommodations after checking locations, photos, amenities, prices and reviews on both Booking and TripAdvisor. Those sites are good resources if budget is a priority, but check with the hotels we recommend as well. Sometimes places run promotions exclusively on their website.
A few of our resorts offered free stays if we would share photos on social media and link to their sites in this article. We accepted, but we didn't promise to give them glowing reviews. What you will read is what we really thought.
How to get around Bali
Bali doesn't have a bus system. The easiest and most convenient way to go is by car. We strongly advise against renting a car yourself, and if you've seen Balinese drivers you'll understand why everyone hires a private driver. We went with a company that a friend recommended, and they bailed on us midway through our trip. Lesson learned: In Bali, partial payments don't work. Don't pay them anything until the job is finished.
You can find drivers on Get Your Guide, our affiliate site. Here is one that offers services at a fair price.
Aside from hiring a driver or renting a car, your other choices are to go trip by trip. Either hire a taxi or use a Grab car. It works off of an app, similar to Uber. We use it all the time; it's so convenient.
Grab works very well – where it works. The problem is that taxis have a monopoly in certain parts of Bali, so they can charge what they want. After we lost our driver, we relied on taxi services booked by our hotel, and that was NOT fun. Each ride cost 500.000 rp. (about $32), all because I forgot that I could have booked an all-day driver through Get Your Guide.
That was a pricey mistake.
Bali tour overview
Day 1 – Arrival & Pura Uluwatu – Arrive in Bali in the morning and begin with a tour of Uluwatu Temple. Afterwards, check in at your beachfront hotel and recover from jet lag.
Day 2 – Pura Batukaru – Morning begins with breakfast and a visit to Batukaru Temple. Then a drive into the mountains to Bedugul for lunch at Handara Golf & Resort Bali. Spend the afternoon enjoying hotel amenities or exploring the town.
Day 3 – Pura Ulun Danu Beratan & Pura Ulun Danu Batur – Get sunrise shots at the iconic Ulun Danu Beratan temple, then stop for selfies at Handara's entry gate. After breakfast and checkout, drive to Ulun Danu Batur, a pretty temple on the side of Mount Batur, a dormant volcano.
Day 4 – Free time to relax or dive – Enjoy some down time at your beachside resort. If you enjoy diving, you are minutes from some world-class scuba sites, including Amed. Enjoy!
Day 5 – Pura Lempuyang & Pasar Agung – An early drive to Lempuyang Temple for photos at the gate and an (optional) climb to the top of the mountain. Afterwards, drive up the side of Bali's famous Mount Agung volcano to see Pasar Agung.
Day 6 – Pura Besakih – Enjoy breakfast before visiting Pura Besakih, the Mother Temple of Bali. Stop for lunch at a local spot on the beach, then visit Pura Masceti and Goa Lawah. Transfer to Avillion Villa Cinta on beautiful Sanur Beach.
Day 7 – Down time to enjoy Bali your way – Time to relax! Free time to enjoy the villa's pool, explore Sanur, or do whatever you fancy.
Day 8 – Tanah Lot – Bali is world renowned for its crafts, including batik, wood carvings, silver jewelry, wall art, and more. Visit a studio or an art gallery to see it up close, and consider buying something as a memento. Enjoy lunch, then visit Tanah Lot in the afternoon. Tanah Lot is not a directional temple, but a bonus visit due to its uniqueness.
Day 9 – Free time – Enjoy the amenities at the resort.
Day 10 – Departure – After breakfast, pack and transfer to the airport for your flight home.
ⓘ TIP: If you have more time in Bali, you can find some additional suggestions for things to do at the end of this article.
10 day Bali itinerary with 9 directional temples
This itinerary is best for those of you who are interested in Balinese culture and religion. If you'd rather focus on beaches, shopping or trekking, then just visiting one or two Balinese temples may be enough for your holiday. Our guide to Balinese temples will help you decide which ones to see.
Also, if you're here with young ones, this guide to Bali with kids will be super helpful.
Day 1: Uluwatu Temple
Pura Uluwatu
Known for its beautiful location, Pura Luhur Uluwatu is perched on a cliff about 70 meters above the sea. It lies at Bali's southernmost tip, warding off evil spirits that want to invade from the sea.
This is truly one of the best places on the island to go if you're looking for spectacular sunsets It offers clear views of the Indian Ocean and daily Kecak Fire Dance performances as the sun approaches the horizon.
The only thing we don't like about the temple is that to get there, you will need to walk through a forest that has several groups of brazen monkeys. Some say that they protect the temple from bad influences. We couldn't disagree more strongly, considering how nasty these little creatures are. They will try to steal anything they can, so hide your smartphones and sunglasses, and zip your purse.
Come to think of it, a lot of the monkeys in Bali's tourist areas act like that.
Stay at WakaGangga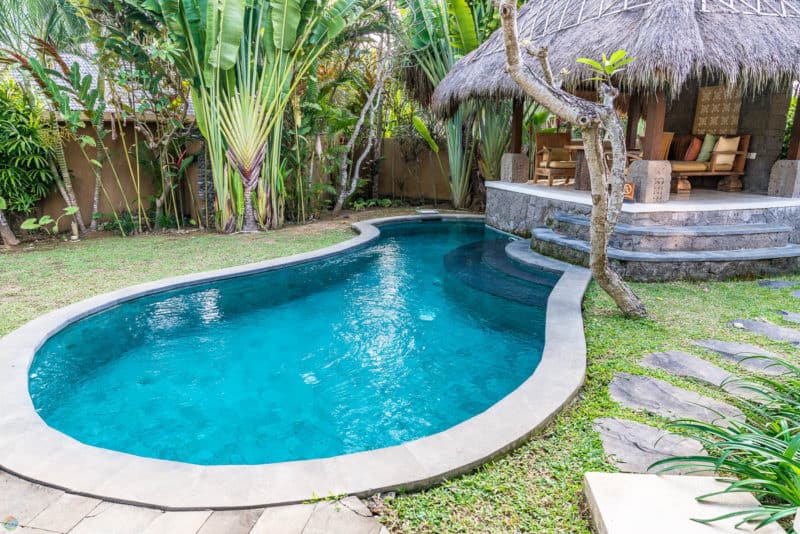 Check in at WakaGangga. This beautiful boutique resort is snugly tucked in between emerald green rice paddies and a beautiful black sand beach.
We loved having our own secluded walled compound, complete with a private pool and garden, plus pavilion with lounge chairs. (Can you say, romantic?) The setup is the perfect place to recover from the flight and day's adventure.
WakaGangga's spa offers a wonderful selection of treatments at good prices, but we didn't have a chance to enjoy them. We spent too much time at the second-floor restaurant, enjoying their extensive menu and creative drinks. It's the perfect spot to watch the sunset.
Day 2: Batukaru Temple
Pura Luhur Batukaru
Pura Batukaru is only an hour's drive away. It sits on the side of Mount Batukaru, Bali's second-largest volcano. (Don't worry though, it's not active.)
Batukaru Temple is responsible for protecting Bali from evil spirits that try to enter from the west.
After visiting the main temple, you can follow the path down the hill, where you'll find two other locations of interest: a fountain for purification and a lake with a very small temple on an island.
Simply continue to the end of the square lake and climb the stairs to the right to return to your transportation.
Your next stop is Bedugul. The town has a lot to offer a visitor … although you might prefer to fit in a round of golf at your hotel instead.
Stay at Handara Golf & Resort
Never mind the entry gate that's become an iconic Instagram location. Handara Golf & Resort features a world class golf course and a hotel with an array of beautifully appointed rooms with super-comfortable beds. You can enjoy a variety of rooms at different price points, offering golf course views or outstanding mountain scenery.
While many golf courses aren't good for the environment, Handara seeks to be eco-conscious throughout the resort. Their chef even harvests as much produce he can from the property's own organic garden!
ⓘ TIP: Breeze Terrace offers panoramic views of the 18th hole – and with the televised golf events, it's the ideal "19th hole" for golf lovers. In the evening, head upstairs to Soyokaze restaurant for a taste of Japan. (We enjoyed the sukiyaki.)
Day 3: Ulun Danu Beratan + Ulun Danu Batur
Pura Ulun Danu Beratan
It's an early morning today, because Ulun Danu Beratan is one of the most picturesque spots in Bali! It is best to see and photograph this beauty early, before the sun rises and crowds arrive. Proceed directly to the lake area and find a place among the others braving the morning fog for your spot of photographic perfection.
If the weather cooperates, you'll get a chance to watch the sunlight slowly light up the fog on the lake and the floating temple. And if you want an up-close experience with the temple, boats are available to take you out onto Lake Beratan. A perfect way to get a stunning selfie that will make your friends jealous.
Afterwards, tour the grounds and check out the other temple complexes, a playground, a marina, gardens, and more. Then return to Handara for breakfast (coffee, anyone?) before heading to the other Ulun Danu temple.
Pura Ulun Danu Batur
Located on Mount Batur, the next extinct volcano to the east. is Ulun Danu Batur Temple. The Balinese consider it to be the second most important temple, next to Besakih. Unlike Ulun Danu Beratan, Ulun Danu Batur is not on a lake … even though "Ulun Danu" translates as "head of the lake."
In the temple's first court, you'll discover a beautiful, well maintained garden … an unexpected but appreciated find. You can probably find just about all the variations of Balinese temple architecture here, all in this one place. Spend time wandering around this temple, as there are many hidden areas.
Stay at Siddhartha Ocean Front Resort
Siddhartha Ocean Front Resort and Spa is situated on the north coast of Bali near the town of Kubu. Fronting the beach, it has a spectacular yin-yang infinity pool where you can just float and watch the waves on their endless journey. This boutique hotel offers stunning architecture in the most beautifully landscaped gardens, and is reasonably priced. Check rates here.
ⓘ TIP: Siddhartha also has a dive center. It lies in one of Bali's prime diving areas, offering locations such as the wrecks of the "Boga" and the USS Liberty Wreck, the island's most famous dive site. So bring along your C-card and enjoy Bali under the ocean from this resort.
Day 4: Relax on the beach
Enjoy your free day to catch some rays, get a spa treatment, blow some bubbles on an underwater excursion, or just grab an adult beverage by the pool. The day is yours to enjoy.
Day 5: Pura Lempuyang + Pasar Agung
Pura Luhur Lempuyang
Thanks to Bali's dramatic candi bentar (split gate), Pura Luhur Lempuyang is one of the most popular tourist attractions in Bali. You'll see this temple featured all over Instagram, Facebook, and Tumblr … and anywhere else that selfies accumulate.
Sad part is, while a few people may climb the adjacent stairs to the next temple, there aren't many who venture much beyond that. Of course, that could be due to the grueling challenge of climbing the "stairway to Heaven" — seven levels of steps to reach the top!
If you are up to it, you'll be rewarded with a remarkable mountaintop view. On a clear day, you can see all the way to the island of Lombok!
As this itinerary shows, this is not the day to lollygag and fall behind. We'll be honest: If you don't get there first thing in the morning, you'll end up waiting on line for hours for that 'once in a lifetime' shot.
We got there around 9:00 am and still had a 45 minute wait. By the time we had finished our photo session, the line was exponentially longer than it had been when we had arrived.
ⓘ TIP: There is a guy at the gate who, for a small fee, will photograph you using your cellphone. He uses a mirror to get the watery reflection that you so often see in Instagram shots. It's a great old photography trick.
Pura Pasar Agung
Located on the southern slope of Bali's highest mountain, Pasar Agung Temple is the highest of Bali's directional temples. Because of the clouds that cover Mount Agung by mid morning, you can expect a mysterious climb up a wide, paved trail to the temple.
According to Balinese legend, Mount Agung was created from a fragment of Mount Meru (the center of the cosmos), and is full of energy and power. Considered as the market of the gods, Pasar Agung literally means Agung market, and so people often make sacrifices and come here to pray.
It is important to note that there are many stairs on the way up. Take your time to the top and enjoy being inside the clouds and the serene feeling they bring.
ⓘ TIP: If you have weak knees, pass on this one.
Stay at Surya Shanti Villa
Surya Shanti is one of those places that leave no doubt you are in Bali. The hotel lies on a steep slope amid rice terraces, and one side of the property offers a terrific view of Mount Agung. It's quite a peaceful location.
Rooms are beautiful, and all have a wall of floor-to-ceiling windows as well as a porch with comfy chairs, both of which are perfect for lounging and savoring the views. They inspired us to skip the plunge pool and relax with a fantastic Balinese massage in the private pavilion.
This is one hotel where we disagree as to whether we would return. Dan says yes, while Linda said she'd prefer somewhere that wasn't on the side of a hill. Her knee didn't appreciate having to deal with climbing up and down stairways to go anywhere. If you'd prefer to find a flatter location, find other nearby options here.
Day 6: Pura Besakih + Goa Lawah + Pura Masceti
Pura Besakih
With its three temples for each of the main deities in Hinduism, Pura Besakih is often called the mother temple. It is not only the most important of Bali's 9 directional temples, it is also the most important of all the temples on the island.
Pura Besakih lies in a precarious position on the southwestern side of Mount Agung, an active volcano. During the recent volcanic activity, the area surrounding the temple was evacuated. This allowed a unique visit to Besakih with no tourists.
The carvings of various gods along the stairs are protecting the way up to the temple. The view from the top gives you an overall layout of the temple grounds. Wander around the complex for more wonderful views of the area.
Once in the inner courtyards of the temple, you will find so many ornate carvings that the Balinese are famous for. Since Pura Besakih is the most important, it welcomes all devotees from all caste groups.
Pura Goa Lawah
Pura Goa Lawah, which translates as "bat cave" in Indonesian, is home to thousands of bats … and no Robins! lol. The temple complex has wonderful gardens and a good sampling of Balinese architecture found in many temples. It's main attraction are those bats hanging inside the main temple area.
There is no way to get into the cave, as it is only accessible by the devotees. However, moving towards the right side of the cave offers the best location to see them fluttering about inside the cave.
Pura Masceti
Pura Masceti Is located on the sacred Masceti Beach. This is a lesser-known temple and is rarely visited by tourists. There is a museum near the temple grounds that exhibits farming in Bali and the subak, a watering system for the rice paddies now a UNESCO intangible heritage site.
Don't miss the small lake complex on the far right side of the temple. It has a small offering area and is quite beautiful.
Stay at Avillion Villa Cinta
Avillion Villa Cinta is a private estate located on Sanur beach, south east Bali. The Villa offers exclusive privacy, with direct access to the beach. Sanur is a small coastal town famous for its exotic beaches, and its laid back atmosphere, warm and gentle hospitality, filled with Balinese tradition, culture and religion.
Religious ceremonies happen everyday in Bali, and Villa Cinta guests are lucky to witness some of these when ceremonial processions make their way to the beach nearby.
Day 7: Down time to enjoy Bali your way
After so much sightseeing, you might want to enjoy some downtime in Sanur. If you walk out the back door of the villa complex, you'll find a beach walk that leads along the beautiful Sanur beach. A few steps along the way, you'll come to a paved area on your left, which will lead you to the main street. There are a lot of things to do in Sanur, including an abundance of shopping, massage parlors, restaurants, and nightlife.
Day 8: Shopping + Tanah Lot
We have a policy: If you buy it, YOU are the one who will carry it. On the rare occasions when we do purchase a souvenir, though, it's usually a local handicraft that isn't available anywhere else.
There is no end to shopping in Bali, and you can find everything from high end boutiques to local wet markets. The Balinese have a love for beauty and so there are many great deals on fine jewelry, clothing, batik, beautiful wood carvings, art, and more.
Shopping
Free time this morning to visit a market or a local shop. Even if you're not a shopper, we recommend that you take advantage of the opportunity, if for no other reason than to see the exquisite creations that Bali's artists produce. We have really enjoyed watching batik artists and woodcarvers on the island.
Pura Tanah Lot
Pura Tanah Lot is one of the most famous Balinese temples, and we think it's the most beautiful. While it is not a directional temple, we included it on this itinerary because of the incredible location. This temple is built on a rocky offshore island that can only be visited during low tide. Once there, you can be blessed by the priests, but the temple area itself is for devotees only.
Tanah Lot can be wonderful during high tide as well. Head up the hill towards the left of the temple and you'll find stunning views and wonderful restaurants. It also has a small cafe' where you can try the rich-tasting Kopi Luwak or Civet coffee.
On the peninsula towards the right is one of the best and most popular locations for selfies at Tanah Lot. In the opposite direction from the temple is also photogenic with a natural arch.
Stay at Soori Bali
This place is simply stunning.
Set on the beautiful shores of south Bali, surrounded by lush green rice fields, Soori Bali is the absolute best place to end you tour of Bali's 9 directional temples. You will enjoy your own private villa overlooking either a sea of waves or a sea of swaying rice paddies, complete with a butler and your own private pool.
Soori offers an ever-changing variety of experiences, from spa and wellness, to Balinese culture, arts and crafts and environmentally conscious excursions. We opted for a Segway journey that took us through rural Bali. Our guide took us through his home village, Kelating, along rice field paths, and beyond, all the while explaining his culture and tradition.
Soori seeks to make as small an impact on the environment as possible, with fresh produce from nearby farms and spices from its own garden. Soori Spa offers holistic healing and nurturing treatments from a variety of traditions, and the resort is home to an onsite traditional medicine practitioner and herbal pharmacy.
Day 9 – Enjoy the amenities and beach at Soori Bali
Enjoy you final day is tropical Bali with maybe a spa treatment, a long walk on the beach, or just recovering, relaxing and reflecting on the glorious time you spent in Bali.
Day 10: Fly home
Transfer back to Bali Ngurah Rai International Airport for your flight home.
More Bali itinerary ideas
If you have more time or want to tweak your Bali itinerary, Get Your Guide has over 100 things to do in Bali. See the entire list here.
Here are three amazing and memorable tours to add to your plans.
Best of Ubud: Waterfall, Rice Terraces & Monkey Forest
After a pick-up from your hotel, your day will begin with a cup of tea at a beautiful waterfall. Then you'll visit the village that is home to many of Bali's prominent wood carvers, and learn more about their craft. You will also visit Ubud Monkey Forest, with its hundreds of long-tailed macaques and sacred temple sanctuary, Ubud Traditional Market, and Ubud King Palace, with daily, traditional Balinese dance.
Finally, your guide will show you picturesque Tegalalang Rice Terrace and stop at a coffee plantation that produces Kopi Luwak, the most expensive coffee in the world.
Balinese Cooking Class at an Organic Farm
Discover the culinary secrets of Bali at an exclusive cooking class at an organic farm in the lush tropics surrounding Ubud. Visit a local market and experience everyday life, before preparing a regular or vegetarian meal with the help of a chef.
Sound like fun? Click here to learn more.
Mount Batur Sunrise Hike and Natural Hot Spring
Watch the sunrise from the top of Mount Batur on an early morning hike up Bali's most emblematic mountain. Experience the stunning views from the active volcano near the village of Kintamani, and learn more about the region from local guides. Trek back down the mountain, and then soothe away your aches and pains at a natural hot spring, and finish your morning with a hot cup o' joe at a coffee plantation.
Did this 10 day Bali itinerary inspire you?
Save it on your favorite Pinterest board!