Guimaraes. It rhymes with Gilgamesh, and to the Portuguese it's just as historical. Consider: The city of was founded in the 9th century, became the first capital of Portugal in the 12th century, and was even the birthplace of Afonso Henriques, the first king of Portugal.
As our tour guide so aptly put it, "no visit to Portugal would be complete without a visit to the birthplace of the Portuguese nation." Maybe that's one reason why Guimarães is such a popular day trip from Porto.
Why visit Guimaraes Portugal?
in 2001, the historic center of Guimaraes was designated a UNESCO World Heritage Site because it was "an exceptionally well-preserved and authentic example of the evolution of a medieval settlement into a modern town."
Well, they must be doing something right, because Guimaraes became the European Capital of Culture in 2012.
Guimarães is no museum piece though. The beauty of this city is that many of its 15th-century buildings are still being used. It's a maze of narrow, winding streets that inspire what's-around-that-corner curiosity. It would have been easy to imagine we'd been transported to medieval Portugal.
But looks can be deceiving. Guimarães is actually one of the youngest cities in Europe. Half of its residents are under the age of 30.
Best things to do in Guimarães in one day
If you're visiting northern Portugal, it's worth adding one day in Guimaraes to your itinerary. Here are six things we saw during our own trip:
1. Guimarães Castle
Like bees to honey, we seem to be drawn to medieval cities. Little wonder, then, that we thought this castle was the most interesting and photogenic building in town.
Guimaraes Castle sits atop a hill and is remarkably well preserved, considering it is over 1000 years old. It was built in the 900s to defend the city from the Moors and the Normans. Actually, the complex is one of the best preserved Roman fortresses in Portugal.
Our guide told us that the first king of Portugal (Afonso Henriques or Alfonso I) was born here. Then he and his allies fought and won the key Battle of São Mamede (1128) nearby, which led to the independence and origin of a new nation in 1128.
If you visit Largo do Toural, you'll find the ancient words Aqui nasceu Portugal (Portugal was born here) engraved in one of the old towers of the city's old wall. Guimarães became the first capital of Portugal and its Castle became one of the country's greatest historical symbols.
Cost: €2 (children under 12 free)
Open: Daily 10:00 – 18:00
ⓘ TIP: On the first Sunday of every month, admission is free!
2. Palace of the Dukes of Braganza
Maybe they call it a "palace" now, but in the 1400s the first Duke of Bragança built it as a manor house, complete with 39 chimneys. The outer facade was inspired by French architecture, and the building is still filled with tapestries, furniture and pottery, among other objects.
The Palace was eventually abandoned, which opened the way for it to be used as a military building during the Napoleon Invasions. Then it was left to ruin until António Salazar had it restored during his dictatorship. Now the Palace of Braganza is a National Monument and an Official Residence for the Presidency of the Republic.
Cost: €5 (free on the 1st Sunday of every month and for children up to 12)
Open: Daily, 10:00 – 18:00
3. Largo da Oliveira (Olive Square)
Olive Square is the perfect to relax with a glass of Douro wine. You can enjoy the ages-old view of Olive Church and the rickety old houses that are typical in the city center.
Day or night, Olive Square is pretty. Its oldest homes are graced with narrow, standing-room-only balconies, while the newer (16th and 17th century!) granite and half-timbered houses are simpler, but just as picturesque.
As twilight descended, Guimaraes' buildings, eaves and windows came alive with lights. It felt like we had entered another world.
4. Mosteiro de Nossa Senhora da Oliveira (Nossa Senhora da Oliveira Monastery)
Our Lady of Olives monastery church was founded by King Afonso Henriques. It is known for both its ornate tower and for an interesting local legend about an olive tree that was planted in front of the church to supply olive oil for the altar lamps.
When it later got sick and started to die, a local merchant placed a cross on the site and the tree miraculously recovered! True or not, the olive tree currently on the site is not the original.
There's also a really cool stone Gothic shrine in front of the church, called Padrão do Salado. It dates from the 1300s on the orders of Afonso IV. It's a memorial for the Battle of Salado, where Portuguese and Castilian forces defeated a Moorish armada in Tarifa.
5. Old Town Hall (Antiga Câmara Municipal de Guimarães)
One of the most unique buildings on Oliveira Square is the Old Town Hall, which faces the collegiate church. Most of it dates from the 16th century but the ground floor has ribbed arches. They are all that remain of the 14th-century City Hall.
The city is now using it as an art museum.
6. Monte da Penha
Penha Hill offers breathtaking panoramas of Guimarães old town and the castle. It also has wonderful mossy trails that pass beneath trees and around giant boulders. Once you've finished with hiking and photos, you'll also find some cafes, and several churches to admire.
You can drive to the top, hike, or, take the Teleférico de Guimarães (cable car) to the top. (If you choose to walk up, use a map so you don't take any wrong turns.)
Cost: €4.50 or €2.30 one way.
ⓘ TIP: Always check the departure times of the cable car as it is a long downhill walk back to Guimarães.
Want to read this later? Save it to Pinterest!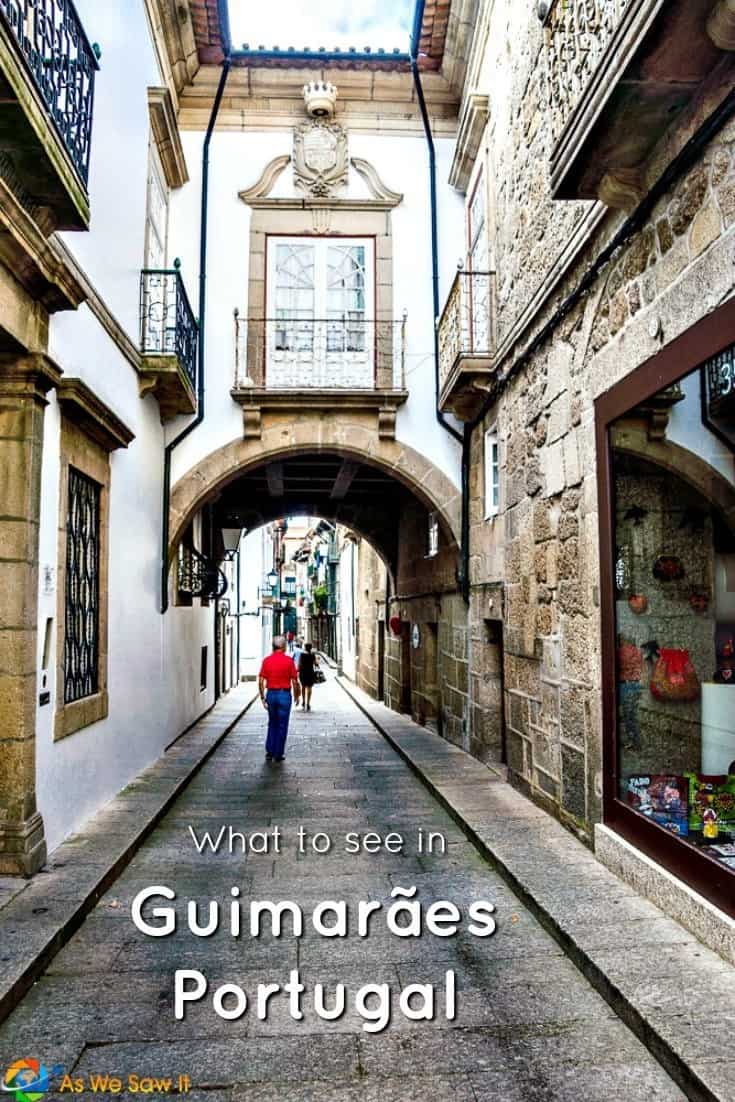 Where to stay in Guimaraes
While it's easy to visit the city on a day trip from Porto or Braga, consider prolonging the historic ambiance with an overnight stay. For the full local experience, stay at one of the two nearby Portuguese pousadas.
Our stay at the historic Pousada Mosteiro de Guimarães had jaw-droppingly gorgeous rooms. This former monastery, on the slopes of Monte da Penha, was part of the order of the Holy Canons of Saint Augustine. In the 12th century, it belonged to Queen Mafalda, wife of King Afonso Henriques.
Despite its impressive view overlooking the busy modern city, it retains its original tranquility even today. It certainly made us pousada converts.
The best time to visit Guimaraes
For pleasant weather with fewer tourist crowds, the best months to visit Guimaraes and nearby Porto are May, June, and September.
To experience the religious side of the city, visit the week before Easter. Holy Week is the most important event of the city, and the Ecce Homo evening procession on Maundy Thursday is the highlight of the week.
If you're fond of history, visit the first week in August. Ever since the middle of the 15th century (1452, to be exact) Guimarães has held an annual festival of medieval art and costume. The three-day celebration includes a torchlight procession and a lively, medieval parade. It also features a medieval-style handicraft market and arts fair.
For culture, September's traditional Feiras Novas festival is a treat. It features folk dance groups, concerts, livestock competitions, Garrano horse races, parades and a traditional procession in honor of Nossa Senhora das Dores.
Plan your day trip to Guimaraes
Where to stay in Guimaraes
Splurge: Pousada Mosteiro de Guimaraes Located in a 12th century Augustin Convent, the Pousada Mosteiro de Guimaraes overlooks Guimarães. Rooms are equipped with modern amenities including air conditioning and cable TV.
Mid-range: Hotel Mestre de Avis Awarded the Green Key eco-label in 2017, this hotel offers air-conditioned rooms with satellite TV in the historic center of Guimarães. Guimarães Castle is 10-minute walk away.
Budget: HI Guimarães – Pousada de Juventude Located in the historic center of Guimarães, this youth hostel provides free WiFi and your choice of dormitories, double rooms or apartments. The apartments and double rooms have private bathrooms and a balcony.
Special thanks to Turismo de Portugal, Porto e Norte for sponsoring our trip and showing us around the Douro region. As always, all opinions in this post are our own.