Bare and basic. Bed with sheets, pillow and blanket, maybe a place to hang clothes. Bare light bulbs in the ceiling. You will usually be living out of suitcase on the floor.
That's how one unfortunate man begins his description of a pousada in Brazil.
The poor guy should have stayed in Portugal, where a pousada is one of a chain of elegant, historic hotels that cost little more than an unremarkable chain hotel room with no personality. At a Portuguese pousada, you can stay in some of the country's most unique mansions and historical buildings and enjoy something unique to the nation.
History of the Portuguese pousada
Portugal's pousadas were begun in the 1940s by a man who was distressed to see so many of Portugal's historical buildings and beautiful estates falling into disuse. Desperately wanting to preserve his country's heritage, he convinced the Portuguese government to convert many of the exquisite buildings into hotels.
The State ran them for a while, but then decided to sell them in 2003, choosing the Pestana hotel group, the 25th largest international tourism and leisure group in Europe. Judging from the places we visited, it was a match made in heaven.
While attending a conference in northern Portugal, we had the opportunity to stay in two pousadas and to visit a third. What a treat! Some of these places almost don't look like hotels. Take a look, then tell us what you think.
Want to read this later? Save it to Pinterest!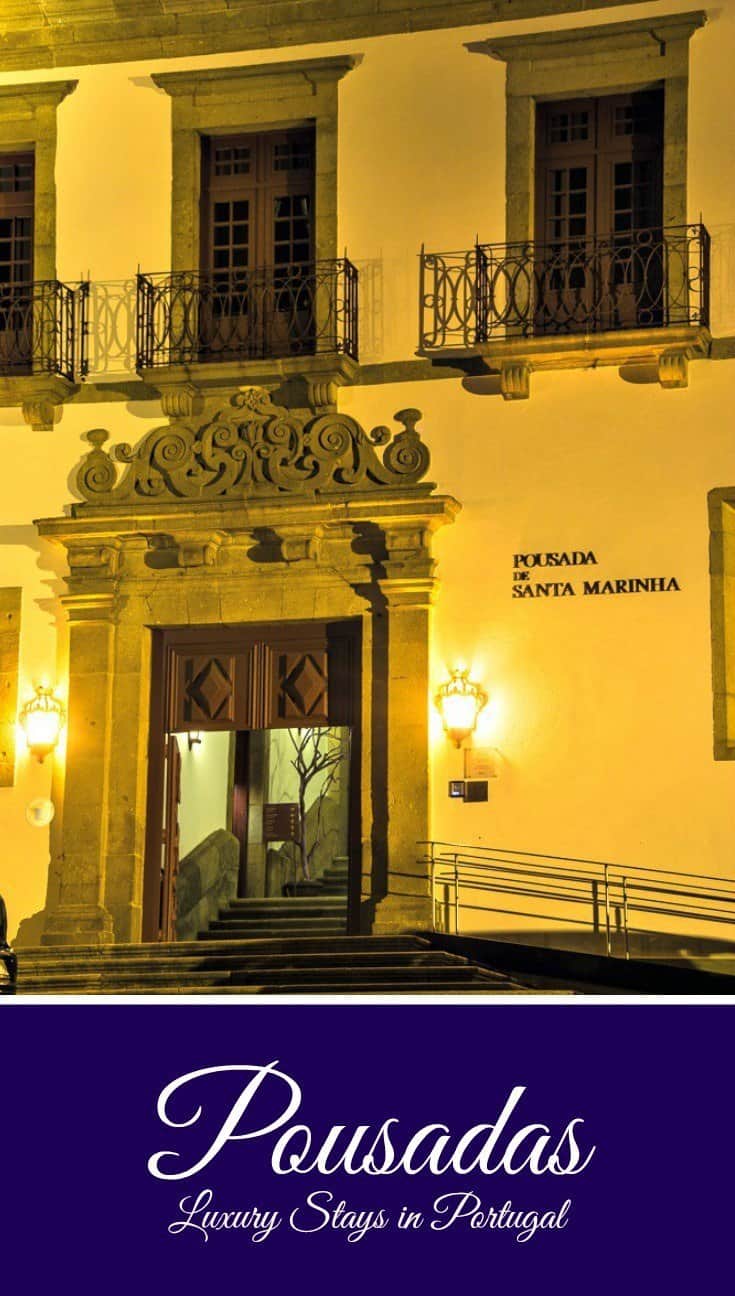 3 Portuguese pousadas to visit
1. Palacio do Freixo, Porto
Porto's Freixo Palace Hotel is actually classified as a National Monument. It lies on the Douro River just a couple of kilometers from Porto's main train station. Built in 1742, it's a striking example of Portuguese civil baroque and is surrounded by French gardens and granite stonework.
More than just a unique place to stay, a pousada is also an ideal place to host an event. We enjoyed an evening cocktail reception in the gardens, complete with musical serenade. Judging by the delicious hors d'oeuvres they offered us, we missed a very delicious meal by not having dinner there. They really knew how to throw a party!
2. Pousada da Marinha, Guimaraes
After our conference, our tour group visited the city of Guimarães, European Culture Capital 2012. There, on the slopes of Monte da Penha, sits the majestic Pousada da Marinha, a restored 12th-century monastery.
The building once belonged to Queen Mafalda, wife of King Afonso Henriques, and was part of the order of the Holy Canons of Saint Augustine when it first began.
Walking down its old stone staircases and past rows of austere wooden doors with ancient metal doorknobs, we clearly felt the spirit of the place. The building has a small, cloistered garden that reminded us of a scene from The Sound of Music. Even the dining room retains a touch of the spirit of the monastery, with its high stone archways and walls.
Though the stark hallways and creaky floors were a reminder of the monks who once lived there, there was nothing severe in the homey touches they had put in our roomy, comfortable rooms. We were on the ground floor and had a lovely garden view from our patio.
Pou3. sada Viano do Castelo, Monte de Santa Luzia
On our final night in the Douro Valley, we stayed near the estuary of the Lima River. A century-old church overlooks the city of Viana do Castelo, looking very much like Paris' Sacre Coeur. And indeed it should, as that was its inspiration!
And nearby the church lies the Pousada de Viana do Castelo, with vistas of the church, the city, the Lima River, and the Atlantic beyond.
Our room had such an exquisite vista that we woke up early, just to enjoy the misty sunrise over the city, hill of Santa Luzia, and the Lima river.
Highly recommended: Enjoying the fabulous view, the fresh air and the sunshine while eating breakfast on the terrace. And don't miss the freshly-squeezed orange juice!
Want to stay in a Portuguese pousada?
Find more information about staying in pousadas, including locations and rates, on the Pestana website.
See more in our Portugal Pousadas photo gallery.
We'd like to thank Turismo de Portugal, Porto e Norte for sponsoring our post-conference trip and showing us around. All opinions in this post are our own.