We often link to affiliate products and services that we believe will benefit our readers. As Amazon Associates, we earn from qualifying purchases. Learn more here.
"We leave something of ourselves behind when we leave a place, we stay there, even though we go away. And there are things in us that we can find again only by going back there."
― Pascal Mercier, Night Train to Lisbon
This is how you'll feel once you leave the beautiful city by the sea – Lisbon – happiness mixed with a little bit of bitterness. The Portuguese themselves are this type of people – even when they are happy, there's some longing and some sadness. One way to experience this is to listen to Fado – the traditional Portuguese music. It will give you goosebumps. It's hard to describe the feeling; you need to go to Lisbon and see for yourself.
Therefore, I've prepared this guide to Lisbon with a lot of care and love. I'm sure it will help you get to know and plan better your next visit to the city.
Whether and when to visit Lisbon
Lisbon is a perfect year-round destination, weather is usually mild, sun is shining and there's little rain.
Spring and early autumn normally offer the best weather – days are warm, even hot, but never unbearable, there's little wind, which can prove to be annoying during Summer and Winter, and rain is almost nonexistent. Occupancies in the city are high, so book well in advance – say from January on for March-May stays and from June on for visits in September or October.
Summer is very hot, but the wind coming from the ocean helps balance the weather. You'll need a hat, loads of sunscreen and water. These are lifesavers. Just take it slow – you'll have long days at your disposal and use the good weather to go to the beach, visit Sintra or do other outdoor activities.
Winter, for me personally, is the season I prefer to "visit" Lisbon. Days are still relatively warm (about 15°C/60°F), crowds are practically nonexistent and it's easy to walk around, visit and photograph. So, if you hate crowds, love photography and don't mind a bit of wind and rain, this is the season to go.
There are exceptions, of course. As you know, weather can be unpredictable. Always check the forecast before you go, so you can be prepared.
The most authentic Lisbon neighbourhoods that you should visit
Madragoa
Very few tourists make it to Madragoa (shhh… don't tell anyone), but I love to go there. It keeps its charm from before the 1755 earthquake, along with Alfama, it's Lisbon's oldest fishing neighbourhood. The white narrow cobblestone streets, traditional colourful buildings make part of its architecture. During the day it's paradise for photographers, streets are lonely, during dusk the colors become amazing, and at night restaurants open their doors to welcome the hungry.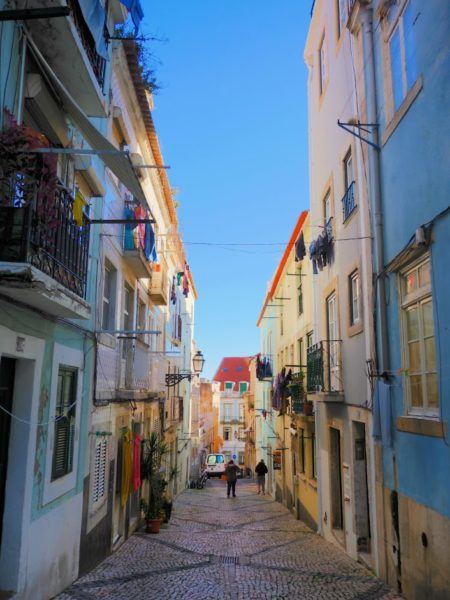 Baixa Chiado
This is considered the downtown or center of Lisbon. The city's most beautiful and noble squares and buildings are reserved for this neighbourhood. Begin your walk from Praça Luís de Camões and continue through the shopping street of Rua Garrett. Then go down to Praça Dom Pedro V and turn left to see the beautifully ornamented facade of Rossio Train Station. Go back and continue to the magnificent Praça do Comécio.
I believe this is one of the most beautiful squares in Europe, and I've been to a few. Just this feeling of openness and lying right on the river bank makes it special and unique.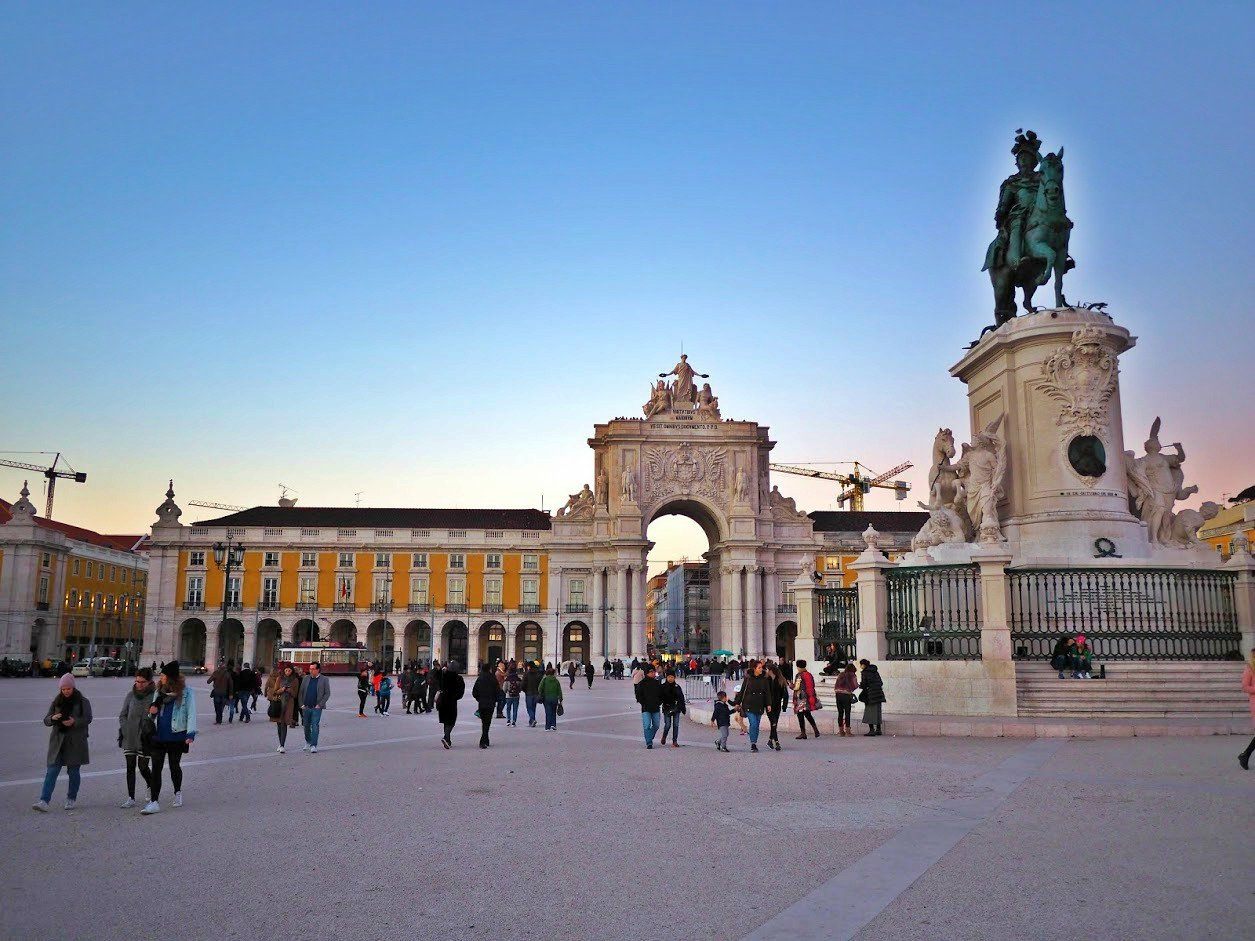 Alfama
As I said earlier, Alfama is the one of the oldest neighbourhoods of Lisbon. It's the birthplace of Fado. You can visit the medieval castle of S. George that offers beautiful views to the city. The rest is up to you, walk around and get lost in the small charming streets, you won't regret it. To get there, take Tram 28.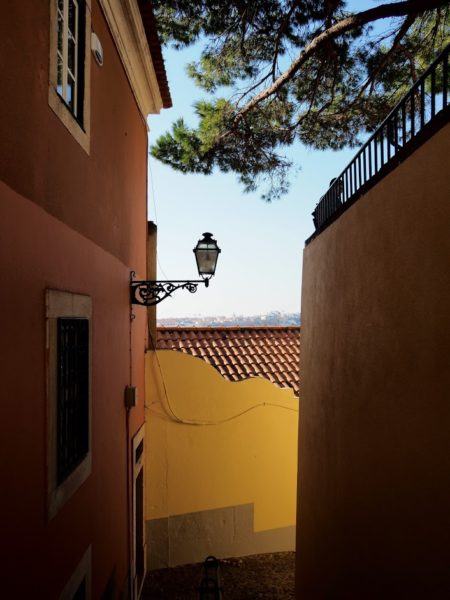 Bairro Alto
Bairro Alto is the entertainment district of Lisbon. Go there in the evening for dinner in one of its numerous restaurants. Stay after dinner to enjoy the bar culture of Lisboetas. During the day, a lot of the restaurants are closed, so streets are calmer.
I don't recommend booking accommodation at Bairro Alto. Streets are very noisy at night, which can be uncomfortable if you prefer to sleep earlier.
Belém
No visit of Lisbon is complete without Belém. First go the white Monastery of Belém, then cross the main street and go to the riverside. Two of the most iconic monuments of Lisbon are waiting for you – Monument of Discoveries and the Tower of Lisbon. Enjoy the leisure walk between them and the beauty of Tejo River.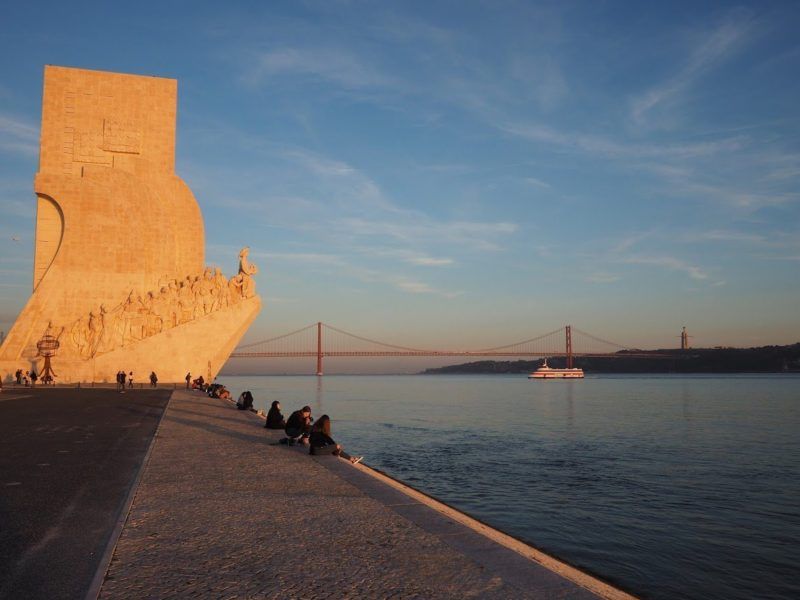 Cross again the main street and head back in direction of the Monastery of Belém. Now it's time for the world famous Portuguese custard tart – Pasteis de Nata – from the original pastry shop, dating back to 1837.
What I always recommend to my clients is never to wait on the queue, which is for take away. Just go inside and walk until the last room, where you'll see a patio, if you want to sit outside.
The best viewpoints in Lisbon
Lisbon is known as the city of the 7 Hills, which naturally makes it full of hidden and obvious viewpoints that let you enjoy its magnificence. Some monuments also have their private viewing platforms. I'll recommend a mixture of FIVE that will offer you different views of the city.
1. The Arch of Rua Augusta
This is the arch just above Praça do Comércio, it offers a 360 view of Rua Augusta, the S. George Castle and Praça do Comércio.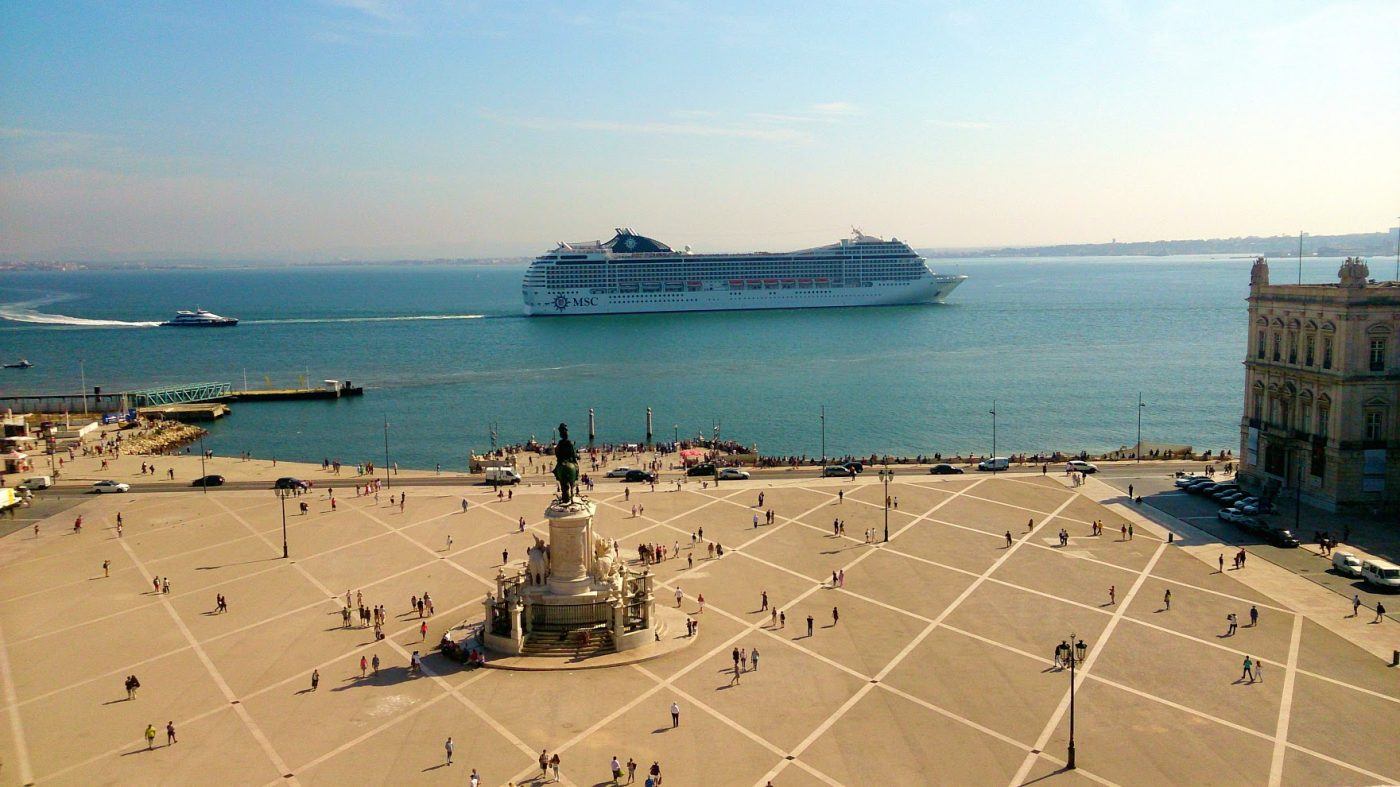 2. Miradouro da Nossa Senhora do Monte
Although it is tucked away from the world (just to say it's quite far away), you can reach it either walking 15-20 minutes from Alfama or taking a tuk-tuk/Uber to it. If offers amazing views of the city skyline, river and 25th of April Bridge. Best times to go is early morning, because of the sun exposure and nights to enjoy the city lights
3. Miradouro S.Pedro de Alcântara
This famous and beautiful viewpoint is on top of Bairro Alto, next to the Gloria funicular. It offer views to the city skyline and castle of S.George, enjoy it during any time of the day.
4. Monument of discoveries
Yes, it offers amazing and very different views of Lisbon that the other viewpoints from above won't cover. You can see and photograph the entire Belém from above, 25th of April Bridge and more.
5. Santa Luzia Viewpoint
For me, this is the most romantic "miradouro" of the city. The beautiful terrace, ornamented with traditional tiles and magnificent river and old town views, creates this sense that "love is in the air". This is one of the places that you should visit in February though, or very early mornings, because it's pretty crowded during the day.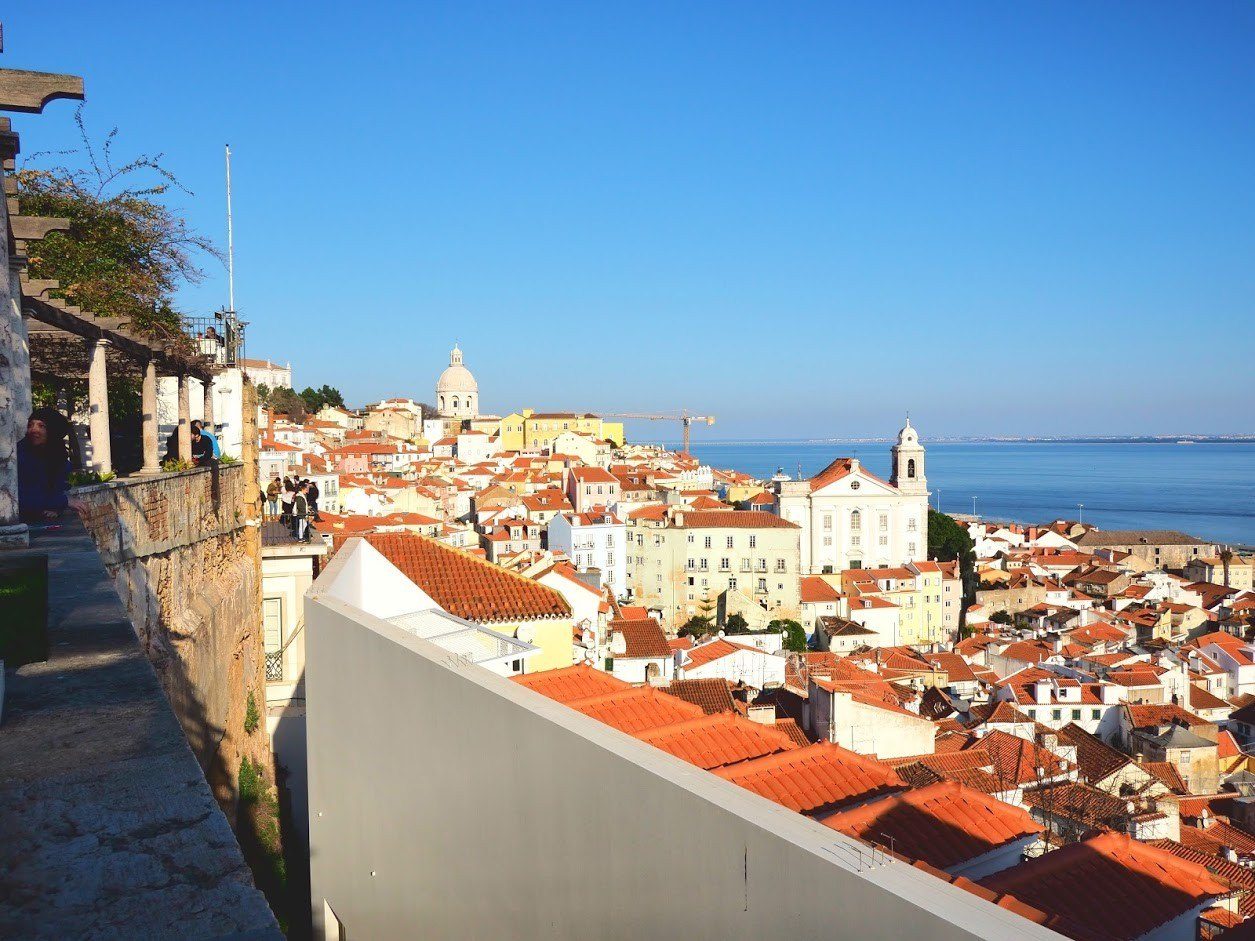 Where to eat in Lisbon
Personal recommendations for traditional Lisbon restaurants.
O Aregos – This restaurant is in Madragoa district, it serves traditional and simple, but delicious food. It's cheap, but good. Price per person is between 10-15€.
Zapata – Another excellent choice of traditional Lisbon restaurant. In the neighbourhood of Santa Catarina/ Bairro Alto, its clientele is a mixture of Portuguese and tourists. Food is so delicious. Price per person is between 15-20€.
Tasca do Chico – This is a typical small restaurant of Lisbon – offering petiscos, beer, wine, noise and crowds, but most importantly – fado. Just reserve in advance if you want to make sure you'll have a seat. You don't pay for the fado, only what you consume. An authentic experience. Price per person is between 15-20€.
Restaurant Pap'Açorda – This restaurant is very old, but has moved to a new location, just above Mercado da Ribeira food market. It offers mostly petiscos – small dishes like tapas to share between friends. The ambiance is quite modern, but don't let it foul you – the food offered is still traditional and of a very high quality fresh ingredients. On the picture, you can see pica-pau (can be pork or veal meat) and peixinhos da horta (green beans tempura). Don't miss the chocolate mousse for dessert, it's homemade and is the best in the city. Price per person is between 20-25€.
Read more: Lisbon Food Guide – Where and What To Eat in Lisbon Portugal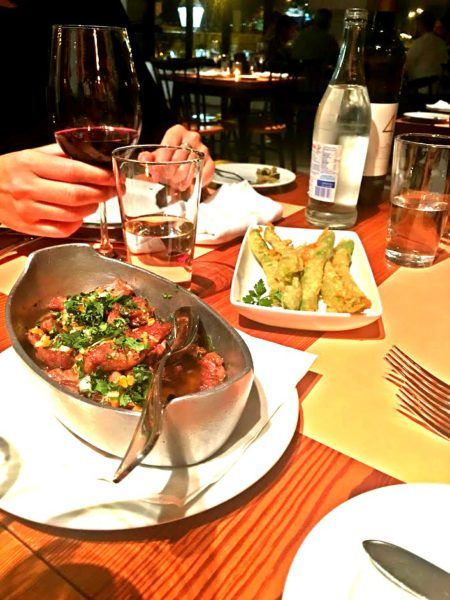 How much time should you spend in Lisbon?
There are so many places to visit, restaurants to try, viewpoints to enjoy in Lisbon. I'm sad to see people staying just for 1-2 nights for a first time visit. Please don't do that. Three nights is good, four nights is ideal and anything more than that will allow you to soak into local life and take day trips.
I hope that you enjoyed this guide and if you have any questions, don't hesitate to comment here or message me, I'll be more than happy to help.
[su_box title="Inspired?" box_color="#8cc640″ title_color="#333333″]
Planning resources
Get professional help planning your itinerary. Alexandra is available to help you plan your trip to Portugal.
Here are some useful links to help you plan your own trip.
Tourism authority: Portugal's tourism website has many useful trip planning resources.
Portugal's international airport is in Lisbon. The airport code is LIS.
Airport to hotel. Taxis are available, as is Uber. Another option is to book a shuttle or private limousine service. They will greet you with a sign in the airport, help with your luggage, and escort you to your hotel.
Visas. Project Visa is an easy-to-use tool that will tell you if you are eligible for Visa on Arrival (VOA).
We use xe.com to calculate currency exchange values.
Travel insurance. You'd be surprised at how cheap it is and how much it covers. Trust us, when an airline misplaces your suitcase for a week, you'll be glad you have it. Learn more here.
Getting around
Sometimes it's not practical to take a taxi or walk.
Having had too many scammy experiences with taxi drivers, we now use Uber whenever we can. If you aren't using the app yet, you can register with the code danb2984 and get up to $5 off your first ride.
Rental car. Find and book a rental car
Public transportation. This website will help you plan a route by plane, train, bus, ferry and car.
Hop-on-hop-off bus. These buses stop at the city's most popular tourist stops. Get off, sightsee, then hop back onto the next bus that comes along. Our favorite is City Sightseeing. (And you'll hear better if you bring your own earbuds.)
Tip: City Sightseeing is offering a 10% Discount coupon for Hop on Hop Off services until the end of the year if you buy online. The code is: CSSWW10.
Where to stay
<iframe src="https://www.stay22.com/embed/gm?aid=60008dfc6792a00017245010&address=Lisbon, Portugal&checkin=&markerimage=https://www.aswesawit.com/wp-content/uploads/logo-1.png&maincolor=0a71b9&featuredhcids=" id="stay22-widget" width="100%" height="460″ frameborder="0″></iframe>
We recommend using HotelsCombined to make your lodging arrangements. Search across multiple booking sites from one website. Compare prices, amenities, and ratings before you book. Easy.
Book a guided tour
Sometimes it's best to have someone else manage all the arrangements.
Organized tours
G Adventures offers insanely affordable small group tours on all 7 continents. 100% guaranteed departures, even if you're the only traveler. Expect local accommodation, cuisine, and transport to connect you with the planet's people, cultures, landscapes and wildlife. Click here to check out their itineraries.
Day trips and excursions
When we travel, we use Get Your Guide a lot. It's our go-to for tickets, food tours, attractions and activities. They offer hundreds of tours in Portugal.
Here is a sampling from around the country.
See more
Want to see more of this destination?
For more sightseeing, check out our Portugal photo gallery.
Get a bird's eye view on Google Maps here. Zoom, scroll around and explore!
Read more
Online
On Amazon
Save this for later
Pin this to your Pinterest travel board.
Share it with your friends on Facebook.
[/su_box]