We love it when people ask us questions, and we got a fun one on our Facebook page this week.
Bob: As a world traveler…. What is the most romantic place you guys have visited? And why?
Dan: Wow man, that's a tough question. To start with, I could never narrow it down to one "place" in the world. The world is too big, the romantic places too innumerable, and mostly Linda and I have not been to them all …YET!
So the best thing for me to do is review the places we have been and give you my top three romantic places with a beach and without. I will include some photos of them and will answer your second question, "And why?"
Best romantic places with a beach
So buddy, let's get started. I'll list them in alphabetical order, not in any special order of preference.
1. Bali, Indonesia
What to say about Bali? In one word, wow! Bali an exotic island in the Indian Ocean and one of the thousands that make up the country of Indonesia. Interestingly, it has never been conquered and thus has a very special flavor that the rest of Indonesia cannot offer: Balinese culture and people.
You've heard of the book-turned-movie Eat, Pray, Love? The Love part took place on Bali. You'll get to experience the culture of the Balinese people and the flavors of Balinese food are like no others. The Balinese spices are some of our favorite flavors of the world.
And it's inexpensive! You can get a $5 massage on the beach, so cheap that you might just want them every day. What better thing is there for romance than a couples' massage on the beach?
Speaking of beaches, there are both white and black sand beaches and the Indian Ocean water is … Can you say perfect temperature? You will definitely want to grab a mask and snorkel on this island; the underwater wildlife is matchless anywhere.
Or if a mountain getaway is what you are looking for, Bali has that as well. Ubud is a world renowned tropical mountain retreat with tons of restaurants to enjoy and streets to walk around. There are also plenty of rice paddies, which you can walk through hand-in-hand.
Another is a secluded, mountain lake town called Bedugul. Lying near the center of the island, Bedugul is secluded and has a breathtaking Balinese temple sitting in the middle of the lake. The little town has some food and a nice marketplace and the people speak broken English, but can be understood and communication is easy.
The downside is getting there. Could be a 34-hour journey from the U.S., but the effort is well worth it once you settle in. The Aussies know it well, but only have a short 6- to 8-hour jaunt. So I'd plan to stay 2-3 weeks at this fantastic destination.
2. Costa Brava, Spain
Costa Brava ranks as one of the most romantic places because of its scenery. It's in Spain's northeast corner, on the Mediterranean coast north of Barcelona.
Costa Brava means "rugged coast" and it lives up to its name. Its seacoast offers some of the most spectacular landscapes in all of the Mediterranean.
This is a Mediterranean beach paradise that has spectacular beaches, great food and a plentiful nightlife. Wining and dining your special other with both Spanish and Catalan cuisine brings great results to the palate.
It's no wonder that many Europeans spend their vacations here.
Besides the region's luminescent Mediterranean waters, there are plenty of other things to do in the area. I tend to suspect, though, that the most popular activities are probably sunbathing on the pristine beaches and enjoying delicious local specialties at restaurants along the boardwalk.
When you get tired of the sun and beach scene, head to the two botanical gardens nearby. Santa Clotilde Gardens and Mar i Murtra Botanical Gardens in Blanes are gorgeous and worth a lingering visit. We enjoyed them a lot. You will get a great overview of the Mediterranean climate and what grows in it.
3. Curacao, Netherlands Antilles
Curacao, an island in the southern Caribbean off of the coast of Venezuela and is one of the ABC islands. The other 2 are Bonaire and Aruba, both of which are fantastic (or so we have heard, anyway).
Any beach is romantic purely because of skimpy bathing suits involved, but one with the warm Caribbean water is all that much better.
Curacao's beaches are powdery white sand and the water is teeming with corals and fish should you want to don a snorkel and mask.
Of course, you could just hang by the pool bar and soak up the rays and cocktails instead….
What makes Curacao so fantastic is that you have the romance of island/beach life AND a charming, colorful city to venture off into when you need a change of pace. Willemstad was actually on my bucket list to see and photograph because of its colorful Dutch architecture.
Walking through the streets is easy and safe with shops and restaurants everywhere. There are nice historic places and a few marketplaces too. We spent the better part of a day there and watched the sun set from the water's edge.
The best romantic places for non-bathing suit wearers
We all know that beaches just have that romantic feel. Think about laying together on the sand, playing in the water, sharing a few tropical cocktails on the beach, or holding each other as the sun sets over the ocean waves….
But there are some very close runners-up if you're not a fan of beaches. I'll give you four.
1. Paris, France
Life is full of compromises, even in travel. I was reluctant to visit Paris, and I only went because this is one of Linda's favorite cities.
Being that it was my first time in Paris, I had her show me around. Sure, we did touristy things like climbing the Eiffel Tower, walking down the Champs-Élysées, and touring the Louvre, but those aren't my favorite memories.
The most romantic things we did while we were there, in my opinion, were when we boated on the River Seine, tasted French wine in a historic cellar, and watched the lights of Paris come on from atop Montmartre, in front of Sacre Coeur.
2. Florence, Italy
Florence is another favorite non-beach romantic spot of mine. Tuscany is my favorite Italian food region and produces some insanely delicious wines. Plus, I thoroughly enjoyed strolling hand-in-hand with Linda while she ooh'd and aah'd over the architecture. When you walk around the city of Florence, world-class art is everywhere you look, not just in the museums!
Two of my most favorite memories are when we enjoyed sharing a random private wine tasting with a shop owner, and standing on Ponte Vecchio watching the sun set over the Arno River.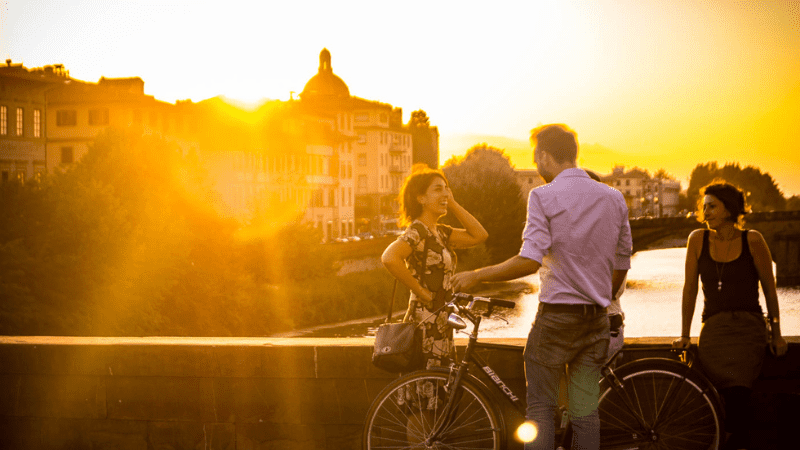 3. Venice, Italy
For romancing a woman, few things can beat sharing a candlelit dinner for two along a canal in Venice (with some of the local red wine) or enjoying a gondola ride together. We did both.
It's also where I realized Linda was the perfect travel partner.
4. Kotor, Montenegro
I have great memories of our walking hand-in-hand through Kotor's cobbled streets and enjoying a meal at a sidewalk cafe.
We also found a great shop that featured a local vintner's wines and enjoyed sampling his wines. (Can you detect a theme here? For me, it's all about the food and wine.)
Sound good to you?
If you need any assistance in planning your special trip, Bob, we would be happy to offer our expertise. We can help you with flight selection, hotels and even give you a list of things to do for your destination of choice. We can give anything from a few recommendations like these to full-blown planning your entire trip.
Also, for an extra fee, we will be happy to join the two of you, to make sure you have plenty of awkward "romantic" moments. 😉
Are any romantic places on your bucket list?
Let us know where you'd like to go in the comments below. And join us on our Facebook page!