Paris' Montmartre neighborhood is synonymous with bohemian life, and its Sacré-Coeur church seems to complement that perfectly. The luminous white basilica towers over Paris, gleaming brightly in the sunlight.
It stands to reason that the highest hill in Paris would have a church. Montmartre, the hill on which the basilica stands, has been a sacred site since pagan times. The Romans displaced the druids and built temples to Mars and Mercury there, which earned the hill its original name, "Mons Martis," or "Mount of Mars." When the Christians took over they promptly renamed it Montmartre, or "Mount of the Martyr," in honor of the martyred St. Denis, who was the first bishop of Paris.
Surrounding the Basilica of the Sacred Heart of Jesus (sacré-coeur = "sacred heart") are some of the most interesting and quirky streets, parks, and buildings in the entire city. Sometimes in overly public spaces, other times hidden in small corners, Montmartre offers incredible experiences that you shouldn't miss while exploring this exciting neighborhood.
1. Climbing the steps to Sacré-Coeur basilica
It's likely that you will arrive at the base of the basilica, an open area full of buskers, street vendors and lovers. Watch the scam artists try to get unsuspecting tourists to accept a string friendship bracelet and then insist they pay for it. Give in to your hopeless romantic and recreate the famous scene from Amelié. Look around for those cliché scenes of people laying on the grass and groups of tourists taking pictures. Take some yourself.
It has oft been said that walking up the stairs of the park that leads to Sacré-Coeur is a rite of passage. Even for this hilly neighborhood, it's certainly a workout, but if that's not an option for you, worry not! The Montmartre Funicular will take you to the top effortlessly while you enjoy the amazing experience of seeing Paris grow smaller as you watch the basilica grow larger.
Tip: The top of the dome is open to the public and is an excellent spot for capturing panoramic views.
2. Getting the best view of Paris … at sunset
The front steps of Sacré-Coeur offer one of the best panoramic views of Paris, no question. The city pans out before your eyes in all its glory. From Notre Dame to the Eiffel Tower, you'll be able to recognize most of the city's landmarks from here, and see them all in perspective.
Arrive just before sunset and watch the lights come on one by one below you. Soon the city will be aglow and become the City of Lights of fame. The scene is so entrancing, in fact, that it made Dan fall in love with Paris.
Tip: After sunset, stay for the turn of the hour to watch the Eiffel Tower sparkle.
If you enjoy nightlife and you've always wanted to see a cabaret show, Montmartre has some of the best. If not, just head to Paris' nearby "red light district," Pigalle, to snap a quickie tourist photo of the iconic Moulin Rouge in all its neon glory.
3. Visiting the quaint shops
As one of the most important neighborhoods in the city, the influx of people also brings in an influx of commerce to Montmartre.
Being the bohemian quarter that it is, Montmartre does not disappoint when shopping for interesting items. Souvenirs, paintings, crepes, biscuits, clothes, wine, you name it, whatever you're looking for, you can probably find it in the shops that surround the basilica.
4. Going to Place du Tertre
If your mental image of Paris includes seeing artists at work on the street, you definitely shouldn't miss walking about this square. You'll not only find great bistros and artists painting portraits of passersby, but also studios and shops where you can find beautiful works of art to bring home.
With views of the basilica towering over the rooftops at every opportunity, it is also incredibly picturesque. No pun intended.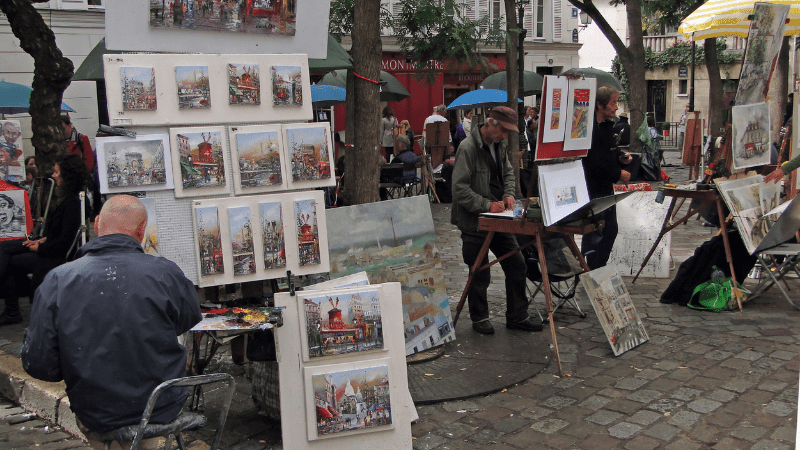 The streets behind and around the Sacré-Coeur often hide some quirky attractions that you might not think of. You'll be able to find treasures like the city's only surviving vineyard, a Dali museum, tiny gardens, a park dedicated to love, and even statues coming out of walls.
Here in these quiet streets, you'll find a Montmartre that few non-locals would suspect even existed.
Want to read this later? Save it to Pinterest!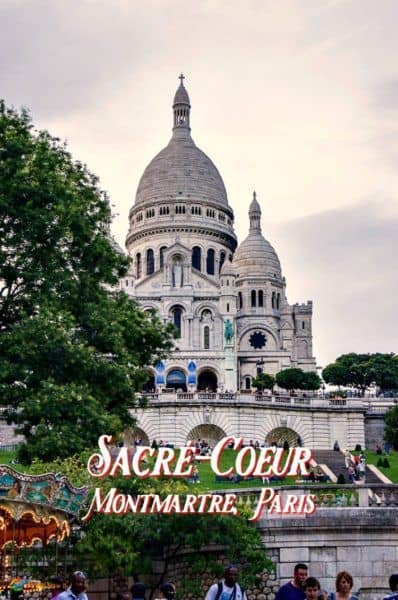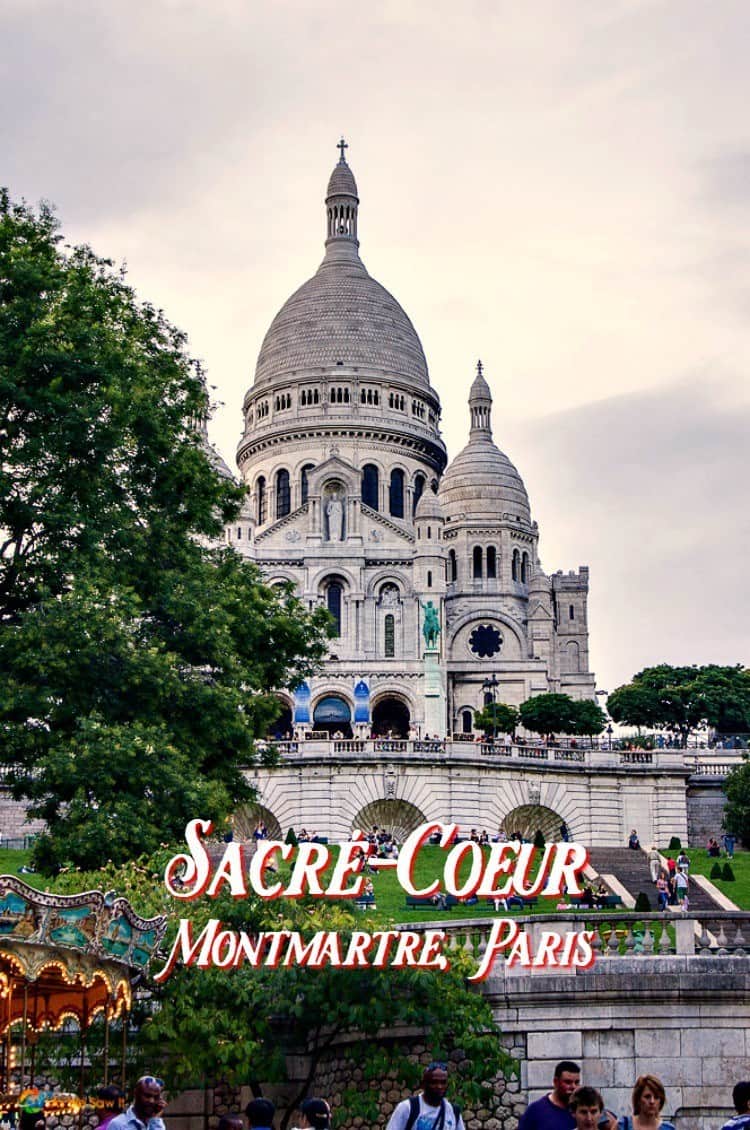 A final thought about visiting Montmartre
As much as visiting Sacré-Coeur is a Parisian experience no visitor should miss, exploring Montmartre offers a thrill far greater than what pretty pictures can describe. Dive in headfirst and immerse yourself in the beauty of the basilica and everything that surrounds it. You'll be surprised how much you will find there. Maybe you'll even fall in love with Paris yourself.