A trip to Paris is every traveler's dream. Romantic surroundings, stunning architecture, and history attract millions of tourists every year. Though, instead of clinging to the most popular touristy places such as the Eiffel Tower, Louvre, or Cathédrale Notre-Dame de Paris, we suggest thinking outside of the box.
Even if it's your first time in Paris, try looking for something a little more quirky to add to your itinerary. It will definitely be more memorable!
10 Unusual Things to Do in Paris
If you are the type of person who enjoys going off-the-beaten-path and you're looking for unusual activities in Paris, you're reading the right article. If you'd like to see more of France though, head to our story about the many unique day trips from Paris.
Still here? Good! We've created a list of 10 cool and unique activities and sights to make your trip more enjoyable. Better yet, most won't take up much time and will easily fit into your itinerary. So, here's a collection of 10 unusual things to do in Paris!
1. Explore the Paris Catacombs (Les Catacombes)
Dating from the 1700s, the Paris Catacombs is an underground ossuary with a fascinating history. You may find the catacombs to be a bit creepy or gruesome on one level, but you will also find a lot of history and mystery there.
The catacombs occupy a long-abandoned network of quarry tunnels and hold the remains of over six million people who were buried in nearby cemeteries. In the late 1700s, public health problems were tied to the cemeteries, so the tombs and graves were emptied and moved to the tunnels. The Catacombs have been open to the public since 1809.
After visiting visited Kutna Hora in the Czech Republic, we can highly recommend seeing this strange art. Many bones have been arranged into patterned structures and canvases for better viewing. Don't miss this opportunity to visit.
ⓘ TIP: Usually, a tour here takes about half an hour, but get tickets online to avoid the queues.
2. Meander through Paris' vintage shops and flea markets
A vast side of Paris smells like luxury and money, and that's a big draw for visitors. But don't hesitate to poke around the flea markets or little vintage shops along the way, too. They carry such curious goods!
Along with the usual foodstuffs, these markets are usually filled with handmade items. Think leather crafts and originalitems that would make unique souvenirs. Much better than the usual touristy magnets and cups! Places like these can be interesting and fun, even if shopping isn't usually your thing.
It's common etiquette in France to greet the shopkeeper when you enter. Most of the time, the vendors are friendly and helpful. Though you should always remember to keep an eye out for pickpockets while you're browsing!
ⓘ TIP: For open-air markets, one of the best is in Belleville, while antique lovers should head to Les Puces de Saint-Ouen flea market.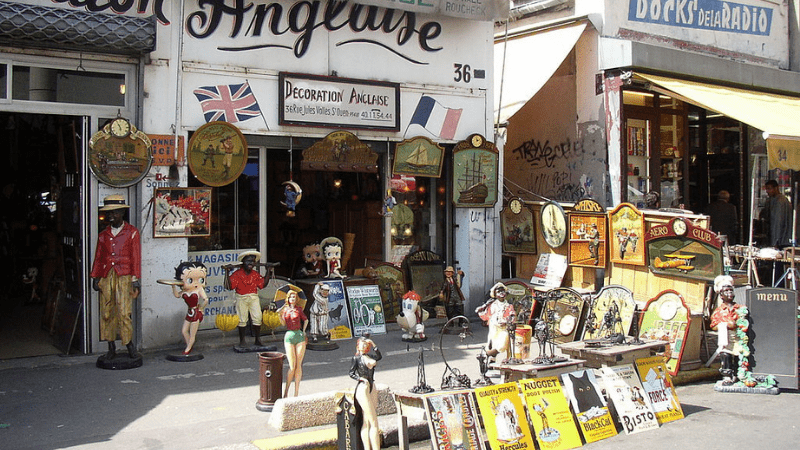 3. See a show at Moulin Rouge
Whether from movies or history books, people are usually aware of the Moulin Rouge in Paris, but many still overlook it for some reason. So do not make the same mistake!
Forget what you thought about the shows, and get rid of the idea that they are crude or inappropriate. It is best to view this as a form of art, and then it will be delightful. You will get to appreciate stunning showmanship and dancing skills, and the level of entertainment is unreal.
However, it might be best to leave the kids at home for this. Settle in for a saucy evening!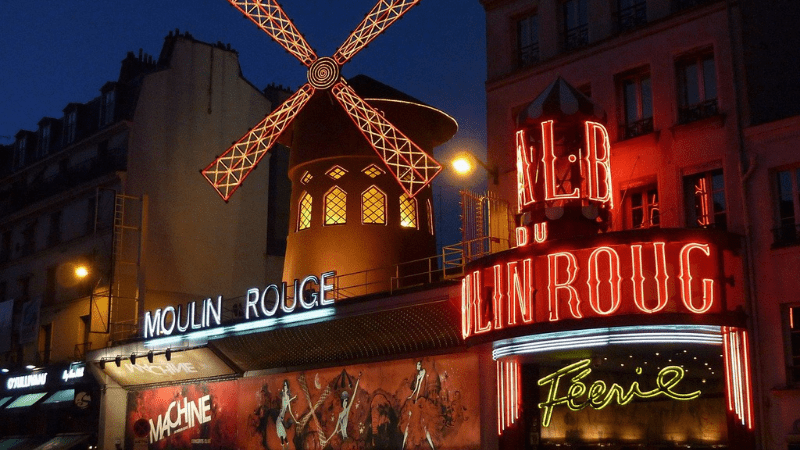 4. Explore La Petite Ceinture, an abandoned railway
This one is a must for history and nature lovers. Developed during the Second Empire, Le Petite Ceinture (the Little Belt") was a circular railway circling the city of Paris. It was constructed to supply the city's fortification walls and as a means of transporting merchandise and passengers between Paris' major railway stations.
Now, however, the abandoned railway and surrounded by romantic yet gloomy flora. Actually, the untouched railway has become a mini-ecosystem on its own, as it carries over 200 different species of plants and more than 70 animal types.
You will have to visit different sections separately, as there is no way to navigate it all at once. In some places, the railways are cut off, and the tunnels are sealed. However, it is still completely worth it.
ⓘ TIP: To prepare for a smoother holiday, check out the Paris trip planner!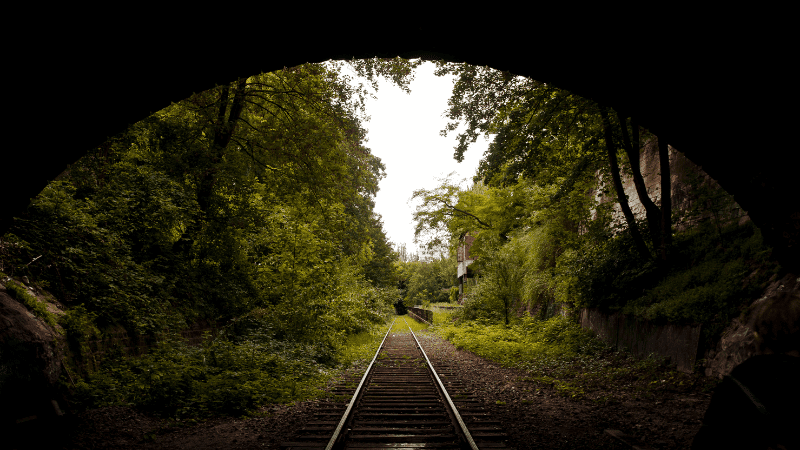 5. Join the Pari Roller
Pari Roller is one of the most unique activities in Paris, and certainly the most unusual sights for visitors. Join this nighttime rollerblading party if you like spending time actively and wish to connect with the Parisian community.
Every Friday night, from 10:00 pm to 1 am, thousands of people wheel their way around the City of Light, and the atmosphere is fantastic.
Not only is that a way to feel a part of the crazy energy of the locals, but it is also a chance to see Paris from a different perspective. The 22-km route includes rolling around the Eiffel Tower and Arc de Triomphe, so it will be interesting to see these ordinarily crowded places a little bit more deserted. In addition, the city lights create a cozy and romantic view. And if rollerskating isn't to your liking, you can just as easily hop on a bike or a scooter!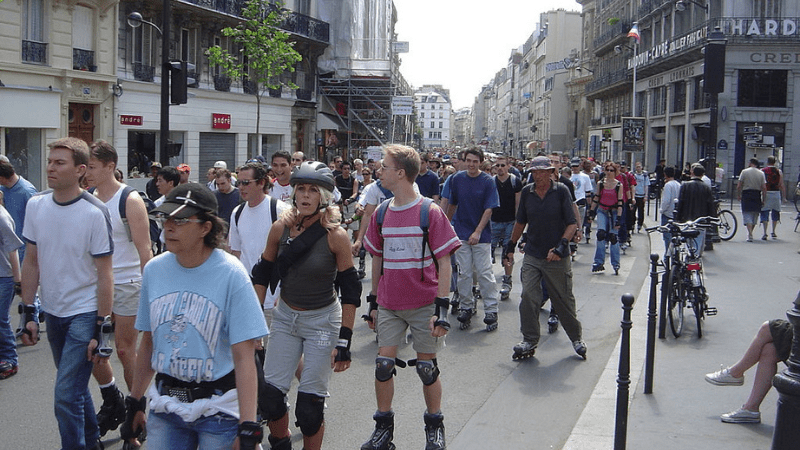 Want to read this later? Save it to Pinterest!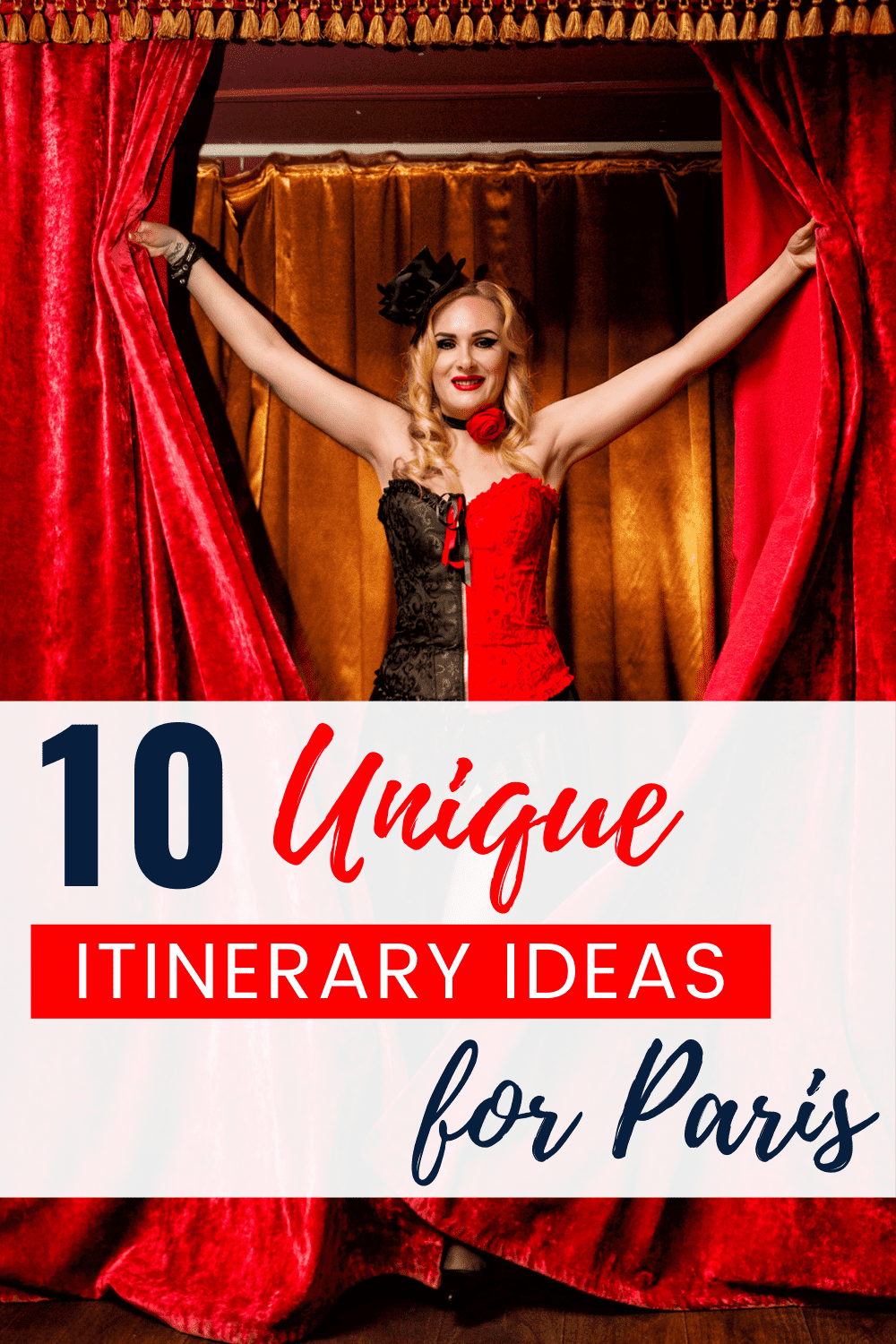 6. Visit Sainte-Chapelle
Even though there are more significant, more famous churches in Paris, we suggest visiting Ste. Chapelle. As impressive as we found Notre Dame Cathedral to be, the architecture and design inside this 13th-century Gothic church will blow your mind.
People say that the inside of this church looks like a jewelry box, thanks to all the shining artifacts and mosaics. It's absolutely incredible—especially the 15 meter-long stained-glass windows. They depict over a thousand scenes from the Old and New Testaments.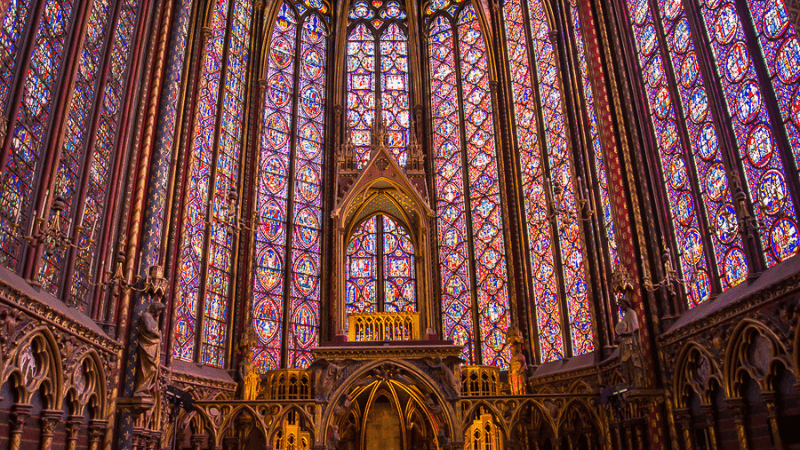 7. Explore the Museum of Romantic Life
The Museum of Romantic Life is a perfect way to get some insight into the Parisian culture without the crowds you'll encounter at the better known museums in the city.
Set at the base of the hill that is home to Montmartre, the Museum of Romantic Life looks like a simple, cozy house. But looks can be deceiving. It actually holds stunning collections of significant art from the Romantic period, particularly by the famous George Sand.
And if you get tired after your tour, you can relax in the garden of the museum with a café. The museum even offers a tour that is entirely free of charge, so add it to your Paris itinerary immediately!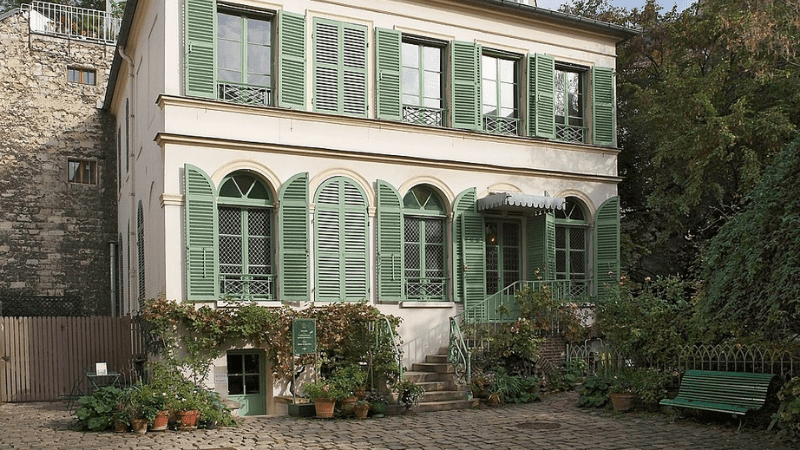 8. Swim in the public pools
For unusual things to do in Paris, few things can beat the French public pools! There are over 40 of them in Paris. Their size, age, and conditions vary from almost luxurious to the most basic ones. In any case, you should be prepared to pay about €4-5 per adult for a swim.
These pools are also the place you will run into locals the most, so it might be an excellent chance for you to converse with them and learn something about the city.
ⓘ TIP: The Pontoise and Herbert pools have sunroofs and private changing rooms, so they are considered to be the best ones.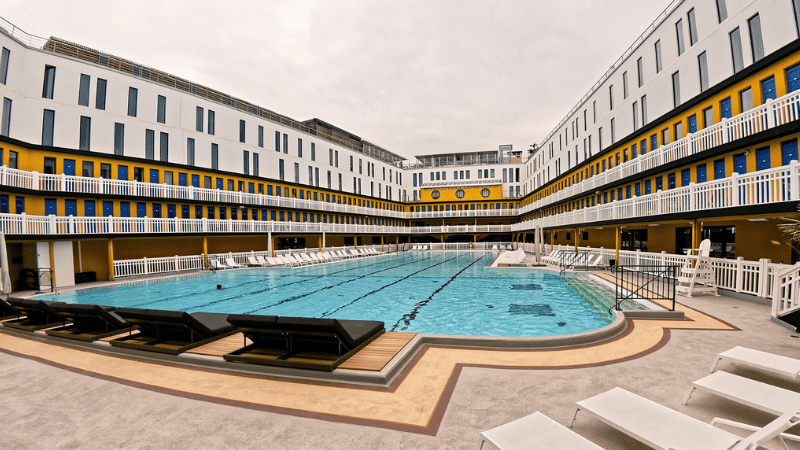 9. Explore the Gallery of Paleontology and Comparative Art
If you are a science-geek or have the teensiest interest in fossils, this gallery might be the highlight of your trip. Part of the French National Museum of Natural History, the gallery has an immense number of collections of skeletons and bones. And they are of all kinds of creatures, many of them pre-historic, like mammoths and giant sloths.
The Paleontology section features frameworks of dinosaurs. To be fair, we guarantee that whether or not you are interested in these things, the gallery will be an unforgettable experience – just give it a chance!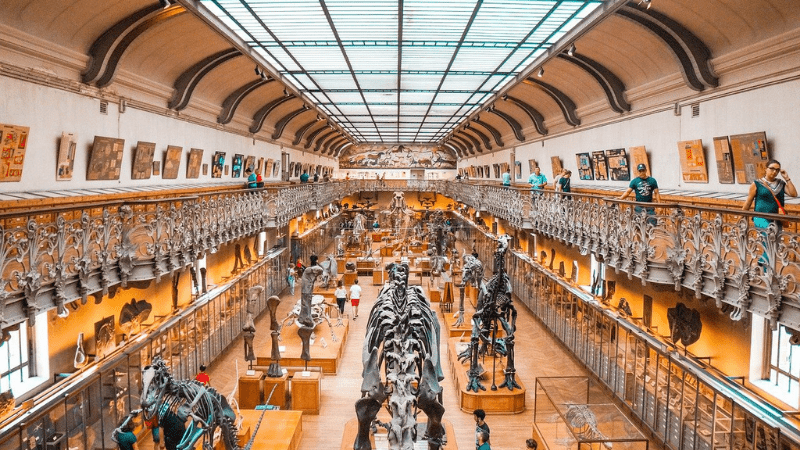 10. Visit Père Lachaise Cemetery
Bear with us; don't be discouraged after reading the word cemetery. This place will be so fascinating; you will forget to be spooked!
The site is filled with some of the most unusual tombs and headstones. Overall, Pere Lachaise is one of the most visited cemeteries globally, but to holidaymakers going to Paris, it is often overshadowed by the more popular activities.
Not only will the designs shock you – we bet you will be surprised by the names you will find here, as well. Frederic Chopin, Moliere, and Gertrude Stein are just some of them.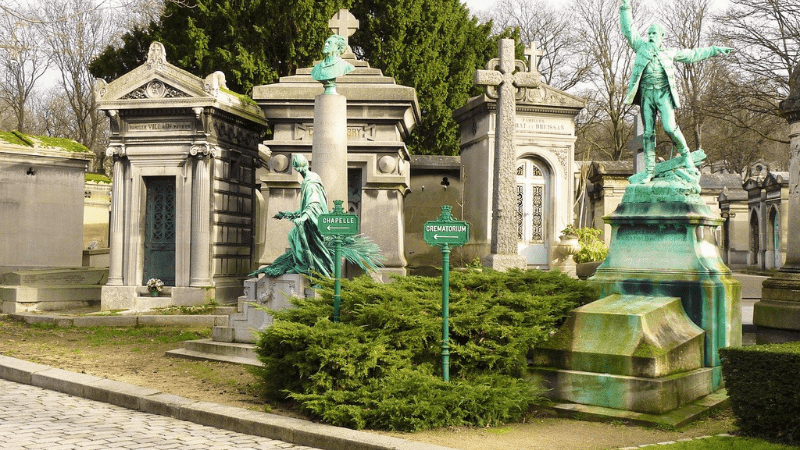 Are you inspired by our list of unique activities in Paris?
There you go! You now have a list of creative itinerary ideas to indulge in, so make the most of it. Be brave and curious, and you will leave Paris with unforgettable memories and stories to tell.
If you know of other unusual things to do in Paris, please leave a comment below for other readers. Au revoir!