Maui is a breathtakingly beautiful island located in the Hawaiian archipelago. With towering volcanoes, lush rainforests, and stunning white-sand beaches, Maui offers visitors plenty of natural wonders to explore. And with such romantic surroundings, it's no wonder why so many newlyweds honeymoon in Maui!
If you are getting married and planning a honeymoon in Maui, you'll no doubt want it to be a carefree, unforgettable, and romantic experience. So, we've created a one-week Maui honeymoon itinerary that should help take the hassle out of planning your trip. That way, you can enjoy uninterrupted time with your loved one while you start your new life together.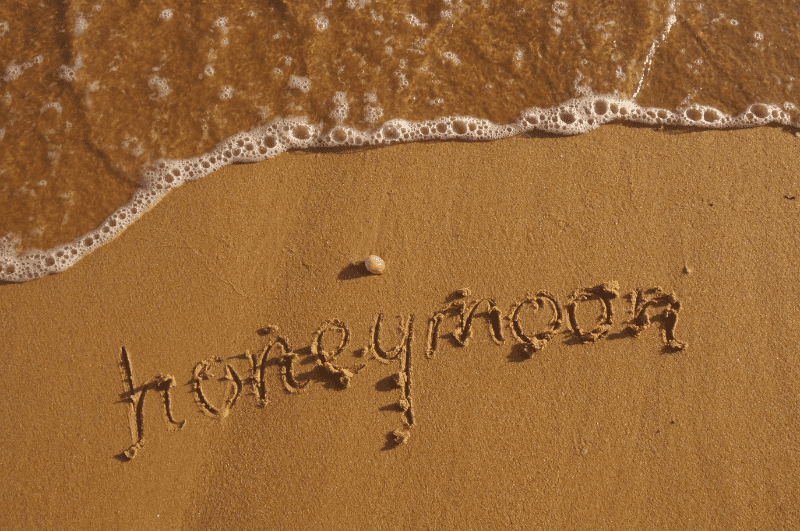 In this post, we'll outline a suggested 7-day Maui honeymoon itinerary for exploring all this beautiful tropical island has to offer. We'll include the island's top attractions and then give some ideas for day trips, tours, and activities specifically for couples and newlyweds.
ⓘ TIP: There are so many magical Hawaiian experiences to be had on Maui that we couldn't cover it all in one article. Get a travel guide like this one for more tips and inspiration!
Where is Maui?
Maui is the second-largest island in the state of Hawaii, USA. Surrounded by the Pacific Ocean, Maui is 2340 miles southwest of San Francisco and about 100 miles away from Honolulu.
Also known as "The Valley Isle," Maui is world-renowned for its beaches, 'Iao Valley, the majestic sunrise and sunset from the Haleakala Crater, and for being a great place to see migrating humpback whales during their winter months.
How to get to Maui
Many airlines fly non-stop to Maui's Kahului Airport (OGG). There are also two smaller commuter airports: Kapalua Airport (JHM) in West Maui and Hana Airport (HNM) in East Maui.
If you're planning to visit other islands, another option is to fly into Honolulu International Airport (HNL) on Oahu and then take a short 30-minute flight from there to Maui.
Where to stay on Maui
Maui has hundreds of beautiful hotels and vacation rentals. But what are the best places to stay on your Maui honeymoon?
Hotel Wailea
If budget is no option and you're looking for a romantic and luxurious place to stay, we recommend the five-star Hotel Wailea. This resort is the only adults-only hotel on Maui, and it's also the only hotel in Hawaii that is part of the Relais & Châteaux association.
Perched 300 feet above the sea with views of three Hawaiian islands, Hotel Wailea features 72 suites spread across 15 acres of landscaped grounds. With winding pathways, waterfalls, and tropical plants, you will feel like you are in your own private sanctuary.
You'll find services and personalized activities for every need. Whether you're on Maui for a proposal, anniversary, babymoon, vow renewal—or honeymoon, Hotel Wailea doesn't disappoint in any department.
Four Seasons Resort Maui
With 3 swimming pools and 3 restaurants on-site restaurants offering a variety of cuisines, Four Seasons Resort Maui features spacious rooms with ocean or grounds views as well as the top-notch service you would expect from a Four Seasons.
This luxurious property is set up to allow you to relax together. Just a 4-minute walk from Wailea Beach, you can expect great snorkeling right off the beach, and complimentary cabanas to use while you enjoy the pool and beach.
The Plantation Inn
The Plantation Inn is perfect for budget-savvy couples who would rather spend their money on experiences than hotel accommodation.
Steps from the shops and restaurants of Front Street and the Lahaina waterfront, this inn offers a free hot breakfast every morning and an on-site restaurant that serves fresh regional cuisine with French influences every evening for dinner. The inn also features an outdoor pool and hot tub, which are surrounded by Hawaiian ferns.
Andaz Maui at Wailea Resort
Located on 15 acres of Mokapu Beach, Andaz Maui at Wailea Resort features 4 outdoor infinity pools, 2 restaurants, a fitness center, and a full-service spa.
All rooms feature a mini-bar with complimentary nonalcoholic drinks and snacks, and coffee machine are included in each guest room. Suites offer a separate living room area, while villas offer a kitchen and a private hot tub or plunge pool.
Outrigger canoe, paddle board, kayak and surfing lessons and tours are available on site, and The Shops at Wailea is less than a 10-minute walk away.
Paia Inn
If you want to feel more like locals, head to Paia, on Maui's North Shore. This funky, boho-chic town is packed with trendy boutiques, delish dining options and awe-inspiring art galleries…and the Paia Inn is right in the middle of it all.
This independently-owned hotel is easier on the budget than the 5-star resorts in Wailea and Lahaina. It's steps away from a 3-mile-long, white sand beach, and offers a restaurant and bar, spa, and fitness center. All rooms include a well-stocked mini-bar. (Tip: Honeymooners should opt for a suite, as some of the rooms are small.)
How to get around Maui
Maui is an internationally popular destination and has a well-established tourism sector so you can easily get around the island using tour buses, public transport, and shuttles. That can come in handy, especially if you're coming from a country that is used to driving on the other side of the road!
If you plan to self-drive, book your rental car ahead of time. That way, you will get the best rates and be able to reserve the car you want. Your rental car will be ready and waiting for you at the airport when you arrive.
If you're not renting a car, don't hassle with suitcases on public transportation on your honeymoon! It's best to book a private shuttle ahead of time. Your driver will be waiting for you at the airport, help with your bags, and take you directly to your hotel. (Tip: It's common to give a gratuity of $10-$40 to a limo driver for driving you to or from the airport.)
Want to save this Maui honeymoon itinerary for later?
Add this pin to your favorite Pinterest travel board.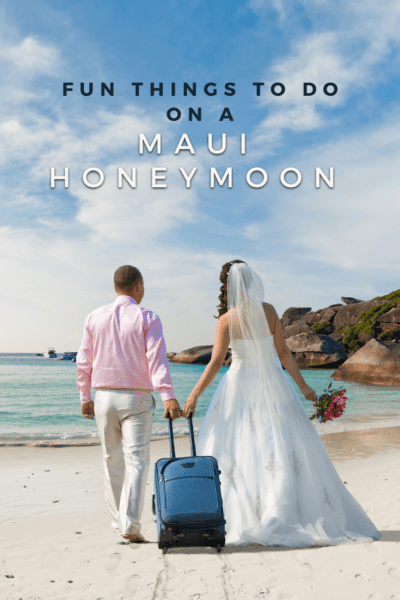 The perfect one week Maui honeymoon itinerary
Here is a flexible and well-planned itinerary for your perfect Maui honeymoon. It takes you to all the key sights and lets you enjoy some of the island's most popular activities and day trips. This itinerary is also flexible enough for you to fit in some impromptu shopping, walks, swims, or naps on the beach.
It's best to try and book the tours in advance and to check the weather forecast before doing so. The itinerary is designed so that your first day is relaxing and calm after a presumably long journey getting to Maui.
Day 0: Arrive in Maui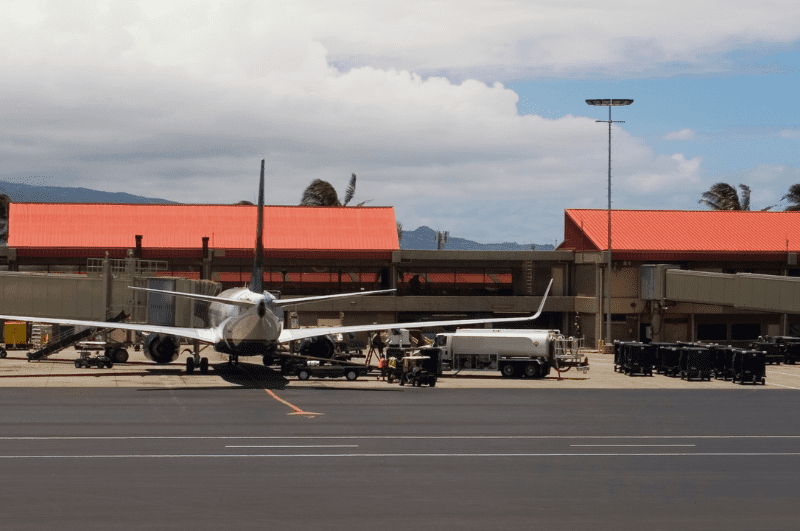 To give you the full honeymoon experience, we're not including your arrival day as part of this 7-day Maui itinerary. So much depends on what time your plane lands and when you get to your hotel or accommodation.
It can take time checking in, unpacking, and exploring where you're staying. If there's a pool, you may want to go for a dip and take a little walk to get a sense of what the area has to offer.
So take some time to unwind together and recover from a long journey.
Day 1: Couples spa and beach day with dinner at Mama's Fish House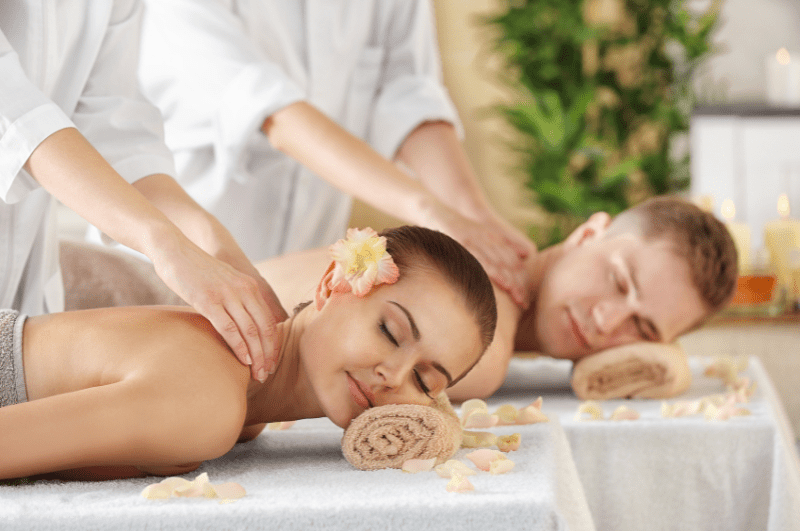 There's no better way for newlyweds to relax in luxury and style than to get a couples massage while listening to the calming sounds of the ocean. There are various spas in Maui to choose from with some invigorating and restorative treatments.
Morning
Make your way to one of the spas in Maui (you'll need to book in advance).
Some of the best spa options include:
Afternoon
After your spa experience, you could have lunch (many of the spas have onsite restaurants) and then head down to a beach for some swimming, sunbathing, and snorkeling.
Some of the best beaches in Maui include:
Hamoa Beach
Honokalani Beach
Napili Beach
and Wailea Beach.
Honolua Bay, Kapalua Bay, and Black Rock Beach at Ka'anapali are also great for snorkeling.
Evening
Watch a magical sunset and start getting excited about all the adventures and experiences in store for your first week as a married couple.
Then cap off your first full day in Maui with a romantic dinner for two at one of Maui's top restaurants. Mama's Fish House is arguably the best restaurant on Maui. This is a splurge, as the prices here reflect their prestige.
Tables are in high demand, so you'll need to make reservations well in advance to have dinner at Mama's Fish House. We recommend booking at least two months ahead.
By the end of your first day on Maui, you should be feeling pampered and ready to start exploring the many incredible sights the island has to offer.
Day 2: Day trip driving the famous Road to Hana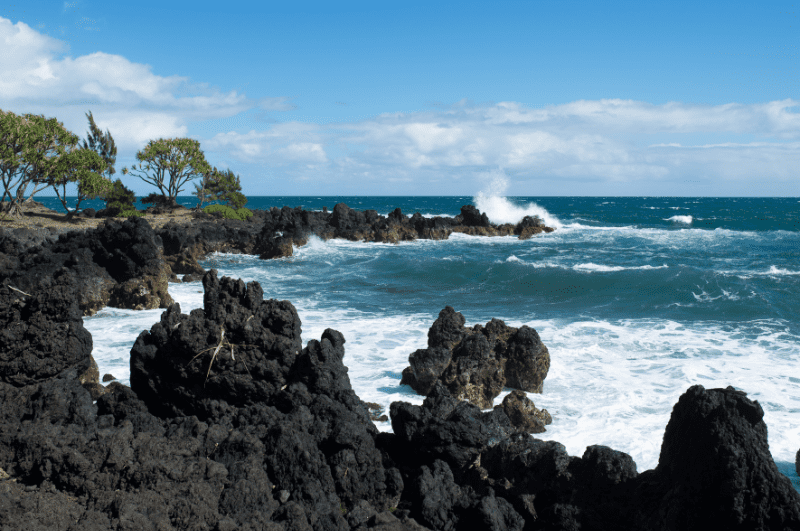 The road to Hana is one of the most famed day trip activities on Maui. Spanning over 64 miles along some rather windy and narrow sections of road, you'll pass sandy beaches, rainforests, waterfalls, and other attractions like the Garden of Eden arboretum.
You can opt to self-drive or be hassle-free by booking a guided tour. Either way, expect to be on the road for around 10 to 12 hours today, and be sure to fill your tank with gas before setting off.
Morning
Because of the distances and all the incredible places to stop off along the way, you'll spend a full day in Maui driving the Road to Hana. That means most tours start early and include breakfast en route.
If you're doing a self-drive trip, it's best to get up early and stop off for breakfast along the way (Paia Bay Coffee Bar is a good option). The Road to Hana is full of waterfalls, lush jungles, a red sand beach, a black sand beach, and lava tunnels & caves.
The Maui Road to Hana Full-Day Tour includes both breakfast and lunch and begins near the Ulupalakua Ranch, passing by the Kipahulu District on the edge of the rainforest. You'll visit Charles Lindberghs' grave at the Palapala Ho'omau Church, and get to see the Wailua waterfall before stopping for lunch.
Afternoon
If you're on a Road to Hana guided tour, then you will stop for a picnic lunch in Waianapanapa State Park, before visiting Ho'okipa Beach and Wai'anapanapa Black Sand Beach later in the afternoon for a refreshing swim.
If you're not on an organized tour, be sure to visit the traditional villages of Wailua and Keanae. And take time to explore Waiʻānapanapa State Park, where you can see caves, tidepools, a black sand beach, and get incredible views. Stop off at Hamoa Bay for a swim and see the impressive Wailua Falls.
Evening
If you're on one of the organized tours mentioned above, you'll be dropped back at your hotel in time for dinner. Use up your energy with a night out at a nice restaurant followed by traditional Mai Tai cocktails at a Hawaiian bar.
In addition to Mama's Fish House, other popular restaurants include:
Or if you've driven the Road to Hana on your own, you might end your busy day with room service and a quiet, romantic night under the stars.
Day 3: A day snorkeling and whale-watching in Lanaʻi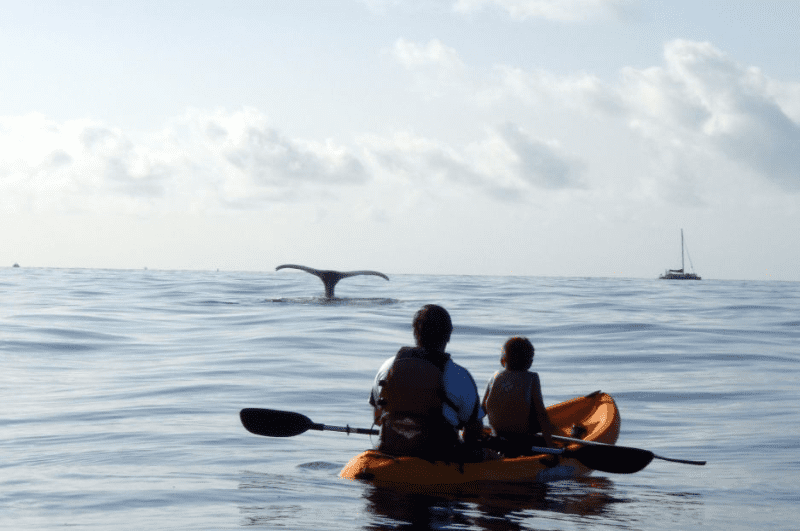 No trip to Maui is complete without experiencing its great diving and snorkeling sites.
While you can go snorkeling on your own, if you book a guided tour then you'll probably be taken to some of the best dive spots on the island. One of these great locations is near Lanaʻi island off Maui, which you can access on a tour aboard a 65-foot catamaran.
Morning
Be sure to arrive 45-minutes before the start of the Lanai snorkel & dolphin watch from Maalaea. The tour takes about 5 hours and includes breakfast, lunch, and snorkeling. You'll also get the chance to spot dolphins, sea turtles, whales, and sometimes monk seals. Plus you will learn about the local marine life from an expert marine naturalist guide.
Afternoon
You'll be served a scrumptious lunch on the tour and will return to the dock in the mid-afternoon. The rest of the day is free to do whatever strikes your fancy.
Evening
You'll need to get an early night tonight, as you'll be waking up at the crack of dawn (or earlier) tomorrow.
That's why it's a good idea to have a table reserved at a nearby restaurant, or to order room service at your hotel, so you can ensure you have an early dinner. The great thing about early dinner is that you can watch the sunset while you eat.
Day 4: Sunrise at Haleakala Crater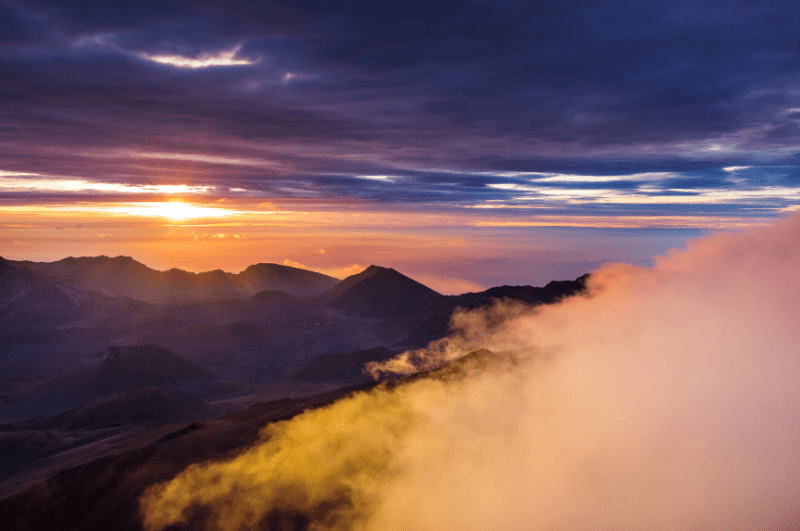 Visiting the Haleakalā Crater to watch the sunrise is one of the most popular attractions on Maui—and for good reason. This shield volcano has incredible views from the peak and the area has immense cultural significance.
Visitors arriving in the early morning need to have a permit pre-organized and you should aim to arrive at the car park around 30 minutes before sunrise. It may be most convenient to get a tour of the volcanic crater, which includes a hotel pick-up. That will allow you to snooze on the drive there as you'll be departing way before the sun's even up.
Morning (early)
Arriving at the park for sunrise, you'll be mesmerized by the landscape and views across Maui.
There are many trails and walks you can go on, plus guided tours that tell you more about the area, the history of Haleakalā National Park and its cultural significance, and the preservation of Hawaii's forest from an eco-certified guide.
The 9-hour Haleakala National Park Sunrise Tour includes a hotel pick-up (between 2 am and 3.30 am) and drop-off, plus breakfast at the historic Kula Lodge. The breakfast caters to vegetarians and those on gluten-free diets.
Afternoon
Arriving back at your hotel around 11 am, you'll still have much of the day to do some more special things as a couple. Or you may be ready for a midday nap after such an early wake-up call.
Two of the best options for afternoon activities are:
a kayaking tour where you may get to see whales, dolphins, sea turtles, and perhaps even a monk seal, or
a trip to 'Iao Valley State Park to see the iconic 'Iao Needle outcrop and rainforests.
The 'Iao Valley State Park is about a 45-minute drive from Wailea. This valley is the site of the battle of Kepaniwai where the forces of Kamehameha I conquered the Maui army in 1790. 'Iao Valley is also known for its waterfalls, hiking trails, and impressive Iao Needle, which is a sacred landmark that towers above visitors.
If you're keen to visit this park and also see the canyon, you could book a tour that includes both. The Maui Haleakala and 'Iao Valley Tour is 9 hours and takes you to Haleakala National Park, visits Wailuku Town in central Maui, and then takes you to the 'Iao Valley. There you can climb 133 steps to the top of the 'Iao Valley lookout and see the 'Iao Needle.
Evening
After a long day with an early start, you'll probably want a nice quiet and romantic evening with dinner at a restaurant that's not too far away. Luckily, there are so many options to choose from…and we mentioned 3 of Maui's top places to eat above.
Day 5: Go horseback riding and relax at the beach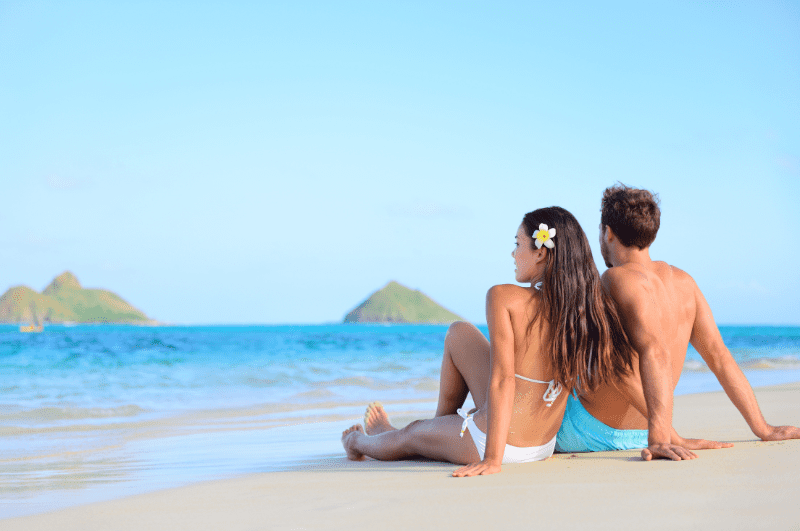 Today you may want to have a later sleep-in than yesterday. Visiting one of the island's many ranches, you can go on a Maui horseback riding adventure. This is destined to be an unforgettable experience to share with your partner.
You'll need to book in advance to secure a space on a group or private outride and get there in good time to get kitted out in all the gear.
Remember to take jeans or comfortable trousers to ride in, and bring reef safe sunscreen, snacks, and water.
Morning
Start your morning horseback riding on one of Maui's many ranches, exploring the beautiful vistas of the countryside. Most rides will take an hour or more, and depending on where you start from you may have a little drive to get there.
Afternoon
Spend the afternoon relaxing or revisiting any of the sights that you most enjoyed. Stop for lunch at one of the small towns along the way, such as the town of Makawao, if you traveled to Upcountry Maui, which has many boutiques and eateries.
Or perhaps you want to do some shopping and buy some handcrafted souvenirs. The U'i Gallery in Kahului is filled with colorful artworks and handmade crafts which is a great option if you're looking for a unique gift.
Evening
Why not take a stroll on a beach and watch the sun going down. The Maui Secret Beach in Makena Cove is a great option (although it's admittedly not too secret anymore).
Day 6: Discover Maui from the air and learn to surf
Morning
See Maui from a new perspective when you surprise your loved one with a thrilling ride on a helicopter! Then treat them to dinner afterward for your penultimate night.
The Maui dream 65-minute helicopter flight over Haleakala National Park, Lahaina, Kapalua, Kaanapali, Wailea, and Hana departs from Kahului Heliport – usually in the mornings.
Alternatively, the Maui and Molokai Scenic Helicopter Flight is 55-minutes long, traveling over Maui and Molokai with views of incredible scenery below. This tour usually has the option of booking a morning or afternoon flight.
Afternoon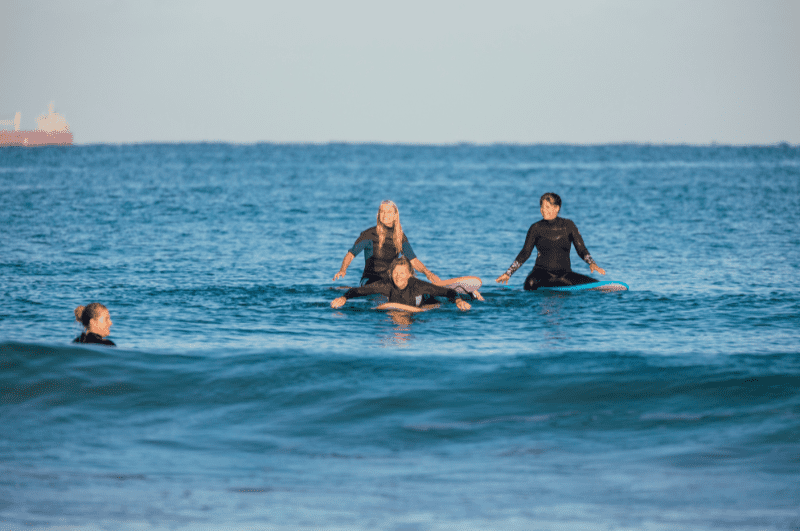 After an early morning start with a thrilling helicopter ride, you'll have time to relax a bit and then travel to one of the nearby beaches to learn to surf.
You can book private surf lessons that will teach you how to catch a wave – a great way to make adventurous memories together while enjoying one of Hawaii's most well-known sports.
Ukumehame Beach, located between Ma'alaea harbor and Lahaina, is one of the best places for learning to surf and you'll typically get some great photos of your endeavors to share with your friends and family.
With lots of private surf lessons to choose from, make sure you opt for a professionally qualified instructor who is trained in water safety and first aid.
After surfing, you can stay and relax on the beach for the day or head back to your hotel for a nap (or perhaps another massage if you're feeling quite stiff after your surf workout).
If you don't fancy surfing (or a helicopter ride), maybe you'd prefer to discover Maui's culinary delights. Here are some fun experiences to consider:
Evening
For something a bit out of the ordinary, check local updates to see if there are any shows, festivals, or exhibits at the Maui Arts and Cultural Center.
Alternatively, Friday's Art Nights in Old Town Lahaina is another great evening idea for anyone who enjoys art (open from around 7 to 10 pm).
Or you might like to see a traditional Maui luau with dinner and a show. While luau ceremonies often traditionally include Pua'a Kalua (roast pig), this one has other dietary options including vegan and gluten-free.
Day 7: Go on a romantic sailing cruise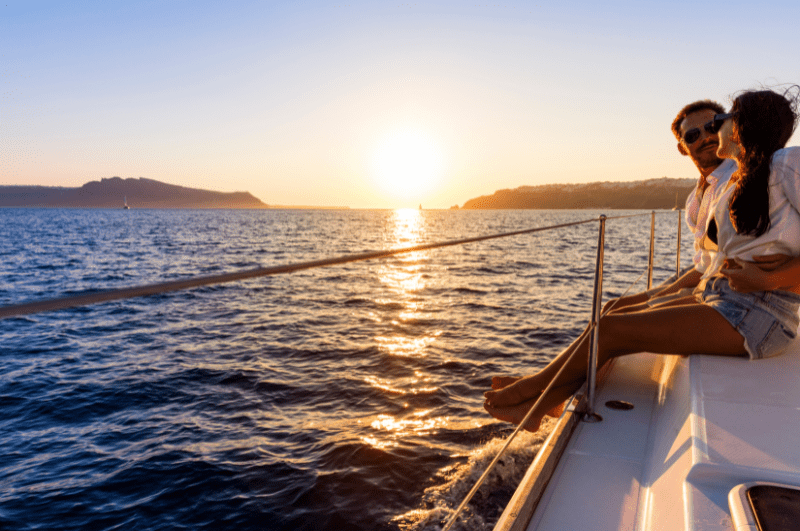 It's always a great thing to have an unplanned day when you're visiting Maui. , in case there are any activities or areas you're still keen to see.
Morning
Enjoy a relaxing late breakfast today and then spend the morning snorkeling.
The 3-hour Maui Turtle Town Kayak and Snorkel Tour takes you to ​​Makena Bay to see Turtle Town, an area known for a high concentration of Hawaiian Green Sea Turtles. This tour offers various starting times in the morning. You'll also get to snorkel along the way at some of the best spots and will be given some snacks and beverages.
Watch for sea turtles, eels, octopi, and other reef fish, then head to Turtle Arches and enjoy a bonus snorkel site with its underwater lava formations and frequent sea turtle sightings. Continental breakfast and lunch are included.
Afternoon
Enjoy a lazy afternoon in the sun with some cocktails and lunch. Relax on a beach chair, read a book or go for a little walk somewhere. You'll probably find there are many things that you want to do on your last day.
You'll need to take some time to start packing your bags and getting ready for your departure tomorrow.
Evening
For your final evening, treat yourselves to a romantic 2-hour sunset sailing cruise from Lahaina while you sip on some bubbly and take in the last breathtaking views of the island.
If you'd prefer to have dinner on a cruise, you can opt for the sunset dinner and drinks cruise from Ma'alaea Harbor, which is about 2.5 hours and usually departs around 5.30 pm.
Enjoy your last night in Hawaii! You'll probably already be dreaming about when next you can go back for a wedding anniversary celebration. Is a paper wedding anniversary too soon?
What's the best time of year to visit Maui?
Maui is an idyllic island to visit all year round. But if there are certain things on your bucket list, like whale watching, then some months are better than others to visit. So you'll need to plan your bookings accordingly.
Also bear in mind that Maui's busiest tourist months are between June and August and from December to March. So if you want fewer crowds, then you may prefer to visit in the off-season.
No matter what time of year you visit Maui, make sure that your itinerary is long enough to enjoy all the sights and fun activities.
And to ensure a relaxed and stress-free honeymoon, it's best to not try and squeeze in too many adventures into each day. Just choose one or two, so that you will have time to enjoy a beach, go for a romantic walk, or to have candlelit dinners together without being in a constant rush.
Packing list tips for your Maui honeymoon
Reef safe sunscreen
Insect repellant
Rain clothes (if you visit the rainforest)
Hat
Beach towel and costume
Casual, comfortable clothing suited to summer weather as well as some warm tops for nighttime (and if you visit the crater) and some formal dinner clothes
Camera
Sunglasses
Hiking shoes
Reef shoes
Snorkeling gear