We often link to affiliate products and services that we believe will benefit our readers. As Amazon Associates, we earn from qualifying purchases. Learn more here.
When you've got close friends or relatives that are on the road a lot, it can make often finding them the perfect gift for Christmas or birthdays even more of a challenge. The ideal travel present has to be thoughtful and useful, and yet lightweight and small enough to fit into an empty cranny in a carry-on.
We've picked the best gifts for travelers, whether it's for someone about to embark on a new adventure, a colleague at work, or a friend who travels at every opportunity. Some are perfect for a practical-minded minimalist, while others are cool travel gifts that are a bit of a treat. Because while travelling the world is awesome and enlightening for the most part, let's be honest, it's not always easy to be on the road. Perhaps you need to find gifts for or you're looking for cool travel gifts for someone going on vacation.
Have a look at these fantastically unique travel accessories and gifts that you can get for the globetrotter in your life.
Tinggly experience vouchers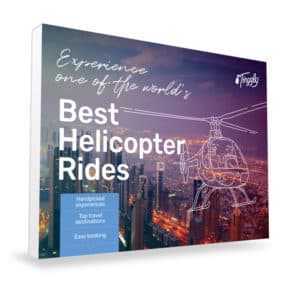 Gift cards are always a favorite when it comes to receiving gifts. They allow you to give something they really want, which in our book makes it a thoughtful present. Tinggly has created one of the best travel gift ideas we've come across.
The company has collected thousands of unique adventures and experiences and grouped them into various themed collections, such as Time Together, Dream Wedding, Euro Trip, Happy Birthday, and even things like World's Best Helicopter Flights. Each collection features literally hundreds of activities that your loved one can choose from, all over the world.
Gift vouchers begin at $79. It's a really great idea for the person who has everything.
Kindle e-reader
Kindle e-readers are another now indispensable gadget for the traveler. We resisted them for years because we like the feel of paper; it enhances the reading experience. That is, until we ended up in a Spanish-speaking country and couldn't find a single bookstore that carried books in English.
E-readers have their advantages, not the least of which is that you're effectively carrying around a small library on a device that's lighter than a paperback.
Lonely Planet's Travel Atlas – Kindle edition
Lonely Planet's extensive mapping experience, unrivalled destination insight and knowledge all come together in this helpful Travel Atlas. With large maps and insightful information about each destination, this atlas is ideal for planning the perfect trip.
In the Atlas, themed itineraries can also be found, ranging from 2 days to 2 weeks. There are also top sights and activities, available for all the top locations. The Atlas can be used to plan tourist-attraction holidays, but also trips that lead through less visited areas.
While this is the Kindle version, the coffee table-hardcover version is also available.
Scratch the World Travel Map
This scratch off map of the world is a unique way for your favorite adventurer to record their journeys. It works exactly like a scratch card – scratch off the gold coating over visited countries to reveal the huge world map underneath.
This is the top selling scratch-off map on Amazon. It is printed onto high quality silk art paper with a gloss coating, and comes rolled in a tube for safe delivery, so it arrives ready to frame.
Mini speaker
Mini speakers make a great gift for travelers, because there are occasions where you want to watch a video with someone or set the mood with music. The problem is that you can't share it with headphones, and most phone speakers are pretty tinny.
Mini speakers are small, their batteries last a good long time, many can be USB-charged, and a lot of them are nice and robust. All of these qualities are essential for travel gifts, so go for it, we say.
eBags 6pc Classic Packing Cubes
One of our favorite traveler gift ideas is both super useful and no-brainer simple: packing cubes. Never heard of them? Basically, these little guys keep your things neatly organized, no matter how much you rummage through your suitcase or backpack. They're the easiest way we know to separate undies from shirts, clean from dirty clothes, and so on.
Aside from keeping things organized, they are a lifesaver if airport security decides to search your luggage. When we had to open our luggage for airport security, all we had to do was remove our cubes so they could examine the suspicious-looking tripod. It took seconds to repack everything, and we made our flight in time.
What better gift to give someone than easy organization, right? Such a great invention! The stitching is solid, the mesh doesn't break, and the zippers slide easily, unlike cheaper sets. The only thing about this gift idea is that you need to give it before they start their packing. But trust us, they will thank you.
iOttie iTap Mini Travel Kit
The iOttie iTap Magnetic Mounting & Charging Travel Kit is a great gift for anyone who rents a car when they travel. It has two things every driver needs: a powerful USB car charger and a 2-in-1 mfi-certified Lightning and micro USB charging cable. And it comes packed in a high quality carrying case
Simply place the mount onto air vent blades, and place the metal plate onto your phone or case. After the metal plate and mount are installed, easily mount your phone with just a tap. Then use the included car charger and 2-in-1 cable to power your android or iPhone device.
Scrubba Portable Clothes Washing Bag
Traveling and living out of a suitcase can have its challenges, especially when you only travel with a carry-on. The challenge of having fewer clothes means you have to deal with dirty laundry while you're traveling. If you know a traveler who prefers to visit more rural areas, chances are they may not find a laundromat as often as they may need.
The Scrubba portable washing bag allows them to wash their clothes on the go. It weighs less than 145g and folds up small enough to fit into a pocket. A flexible washboard inside the bag help to scrub clothes clean.
To use the Scrubba, just place dirty clothes inside the bag, fill with water, add some detergent and rub the bag to scrub the clothes inside. Then drain the bag and hang the clothes out to dry. Perfect for camping, as well as backpacking and even day hiking.
Water resistant hanging travel toiletry kit
Not much tops the feeling of having your toiletries arranged neatly while travelling. This handy toiletry bag has a hook for hanging, as well as multiple pockets and spaces that are perfect for keeping bathroom necessities in one organized space.
The bag is made from high-quality nylon, making it durable and water-resistant. It also comes with a removable, TSA approved clear zip bag, meaning it can easily go through airport security with shampoos and other bathroom liquids.
Available in eight colors, including both blue and brown camo, these bags are great for men and women and make a stylish and useful gift.

Fancii Cool Mist Personal Mini Humidifier
This cute little humidifier fits into the palm of your hand. All that is needed is a standard water bottle in order to turn this compact device into a fully functional humidifier. We love that idea – breathing dry air can cause no end of discomfort!
The humidifier runs both on battery and USB power. It also has a timer, so set it for 2, 4, 6 or 8 hours while sleeping, and it will automatically switch off when the timer finishes. It also has a smart shut off function when the water runs out.
Bluetooth selfie remote shutter
Do you have an instagrammer in your life? Help your friend or family member take the perfect selfies with this Bluetooth selfie remote. The remote enables users to take selfies from up to 30 feet away. No more awkward, elbows obstructing, picturesque views.
It works well on most Android and Apple devices, cell phones, iPads and tablets. Only iPhone users can benefit from high-quality video recording features, though. It's also battery operated and can be attached to the wrist or as a keyring, making it easy to carry around.
When buying the remote, one will receive the device, along with 2 batteries, a comfy wrist strap and detailed instructions with illustrations on how to use it, all together in a stylish gift box – ready to be handed over as a present.
Mobile Cell Phone Camera Lens Kit
When traveling to new and exciting locations, the urge is strong to indulge one's inner photographer. This cute camera lens kit helps make holiday and travel photos look even more amazing.
Purchase this product, and get a tripod and phone holder, lens clip and 3 lenses – fisheye, wide and macro. It all also comes in a handy carry bag, keeping the items together and safe.
The lens clip is adjustable, making it fit on most smartphones. This kit suits a fun hobby and allows users to experiment with their photos but is not recommended for anyone looking for professional options.
Carry On Cocktail Kit Travel Pack
Imagine being able to craft unique cocktails – mid-flight. This gift allows for just that. The cocktail kit travel pack holds ingredients for three traditional cocktails; all that's missing is spirits from the airline's beverage cart. Best of all, all ingredients are TSA approved.
This will not only keep hands busy during long flights, but also allow passengers to enjoy a well-made cocktail in the sky. The pack contains three tins, each holding ingredients for one of the following cocktails (other cocktail tins are available):
Old Fashioned
Moscow Mule
Gin & Tonic
The standard pack also includes a bar spoon, linen coaster, recipe card and suitable syrup flavor. Choose from a variety of different recipe, color, and bag options.
Premium Leather Journal Notebook
If you know of a traveler who is fond of documenting their travels, they're sure to fall in love with these leather journal notebooks by Mr. Columbus. The notebook is packaged in a polished gift box and comes with a cloth bag to keep it in as well.
Also included in the gift is a metal bookmark to easily pick-up where they left off, and an eBook full of interesting facts about each country. The notebook itself has a plastic sleeve to fit cards into and also has an attached bookmark.
Made from 100% leather and premium quality paper, the notebook will keep for as long as the receiver's travels last.
Collapsible pocket-sized travel water bottle
Anyone making long journeys is sure to need as much space as possible. That's why finding gifts that are foldable and collapsible is so cool.
This water bottle is made from food-grade silicone and is 100% BPA free. The silicone helps make it collapsible, so it can be used and then packed away into small spaces. When folded, the bottle is just 1-inch in height and weighs a mere 6 oz.
Watertight seals throughout the bottle ensure that there are no leaks, and it can be cleaned both by hand and in a dishwasher. This is a great item to have handy in bags during travels, it saves travelers the hassle of buying water from shops, hotels and airports.
Travel foldable electric kettle
And as long as we're talking about collapsible gear, if you have a traveler friend known to pack 'everything but the kitchen sink', this is a brilliant buy. It's an electric kettle, made from strong food-grade silicone, that can be folded down to be no bigger than a coin purse.
The kettle has a cord, so needs to be plugged in. As long as there is an electrical plug point, it's easy to boil water for tea, coffee, 2-minute noodles, soups, whatever. This is great for those who are spending a night in a hostel, or self-catering camping unit.
The kettle makes two full cups of hot water, so it works perfectly for solo and couple travelers alike.
Bodum Travel Press
We'll confess to being serious about a good cup o' joe – you might even call us coffee snobs. If you know someone who appreciates a good cup of tea or coffee as much as we do, this guarantees they won't be caught short with packets of instant in their hotel room.
The stainless-steel press acts as a press and a mug in one. All that is needed, is to place ground coffee or tea with hot water into the press, then press down slowly as you would with a French press.
This is not just any coffee press, though. The coffee or tea can be drunk straight from the press through the mouthpiece. The non-slip silicone grip comes in many colors and protects hands from the hot steel.
Anti-theft waterproof travel backpack
Although backpacks are an essential item for everyone, this specific backpack is has a lot of unique features that are especially good for travelers.
This waterproof backpack is built for laptops. It has a built-in combination lock, that deters thieves from accessing its contents. There is also a USB interface that lets you conveniently charge your electronic devices even while your power bank is in the bag.
There's even a headphone interface, so you can listen to music while the phone is stored safely inside the bag.
Travel scarf
Ditch the fanny pack — a travel scarf is the perfect way to look like a local instead of a tourist.
Sure, this scarf is fashionable and lightweight, but that's not why we think it makes such a great gift. There's an inconspicuous compartment that's big enough for important valuables such as cellphones, pocket cameras, money and even passports. Plus, there are loops designed to hide the compartment, which doubles the safety of the scarf.
Made from quality materials, these scarves come in 12 colors, go well with any outfit, and keep valuables close by. The light polyester materials ensure that the scarf is comfy enough for all-day wearing.
Sleepy Ride – airplane footrest
Anyone going on long plane rides will surely agree that their legs are the first to suffer. That's why you can't go wrong with giving this footrest as a gift to any traveler.
Hanging the footrest handles from the arms of the tray table will create a hammock-like resting place for tired feet. This helps to prevent back pain, leg stiffness and swelling, as well as general crankiness from cramped legs on a long flight.
The footrest comes in a handy drawstring bag which is small enough to fit into a carry-on bag. The memory foam creates a cushioned feel every time the footrest is used.
Denali Outdoor Compact Pocket Blanket
Days at the beach, picnics in gardens and even camping in tents are all made better with a compact blanket from Denali. The blanket folds up and fits into a bag the size of one's hand, making it compact enough to take with even when backpacking.
Waterproof, sand proof and puncture resistant, this blanket is fantastic for sitting on beach sand, rocky surfaces and even wet grass. It can also be used as a make-do shelter in unexpected rain conditions while hiking.
The blanket has four corner pockets to weight the blanket with sand. It also comes with four metal stakes and attached corner loops to keep it in place; Use the attached corner loops to attach paracord to use as a shelter or rainfly; use the attached zipper pocket to hold keys, glasses or phone.
How to Pack: Travel Smart for Any Trip
Not only is this hardcover book full of useful information on how best to pack when traveling, but it also has a brilliantly designed cover. Hitha Palepu is a former consultant and has traveled over 500,000 cumulative miles around the world. She has now written How To Pack to help other travelers get the most out of their suitcase space.
The book covers:
Power Pieces vs. Fantasy Pieces: How clothing earns its place in your suitcase
The Accessory Math Secret: The precise formula for all you need to finish off your outfits
Folding versus Rolling: What's right for which items
Globetrotter Gorgeous: Editing your beauty routine while still looking great
The Packing Timeline: How to avoid "I'm forgetting something" syndrome
Pack Perfect Lists: Samples and blanks for any kind of trip
The book is more than just a simple read on packing for a holiday, it's a guide on the best way to pack – wherever you are headed. Reader's learn everything from the right clothes to pack to what beauty products to take with you.
I Was Here: A Travel Journal for the Curious Minded
Travelers of all ages will love this journal, which is also a trip planner and a travel notebook. Colorfully illustrated and full of helpful guides – this will turn any trip into an adventure. You can add your own creativity as well as thrive from the journal's creative prompts.
The journal has space to include itinerary notes, helpful tips learnt and contact details for all the people met along the way. It also includes resources of time zones, weather and other international information.
Available in both diary and hardcover versions, the notebook was designed by a San Francisco-based artist, Kate Pocrass. Each page gives excitement and unique ways to enjoy new destinations.
Moleskine Travel Passions Journal
A fantastic gift for any globetrotter who is serious about planning new adventures, this journal is more than just a place to jot down thoughts and ideas.
The stunning journal has great resource guides that have world time zones, international weather and climate info, as well as weights and measurement equivalents and conversions. It also includes information on the following:
International currency
Capitals
Languages and religions
Passport and customs information
A directory of foreign embassies in the U.S.
We've written a Review of the Moleskine Travel Journal based on our own experience. We think it makes for a magnificent travel-related gift.
ⓘ TIP: Check out our Amazon shop for more travel gift ideas.
Hopefully now you have a much better idea of what to buy for the travel-loving people in your life. From practical to quirky, you should have no problem finding the ultimate birthday, Christmas or farewell gift.
Happy shopping and safe travels!
Save this for later – pin it to Pinterest
Or share this on Facebook to give your friends a not-so-subtle hint as to what you'd like to receive.