Do you have a burning desire to share your travel experiences with the world? Maybe you are curious about how to start a travel vlog or are looking for some tips on what equipment to use.
It doesn't matter whether your goal is to document your backpacking trip through Europe or to post videos of your family's adventures around the US. If you want to know how to begin vlogging, this article will give you all the information you need.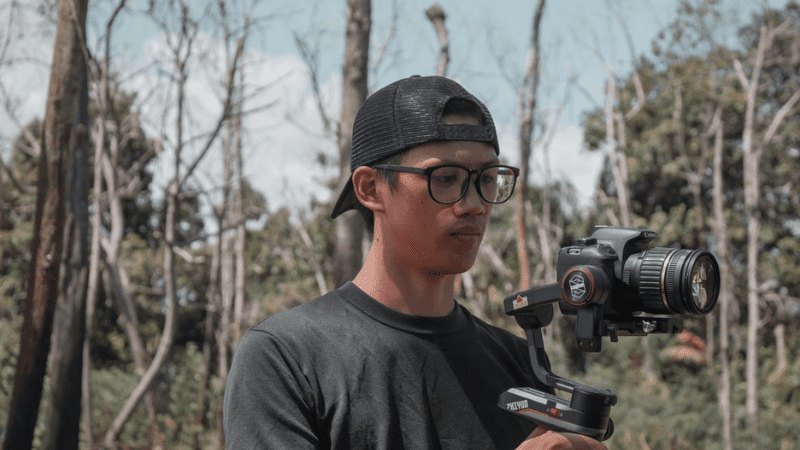 How to start a travel vlog
If you want to record and share your experiences and adventures on video, you want to be a travel vlogger. A travel vlog can be an excellent way to make money, promote your brand, or just share your stories with the world.
Here's a vlogging guide to the steps you will need to take if you want to start a travel vlog.
1. Choose your niche
Although millions of people travel the world and share their impressions, only a few of them become famous. The best travel vloggers don't just make random videos of their travels, they have a unique angle around which everything revolves.
To start your travel vlog on the right track, you have to define your niche.
Start by looking at your travel style and interests. Our YouTube channel focuses on destinations, because that's what we like. Do you like to backpack? If so, you could make videos about being a budget traveler. Do you have a favorite destination? Your videos can focus on a single spot. Do you enjoy wine? Your travel vlog niche can be on wine destinations.
The best travel YouTube channels cover their niche from assorted angles. Adventure vloggers might share travel tips or talk about solo travel, but it will still be an adventure vlog. The point is that all your content should align with your niche. Everything should be harmonious.
2. Set up your channel
Once you've selected your niche, you'll need to set up your channel. Come up with a great name for your travel vlog, then check to see if anyone is using it. If so, don't despair. Great ideas are always in the air.
There are endless options for names, but it's important that your chosen name reflects your personality and niche. The closer they align, the easier it will be for people to find your videos. Try to select a creative name that they can easily remember. Choosing the right name is super important, because it's is the first step of your online branding journey.
Next, choose where you'll share your travel videos with your audience. Most vloggers have a YouTube channel. YouTube is by far the most popular platform for sharing video content, with 122 million people on the website every day. But there are also other websites for vloggers, as well.
If you plan on becoming a YouTube vlogger, you'll want to learn about video SEO. Fill in your new channel profile with images, contact details, and descriptions. Add links to your other social media profiles so people know where else they can find you. Also add a link to your YouTube channel on all your social media platforms, especially Facebook, Twitter, and Instagram.

3. Get the right vlogging equipment
Even though you'll need quality videos for your travel vlog, it's impractical to carry around a heavy bag full of gear. When asking yourself "what do I need for vlogging," consider that most travel vloggers opt for gear that's small and lightweight.
Here is a list of essential video blogging equipment:
lightweight camera with image stabilization – you can use your phone or a dedicated camera like the Sony Cybershot
flexible tripod – a Gorillapod is small, flexible, and easy to use with a camera
external microphone – lavaliere mics are small and inconspicuous
An action camera like the GoPro
ⓘ TIP: Action cameras are just for specific scenarios that require it. Do not use it as your main camera or you will get disappointing results.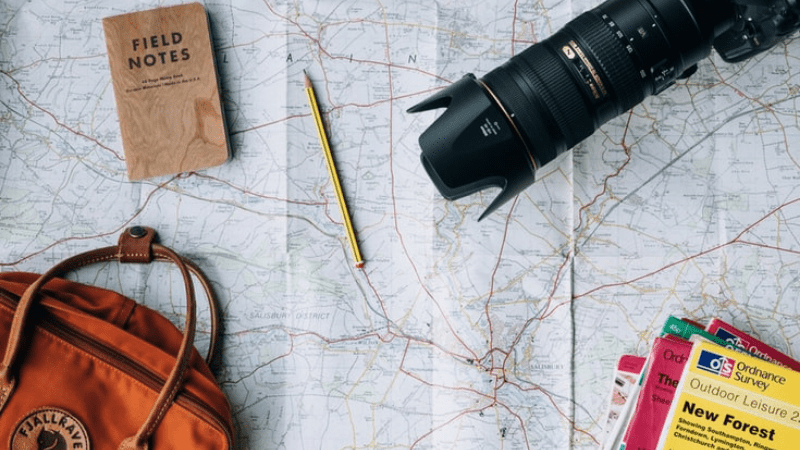 4. Start filming
Practice makes perfect, so get out there and start filming!
Travel vlogs cover the globe, so start by shooting local sites. Tourists visit your hometown, too! You can visit a nearby museum, try a local restaurant, or drive to a state park for the day. Where you go doesn't matter. You just want your travel video to immerse the viewer in your world.
It's best to have a basic format in mind before you start. Tell a story in your travel videos, with a beginning, middle and end. Make viewers feel like they're there. Let them hear the rustle of dry branches underfoot, the splash of the mountain river, or the chirping of birds. Let them feel it all for themselves.
ⓘ TIP: Don't be afraid to experiment. Even random 30-second clips can be turned into YouTube #shorts.
5. Learn video editing
If you want to become a successful travel vlogger and make engaging videos, you must make your videos user-friendly. This is where video editing becomes an important tool.
To get started making videos, all you'll really need is some type of video editing software. Once you have it installed, you can find plenty of tutorials on YouTube.
Adding music is an easy way to improve the quality of your travel videos. A simple web search for "free video music download sites" will produce lots of results.
Creating a quick video intro will make your videos stand out as well.
Not only is watching other travel vloggers a good source of inspiration, it's also a useful way to learn new techniques.
6. Upload your video to your YouTube channel
Once you've finished editing your video, you can upload it to your YouTube channel. Set the privacy level to "Private" when you upload. This will give you time to make edits and add keywords and a thumbnail before you publish.
As far as publishing, it's best to schedule your videos so viewers know when to expect them.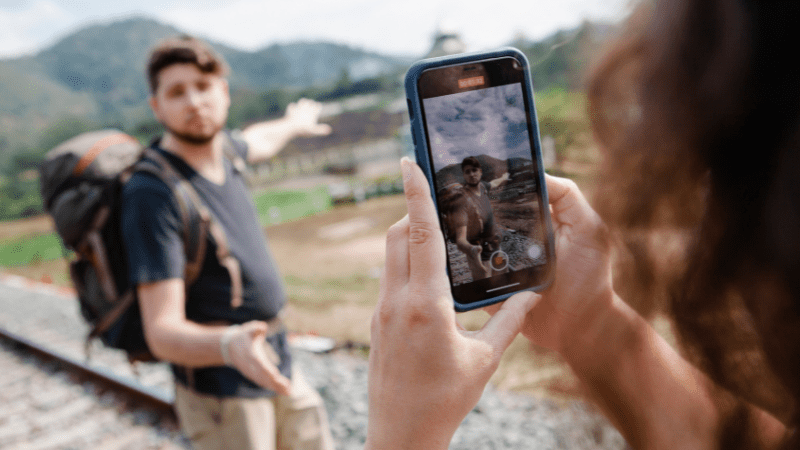 7. Promote your video content
First, promote your content on social media. Share news about your travels with friends and allow sharing of your posts. Moreover, ask and encourage them to do so. You will create all the necessary settings only once, and then everything works automatically.
Once your travel vlog has gained followers, start collaborating with other bloggers. For example, a mountain hiking channel can work with an online mountain boot shop. Or team up with other travel vloggers and develop a network of followers.
Be sure to communicate with people who follow your travels and leave comments. Answering comments is a very important part of promoting a video blog. Develop your travel vlog constantly. Be patient and consistent. Over time, people will subscribe and follow your travels around the world.
5 vlog tips and tricks
You already know how to start a great travel vlog. The most important vlogging tips beginners need to know include:
Don't feel like you're on vacation. Creating a travel blog is hard work. If you act like you're on vacation, your video clips will reflect that and you'll be disappointed with the results.
Do not travel vlog for everyone and everything. Choose your niche, study the audience, and remember the main idea. that's how to get a loyal following.
Don't disappear for long. Make a schedule for uploading regularly, and follow it, so your followers will know when to expect another travel video.
Do not forget that you become a public figure when you start travel vlogging. Watch what you say. A bad joke or an insensitive statement can cause you to lose followers.
Do not try to repeat someone else's success. Be yourself! Trying to be someone else is redundant.
And don't be afraid to experiment. Great things do not happen to people who fear making a mistake. Mistakes help you hone your craft. Embrace it.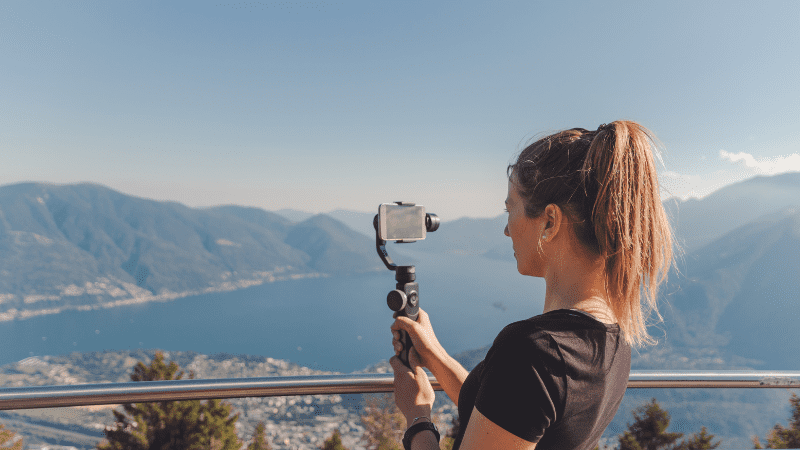 Final thoughts about starting a travel vlog
In conclusion, travel vlogging is a fun platform to share your world with the people who are not able to see it for themselves. By creating content that speaks to you, you can help others understand how amazing life is.
If this post was helpful, please share it with your friends. Are you on Pinterest? Remember to pin this image!