It's that time of year for retrospectives and "what's in store next year" stories. Rather than bore you with our goals or this past year's highs and lows (we've had our share), we'd prefer to share an accomplishment we're particularly proud of. In 2014 our biggest victory was losing 170 pounds. Our 2015 success was completely different.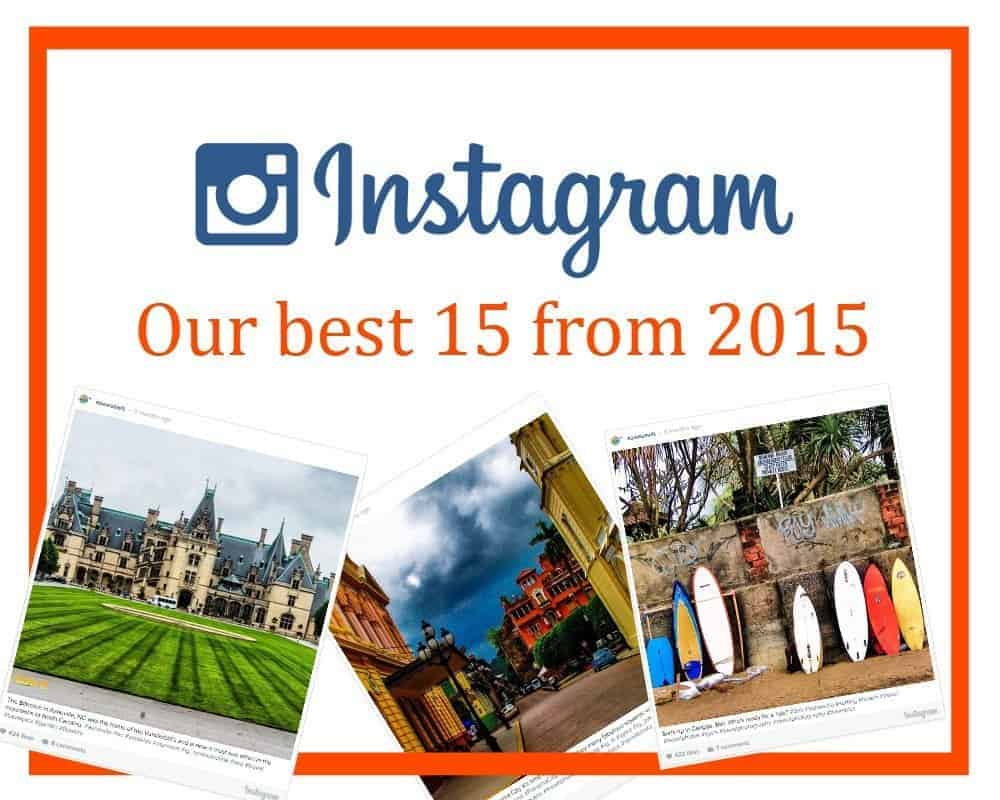 Everyone knows that Dan is the photographer in the AWSI team. What isn't as well-known is that I handle most of the social media, and our poor Instagram account has suffered in silence because of it. After two years it still had only a handful of nondescript personal photos to show for itself and could boast only a paltry 235 followers. Shameful, really, considering our gallery of beautiful travel photos.
Okay, Dan's. 😉
Hello, Instagram.
Instagram languished in the nether-regions of our social media, sadly neglected, until Dan offered to take it over this past April. When he did, I heaved a huge sigh of relief that it would finally get the attention it deserved. When it comes to photography, I think Dan has The Eye.
If a social media account can show emotion, our Instagram is now giggling with unfettered glee. Dan has been helping it to grow from an ugly duckling into a graceful swan, by sharing travel photos on Instagram instead of random selfies and food and drink shots. As I write this, our Instagram is approaching the 8,000 followers mark,and the year isn't even over yet. If God works miracles on social media, this is truly an example.
Anyway, in a nod to all those end-of-year countdowns, we're doing our own. Based on likes, I hereby present:
Our 15 best Instagram travel photos from 2015
15. Canggu beach, Bali, Indonesia
The random assortment of colorful surfboards drying against the wall captured our eye and Dan's camera. What we couldn't express on film was the number of women selling touristy clothing to beachgoers. We have no idea why they bothered to be there, because most of the people we saw on the beach were Balinese locals.
14. Biltmore House, Asheville, North Carolina, USA
The Biltmore Estate is the largest privately owned house in the United States , built in the 1890s by the Vanderbilt family. We are embarrassed to say we lived only an hour from there for five years and never visited once. It wasn't until we returned for a visit that we finally bought the tickets to go. (Why do we so often do that?)
13. Cartagena, Colombia
Taken only a few moments after Dan had me pose for a photo with a joy-filled fruit vendor, this picture reminds us of the street life in Cartagena and how warm and friendly the people were. Beautiful city, full of color. We'd go back in a heartbeat.
12. Embera baskets, Panama
All this color, and it's a woven basket that can actually hold water. We bought a couple of baskets when we were visiting an Embera community in Darien, Panama, but this photo was taken at a souvenir shop in Panama City.
11. Boquete, Panama
This view of Boquete was taken from the overlook at Kotowa Coffee's visitor center. We enjoyed stopping there with visitors so they could see why so many North Americans retire to the town. Boquete is also a popular destination for birdwatchers.
---
---
10. Pura Ulun Danu, Bedugul, Bali, Indonesia
We arranged to have our driver pick us up early in the morning so we could visit Bali's second-most-important Hindu temple before the crowds arrived. The temple is in a mountain valley so the hoped-for sun had not yet broken through the morning fog. We did, however, feel like celebrities when a couple of local Indonesians wanted to take a selfie with Linda, the bule who surprised them by speaking in Indonesian.
9. Burano, Italy
Venice is beautiful, but as Dan put it in the description, Burano is a photographer's paradise. Color ran riot throughout the island. It is the best place that Dan has ever photographed. Take a trip yourself: Armchair travel: Visit Venice's Burano Island (with video).
8. Boats on Lake Madden, Panama
We had the opportunity to explore the real Camino Real with an authority on the ancient Spanish trail, but were astonished by the flimsy-looking wooden boats that would take us there. We recall wondering, "Are they really going to take us on those things?" As it turns out, they were more durable than they looked, and we spent a day on the Camino Real without getting wet at all.
7. Casco Viejo, Panama
This was one of the first streets to be rebricked in Casco Viejo, and we found it while strolling through Panama City's Old Town. As soon as we saw it, we began to imagine how beautiful the weather-worn town will look when it is fully restored. If it turns out to be as pretty as Cartagena when it is completed, we won't be surprised.
6. First Generation sculpture, Singapore
If not our favorite, this sculpture of boys jumping into the Singapore River is one of them. Swimming in the Singapore River was a favorite pastime of youngsters until the river was revitaliized a few decades ago. This was an impromptu shot, taken while in motion on a river cruise tour.
---
---
5. Regensburg, Germany
One of the stops on our river cruise was at Regensburg, one of the best preserved medieval towns in Europe. Dan took this photo while wondering, "What would the street have looked like during Oskar Schindler's time?"
4. Night descends on Plaza Bolivar, Casco Viejo, Panama
This is one of Dan's favorite Instagram photos, and it shows the beautiful architecture and diverse color that makes up Casco Viejo. Quite a few excellent restaurants surround Plaza Bolivar, and it has always been one of our favorite places to dine al fresco.
3. Singapore Flyer, Singapore
It is possible to enjoy a gourmet meal while on Singapore's ferris wheel, with a grand, panoramic view of the city and its harbour. We did not indulge in that luxury, but we had the same views. Dan was astounded at the number of ships that were sitting in Singapore Harbour, saying, "I have never seen so many ships at one time in my life."
2. National Cathedral, Casco Viejo, Panama
Another favorite photo from Casco, Dan really likes the contrast of the dark and the white in this cathedral. Come to think of it, we don't remember ever having been inside.
1. Merlion statue, Singapore
The second photo from our Singapore river cruise to reach our "top 15 Instagram photos," Dan snapped this shot rather randomly while our river cruise boat was turning around. He actually doesn't consider this one of his best pictures so is surprised at how many likes this shot has garnered.
---
---
---
Are you on Instagram?
If so, please leave a link to your account in the comments. We would also be honored if you would follow us.
---