The western coast of Mexico is so well-known for its fabulous beaches and stunning coastline that it's frequently called the Mexican Riviera. Not be confused with the Mayan Riviera in the Caribbean—where Cozumel is located—the Mexican Riviera is located along the Pacific Ocean and is home to some of the most popular vacation destinations in Mexico.
There are 20 cities along the Mexican Riviera, and each one has its own unique landscape and culture. But with a sprawling 4500 miles of coastline, it's impractical to drive the vast distances between them. That's why savvy travelers choose to explore the Mexican Riviera by embarking on a cruise.
In this article, we'll look at the most popular Mexican Riviera cruise ports to visit and the activities you can do while there. We'll cover them by region, going from north to south, so you can find your perfect Mexican Riviera getaway.

No matter where you go in the Mexican Riviera, adventure and culture await you.
so you can see the region's stunning sights in a short amount of time.
Cruising the Mexican Riviera
A cruise is arguably the best way to see multiple different destinations along the Riviera, and it will also get you closer to the water than anything else you could hope to experience.
Pick the one that suits your vacation style and sit back and let the captain do all the hard work while you take in the gorgeous coastline from the top deck.
Many major cruise lines offer Mexican Riviera itineraries. The most popular Mexican riviera cruise ports are Ensenada, Cabo San Lucas, Mazatlan, Puerto Vallarta, Acapulco, and Salina Cruz.
Ports may vary, but we hope this guide can help you start customizing a plan that fits your trip. No matter how many days you have to explore, we're sure you will enjoy your tip along the beautiful Pacific Coast of Mexico.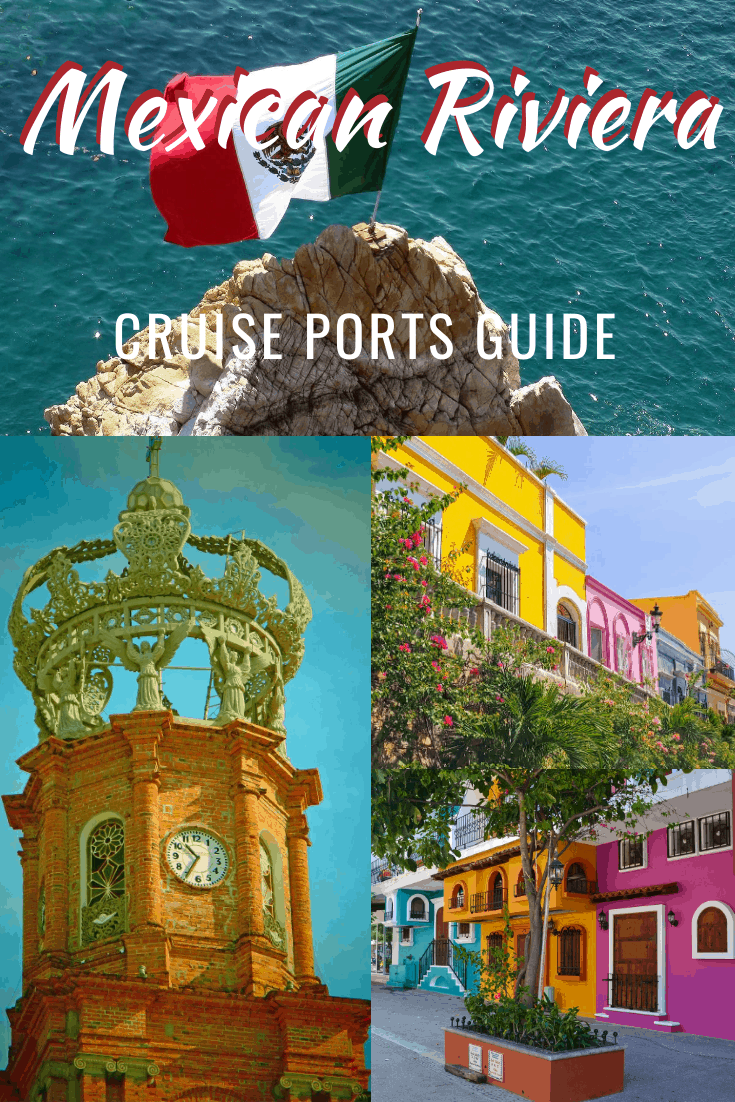 Where do Mexican Riviera cruises begin?
Depending on the cruise line, you will embark in either Los Angeles or San Diego. It's important to know your embarkation port so your shuttle or taxi will drop you at the right one.
Los Angeles has two ports: the World Cruise Center (in San Pedro) and the Long Beach Cruise Terminal (in Long Beach). It can take more than an hour to get to either cruise port from LA International Airport (LAX).
Princess Cruises and Norwegian sail from San Pedro
Carnival Cruises sails from Long Beach.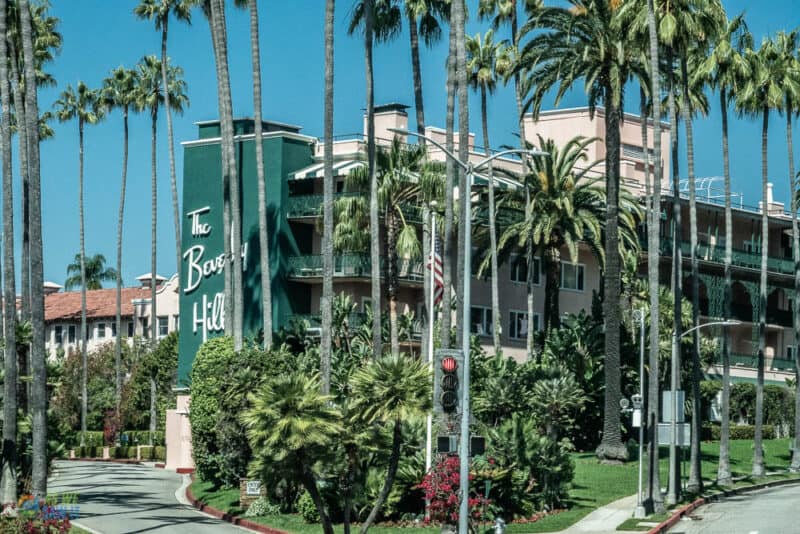 San Diego also has two terminals: the B-Street Pier & Cruise Ship Terminal and the Port Pavilion on Broadway Pier. Most cruises depart from the B-Street Pier & Cruise Ship Terminal. Both terminals are approximately 10 minutes drive from San Diego International Airport (SAN).
These cruise lines sail from San Diego:
Carnival Cruise Line.
Celebrity Cruise Line.
Crystal Cruises.
Disney Cruise Line.
Holland America Line.
Norwegian Cruise Line.
Princess Cruises.
Even if it's a mere 10-minute trip to the terminal, we've experienced enough unforeseen travel delays to recommend arriving a day or two early. You don't want to miss the boat!
Might as well take advantage of your time in these Southern California cities before departing on your cruise.
If in LA, pay a visit to Griffith Park, hit the waves with a 2-hour surfing lesson, or walk along Santa Monica Pier.
If in San Diego, visit the famous San Diego Zoo with this skip the line ticket. Or relax along Black Beach while you watch the locals ride the waves.
ⓘ TIP: Buy travel insurance before your trip. It's a small expense, but it pays off big if there's a last-minute cruise cancellation or if one of your bags goes missing!
Mexican Riviera cruise ports in Baja California
1. Ensenada
When you finally arrive in Mexico, your first stop will likely be Ensenada in Baja California. With its many attractions, Ensenada is a great place to get your feet wet in Mexico.
Take a stroll along the Malecon, the boardwalk running from the local fish market and ending at a city park. If you're lucky, you might see some sea lions or watch the local fishermen bring in their catch of the day.
If you're a wine lover, you may know that Ensenada is considered the Napa Valley of Mexico. It attracts wine connoisseurs from all over the world, and in fact taking a wine tour is one of the most popular cruise excursions in Ensenada.
Pay a visit to one of the local markets or La Cava de Marcelo, pack yourself a picnic and head out to the vines. Bodegas de Santo Tomas (use Google Translate on this Spanish-language website) is the oldest winery in Baja California. They started all the way back in 1888 and they still give wine tours today.
2. Cabo San Lucas
Some cruises choose their first stop further south from Ensenada, in Cabo San Lucas. Located at the tip of the Baja California peninsula, it boasts beautiful beaches and vibrant nightlife.
A highlight of the town is the Bay of Cabo San Lucas. There, you'll witness sea life such as sea lions, colorful fish and pelicans. Rock formations form arches and rigid shapes in the water. Many will snorkel or go diving along the edge of the peninsula.
ⓘ TIP: Be sure you're on the deck on the approach to Cabo San Lucas. You don't want to miss this picture-perfect scene.
3. Mazatlán
If your cruise itinerary allows time to venture a little further inland, take the opportunity to visit Mazatlán, a historic little coastal town known for its incredible seafood. Known as the Pearl of the Pacific, Mazatlan endured some tough times with the drug cartel a few years ago, but now it's experiencing a second wind as a key tourist destination.
A trip to Mazatlan must include a stroll to the historic center of Old Mazatlan. It's one of those rare spots where the food is great, the history is fascinating and the local shops and boutiques are to die for.
Or, if none of that sounds appealing to you, you can seek out the Sea of Cortez instead for swimming and snorkeling. Even better is a nice zip-line tour with a tequila tasting!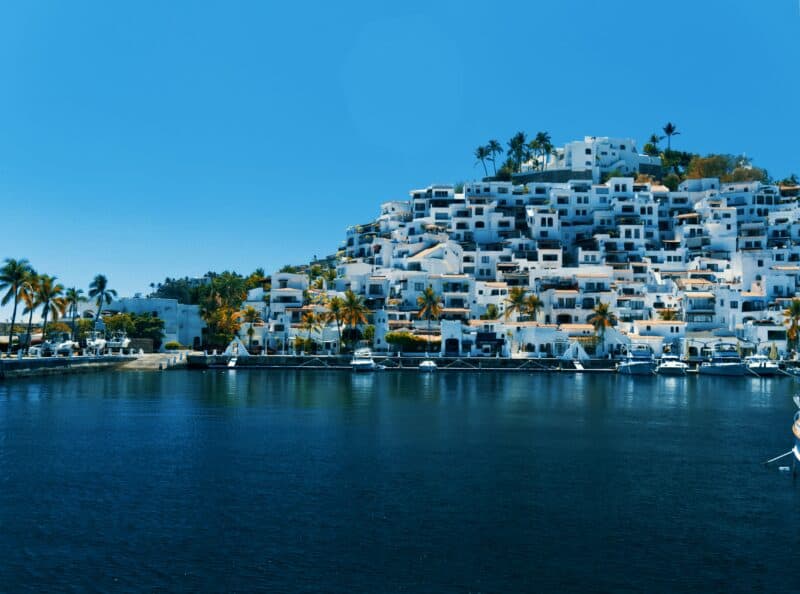 Central Mexican cruise ports
4. Puerto Vallarta
Puerto Vallarta is the midpoint of the Mexican Riviera cruise stops. It's a bustling, modern town with plenty of colonial charm and sweeping white-sand beaches.
If you are interested in culture, you might want to experience some traditional Mexican street theater, enjoy the lush gardens around town, or explore the city's cobblestone streets. Or perhaps a city tour with visits to a tequila distillery and coffee factory would be more to your liking. (Learn more here.)
If you want a rush of adrenaline, you'll find dozens of activities on offer here. Puerto Vallarta has everything from horseback riding and ATVs to waterfall and snorkeling adventures.
For a more relaxed experience, the hop-on/hop-off bus is a favorite activity. There are also plenty of seafood restaurants to explore, art galleries to browse, and boutiques where you will find beautiful hand woven and naturally dyed textiles. (I especially recommend the 4D Art Museum and Galleria Dante!)
5. Manzanillo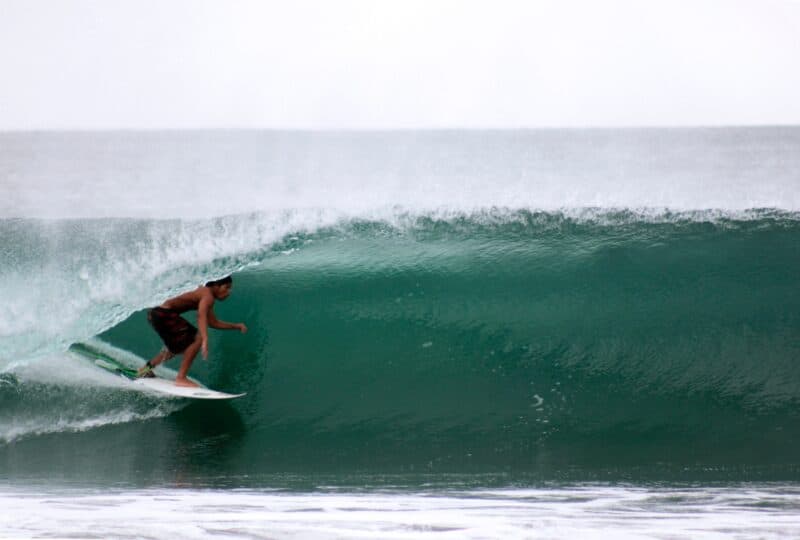 The cruise port stop of Manzanillo is a popular tourist destination, both for its fantastic beaches and for the opportunity to go deep-sea sportfishing for marlin.
For beachgoers, Playa La Audiencia is a favorite due to its calm surf for water sports. The waters off the coast have numerous coral reefs, shipwrecks, and other good dive sites.
But there are also some cruise excursions in Manzanillo to consider.
In addition to horseback riding, another popular attraction is the colonial city of Colima, a 90-minute excursion bus drive from Manzanillo. Founded in 1523, Colima is the capital of the state and oozes plenty of historic, Spanish-colonial charm.
Southern Mexican Riviera cruise ports
6. Zihuatanejo
Towards the end of your cruise, you will likely port in cities like Zihuatanejo or Acapulco. Both cities are home to world-class luxury resorts and abundant sea life. Dip your toes in the Pacific, book yourself a cabana and take in the last few days of sunshine from the beautiful white sand beaches.
If you are into surfing then you must pay a visit to Troncones. The beach is located just north of Zihuatanejo and has a reputation for being one of the best spots to find waves in the area. It is also perfect for beginner surfers. There are decent waves year round but like most other surf destinations- the spring and summer months are most popular. Hit up some of the local surf shops to rent some gear if you don't have gear of your own.
7. Acapulco
During these final few days, you will want to pick up a few gifts for the people back at home. Check out the local markets, boutiques and street vendors for artisan made goods. Some of my favorites in the area include the many local galleries and street vendors. Just make sure that you pack as light as you can so that you still have some room in your suitcase.
ⓘ TIP: Acapulco is famous for its Cliff Divers. The iconic way to enjoy it is a sunset show with dinner and drinks. CHECK PRICES HERE.
Mexican Riviera cruise FAQs
Are passports required for cruises to Mexico?
All travelers should carry a valid passport with them when taking a cruise to Mexico. However, US citizens on closed-loop cruises, which begin and end at the same US port, can enter without a passport and show a state-issued ID and an original birth certificate instead.
When is the best time to cruise the Mexican Riviera?
People cruise the Mexican Riviera year-round, but the best months are from November through May, during Mexico's dry season. Mexican Riviera cruises are popular even in the more rainy summer months, when the summer travel season is in full swing and kids are on school break.
What about days at sea?
Many of the longer cruises have "days at sea" built in. These are the days that you will want to spend relaxing, refreshing and truly enjoying your trip. What that looks like is up to you.
While many people will be hitting the deck and enjoying an expensive cocktail poolside, we consider this the perfect opportunity to explore the ship. Scope out the secret destinations in the morning. Who knows what you might discover? Cruise ships may have 1-3 main pools which are sure to be full on "sea days," but you might find a spa pool or Jacuzzi in a part of the ship that's less crowded.
What can I eat in a Mexican Riviera cruise port?
Final thoughts about taking a Mexican Rivera cruise
As you can see from our guide, ten days along the Mexican Riviera cruise ports will allow you to barely scratch the surface of what the region has to offer.
With so many beautiful and interesting places to explore we suggest taking a cruise first to cover the most ground. Once you have paid a visit to the best Mexican cruise ports, it will be easier to plan a destination-based vacation for your next trip to the region. Maybe you'll want to book a few days in Cabo or visit one of the quieter surrounding destinations.
Wherever you go, snap lots of pictures and have a great trip!
MEXICO TRAVEL PLANNING ESSENTIALS
✔ Travel Guide: Lonely Planet Mexico is a best-seller. It's full of practical information.
✔ Mexico Visas: Check what you need and apply here.
✔ Travel Insurance: Covers lost bags, delays, injuries, and more. We like World Nomads and SafetyWing
✔ Currency: This website will help you calculate exact currency exchange values.
✔ Flights: Mexico City's airport code is MEX; Cozumel's is CZM. Check flight prices here.
✔ Airport transfer: Prebook transportation to your hotel
✔ Accommodation: Find lodging on Agoda ● Vrbo ● HostelWorld.
✔ Getting around: The best way to get around Mexico is to rent a car. Learn more about Mexico's bus system here.
✔ Tickets & tours: Find dozens of fun ideas on GetYourGuide and Viator.
✔ Organized trips: G Adventures has insanely affordable small-group tours + guaranteed departures.
✔ International SIM card: Drimsim allows for roaming-free travel in 229 countries