Booking an international flight from anywhere in the world has never been easier. By simply clicking and entering your details online, you'll get your flight of choice with ease. You can book international flights online from your home in your pajamas if you like.
With everything moving online these days, travel becomes a lot more accessible and ticking places off your travel bucket list becomes that much more doable. Now you can plan an Asian getaway from your home in the USA, and vice versa.
Online booking enables you to book your tickets anytime, anywhere…. But wait a minute! Do you know the best way to book international flights?
Read on for a list of things that you need to understand before clicking the CONFIRM button.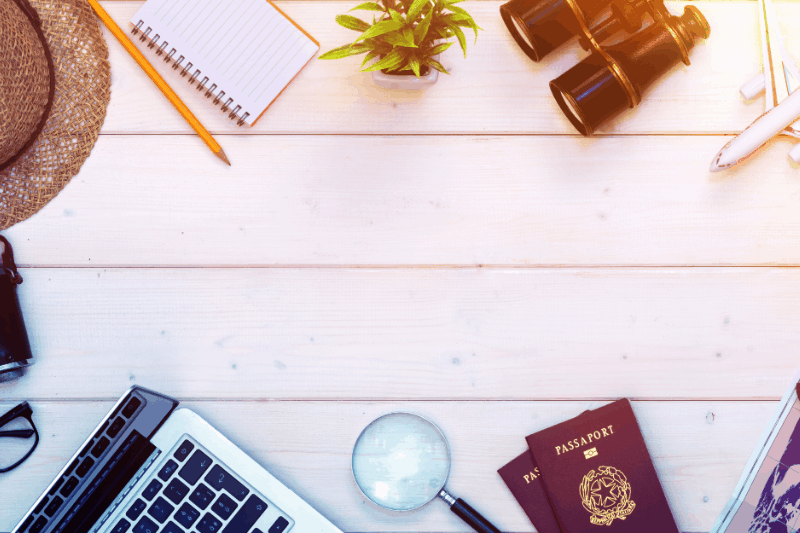 10 ways to save money when you booking international flights
Booking your flights online is unquestionably convenient and saves you time and often money. As long you've got all the information you need and keep the following points in mind, you'll have your next flight booked in no time, while keeping cash in your pocket for your trip.
1. Look for voucher codes and promotions first
Who couldn't do with a discount on flight prices? Especially when you're taking an international flight.
Search for any voucher code or promotions before purchasing a plane ticket. Discounts on international flight tickets are not guaranteed, but if you search hard enough you may just find a great deal.
During low seasons, airlines like Cathay Pacific offer voucher codes to entice travelers to fly with them. They usually don't last long, and you should be on the lookout for the best deals.
ⓘ TIP: Before you use voucher codes, be sure to read the airline's promotional voucher code terms & conditions.
2. Book international flights in advance
The early bird gets the worm – and the best seat in the plane. This is one case where the last-minute rush isn't a good idea. You may end up frustrated and get a bad deal.
Plan early as this allows you to get the best deals and an opportunity to travel with your preferred carrier.
As to the best time to buy an international plane ticket, the basic rule of thumb is that prices are generally lowest three months before departure.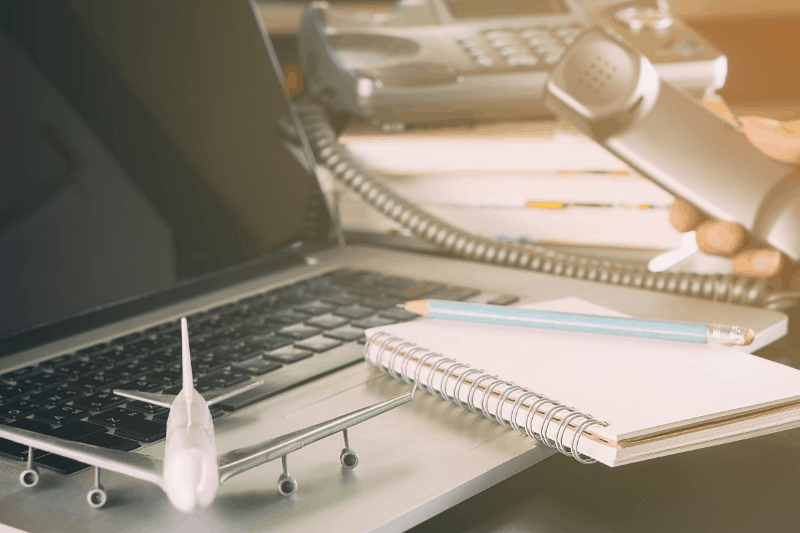 3. Know when to buy your ticket
Knowing the cheapest days to fly can save you money. In the U.S., flights are generally cheaper on Tuesday, Wednesday and Saturday. For international travel, weekdays are usually cheaper than weekends. Even if you do it for only one part of the trip, you'll still see some savings.
4. Flexible travel times = better chance of cheaper flights
The price of plane tickets fluctuates constantly. As a general rule, ticket prices are better very early in the morning and late at night. If you're looking for better deals, and have no problem waking up in the wee hours of the morning, you may be lucky enough to get a plane ticket at a better rate.
On the other hand, consider traveling when not many people are doing so. Can you fly off-season or during the week? Airports are busier during the holidays or over the weekends, and you can expect price hikes during such times.
If your times and dates are flexible, you'll have a much higher chance of bagging an affordable international trip to Europe … or anywhere else you've been itching to visit.
You'll also be able to plan your travels during the cheaper months, which will save on accommodations and activities. The weather may not be ideal (we're looking at YOU, European Christmas markets!), but it might be worth it for fewer crowds at airports and attractions.
5. Sign up for international travel deals and price alerts
As we mentioned earlier, ticket prices keep on wavering even within the day. Sign up for price alerts before booking your flight. This way, it will be easier to know when there are tickets available for your budget range.
Even the slightest drop in price can help you to get a better deal, especially when traveling in a group.
ⓘ TIP: Check out Secret Flying and download the app. It's completely free, and you'll get alerts whenever there's a great deal on cheap airline tickets from your home airport. Example: US cities to Tokyo, Japan from only $346 roundtrip (Sep-Apr dates).
6. Be sure of your destination – and your airport code
Your destination airport is critical, as it determines the overall cost of your trip. You can end up spending a lot if you make some simple blunders when booking.
Airport codes can make things tricky. Some of them are quite similar, such as ORD and ORY. If you get these mixed up, you could find yourself checking in for a Chicago flight when you wanted to go to Paris!
Many larger cities have more than one airport, such as Chicago and London. Check where each is located before booking. It might be cheaper to fly into Heathrow rather than Gatwick, but not if you have to pay for a taxi to your hotel on the other side of town….
Low-cost carriers often use smaller airports that are outside of town. European LCCs are notorious for doing this and many an unsuspecting traveler has arrived only to discover it will take an additional hour to get where they'd wanted to be.
ⓘ TIP: Use this website to double-check airport codes for both your destination and where you're flying from.
7. Think about nonstop vs. direct flights
When booking your flight, you'll be able to choose between direct flights and those that fly through a hub. You should be aware that not all direct flights are nonstop, because some require a stop for refueling. These delays can add time to your trip, and occasionally cost more money.
Flights with layovers often have lower fares but for many of us, time is money. For instance, if you opt for a better flight that requires you to take another one upon arrival, consider the cost and time of both trips.
You may have to take a bus or train upon arrival, which can be stressful and time-consuming.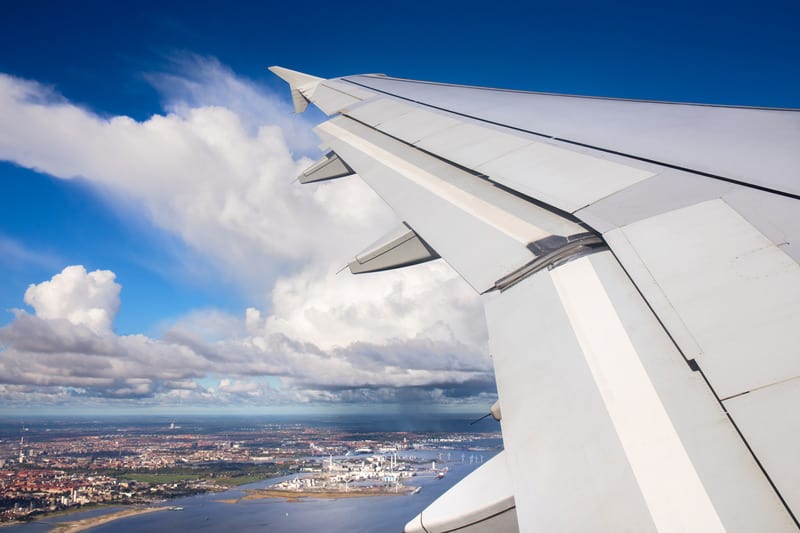 8. Check flight cancellation details
Although booking a flight online is simple and straightforward, it's just like any other binding contract. It's not always easy to change or cancel tickets, particularly when buying a coach ticket. It's imperative to understand all the cancellation details before making purchases.
Some tickets are refundable but the flexibility comes at an additional cost. However, this cost can save you money if the need to cancel or reschedule your flight does arise.
ⓘ TIP: Take a look at a good travel insurance package as well. This is often a saving grace when emergencies come up before or during a trip.
9. Search for more than one airport before booking
Many of the larger cities around the world have multiple international airports. Occasionally, you'll find lower flight fares if you choose to land at one of the less popular airports near to where you need to be. For example, it can be cheaper to land at ORY (Orly) as opposed to CDG (Charles de Gaulle) if you fly into Paris.
When traveling abroad, you may also find that it's cheaper to fly to one international airport, and then take a train or domestic flight to your desired city. Often transport within a country, state, or city works out to be more affordable than trying to fly directly.
10. Check the fine print
Sometimes, you'll see a price that's considerably lower than on other travel websites. The rule of thumb is: if a deal sounds too good to be true, it probably is. Take a second look!
Low price deals aren't always scams, but there still may be hidden terms and conditions, like requiring you to book through a specific firm to get that incredible deal.
Or you might have to bring someone along at full fare to enjoy the lower cost. This may be great if you travel as a couple, but not so much if you prefer solo travel.
One hidden gimmick is not including luggage transfers in the ticket price. Imagine arriving at the airport and discovering that you're responsible for getting your luggage on the next plane…and you've got a short layover!
It takes time to wait for your luggage, then stand on line at another counter to re-check it before going to the gate. With international flights, you'll often need to clear immigration before you can get your bags. You'll also need to navigate security to get to your gate.
Psst! Like this post? Bookmark it on Pinterest for later!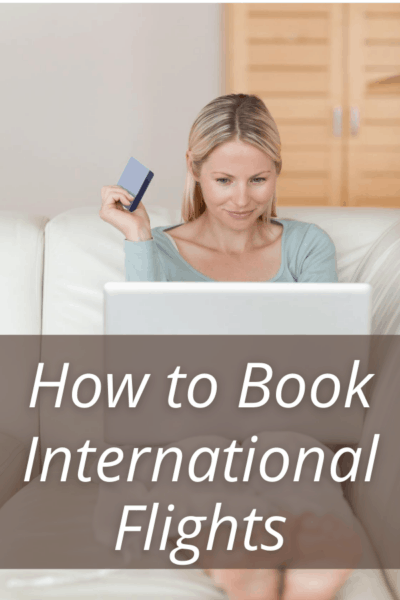 Mistakes when booking flights
As careful as you may be when planning a trip, a simple blunder can affect your experience. Keep these general tips in mind that will help you avoid the most obvious mistakes.
Below are some other complications that are best avoided to ensure a smooth flight and an enjoyable trip.
1. Entering the wrong passenger details
Online booking requires you to give out some personal information. These include your full names, date of birth, passport number, gender, and more. However, the data must be exactly the same as what's in your passport.
Check, and double-check these details because if the name on your ticket and passport don't match, you likely won't be able to board the plane. Leaving out one name or giving the wrong birth date may cause your trip to be canceled.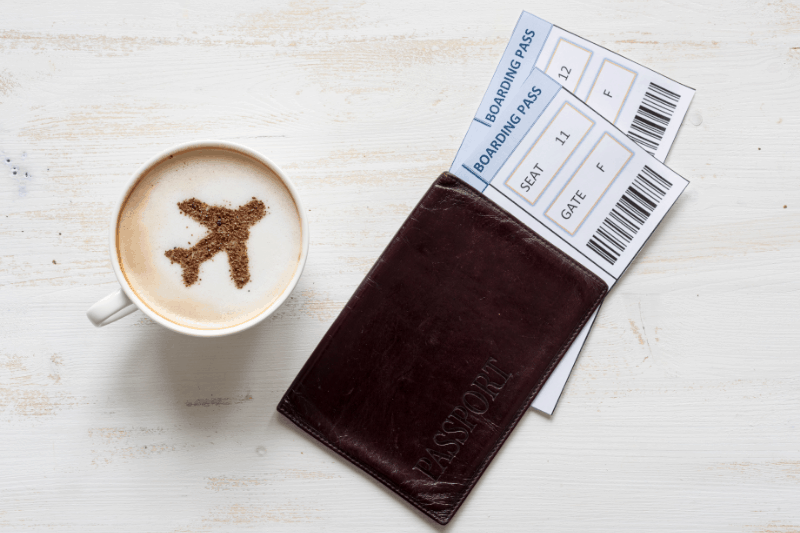 2. Not verifying the flight time
Always double check that the time of day, month, date, and day of week are correct. One transposed number can mean completely missing your flight – and your chance for a much-needed vacation.
Confusing the date. Some places list August 9 as 8/9 and some list it as 9/8 for instance.
Not checking the clock. Careful here. If you're not using a 24-hour clock, it's easy to think you've booked a 6 PM flight when you're actually scheduled to leave at 6 AM – and completely missing your plane.
ⓘ Tickets show departure and arrival in the local time zone. To avoid confusion and possibly missing your onward flight, adjust your watch to your destination before takeoff.
Not checking the calendar. Also be aware that some online calendars begin the week on Sunday, some on Monday. If you forget to double-check the date before booking (as we once did), you may end up paying a hefty fee to change it.
Forgetting about the International Date Line. Crossing the International Date Line can cost extra money. Once, we got confused about "lose a day/gain a day" and we discovered we'd have an extra day in L.A. before our flight. We ended up having to pay for a night in hotel.
And then there's the time it messed with our minds when we flew from Malaysia to Seattle. Our tickets showed local times — so it looked like we were landing before we'd left!
3. Not factoring in additional costs
Although you want the best deals, some extra costs aren't immediately clear, such as airport taxes, extra luggage costs, and such. Factor them in when comparing ticket prices.
Speaking of which, some low-cost carriers charge extra for things that a regular carrier includes in the price. Maybe a LCC offers a dirt-cheap fare, but then there are add-ons for selecting your seat, checking luggage, meals and drinks while in the air, and even entertainment. Some deal!
There's another thing to consider: if you book a super-early morning flight, you'll need to check in in the wee hours of the morning. If you want to get any sleep beforehand, you'll need to book a hotel close to the airport. Just one more cost.
ⓘ TIP: Booking is our favorite site for cheap accommodation.
Factor in the cost of traveling with your pet, too. You should know that most airlines have regulations about animals. You may have to pay for a ticket for your beloved friend. But even if it's free, not checking their guidelines in advance can be expensive.
Our friends scheduled an overseas move, only to find out that the airline wouldn't transport animals during the summer heat. They had to board their dog until the weather got cooler.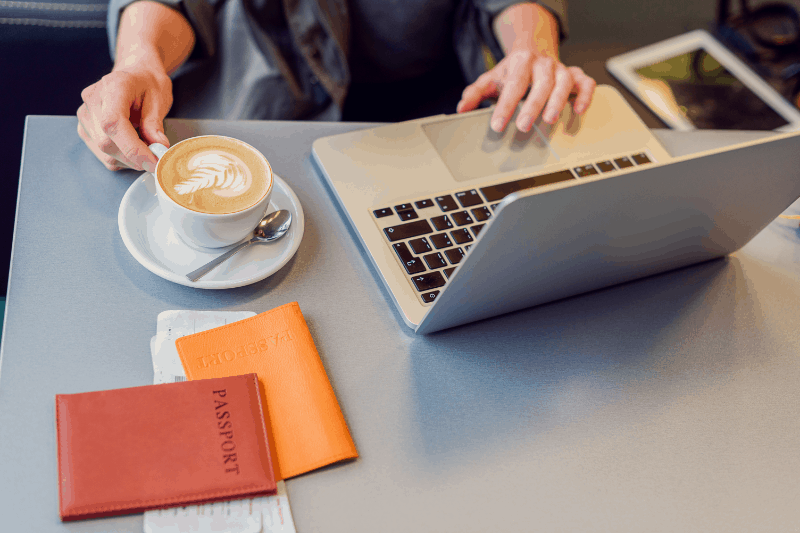 What you'll need for booking an international flight
Before you begin your international flight booking online, get your documents ready. You'll want to make sure you have everything you need.
It's a pain to have to stop halfway through because you need a document or detail. Imagine having to start all over because the site timed out.
Here's what you will need to make booking as smooth as possible:
ⓘ RELATED: 20 Important Things To Prepare Before Traveling Abroad: A Checklist
1. Valid form of I.D.
Your passport is probably the most essential document for international travel. Booking will require your passport number and expiration date.
By the way, check your passport's expiration date carefully. In many countries, your passport must be valid for at least six months AFTER you plan to leave the country.
ⓘ TIP: When flying within the United States, you must present a valid photo ID that meets Real ID requirements, such as a state driver's license, military ID, or passport.
2. Visas
Many countries offer visa on arrival or e-visa. If you're not eligible, you'll need to apply, which can take a while to process and be approved. It's best to do that beforehand.
It goes without saying that when visa applications require your flight details, your visa will come after booking your ticket.
3. Passenger details
Obviously, you'll need the actual passenger details. Have your passports available when you book the flight so that you can check it before you click submit. So if you're booking for both yourself and a friend, collect all of their information as well.
Be sure you type out the name exactly as it appears in the passport. Spell all of the names correctly, check each number, then proofread everything to ensure nothing has been reversed. If you do have any typos, it can be costly and time consuming to fix it before the flight.
As we mentioned before, this all needs to be 100% accurate to avoid any problems.
4. Trip details
Then there are those all-important trip details, such as the correct airports you'll be using and travel dates. Write them down or memorize them before you begin.
ⓘ TIP: Use an app like TripIt to keep all your travel arrangements organized and accessible. It's free.
5. Available credit card balance
Okay, this should go without saying, but we are going to say it anyway. Be sure that your card has enough available credit balance before booking. Once you start the process, you can get stuck if your card is declined.
But what if the payment won't go through even though you have the available credit? It's due to a fraud-prevention feature known as the one-time spending limit. Purchases must be under a certain amount or they won't go through.
To avoid this headache, contact your issuing company in advance to let them know you intend to make this larger-than-normal transaction. They'll set it up so you can buy your tickets hassle-free.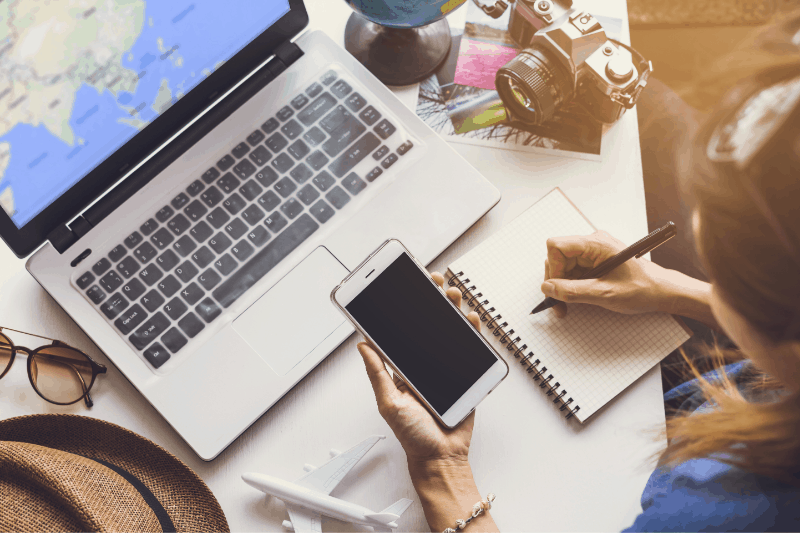 Additional tips
We have a few additional tips and tricks to make your international trip even more enjoyable.
1. Maximize your layover time
When it comes to planning the length of a layover, there are two schools of thought:
1) Make it as short as possible, allowing yourself just enough time to catch the next flight. This seems to add unneeded stress, at least in our minds. Aside from possibly missing your connection due to a takeoff delay, there's a much greater chance of your luggage not making it onto the plane with you.
2) Make it as long as possible. The other is to plan a long layover. We prefer to do this, as it allows us to make the best use of our travel time. If we plan it right, we'll have enough time to do a bit of sightseeing in the layover city and grab a good night's sleep at an airport hotel. Had it not been for layovers, we'd have missed spending a day sightseeing in Taipei or seeing the best of Bangkok.
ⓘ TIP: Connecting flights can take off as much as 23 hours 55 minutes later, and it still qualifies as a layover. You might have to spend more for a stopover (more than 24 hours), but there's not extra cost for scheduling a long layover.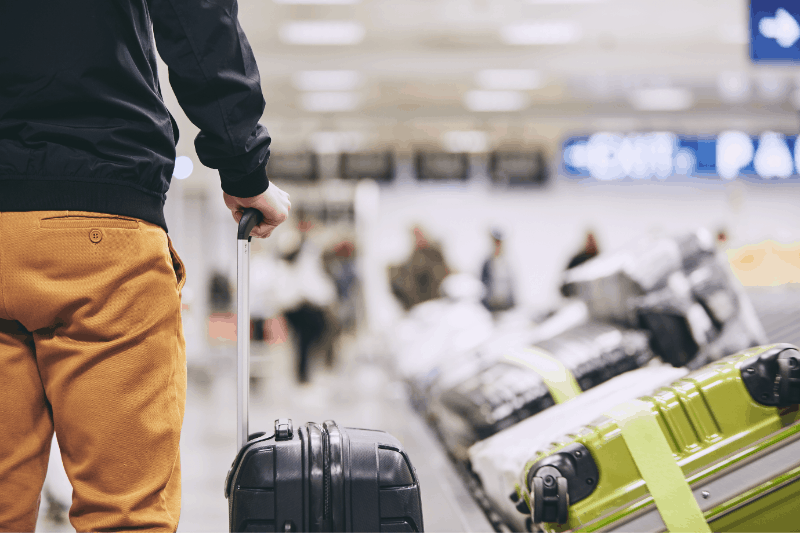 2. Include a secondary destination
Want to visit a second place without adding much cost? Take note of the cities where you can change planes. Sometimes, you can book a round-trip to the layover city and then buy separate tickets to your main destination.
For example, you see great prices for a flight from New York to Bangkok via Seoul. Why not spend 2-3 days in Seoul too? You can if you book each segment separately.
First, book round trip tickets from New York to Seoul for the duration of your vacation.
Find a Seoul > Bangkok flight that leaves a few hours after your plane arrives from New York.
Book Seoul to Bangkok round-trip using that flight, returning to Seoul a few days before the end of your holiday.
3. Use private/incognito browser tabs
Have you ever found a fantastic deal, then returned to the site a few days later only to find the prices to be significantly higher? That's because Tracking Cookies watch your every move. (Don't believe it? Try it yourself. Spend an hour looking for a dreamy destination vacation, note the prices, and then check them 3 days later.)
By using your browser's private mode, you can do your planning behind a virtual curtain, without prowling eyes. Later, you can jump on to grab those money-saving deals at the price you were expecting.
Just this one tip can save you enough to splurge on a better hotel location or a Michelin-Star rated restaurant at the destination.
ⓘ TIP: Some people use a VPN to search because prices can vary significantly by country. If your browser has a Translate add-on, we've heard that booking from Japan offers the best results.
Searching using flexible dates
We always use the +/- 3 day option when searching for flights. We can't tell you how many times there's been a great deal just a couple of days before or after our desired departure date. Enough of a savings that allows for the additional cost of a hotel…or an extra private tour.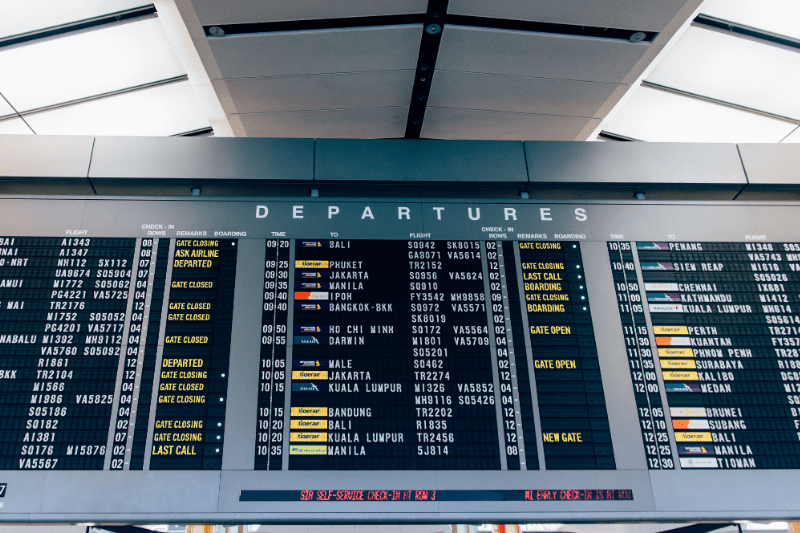 International flight booking summary
Online booking is one of the simplest ways to reserve a plane ticket to your dream vacation destination now that you know all the tricks and tips.
The beauty of online flight booking is that it makes traveling the world that much easier. We have no doubt that once you experience the ease of purchasing your plane ticket online, you'll be planning your next destination soon.