Cruisers looking for a little bit of everything should consider a cruise itinerary that includes Cozumel Mexico. Officially known as San Miguel de Cozumel, this fantastic island is located just south of Cancun and offers some of the best shore excursions and day trips on the Yucatan Peninsula.
The list of things to do in Cozumel is quite varied. The island is has everything from beautiful beaches and coral reefs for snorkeling and diving, to ancient Maya ruins and vibrant culture. So there's plenty to keep you entertained!
19 best Cozumel shore excursions
With dozens of Cozumel cruise excursions to choose from, it can be hard to decide which one to take. So we did our research and looked at which Cozumel day trips are the most popular and get good reviews.
Here's a list of the best excursions Cozumel has to offer you as a cruise ship passenger. With such a wide variety of things to do in Cozumel, we're sure you'll find the perfect activity for your day in port!
1. Enjoy a catamaran cruise, snorkel, and beach party
El Cielo Beach tops the list of cruise shore excursions in Cozumel—a secluded sandbar that can only be reached by boat. Here, you can snorkel and play in shallow waters surrounded by starfish.
This 5-hour catamaran excursion includes El Cielo plus a private white-sand beach where you can relax on a lounge chair or hammock, play on a floating water park, kayak, or paddleboard. A delicious lunch and unlimited drinks are included.
2. Soak up the sun at Paradise Beach Club
Beaches rank among the best Royal Caribbean excursions in Cozumel. There are plenty you can visit on your own.
However, if you're looking for Cozumel beach excursions, all inclusive is the way to go. Many cruisers say that Paradise Beach Club is one of the best beach clubs in Cozumel. The beach here is beautiful, and the staff is very friendly and attentive. Buy an all-inclusive pass to hang out all day.
You'll lounge on chairs shaded by palm trees, grab lunch at an onsite restaurant or have lunch served to you on the beach, and drink your fill of domestic liquors, beers, and soft drinks from the open bar. It's the perfect beach break—no planning required.
ⓘ TIP: The easiest way to get to Paradise Beach is by taking a taxi from your cruise ship or hotel. It is about a 10-15 minute taxi ride and costs about $16 each way (per TAXI not per person) for a car for up to four people. There are also taxi VANS that take up to 8 people.
3. Explore Mayan ruins in Tulum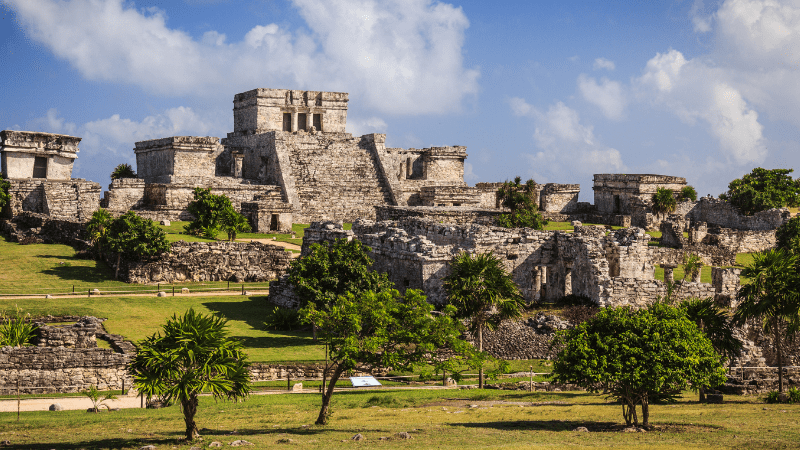 It's easy to see why so many cruise passengers say Tulum is one of the best carnival excursions in Cozumel. Tulum is a well-preserved Maya walled city that was once a major port. It's located an hour south of Playa del Carmen on the coast and makes for a great day trip from Cozumel.
The site has several structures you can explore, including El Castillo, which sits atop a cliff 40 feet (12 meters) above the Caribbean Sea.
If you want to learn more about Maya culture and history, there is a small on-site museum with some interesting artifacts. You can also stroll along the beach below the ruins or go for a swim to see the ruins from the water.
Some Cozumel tours combine visiting the Tulum ruins with other attractions. For example, this excursion takes you to both the Tulum and Coba ruins and ends with swimming in a cenote.
4. Snorkel and swim with stingrays
Swimming with sharks and rays at Stingray Beach has to rank as one of the most unique Cozumel excursions of all. This lets you interact up close with this iconic marine species in crystal clear waters. You'll get to hold, touch, feed, and snorkel with stingrays and hear about the coral restoration efforts at the park.
This tour is 1.5 hours, starting with meeting the stingrays in waist-deep water for 30 minutes. After feeling the rays softly brush against your legs, you'll get to move to a deeper enclosure where you can snorkel with rays and a myriad of colorful coral reef fish.
5. Spend a day at Chankanaab Beach Adventure Park
If you're looking for cheap Cozumel excursions or a Cozumel excursion for families, this one's for you! Located in the National Reef Marine Park, Chankanaab Beach Adventure Park has plenty of activities for kids and adults alike. In our opinions, Chankanaab deserves its reputation as one of the best Carnival excursions in Cozumel.
Be prepared, because Chankanaab National Park isn't your normal national park. A day pass to Chankanaab Beach Adventure Park gives you sea lion and manatee shows, a botanical garden, a beach club, a crocodile farm, and access to the beach and marine park. This is a good option if you just want to lounge by the pool, snorkel offshore, soak up some sun, and take a dip in the lagoon.
However, if you're looking for a Cozumel excursion that includes more adventure, Chankanaab has more to offer you. There may be an additional fee, but you can snorkel with manatees, scuba, snuba, swim with dolphins, enjoy a tequila tasting, participate in a temazcal, and more.
6. Tour the island of Cozumel
If you'd like to explore Cozumel and learn more about the history and culture of the island, then a 5-hour private island tour with an expert guide is a must. You'll also get to know more about Cozumel's fascinating archaeological wonders.
After pickup, you'll be taken to some of the main sights on the island. This includes the local market, parks, iconic neighborhoods and religious buildings. You'll also get to visit Chen Rio Beach on the east of the island, before arriving at the famous rock formation known as 'El Mirador'.
To learn about the island's history, you'll visit San Gervasio Mayan ruins and drive through the traditional lands of the Cedral where there's a Mayan settlement. On this tour you'll also learn about the interesting Holy Cross traditions from your tour guide.
On the other hand, if you're looking for an exciting and unique way to explore Cozumel, the Amazing Cozumel Race is definitely worth considering. This interactive half-day clue based adventure game is a perfect combination of sightseeing tour and scavenger hunt.
Teams of two to eight people will compete to solve mysteries and crack clues as they navigate self-guided stops around the city. It's a great way to see the sights and have fun with friends, family, or coworkers.
At the end of the Amazing Race, there will be an awards ceremony with prizes for the top finishers, as well as complimentary beverages and snacks for all participants.
7. Take a food tour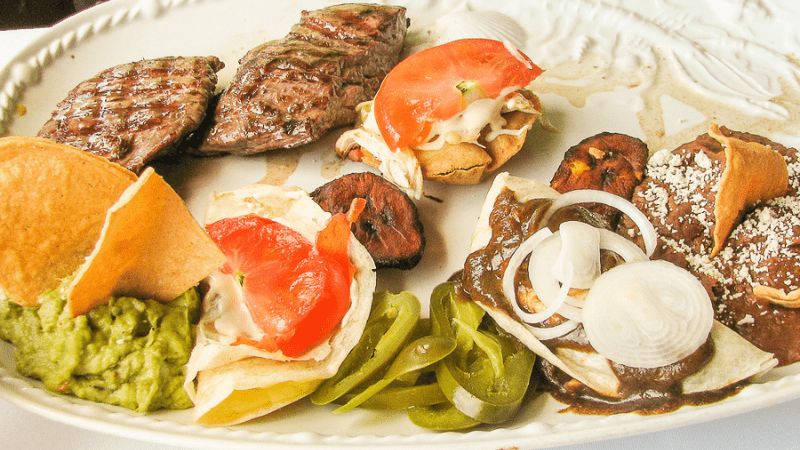 You can take a variety of food tours in Cozumel, ranging from tequila tastings to chocolate tours. You can also find Cozumel cooking classes where you can learn how to make local Mexican dishes yourself!
No matter which tour you choose, you're sure to leave with a full stomach and a new appreciation for Yucatecan cuisine.
8. Visit Isla Mujeres
Isla Mujeres is a picturesque small island not far from Cozumel, famous for its white sandy beaches, Mayan temple and sea turtle sanctuary.
If you're keen to visit Isla Mujeres as a day trip from Cozumel, one of the best ways is on a scenic catamaran tour. Spend the day relaxing in the sunshine, snorkeling, and taking in some of the most idyllic Caribbean ocean views.
There are several tour options to choose from. This 10-hour catamaran tour with lunch and an open bar, includes hotel transfers and stops off for snorkeling at a coral reef park on the way to Isla Mujeres. Prepare to be mesmerized by all the fish that gather near the boat as your guide sprinkles fish food into the sea. Enjoy a buffet lunch on the beach and sit under a palm tree if it gets too sunny.
Another option is a flexible and high-speed round-trip ferry ride from Cancun to Isla Mujeres. This luxury ferry ride features reclining leather seats, a kids area and a snack bar as well as other amenities. Carrying up to 800 passengers, there are multiple ferry crossing times each day which means that you can easily visit Isla Mujeres as a day trip and plan your own itinerary while there. It is, however, advisable to book your ferry tickets in advance.
9. Go on an Atlantis Submarine expedition
Want to explore the undersea world but stay dry? The Atlantis Submarine is perfect for you! This 63-foot-long, 48-passenger submarine will take you on an underwater tour of Cozumel's stunning reef system.
You don't need to be a certified diver to go on this tour, and the submarine provides all the necessary safety gear. The submarine descends to a depth of 100 feet (30 meters), where you will have the opportunity to see a wide variety of marine life, including sharks, rays, eels, and turtles.
The Atlantis Sub is a great activity for families with children, as it is both safe and educational. Your knowledgeable guide will provide lots of insightful information as you journey along the reef.
10. Enjoy a beach break at Playa Mia Grand Beach & Water Park
A day pass to Playa Mia gives you access to one of the best public beaches in Cozumel Mexico. Playa Mia has more than 20 water park attractions, lounge chairs on a white sand beach, kayaks and sailboats, a kids' playground, a swim-up pool bar, and more.
You can also upgrade to an all-you-can-eat buffet, open bar, Hobie cat and clear kayak access, towels, lockers, and beach umbrellas.
11. Scuba dive the second-largest coral reef in the world
The clear turquoise waters around Cozumel are the home of the second-largest barrier reef in the world: the Mesoamerican Barrier Reef. With visibility over 100 feet, this makes Cozumel a top destination for snorkeling and scuba diving.
Palancar Reef is home to a wide variety of marine life, including turtles, stingrays, eels, and over 500 species of fish. The reef is also home to a shipwreck, the El Cid, which sunk in 1961.
On this two-tank scuba diving tour, you'll dive with a local guide who shares commentary about the marine ecosystem in Mexico. The excursion includes two tanks for two dives, a guide, and boat transportation from Cozumel
Or if you prefer, you can do a one-tank reef dive with full-day access to Chankanaab National Park. This is the perfect scuba diving excursion for certified and noncertified divers. You can easily enjoy the tropical fish, underwater sculptures, and coral reef formations, then relax at Chankanaab Beach Adventure Park. Enjoy full access to the amenities including the beach, hammocks, shaded palapas, sea lion show, and crocodile exhibits.
12. Snorkel in the Caribbean
Surrounded by coral reefs that are brimming with brightly colored marine life, snorkeling is one of the most popular activities on Cozumel. If you want to experience the best snorkeling spots and learn about the local biodiversity, then this fully guided half day snorkeling tour to Palancar and Columbia reefs, El Cielo Sandbar and El Cielito Beach is an unmissable opportunity.
Palancar reef on the southwest of Cozumel is known for its abundant marine life including sunfish, parrotfish, sea turtles, moray eels, nurse sharks and barracuda. The Colombia reef is well known for frequent turtle sightings and dive-throughs, and the El Cielo Sandbar is a shallow water area that's popular for seeing large starfish in magnificent turquoise waters. And the pristine El Cielito Beach lives up to its name of being a "little heaven".
13. Zipline through the jungle
If you enjoy adventure and fancy an adrenaline rush, then you might like to try ziplining through the Mexican jungle on Cozumel.
You'll get to see Cozumel from a different perspective above the trees from 6 different canopy platforms where you'll then zip along lines in a harness. This is a great thrill-seeking activity for families and children and usually lasts around an hour.
Your tour starts with a safety briefing where you'll be given a helmet. You'll then climb up about 45 feet to the first platform where your harness will be secured. And then you can start cruising above the trees on the zip lines, with views of the ocean in the distance.
14. Go horseback riding on the beach
With miles of white sandy beaches, Cozumel is an island paradise for horseback riding. Whether you're an experienced rider or a novice, you can take a horseback beach riding tour that pairs you with a horse for your skill level.
Enjoy 30-minutes in the saddle on Mr Sanchos Beach where you'll pass mangroves, forests, farms and sparkling Caribbean waters. This tour is perfect for families, couples and friends, although it is not recommended if you have back problems, are pregnant, or are over 200 pounds.
15. Explore cenotes and underground caves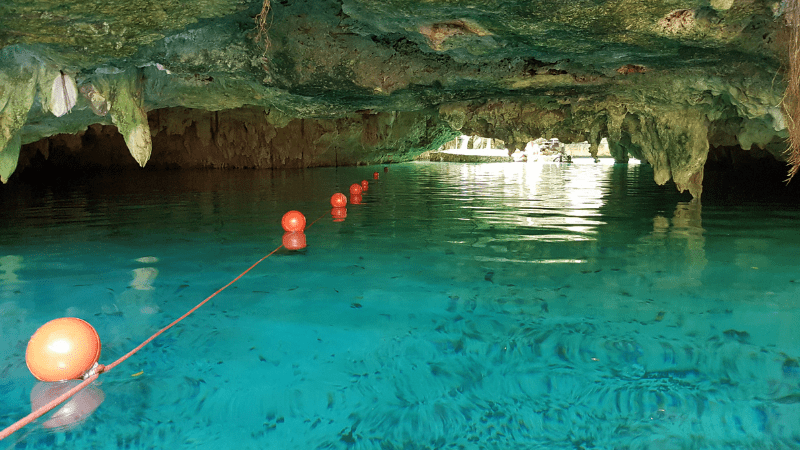 Cenotes are naturally formed water reservoirs or sinkholes that are common in the Yucatan Peninsula of Mexico. Formed by limestone bedrock that collapsed leaving a hole or underground water cave, cenotes come in many shapes and sizes – some forming underground labyrinths of connected caves.
You can spend 3 to 3.5 hours in a small group tour exploring the cenote at Rio Secreto in Playa del Carmen. This cenote is dramatically decorated with natural stalactites and stalagmites, perfect for taking plenty of incredible instagram-worthy photos.
Your tour leader will guide you through a network of rivers and underground caves, after kitting you out with a wetsuit for swimming. After all the swimming, you're bound to have worked up an appetite – luckily your light lunch offers lots of local foods.
16. ATV adventure/dune buggy excursion
Are you an adrenaline junkie or an outdoor adventure enthusiast? Then you might like to combine three of the top adventure tours near Cozumel in one action-packed day tour. This 4-hour family-friendly tour includes ziplining, riding through the jungle on a 4×4 ATV, and exploring an underwater cenote.
After being collected from your hotel in Cancun or Riviera Maya, you'll be taken to the heart of the jungle where you'll zip through the air between canopy platforms, along 6 zip lines and 3 interactive bridges.
You'll then have 50 minutes to explore the jungle on a Honda 220cc ATV with your guide, getting a glimpse of the local wildlife and scenery.
Finish off your tour with a refreshing dip in a Mayan cenote at "Ruta de los Cenotes" before being dropped back at your hotel.
17. Visit Mayan Bee Sanctuary
Bees are one of the most famous insects on the planet and according to Mayan folklore, their honey is a gift from the gods.
Learn about bees and the nutritional and medicinal properties of honey, as well and how ancient Mayans valued honey for its healing powers when you visit the Mayan Bee Sanctuary in Cozumel.
Your guide will explain how bee hives are intricately structured, how colonies organizational structures work, and the role of the queen bee and her drones, the guardian, and the princesses.
And at the end of the tour you'll also get to sample some different honey varieties and learn about what other products bees can help us to make.
18. Take a glass-bottom boat ride
If you want to observe sea life from the ocean, then a glass bottom boat ride is a great way to do it.
Perfect for non-swimmers as a way to get a glimpse of underwater life, you can hop on a Cozumel 2-hour glass bottom boat tour that includes optional snorkeling at 3 of the island's best-known reefs.
This glass-bottom boat has a sun deck for those who want to catch some rays and enjoy the above-water views. And its glass bottom allows you to watch life underwater without having to get wet.
19. Play at Xcaret Park
Xcaret Park on the Maya Riviera is one of the top Yucatan Peninsula tourist attractions. Boasting over 40 attractions, this expansive nature park is definitely a place you can spend a full day exploring and being entertained.
That's why purchasing the full day Xcaret Park pass—which includes lunch PLUS a nighttime cultural show—may be the highlight of your vacation.
Some of the top things to do at Xcaret include the Coral Reef Aquarium, the Manatee Lagoon, the Butterfly Pavilion and Spider Monkey Island.
Float along a network of below ground-level rivers that flow into a cenote; relax on pristine beaches and snorkel in sheltered coves; visit a Mayan village and Mexican cemetery; take a raft tour down the Paradise River; explore authentic Mayan temple ruins; walk along lush jungle trails; and explore Jaguar Island. There are an abundance of things to do and see at Xcaret – which means you'll have to plan your day carefully.
There are also a range of activities in the park that are an additional charge, but worth considering. For example you can swim with dolphins, swim with nurse sharks, or have a close encounter with a stingray.
The evening performance with dinner is another highlight of visiting Xcaret. The Xcaret México Espectacular will give you an overview of ancient history and folklore at the Gran Tlachco arena where over 300 performers in bright costumes will entertain you.
Final thoughts
In conclusion, no matter what you're into, there's a Cozumel shore excursion that you'll enjoy. When you start planning a vacation to this Mexican island, be sure to include one or more of the experiences mentioned in this article to make the most of your time there.
Whether you're looking for an adventure or simply want to relax on the beach, you're sure to find the perfect excursion in Cozumel.
Want to save these Cozumel excursions for later?
Add this pin to your favorite Pinterest travel board.
Is it better to book excursions through the cruise ship?
You can take excursions through the cruise line, book tours yourself, or visit Cozumel attractions on your own with advice from a good travel guide.
Each option has pros and cons. Your decision will depend on your budget, how much time you want to spend onshore, and whether you prefer the convenience of having everything taken care of for you.
Here are some things to consider:
Booking excursions through the cruise line
Pros
Good if you like traveling with a large group
Can get a full refund if the weather is bad
Transportation, guide, and admission fees are often included
More likely to get back on the ship on time
Cons
Can be more expensive than booking a tour yourself
You may not be able to customize the itinerary to your interests
You may not get the same level of service as you would with a private tour guide
You may not be able to hear your guide
May require a minimum number of people to run
Booking tours yourself
Pros
Can be cheaper than booking through the cruise line
More options to choose from
You can customize the itinerary to your interests and any special needs
Your guide can answer all your questions
You can choose smaller tour groups or go solo with a private guide
A smaller group size means you can spend more time at each stop
You can usually change plans if you want to stay longer or leave early
Cons
Have to do your research to find reputable tour operators
No guarantee you'll get back on the ship on time
Admission and transportation fees are not always included
Doesn't usually have a minimum number of people required to run
Usually can't be canceled at the last minute
Going on your own
Pros
Can be the cheapest option
You're free to come and go as you please
You have total control over your itinerary
Cons
You're responsible for getting back on the ship on time
It may be more difficult to find your way around
Admission fees are not always included
May require more research in advance
ⓘ TIP: You can easily get to Playa del Carmen from Cozumel by ferry. Buy tickets here.
Frequently asked questions about cruising to Cozumel (FAQ)