Oz isn't the first place people think about when it comes to skiing destinations, but locals know that the ski resorts in Australia can more than hold their own once snow season rolls around.
States that offer skiing in Australia
Australia's three southeast states offer world class downhill action.
New South Wales (NSW) has a warmer climate. However, the resorts are generally at a higher altitude, so the season is not any shorter than their Southern neighbors.
Victoria is the Australian state with the most ski resorts. It's blessed with a key balance of a cooler climate and large population
Tasmania is definitely the coldest of the three destinations. Because it is by far the least populous, you'll find that your resort options are more limited. However, there are some excellent opportunities if that's where you wish to journey.
Best ski resorts in Australia
Before you make any plans, be sure to check for current travel restrictions. If you do decide to visit, we strongly encourage you to get travel insurance with COVID coverage.
Here are the 8 best ski resorts in Australia, along with helpful planning details. All you need to do is grab your favorite ski brands, book a hotel, and head on out.
1. Thredbo, NSW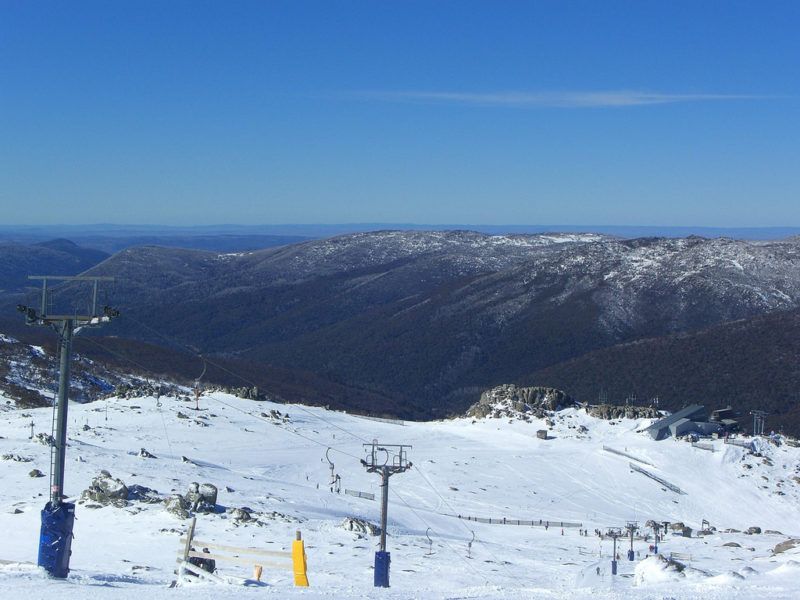 Thredbo Alpine Village is a great resort for families as they run a range of winter events and have a good variety of runs suited to beginners. This includes a huge purpose-built area of easy and gentle slopes that are perfect for first-timers to learn and practice the basics skills and techniques of their downhill game.
There is also plenty to satisfy the more advanced, as well as night skiing on Thursday and Saturday.
Getting there: It takes about 5½ hours to drive to Mt. Hotham from Sydney. It takes about 6½ hours to get there from Melbourne.
2. Perisher, NSW
With over 3,000 acres of skiable terrain Perisher is not only the biggest ski resort in Australia, it's also the largest in the Southern hemisphere.
Perisher is made up of four main parks, which were all originally separate resorts in their own right:
Blue Cow,
Guthega,
Smiggin Holes, and
Perisher Valley.
Situated in the famous Snowy Mountains, the four parks partnered in 1995 to create Perisher. The resort has been a top powder destination ever since.
With such a vast area, it is best to do your research before you go so you can target the slopes appropriate for you. For instance, Smiggin Holes is ideal for beginners slopes and families with younger children. Blue Cow, on the other hand, is a better option for people of a more intermediate or advanced skill level.
Perisher also has night and cross country skiing on offer and plenty of ski events throughout the season.
Getting there: It takes about 6 hours to drive to Perisher from Sydney and about 7 hours to get there from Melbourne.
3. Charlotte Pass Ski Resort, NSW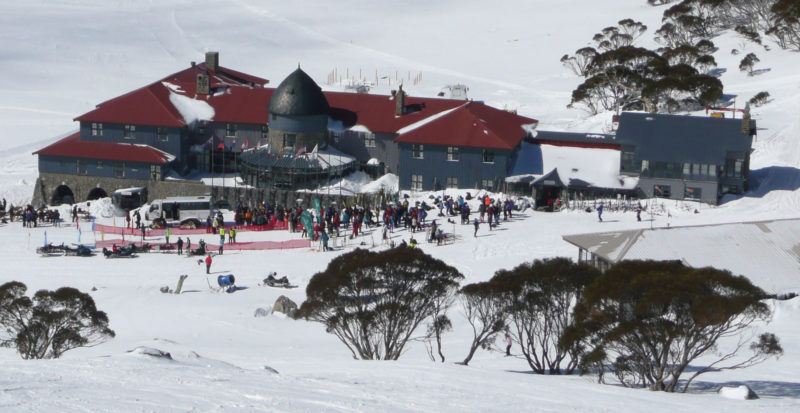 The distinction of being Australia's highest ski resort means that Charlotte Pass gets some of the most consistent snow out of any other resort in the country. It is also the oldest ski resort in Australia and its immediate access to the country's highest peak.
Some reports also say that Charlotte Pass may be the only viable option for natural snowfall in the coming years as the country begins to feel the impact of climate change.
Getting there: It takes approximately 6 hours to drive to Charlotte Pass from Sydney and about 7½ hours to get there from Melbourne.
4. Mount Hotham, Victoria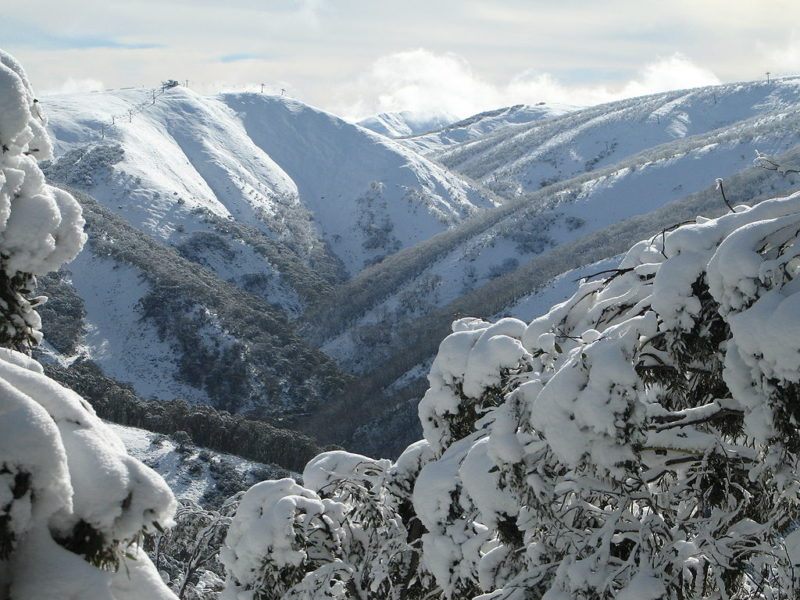 Considered by many to be Australia's 'Powder Capital,' Mount Hotham is a hot spot for real skiing enthusiasts. It's a four and a half hour drive out of Melbourne. It has 320 hectares of ski terrain with a good range of difficulty of offer for all skill levels, including one of Australia's most difficult runs: Mary's Slide.
There are plenty of runs suited for beginners as well, and it is also the location of Australia's only biathlon range (cross-country skiing and rifle-shooting).
Getting there: It takes approximately 8 hours to drive to Mt. Hotham from Sydney and about 4½ hours to get there from Melbourne.
5. Mount Buller, Victoria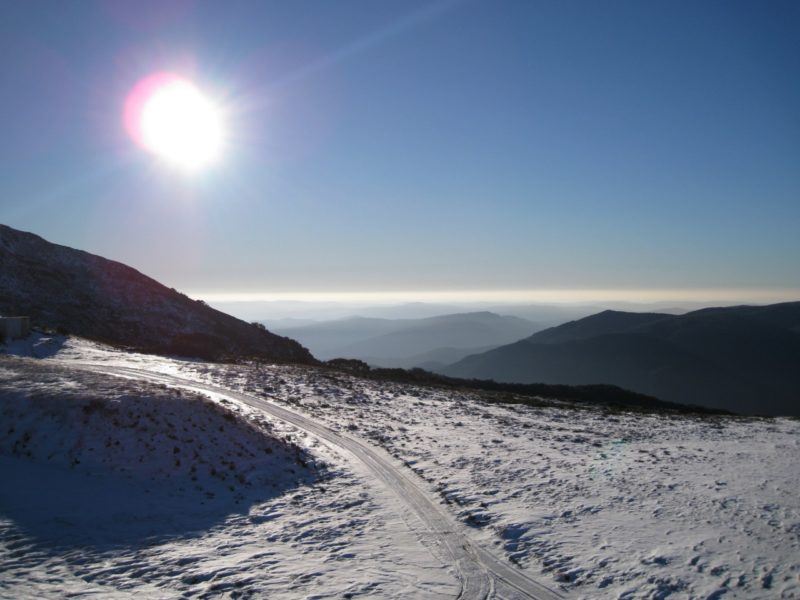 Mount Buller is a one of Victoria's most popular skiing destinations. Situated three hours out of Melbourne, it is a resort of a considerable 300 hectares, from beginner slopes to exciting black runs.
For something a bit different, Buller also features two toboggan parks. This is a great option for those making the trips with younger ones. They're also a fun easy way to entertain yourself when you feel like taking a break from the skis.
Getting there: It takes approximately 8 hours to drive to Mount Buller from Sydney and about 3½ hours to get there from Melbourne.
6. Falls Creek Ski Resort, Victoria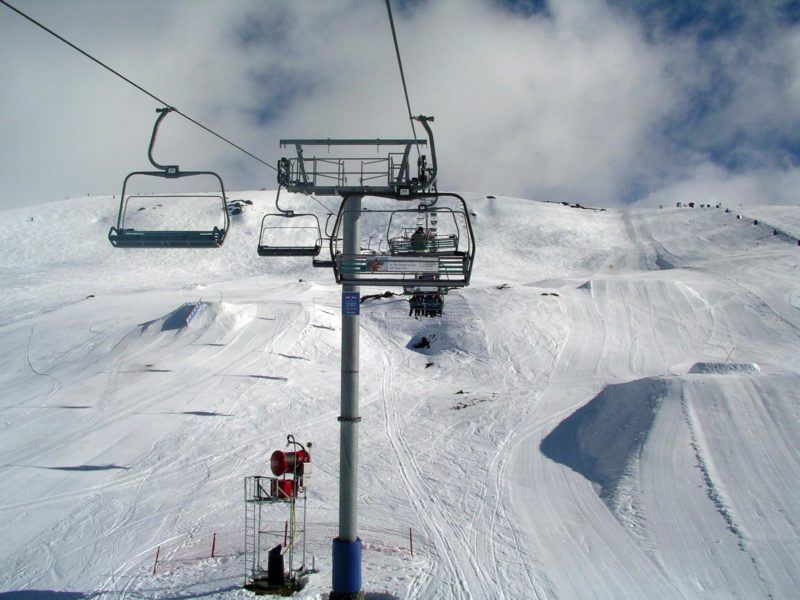 Fall Creek is the biggest ski resort in Victoria with 450 hectares and some of the best snow in all of Victoria. It also offers excellent cross country skiing and a lovely pedestrian village for apres-ski dining.
Falls Creek offers 14 ski lifts, over 90 ski runs, and a good mix of runs for every skill level. It can be considered more of an experienced skiers destination however, as over 60% of all the runs are classified intermediate or higher.
Getting there: It takes approximately 7 hours to drive to Falls Creek from Sydney and about 4½ hours to get there from Melbourne.
7. Mount Baw Baw Alpine Resort, Victoria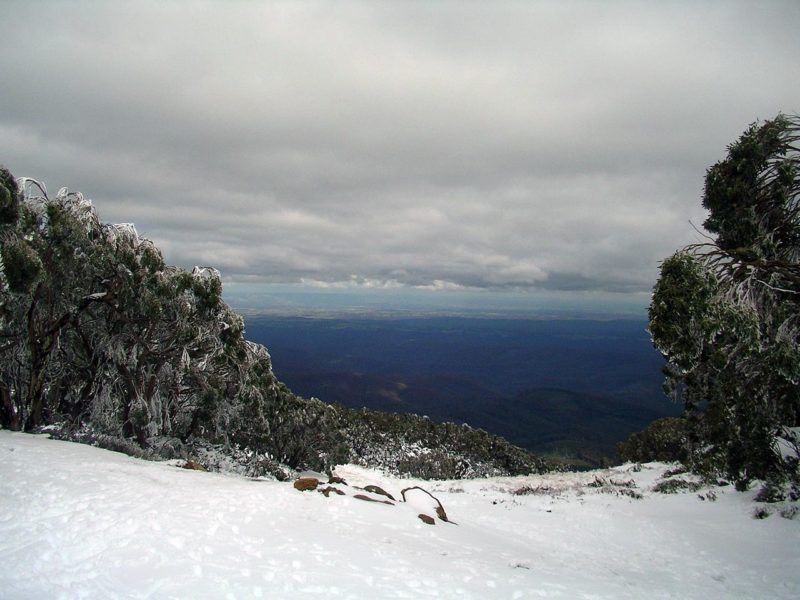 If a one-day ski trip is what you're after, and you live in Melbourne, Mt Baw Baw is the closest ski resort to the city. It offers over 35 hectares of downhill runs, two terrain parks for freestylers, and over 10 kilometers of cross-country trails.
Mount Baw Baw tends to be a very popular destination with families. The drive time from Melbourne is relatively quick, and there are plenty of great beginner slopes as well as three snow play areas. Plus, you can even experience dog sled tours for something a little different!
Mount Baw Baw has a very nice ski village with everything you need to get ready for the slopes. You can also find great accommodation options if you do want to stay for a bit longer.
Getting there: It takes approximately 10 hours to drive to Mt. Baw Baw from Sydney and about 2½ hours to get there from Melbourne.
8. Ben Lomond Ski Field Area – Tasmania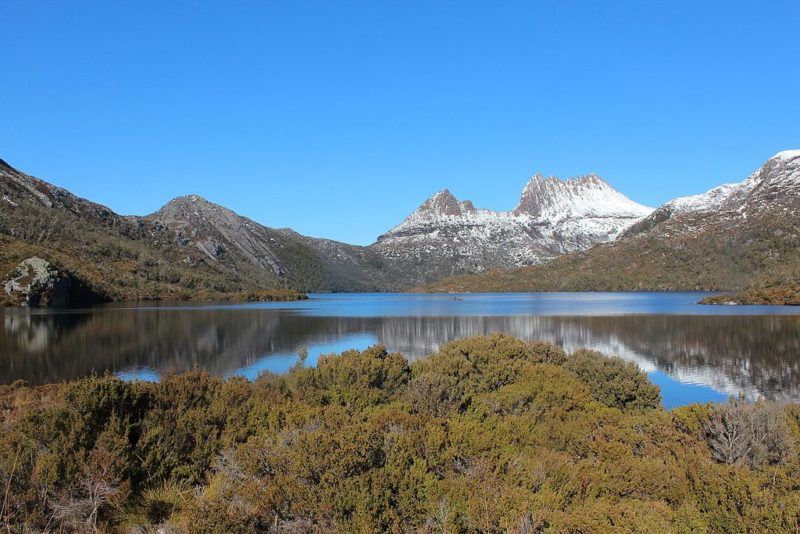 Tasmania is not close to the top of many ski location lists, even for those in Australia. As its southernmost state, snow abounds, and the low population means that resorts will be smaller and more personal. If you prefer skiing on an uncrowded slope, then Tasmania is the perfect option for you.
Tasmania's best-known resort is in Ben Lomond National Park. Cradle Mountain is the state's second-highest peak. Just as with other resorts on the island, facilites are rather basic, but that can actually be a draw.
The rugged Tasmanian landscape offers epic scenery, particularly when covered in snow. So if you're a nature nut, strap on your skis and explore this fabulous national park.
Getting there: It takes approximately 3 hours to drive to Ben Lomond from Hobart.
Save these Australian ski resorts for later – Pin it!
Don't forget to share it with your ski-loving friends on Facebook, too.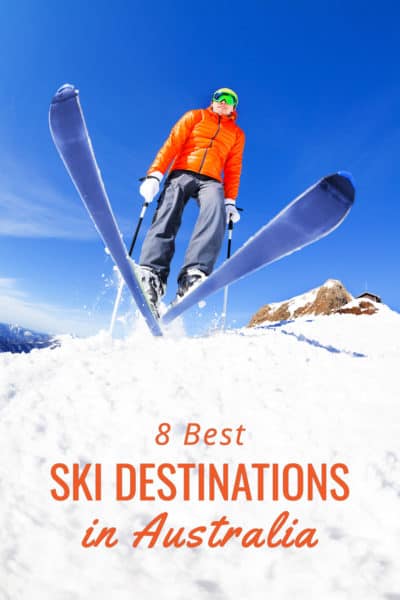 Australian ski resort travel tips
When is Australia's ski season?
Most resorts open their official ski season on the long weekend in June. Depending on snow cover, they close at the end of September or early October.
What should I pack for skiing in Australia?
A snow holiday demands good preparation, whether you are planning a ski day trip or a longer ski vacation. If you are getting ready to hit the slopes, this ski trip packing list for families is a useful resource.
Where to find the cheapest ski deals in Australia
For first-time experiences and family skiing, smaller resorts such as Charlotte Pass and Mt. Baw Baw offer a more affordable experience.
Things are pricier during peak season, which runs from late June through to early September. As winter ends, Australia's ski resorts will be less crowded. There may not be as much snow, but the prices will be lower.
Read more
If you're visiting Australia, don't miss this list of Things You Should Know Before Visiting Australia.
You can find more adventurous things to do in these articles: