Traveling along the South Coast of New South Wales is starkly different to other coastlines in Australia. With warm sandy beaches, an abundance of wildlife and relatively untouched landscapes, this region offers that of the North Coast, but with far fewer crowds.
Things to do along NSW South Coast
Of course, fishing, swimming and surfing are possible on all South Coast beaches, so why not dabble in something you haven't tried before? If you've traveled primarily on Australia's North coast, the South is the perfect change of scenery. Make sure to pack your swag, because beachside camping is one for the bucket list.
Venture to any of these beaches for a relaxing afternoon. Or, if you fancy a trek, take a walk in any of the national parks that dot the coastline.
If you're more in the mood to get away for a few days, some of these beaches would be great stops on a South Coast road trip itinerary. The Grand Pacific Drive is one of the most scenic drives in Australia. Starting in the Royal National Park, the 140-km routh crosses the Sea Cliff Bridge and continues through Wollongong, Shellharbour, Kiama, and the Shoalhaven.
If you have a good travel guide, you can find many more spots worth a visit. Here's one we like:
Best South Coast NSW beaches
1. Killalea Beach
Killalea beach is the perfect spot for a weekend getaway. Coined by locals as 'The Farm', this beach is popular with surfers and swimmers alike. The clean picnic areas, barbeques, and camping areas offer a nice spot to unwind, and relax. There is also a bunkhouse within the campgrounds which offers backpacker-style accommodation for the less prepared traveller.
With other beaches like Minnamurra close by, you'll have multiple choices on where to swim and stay. Pop into the Park Kiosk on the way for a snack between beaches.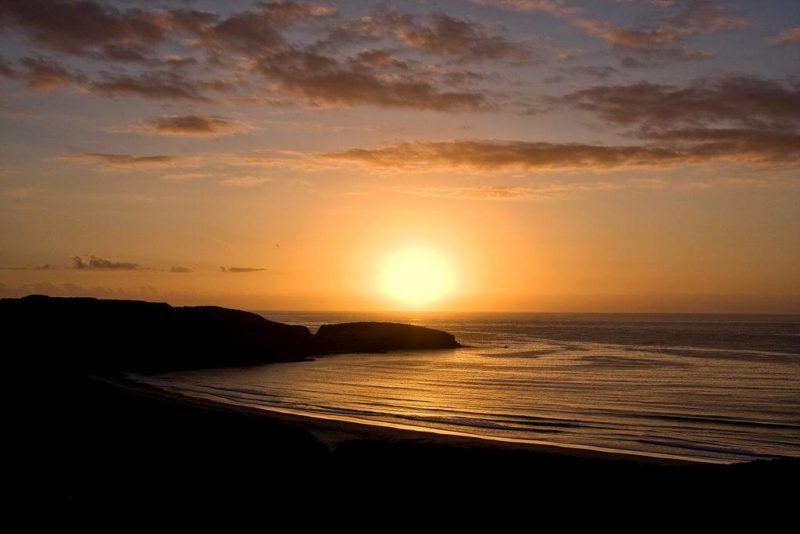 2. Minnamurra Beach
Minnamurra Beach stuns all. Rocky headlands, volcanic islands, and blue water. This beach is a hit with locals, also known as 'The Mystics', Minnamurra boasts some of the best surfing on the South Coast.
Grab your favourite book, sit on the grassy headland and watch the tide pull into shore. Like many small beaches on the coast Minnamurra isn't patrolled so take care swimming, and make sure to listen to locals and surfers, as they know the waters well.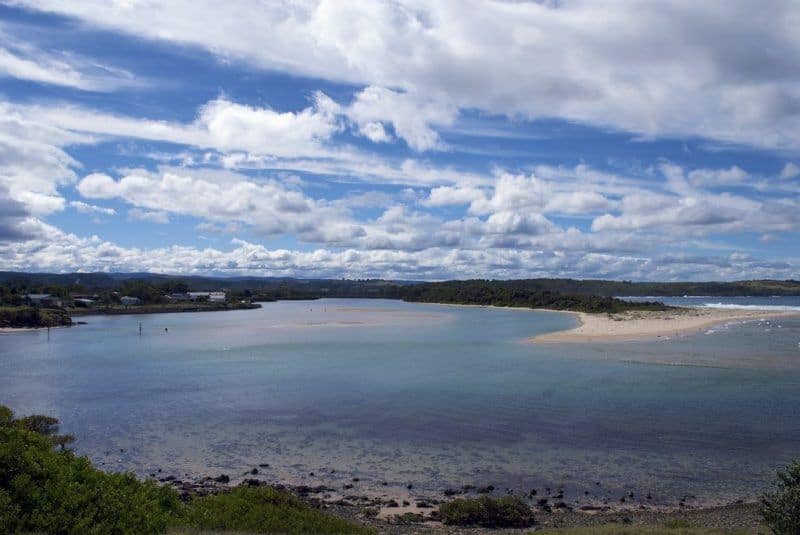 3. Tathra Beach
This beach offers something for everyone. Surrounded by both the Bournda National Park and the Mimosa Rocks National Park, Tathra is the perfect place to explore.
Take any one of the scenic bush walks and spot an abundance of flora and fauna. If you are lucky you might spot a Little Tern, one of the parks endangered seabirds. The northern end of the beach offers a sheltered swim area, but if you don't feel like swimming, hire a boat and go fishing.
Tathra has a local vibe, beautiful scenery and epic wildlife, and is thus never short of amazing.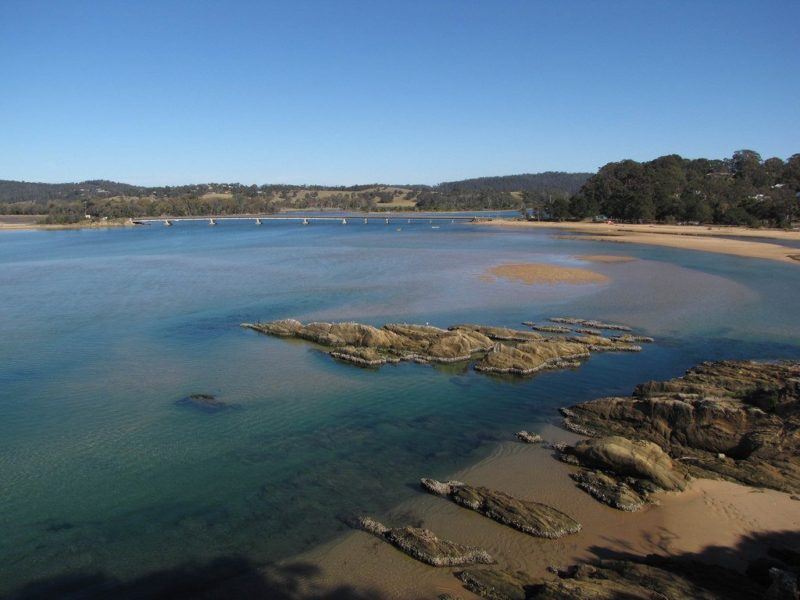 4. Kiama
If you still haven't got enough of the NSW South Coast, check out Kiama. With jaw dropping cliffs, rock formations and blowholes, you will definitely get your coastal fix. Take the 22-km coastal walk along the headlands to find smaller beaches to snorkel.
Highlights of the walk – if you finish it – are the Werri Lagoon and the Kiama Lighthouse. Established in the late 1800's, the Lighthouse holds an interesting history, including being damaged by vandals. Make sure to drop inside, as it now houses a quaint museum.
Kiama is a nice spot to break up your trip. With lots of cafes and shops, it offers a little luxury after beach campy and sandy tents. I recommend dropping into The Hungry Monkey; the Belgian waffles are life changing.
Although the surrounds of Kiama are beautiful, this town can be overrun by tourists during the holidays. Make sure to account for this before your travels.
ⓘ TIP: For a good day trip from Sydney, this organized excursion includes a guided tour of the park, BBQ meal, a stop at the Kiama Blowhole, and a visit to a remote sandy beach to view aboriginal engravings.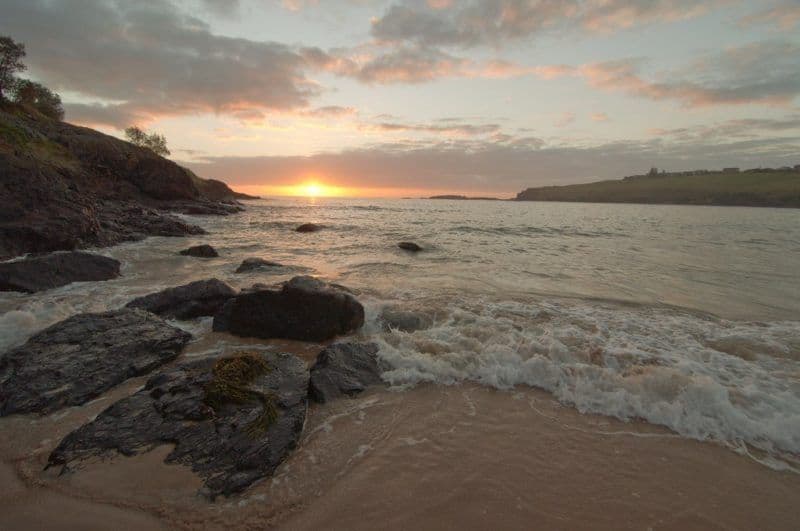 5. Seven Mile Beach
Tucked between Kiama and Nowra, Seven Mile Beach National Park is a great place for a family day out. With so many outdoor activities, from fishing and swimming to walking and picnicking, this small coastal park is packed with enough to keep everyone happy.
Beach Road picnic area is an ideal spot for a family barbecue and a game of beach cricket. But there are plenty of more secluded spots for a lazy afternoon with someone special.
Seven Mile Beach has a Sand Track that showcases the coast's unique coastal environment. Walk through the forest, then kick off your shoes and let the waves caress your toes as you stroll back along the beach.
6. Pebbly Beach
Pebbly Beach on the South Coast is one of the few beaches in the country where travelers will have competition in the waves with none other than Australia's most adorable native wildlife, the wallaby.
Located in the Murramarang National Park, Pebbly is a great place to spend the night. With an abundance of camping and furry animals bouncing around, you won't ever want to leave. Close by is the equally stunning Depot Beach: Grab your hat and take the bushwalk to the surrounding areas. You will not be disappointed.
ⓘ TIP: It takes nearly 2 hours to drive from Seven Mile Beach to Pebbly Beach. If you wish to break up the trip a bit more, we've been told that Ulladulla makes for a nice stop.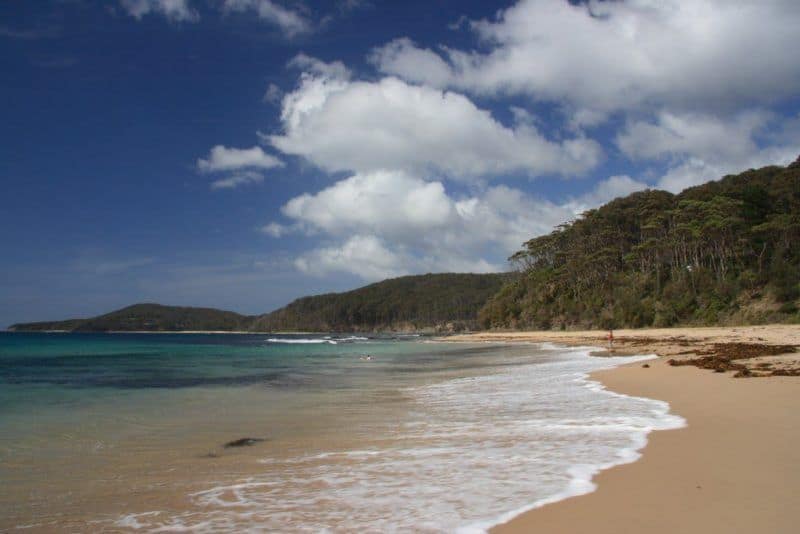 7. Bittangabee Bay
This beach is unforgettable because it is quite literally a slice of paradise: crystal clear waters, soft yellow sand, swimming, snorkeling and fishing. Make sure to take your binoculars as whales can be spotted from the bay during the annual migration season.
Located in the Ben Boyd National Park, this beach offers near untouched views, but isn't at all difficult to find. Take the Ben Boyds walk, a short trek up to a tower lookout with splendid views of the area.
You can also take the more challenging Light to Light walk, a three-day trek through beautiful parklands. We didn't take this walk due to time constraints, but adventurers coming back raved about its views, animal sightings and coastal heritage spots.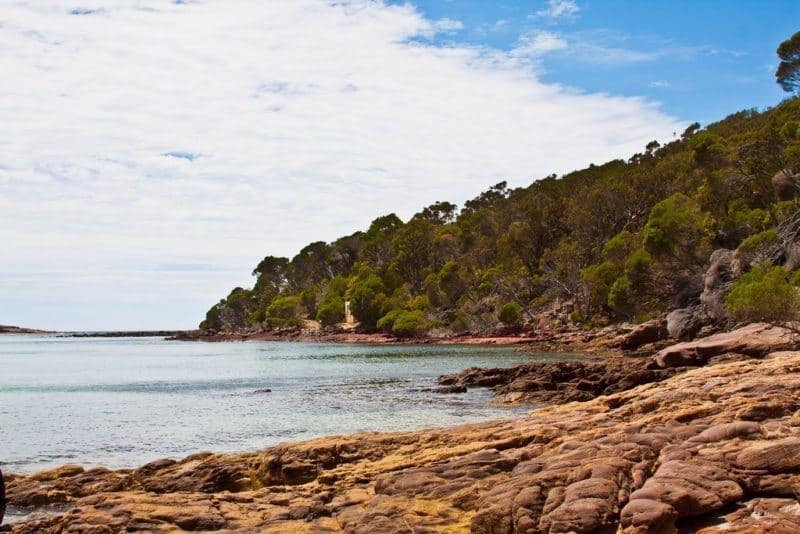 Which beach is best?
Minnamurra Beach was ultimately our favourite destination, with epic rock formations this place felt truly mystical. Kiama offered a challenging yet equally as beautiful walk, finishing with the best meal of the trip. Pebbly Beach was the most comical, with Kangaroos hopping around, Pebbly made for a good laugh and a great start to our trip.
The South coast is an amazingly unspoilt destination, I cannot recommend visiting this stretch of land enough!
Do you have another beach you'd like to add? Share it with other readers in the comments.
Planning resources
Here are some useful links to help you plan your own trip.
Tourism authority: Australia's tourism website has many useful trip planning resources.
Australia has a number of international airports, including one in Sydney. The airport code is SYD.
Airport to hotel. Taxis are available, as is Uber. Another option is to book a shuttle or private limousine service. They will greet you with a sign in the airport, help with your luggage, and escort you to your hotel.
Visas. Project Visa is an easy-to-use tool that will tell you if you are eligible for Visa on Arrival (VOA).
We use xe.com to calculate currency exchange values.
Travel insurance. You'd be surprised at how cheap it is and how much it covers. Trust us, when an airline misplaces your suitcase for a week, you'll be glad you have it. Learn more here.
Places to stay
Getting around
Sometimes it's not practical to take a taxi or walk. Here are two options, for any budget.
Rental car. Find and book a rental car here.
Public transportation. This website will help you plan a route by plane, train, bus, ferry and car.
Book a guided tour
Sometimes it's best to have someone else manage all the arrangements.
Organized tours
G Adventures offers insanely affordable small group tours on all 7 continents. 100% guaranteed departures, even if you're the only traveler. Expect local accommodation, cuisine, and transport to connect you with the planet's people, cultures, landscapes and wildlife. Click here to check out their itineraries.
Day trips and excursions
When we travel, we use Get Your Guide a lot. It's our go-to for food tours, attractions and activities. They offer hundreds of tours in Australia.
To inspire you, here is a sampling from around the country.
See more
Want to see more of this destination?
Read more
Online
Also, don't miss this list of Things You Should Know Before Visiting Australia.
On Amazon
Want to read this later? Save it to Pinterest!