Brazil, the 5th largest country in the world, occupies almost half of the South American continent. Not only is it rich in both culture and natural beauty, it is also home to a third of the world's largest rainforest. So if you like both city life and outdoor activities, Brazil is definitely a destination worth considering.
Brazil is also rich in history, with world-class museums and stunning architecture throughout the country. The country is also famous for its music – it fills the streets, especially during Brazil's major festivals. And festivals take place all year round.
To make the most of your trip, read up on the things you should know before going to Brazil before you make your arrangements.
Brazil visas
Brazil used to charge a hefty sum for tourist visas, but that changed on June 17, 2019. Now, citizens from Canada, Australia, Japan, the U.S., and many other countries can visit Brazil for up to 90 days without a visa.
Travel insurance for Brazil
Travel insurance is something that is often overlooked, but it can really come in handy if something unexpected happens while you are on your trip.
Obviously, no one likes to think about things going wrong on their vacation. But if the worst does happen, travel insurance is a godsend. It can help cover the cost of hotel and flight cancellations, lost luggage, stolen items, medical expenses, and even help reimburse you if you need to be evacuated from your destination due to political unrest, or natural disasters. (Some policies even have COVID coverage!)
The cost for this peace of mind is surprisingly affordable. So be sure you're covered in case of an emergency.
Want to read this later? Save it to Pinterest!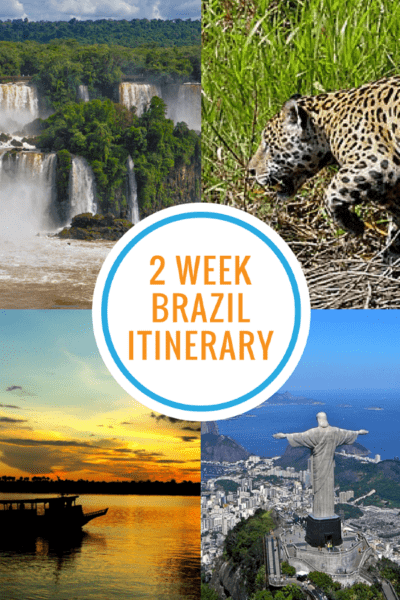 Itinerary for two weeks in Brazil
Vacation time is precious, so we decided to create a travel plan that would fit into a two-week holiday. We'll admit: It's hard to choose when there are so many incredible things to do in Brazil.
Of course, it's impossible to experience all the amazing nature and culture that the country has to offer in that length of time. But our Brazil itinerary contains the best Brazil highlights:
Amazon cruise
Jaguar jungle safari
Iguazu Falls
Rio de Janeiro
Bonus: All destinations are protected UNESCO world heritage sites.
So if you are one of the unfortunate people who have a limited vacation period, this itinerary will help you experience a major part of Brazil sites and culture. Trust us: This plan is full of "bucket list" experiences.
ⓘ PLANNING TIP: Your two-week vacation includes three weekends. If you leave on a Friday, that means you can have a 17-day holiday and only miss 10 days of work! Our 14-day itinerary was designed to allow plenty of wiggle room for connecting flights.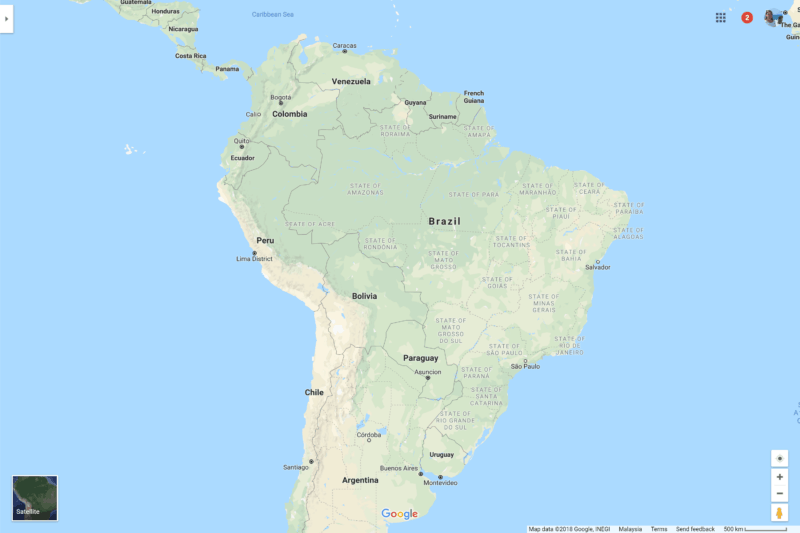 Getting to Brazil
American Airlines, US Airways, and LATAM offer direct nonstop flights from Miami (MIA) to Manaus (MAO), and TAP offers direct flights from Europe via Lisbon (LIS).
The MIA-MAO flight takes just over 5 hours. This makes much more sense than flying via Rio or Sao Paolo. Save the long trip for your return; we know you want to get this holiday started. You'll be working your way southward from here.
ⓘ BUDGET TIP: Compare the price of a full round-trip fare vs. separate legs. It might be cheaper to book two separate round-trip flights: one from your home airport to Miami, and a second ticket that goes from Miami to Manaus and back to Miami from Rio. If so, make sure there's enough layover time in Miami to manage immigration and change planes!
---
Brazil Itinerary Days 1-2: Fly Miami to Manaus, Brazil
The northern town of Manaus might seem like an unusual place to begin an itinerary, but this maximizes every minute of your trip. You'll waste a lot of sightseeing time if you don't fly directly to Manaus.
Your overnight flight will land in the morning on Day 2. Welcome to the Amazon River Basin, a UNESCO World Heritage Site. You can't say you've seen Brazil without making a trip to the Amazon River Basin.
Manaus sits 1,000 miles inland, at the point where Rio Negro and the Amazon River meet. The city began as a strategic Portuguese fort, and only grew after they discovered practical uses for the rubber plant, which grows all over the rainforest. The city's fortunes have risen and fallen since then but today, Manaus is proud to be the home to the only bridge in the Amazon river system, and a new football stadium, used for the 2014 World Cup.
If you have time before boarding your cruise, these are Manaus' most popular sights:
Amazon Theatre
The 700-seat Amazon Theatre (a.k.a. the Manaus Opera House) is Manaus' landmark. Renovated in 1990, it is a truly opulent piece of Renaissance architecture. It has hosted big name performances from the Italian opera and music world, and is home to the annual Amazonas Film Festival.
Alfandega
Alfandega among the oldest buildings in Manaus. The amazing construction gained recognition as a national historical heritage in the 1800s. It combines elements from renaissance and middle age styles. The architect used bricks imported from England in its construction.
Encontro das Aguas
If your cruise itinerary doesn't include Encontro das Aguas, try to see this phenomenon. Encontro das Aguas, "Meeting of the Waters." is a popular incredible tourist attraction. where the muddy waters from the Amazon River connect with the dark waters of Rio Negro, which is the largest tributary of the Amazon and the world's largest black-water river.
Decaying vegetation creates Rio Negro's black water as it rushes down from the cold Andes Mountains, and it also creates high acidity and little sediment. The muddy Amazon River is the opposite: warm, slow, and full of sand. Thanks to the different temperatures, speeds and densities, their waters stay completely separated for six whole kilometers.
---
Brazil Itinerary Days 2-5: 4D/3N Amazon River cruise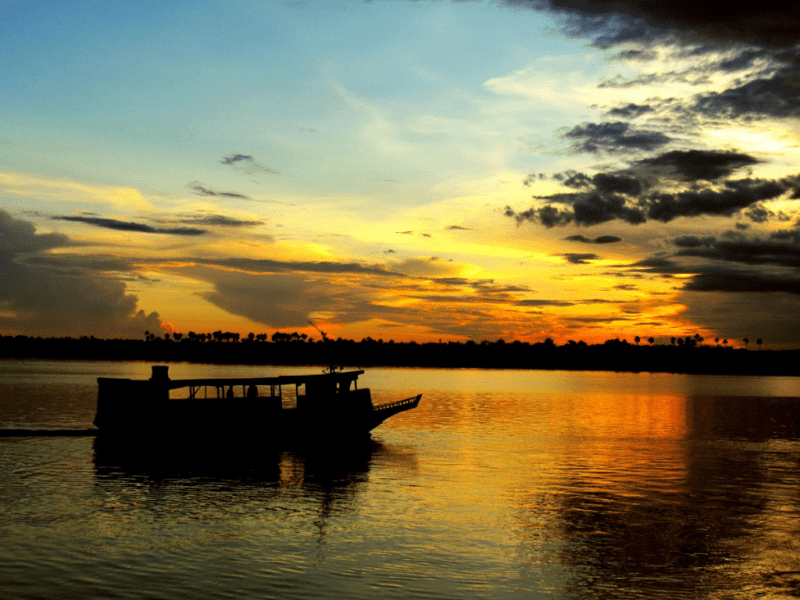 By volume of water, the Amazon is the largest river in the world. It stretches across several South American countries and offers an incredible array of flora and fauna. River cruises allow you to experience it all, with breathtaking scenery and a chance to see it up close in the company of top quality naturalist guides.
Cruises from Manaus begin at the Amazon River and continue along the Rio Negro. You can find cruises that last anywhere from a few hours to a couple of weeks.
ⓘ PLANNING TIP: Fly to Pantanal as soon as your cruise ends, and stay there the night before your tour. Safari departures can be as early as 7:30 am.
What to look for in an Amazon cruise
Ensure the cruise offers land excursions that will take you deeper into the jungle. Some also offer excursions allow you to meet the locals. We visited an Amazon tribe in Ecuador, and it really adds an extra dimension to the entire Amazon experience.
Here are some Brazil Amazon tours you may like:
---
Brazil Itinerary Days 6-9: Jaguar safari in the Pantanal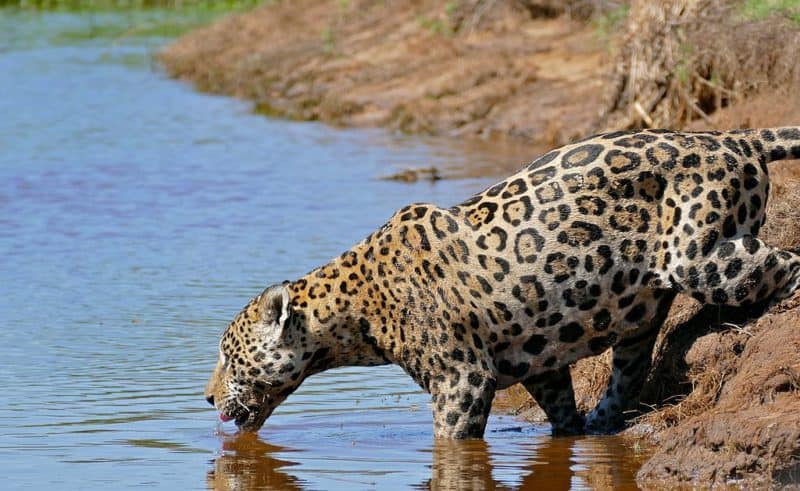 The Pantanal is the world's largest inland wetland. Jaguars still roam here and many endangered species call it home, including the South American tapirs, giant anteaters, giant river otters, and the brilliant indigo Hyacinth Macaws. To ensure their safety, a portion of the wetland is protected by UNESCO.
This section of wetland, called the Pantanal Protected Area, is the best place for you to encounter rare wildlife. This is not something you should try to do on your own. You will need to hire professionals for this unique experience, and it's worth it.
Tips for choosing a Pantanal tour
Jaguar safaris run from both Cuiabá (CGB) and Campo Grande (CGR). This itinerary allows for a 3D/2N eco-tour.
Campo Grande safaris are for people who consider budget more important than comfort.
Cuiabá safaris are slightly pricier because they have smaller groups and go into the protected area. You will have a better chance of seeing the star animals.
ⓘ PLANNING TIP: Safaris end late in the day. Stay in a Pantanal hotel after your tour and fly to Iguassu Falls (IGU) the following morning. Search hotels here.
Here are some Pantanal tours you may like:
---
Brazil Itinerary Days 10-11: Iguassu Falls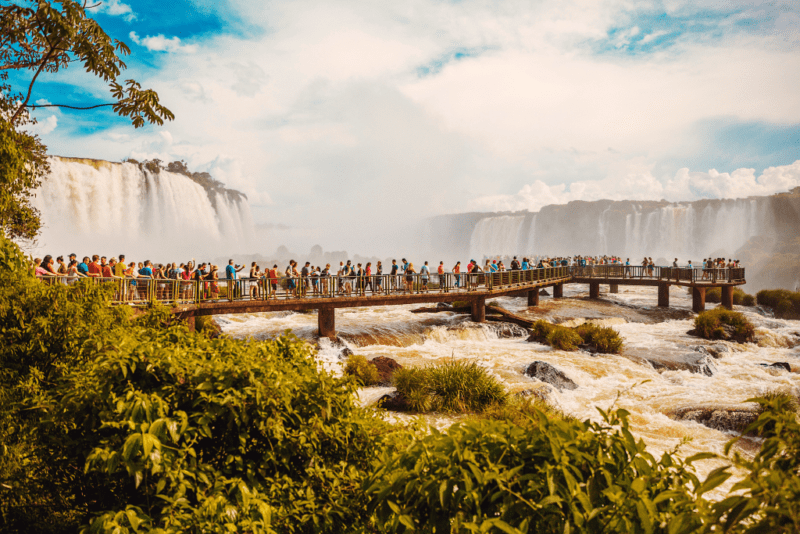 Many travel fanatics consider Iguassu Falls to be the most beautiful waterfall in the world. These waterfalls are located at the exact spot where Brazil, Paraguay and Argentina meet.
You will need to cross the border into Argentina if you want to take a boat or walk around the falls. Photographers will get a more comprehensive sense of its splendor from the Brazilian side.
What to do at Iguassu Falls
After you've seen Iguassu's failing waters, you can explore the town you flew into, Foz de Iguazu. If you prefer hiking, the surrounding jungle is also worth exploring. Iguassu National Park is only a few miles from the falls. Keep your eyes open for the many species of animals and birds in thick vegetation.
Here are some Iguassu Falls experiences you may like:
---
Brazil Itinerary Days 11-14: Rio de Janeiro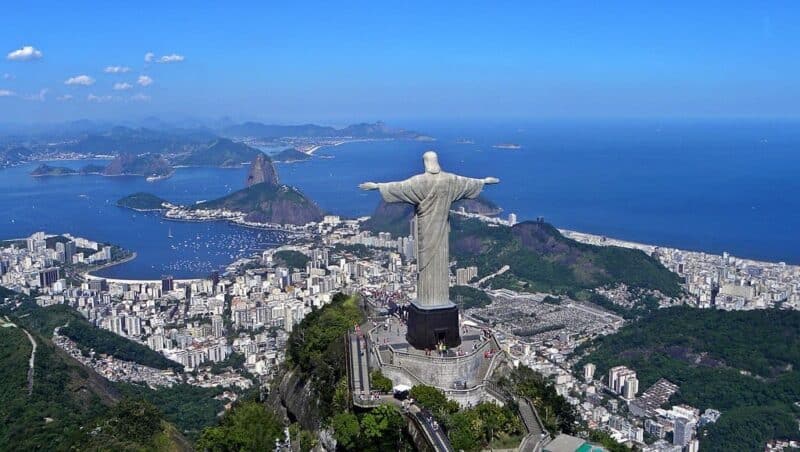 We've saved the best for last: The final stop on your 2-week holiday in Brazil is … Rio, the second-largest city in Brazil. One look at the iconic statue of Jesus with his arms stretched wide in a worldwide embrace, and you immediately know where you are.
Rio de Janeiro is famous for its white sandy beaches and its amazing landscape draws visitors to the city like moths to a flame. If you want true craziness, Rio de Janeiro is especially lively during the carnival season, when music, parades and colorfully dressed dancers fill the city. This incredible street party attracts hundreds of thousands of tourists from all over the world.
What to see in Rio de Janeiro
You don't need us to tell you that Rio has a lot to offer its visitors, but since you'll only be in town for a few days, focus on a few of the highlights.
Relax on the beaches, go to a football (soccer) game, take a cable car to Sugarloaf Mountain, learn to make caipirhina cocktails … the list is endless!
---
Day 14: Fly home
After two weeks in Brazil, full of amazing and unforgettable experiences, it is now time for you to fly home.
ⓘ TIP: To make the most of your trip, read up on the things you should know before going to Brazil before you make your arrangements.
We hope you have lots of fun and get loads of amazing photos!
When is the best time to visit Brazil?
High season and Brazilian vacation time coincide: December through March, and July. If you travel just outside of this time, you will find lower prices and fewer crowds.
In particular, you should book your trip when the climate is particularly pleasant. To be honest, this isn't quite as easy as it sounds. Did you know that Brazil has 5 distinct weather systems?
What is the weather in Brazil?
Here is a general overview of the weather in Brazil:
Autumn (March-May), and Spring (September-November) are probably the best time to visit Brazil, with comfortable temperatures and moderate rain.
Summertime (December-February) brings heat and crowds. This is also the wettest time inland, which brings more insects. The Amazon River and Iguassu Falls will be at peak flow, perfect for photography. If you visit now, pack insect repellent and a raincoat.
Brazilian winter (June-August) can be surprisingly chilly. Bring long sleeves!