The Poconos are a great place to visit if you're looking for a change of scenery but don't want to travel too far from home. Just one hour away from New York City, these mountains offer everything from pristine nature trails and scenic waterfalls to pretty road trips and world-class skiing resorts and casinos.
Which is why I went looking for a top rated vacation home in the Poconos. With only a few days off to enjoy with family, we wanted to relax and enjoy ourselves, not rough it in some musty old house from the 1970s. Especially because splitting the cost made it really affordable!
The top rated vacation home I found
Tucked into a lush green part of Blakeslee, Pennsylvania, I found one of the most luxurious villa rentals I had ever seen. We booked the place for a total of 5 days and had the experience of a lifetime.
Outside area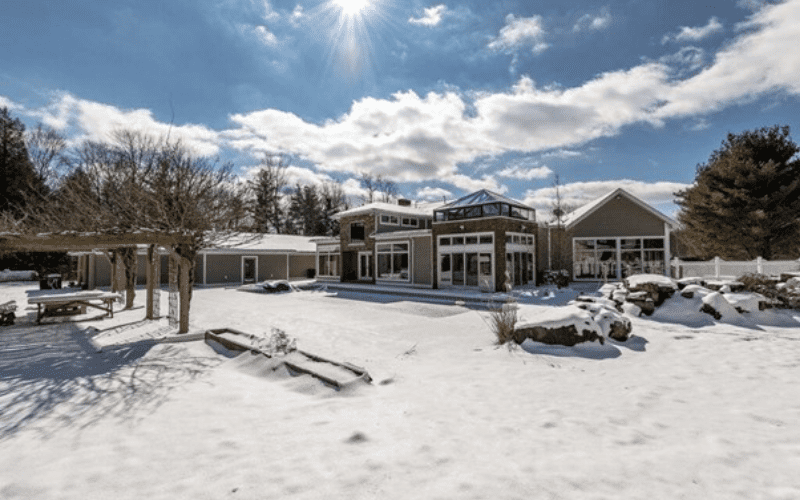 Before expressing what I thought about the inside, I would like to share my impressions of the outside area of the villa.
The villa has a spacious and well-maintained parking area. The driveway and road leading up to the building are smooth and comfortable to drive any vehicle.
The villa's architecture is awe-inspiring and gives you a promise of what you'll find inside.
Needless to say, the Poconos are absolutely beautiful during winter. One cold but sunny day, we rode bikes on the tracks that run alongside the villa. Plus, the hiking is superb year-round.
Inside the villa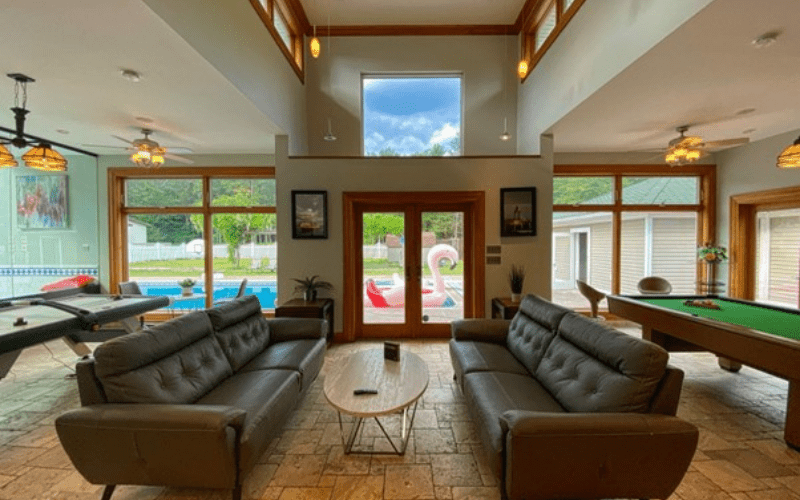 Once inside, the interior simply blew us away. This villa is massive, with 6 bedrooms and 5 luxury bathrooms. Five thousand square feet make this spot an ideal place for an extended family to spend vacations together … which is why I booked it.
Be it a hot tub, jacuzzi, sauna, mini bar, theatre, indoor pool, entertainment or gaming room, every facility of the villa was simply amazing.
The theatre room has a big screen and ten comfortable chairs to sit in and watch your favourite movies. The hot tub suites are tastefully decorated, featuring king-size beds and bathrooms all including a whirlpool jet and shower. Speaking of which, I loved how the washrooms were designed with beautiful and natural materials on the floor and wall. I could feel the fresh, steaming water of the jacuzzi soothing every sore muscle in my body the moment I stepped into it.
Later that evening, we played air hockey and billiards in the game room while a couple of family members sat on the sofa and watched television. The villa had flawless Wi-Fi for streaming movies and doing any office work – but really, who wants to work when you're in a place like this?
Kitchen and dining experience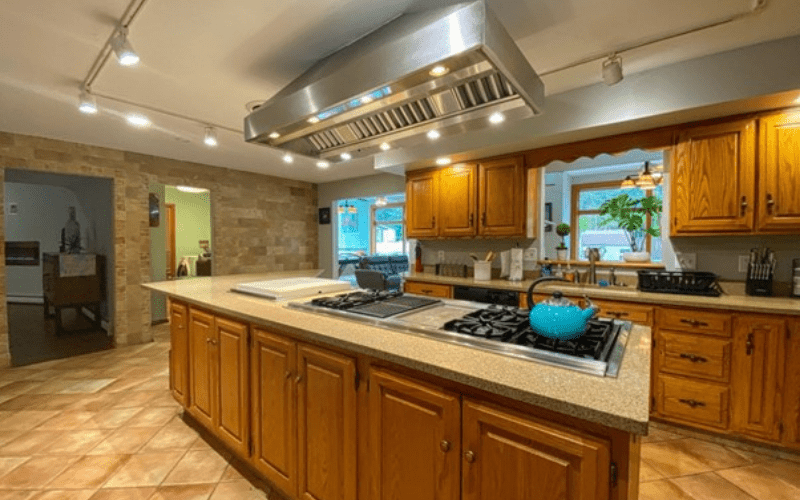 On the other hand, the kitchen was so well equipped that we did not even once feel like ordering in some food. Not only is it gorgeous, it's furnished with a top-class oven, cooking utensils, bakeware, crockery, glassware, cookware and essential appliances.
The kitchen is spacious enough to easily accommodate more than 5 people, so we helped each other prepping and cooking, and never got in each other's way.
The first dining area is medium in size, with seven comfortable chairs surrounding a nicely-sized table. The other is a sumptuous affair – it's huge and lavish with a well-decorated dining table and sixteen dining chairs.
Can anyone say Thanksgiving?
How are the sleeping facilities?
Winding down the evening, every nook and corner of the villa was pleasing to the eyes and the soul. The host had decorated the house with beautiful lamps and chandeliers that made the villa look completely different look after dark.
As to sleeping facilities, this luxurious Poconos villa has 6 bedrooms to choose from. As many as 12 adults & 5 kids can stay here! Adults got the king size beds of course, but 4 bunk beds were available as well. Perfect for the munchkins to enjoy fort-building and sleepytime chats.
All the rooms were extremely comfortable with soft and comfy mattresses and cozy wood flooring to keep us warm.
Whether it is the master bedrooms, blankets or fireplaces, the villa has every amenity to keep its visitors warm in the winter. Though of course there's superb air conditioning for hot summer nights as well.
Quality wines and some good times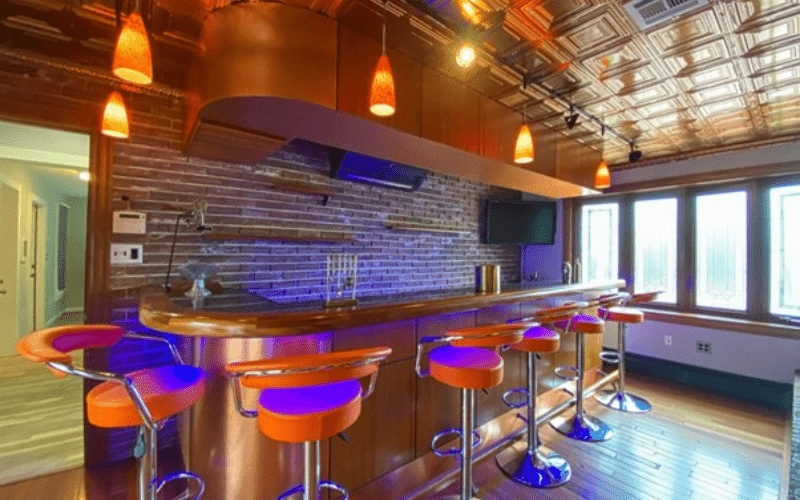 As an adult, the bar was one of my favorite places in the villa. I was impressed with their quality wine stocks. They had even included locally crafted beers and wines in their collection, some of which I'd never even heard of before.
Speaking of the aesthetics, the bar was beautifully decorated with orange lights and six bar stools. Overall, it had a modern-cum-rustic wood look, which was stylish and welcoming.
Additional facilities
The outdoor area is equipped with a barbecue grill, fire pit and a small bridge by the pond. There's also a huge luxury swimming pool that would be amazing in hot weather. Although we couldn't access the pool as it was winter, we did enjoy a cup of hot chocolate on the lounge chairs placed beside it.
My niece had a birthday during of our visit, so why not take advantage of all the villa's facilities? Just as the clock struck 12, we took our belongings to the backyard for a joyful birthday camping experience.
We celebrated her birthday by camping beside the nearby lake and serving barbecued food.
Not to forget, the natural location of the villa was utterly blissful. My niece and I finally got a chance to spend time together, connecting far away from city distractions.
Would this work for events and occasions?
This villa is perfect for everything from a birthday bash to after prom stays and quinceañeras. As I said, there's a large area in the back for bonfires. There's also a swimming pool in the front area that would be perfect for bachelorette parties.
Whether you book this villa for a destination wedding or an after prom stay, its facilities will not disappoint.
Nearby attractions
The Poconos are perfect for ardent hikers, and there are plenty of spots nearby. I can recommend the Austin T Blakeslee area, Jack Frost Mountain and Lake Harmony.
We indulged in hiking, nature photography, and picnicking in the Austin T Blakeslee area. The next day, we visited Jack Frost Mountain for skiing and its partner mountain "Big Boulder" for snow tubing and night skiing.
Just a few minutes away from Big Boulder is Lake Harmony. It's good for wintertime hiking, but it's even better in summertime. Then, you can take advantage of water sports including boating, fishing, kayaking, canoeing, fishing and swimming.
Final thoughts about this Poconos vacation rental
Overall, my Poconos winter getaway vacation experience was fantastic. This vacation home in the Poconos is the best place for the ones who want to spend some quality time and make memories with their families.
I got a chance to enjoy the best of locations with my family and indulge in the utmost comfort for a few days. And all of this was possible because of the location of this wonderful villa and the comforts it had to offer.