If you share our passion for globetrotting, you've likely reached a point where commercial flights no longer do justice to your wanderlust. The relentless travel bug pushes you to explore the world far and wide, and when you find yourself spending a considerable amount of time in the air, it's only logical to seek the easiest and most comfortable travel experience, don't you think?
Enter private jet travel—the epitome of comfort, luxury, and practicality in the realm of globetrotting. In this article, we will be your guide to the world of private jet etiquette, ensuring you are well-prepared for an exceptional journey. From the moment you decide to book your flight to the final moments of packing and boarding, we'll explore the dos and don'ts that will make your private jet experience truly unforgettable.
Before you take your flight
Before you ever set foot on your plane, there are a few things to bear in mind. Each of these tips will help you navigate the booking and planning phases in a way that is responsible, respectful, and practical.
1. Book as early as you can
There are two reasons that we stand behind this advice. Firstly, booking your private jet charter ahead of time might mean you have access to special offers (discounts or promotions) that may make your trip a little easier, financially speaking.
Secondly (and this one is for the type As, over-thinkers, and compulsive planners out there—our people!), booking and confirming all the arrangements in advance means you won't have any extra last-minute stress. Once your flight details are confirmed, you can relax and enjoy planning the rest of your trip.
2. Make specific requests when you book
One of the many perks of private jet travel is that it's a client-focused industry. Booking a private flight means that the crew is ready for special requests from their passengers. Ask for anything you need — from dietary requirements for your dog to your favorite wine to a blanket that won't trigger your wool allergies. It's a bespoke flying experience, so make it your own.
It's both practical and polite to inform the company of any requests or requirements you have as early as possible. Asking for sushi rather than beef filet a mere 30 minutes before takeoff is impractical and a little inconsiderate. Instead, think about what you want and need and submit these requests to the aviation company in an email when you book your flight for the best chance of having your needs met.
3. Verify luggage requirements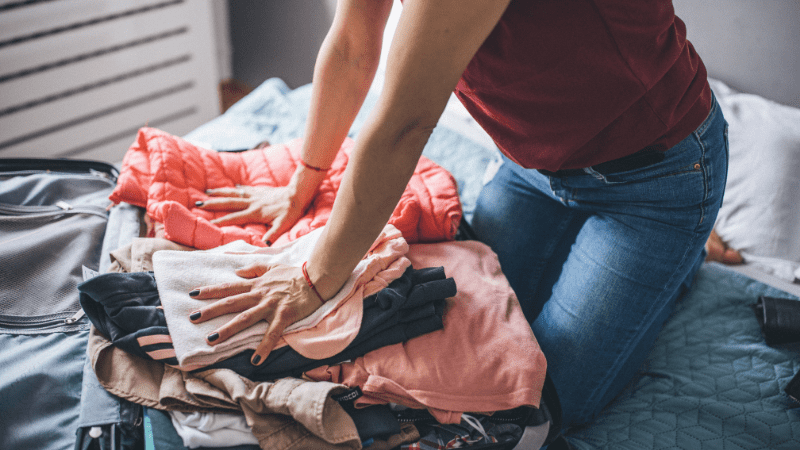 Much like a commercial plane, a private plane has a weight threshold that it cannot exceed. Ask your host or, if you are the host, check with the company about baggage weight maximums per person.
Avoid going above these restrictions, or if you absolutely must, get in touch with the aviation company ahead of time to see if you can get an exemption by paying an additional fee. It would be inconsiderate to your party and the crew to show up with excess baggage and delay or prevent boarding.
4. Have all your documents ready
This advice is as much for your travel sanity as it is for practicality. Make sure that you have all your travel documents—visas, passports, flight confirmations, etc.—prepared and duplicated well in advance of the date of your flight.
Duplicating these documents is essential so that you have backups in case a set goes missing. It also wouldn't hurt to get yourself a sleek, handy passport holder to keep your passport and travel documents in good shape while you're traveling.
Want to read this later?
Save this pin on your favorite Pinterest travel board.
On the flight
1. Always be a little early or on time
The ultimate travel no-no, no matter how you're traveling, is to arrive late. Being late not only disrespects the time of your fellow travelers but also that of the pilot and crew.
Compared to flying a commercial flight, traveling by private jet will result in a much shorter wait time before takeoff, so there's no excuse for being tardy.
To avoid stress, ask how far in advance you need to arrive for departure and then arrive at least 15-30 minutes before that.
2. Always let the trip host board first
It's good manners to allow the host of any event certain privileges. The most important thing to remember when taking a private flight arranged by someone else is to let them board the plane and choose their seat first.
It also wouldn't hurt to remember to say a few extra thank yous for all their effort in planning your exciting getaway, either!
3. Dress appropriately
Travel outfits should always be practical and comfortable, and there's no hard and fast rule about what to wear on a private flight. Even so, don't show up in something too sloppy or too casual, like your workout clothes or sweats. After all, this is a high-class mode of transportation. The other passengers you may meet at private lounges are likely to be well-heeled business or leisure travelers.
That said, it's important to remember that you'll still be around the crew and the people in your party, so dressing appropriately is important. If you're flying on someone else's plane, it's best to dress as you would when visiting their home or office.
Don't forget, it's usually reasonably cool in the cabin, so be sure to bring cozy clothes to keep you comfortable. You should avoid wearing anything that shows an intimate amount of skin and keep socks on your feet at all times.
4. Be mindful when snapping photos
We know a private jet experience is the perfect Instagram moment, but be polite and ask before you snap away. This applies to images that might contain anyone in your party or the captain and crew.
You may be paying for the "venue" and experience by chartering the jet for your group, but it's still polite to ask if taking photos on the plane or of the other passengers is allowed.
5. Remember to tip the crew
The crew of a private plane works hard, and their service is tailored to each set of clients. Tipping them is a way of saying "Thank you for working so hard for us."
It's best to talk to your host about this, since they have contacted the company to make the booking, etc.
If you're unsure of the appropriate amount, ask your host to check with the aviation company.
Wrap up
Now that you've got all the etiquette reminders you need, you can relax and enjoy the start of another exciting trip. Your private jet flight will be an exciting experience you'll never forget!