Sunny beaches, breathtaking landscapes, colorful culture, Buddhists temples, and Khmer Architecture make Vietnam and Cambodia an attractive destination in Southeast Asia. A tour to Vietnam and Cambodia will take you on a journey through the highlights of two countries, from the natural wonders to the man-made heritages.
We're pretty sure that nearly every Southeast Asia itinerary includes Saigon and Angkor Wat in Siem Reap. Other than that, you need to know about a few of the prettiest places to visit in Cambodia and Vietnam. Visit these destinations, and your travel photos are guaranteed to make your friends envious that you had such a wonderful trip.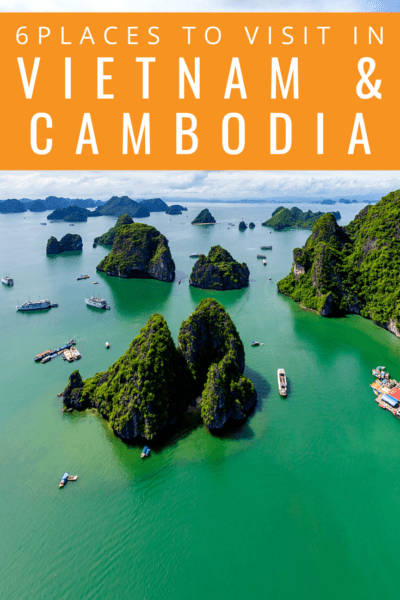 1. Halong Bay, Vietnam
Halong Bay is widely famous for its emerald water and majestic islands jutting right out from the bay. Sometimes listed as one of the Seven Wonders of the World, UNESCO has designated it a world heritage site. Halong Bay is also home to many beautiful caves – the vast chambers with dramatic and impressive limestone formations.
While visiting here, don't miss the chance to take an overnight cruise on the bay. It will give you a chance to admire the hundreds of islands from all angles and at all times of the day — perfect for capturing the perfect shot.
For something a little less touristed, you can also see Cat Ba Island in the southwest and Bai Tu Long Bay in the northeast.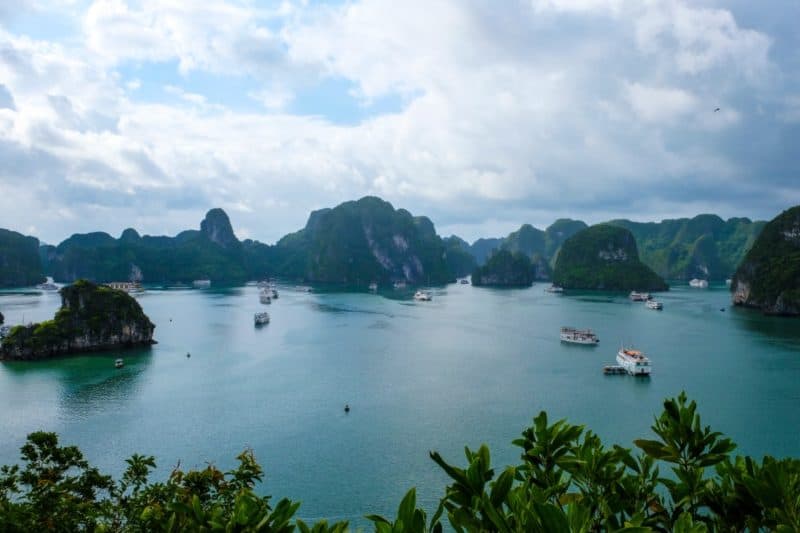 What to do in Halong Bay
Thanks to its wonderful natural and geographical conditions, Halong Bay is a popular destination for many fascinating activities. Some of these can be enjoyed on a Halong Bay cruise.
Get a bird's eye view of the bay from a seaplane
Go kayaking to discover the karst cave and floating village
Enjoy fresh fish
Visiting the pearl farm
Embark on a luxury cruise tour
Go hiking to Cat Ba National Park
Check out Hon Trong Mai – The Fighting Cocks Island
Go night squid fishing
Go hiking on Ban Sen Island
Immersing yourself into the emerald water of Monkey Island
Best time to visit Halong Bay
You should visit Halong Bay from October to December when the weather is cool (maybe a bit cold from the middle of December). Avoid traveling to Halong Bay from June to September because there might be tropical storms and heavy rains.
Need a place to stay in Halong Bay?
2. Son Doong Cave, Vietnam
Being the largest natural cave on the planet, Son Doong Cave boasts underground rivers, limestone grottoes, rocky terrains, and the rarest formations ever seen by humans. Located near the Vietnam – Laos border (about 500 kilometers from Hanoi), Son Doong Cave is truly an adventure of a lifetime.
To reach Son Doong Cave, you have to hike about 6 kilometers through the dense forest including passing through a small village of Bru Van Kieu ethnic minority. With sections reaching up to 200 meters high, Son Doong covers an area of 9 kilometers and is large enough to store an entire New York City block.
This cave can only be visited on a guided tour, and is limited to 1000 people per year. Ifi you're one of the lucky few, you'll experience a wide range of fascinating activities. Imagine underground swimming in a beautiful cave river, trekking to explore the marvelous dry caves, and sleeping under the stars in the jungle.
What to do in Son Doong Cave
Challenge yourself with jungle trekking and river crossing to reach the cave
Visit an ethnic minority
Camping under the stars of the jungle
Enjoy swimming in the beautiful cave rivers
Go hiking and walking to discover dry and wet caves
Explore many special animals which cannot be found anywhere else
Best time to travel
The best time to explore Son Doong is between February and July. Located in central Vietnam, Son Doog has a tropical climate and often suffers heavy rain, tropical storms, and floods during the rainy season, which makes the caves largely inaccessible.
3. Mui Ne, Vietnam
Mui Ne is an isolated coastal town located along the South China Sea in Southeast Vietnam. Thanks to the palm-fringed stretch of sand, pristine beaches, verdant mountains, and steady wind conditions, Mui Ne is regarded as the Mecca for adventure lovers.
This town is an ideal destination for kite surfing, windsurfing, diving, sailing, and many other water sports. In recent years, Mui Ne has become a popular weekend getaway thanks to a busy strip of mid-range beach resort, deluxe hotels, fancy restaurants, and shopping centers.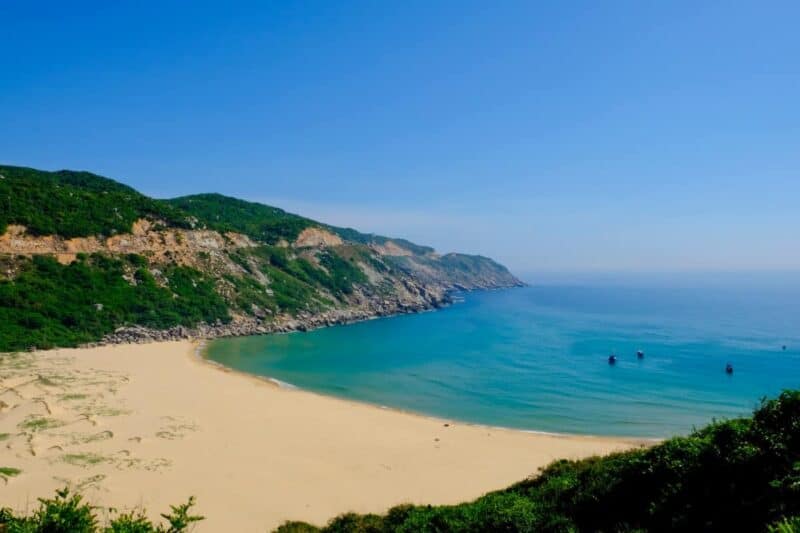 What to do in Mui Ne
Sandboarding in the white dune and red dunes
Visit Po Shanu Cham Towers
Wish for luck and health in Hoi Tinh Pagoda and Phuoc Thien Pagoda
Experience many types of watersports including sailing, surfing, kite flying, diving, and swimming
Get sweet sunburn while relaxing on the beach
Discover the tiny fishing villages nestled between the turquoise water
Best time to visit Mui Ne
You should travel to Mui Ne from November to March. During these months, the temperature is cooler. Besides, the sky is clear and sunny, the wind is strong, which offers an ideal condition for adventure activities
Need a place to stay in Mui Ne?
4. Fansipan Summit, Vietnam
Being 3143 meters high, the Fansipan summit is often called the roof of Vietnam and Indochina. It is extremely suitable for those wishing to be adventurous, to explore and experience the spectacular natural landscapes.
The Fansipan peak can be found in Hoang Lien Son which is one of the most important national parks in Vietnam. This park comprises of picturesque landscapes, several temperate forests and sub-tropical forest with over 2000 plants and more than 300 species of mammals, reptiles, amphibians, and insects.
It takes at least 3 days to conquer the peak and return. It doesn't require you technical hiking and climbing skills but you must have strength and endurance as you climb n a steep and fairly strenuous hike. You also can reach the summit by cable car which departs from Muong Hoa Village and takes you about 20 minutes.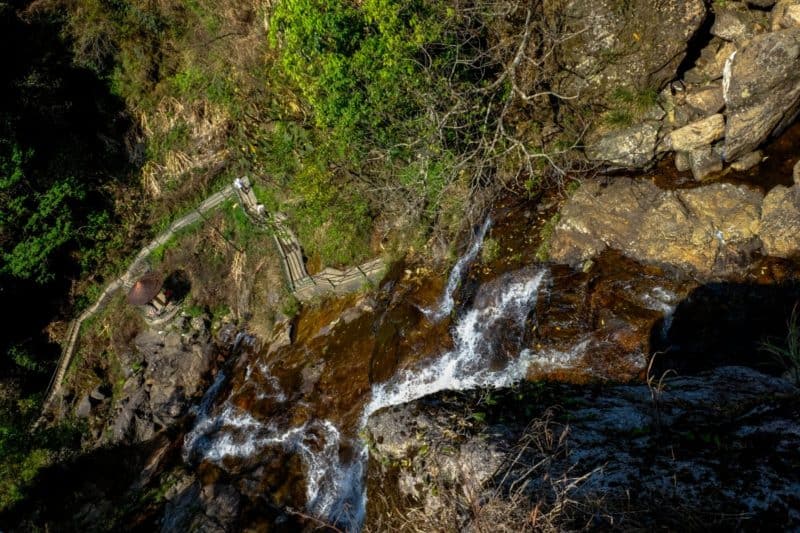 What to do in Fansipan Summit
Trekking in the mountains
Take the cable car
Take a selfie with the summit monument
Explore Muong Hoa village
Best time to visit
The most suitable time to conquer Fansipan is from September to December when there is dry weather and the temperature is a bit cold.
Need a place to stay in Muong Hoa?
5. Ba Be National Park, Vietnam
With limestone peaks, breathtaking waterfalls, and green forests that harbor a surprising variety of wildlife, Ba Be National Park is favored as one of the best retreats from daily life.
Boating on the lake, you can feel the harmony of the water and the sky, but more interestingly feel the ease of soul. In the central part of this park is Ba Be Lake, Vietnam's largest natural lake. This vast body of water is 5 miles long (8 km), so Ba Be Lake plays an important part in the natural preservation of North Vietnam.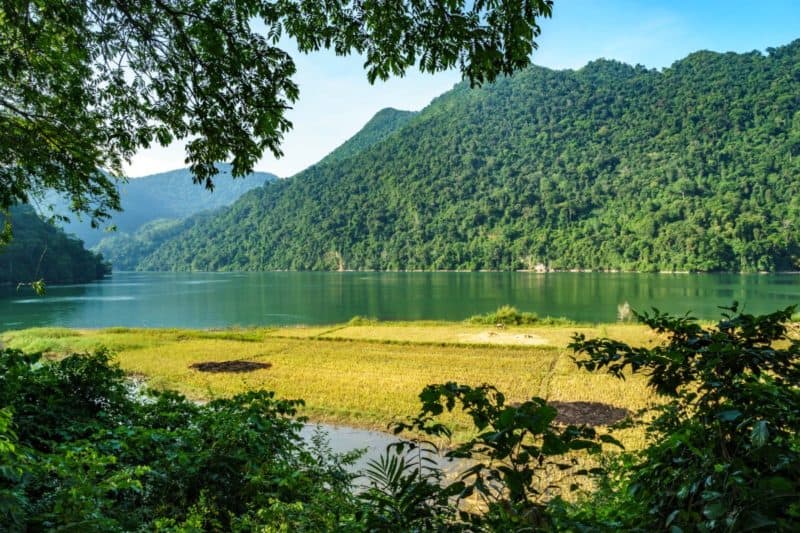 What to do in Bac Kan & Ba Be Lake
Trek through the dense, scenic, and bio diversified jungle
Go kayaking down the river
Discover the beautiful caves including Hua Ma Cave, Puong Cave, and Lo Mo Cave
Immerse yourself in the fresh, calm water of Ba Be Lake
Dine with the locals
Visit An Ma Temple
Best time to visit
From February to April is the best time for travelers who want to go trekking in Bac Kan. During these months, Bac Kan has comfortable weather and a dry atmosphere.
Need a place to stay in Bac Kan & Ba Be Lake?
6. Sihanoukville, Cambodia
Located about 228 kilometers from Phnom Penh, Sihanoukville is a premium coastal city of Southwest Cambodia. Mother nature favors Sihanoukville with sunny beaches, tropical islands, and many beautiful waterfalls resting amidst the mangrove jungles.
The best way to travel here is taking a flight to Sihanoukville International Airport, which often takes you 40 – 50 minutes from Phnom Penh and Siem Reap Airport. Visiting Sihanoukville, let's chill you down at the shores of palm-fringed, less populated beaches.
Spend a day for strolling around any of six pristine beaches here, immersing yourself in the cool waters, and enjoy water sports like diving, snorkeling, and kayaking. Then, explore the Ream National Park which is one of the most beautiful retreat places for nature lovers.
Thanks to a vast number of wild animals, about 155 species of birds, and lush-greenery mangrove forests, Ream National Park is an ideal destination for taking a safari or voyage.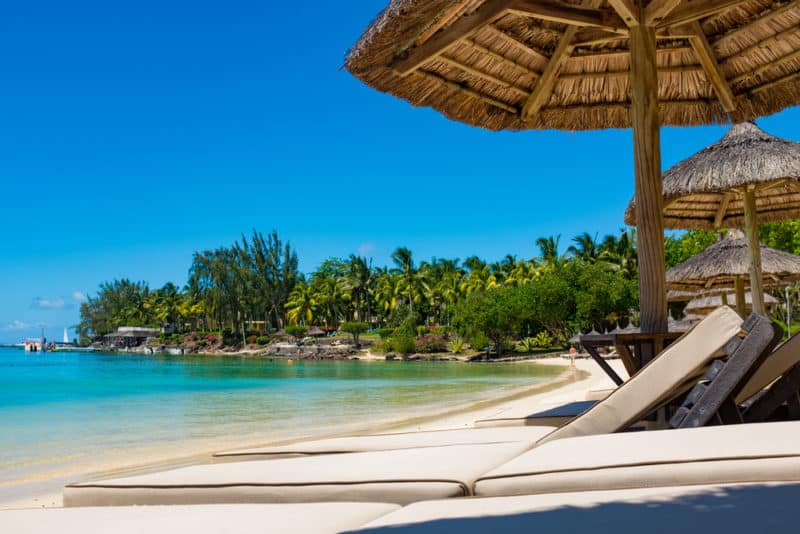 What to do in Sihanoukville
Visit Koh Rong Pier and Jewelorchid Zoo
Snorkeling to discover the coral reef in Koh Rong Salem
Go swimming in Koh Rong Island
Discover some Inhabitat islands and unspoiled beaches in Preah Sihanouk (Kampong Som)
Enjoy tasty seafood
Visit Ream National Park
Best time to visit
The best time to visit Sihanoukville is the dry season which runs from November to April.
Need a place to stay in Sihanoukville?
Want more information about this destination?
Sign up below