Weekends are a great time to get into relaxation and recreation. We think that a truly great weekend offers a chance to to do something new. For instance, why not use it as a reason to get away from your normal end-of-week routine and see something new?
If you're fed up with your home town's usual vibes, then here are five ideas to enjoy a unique weekend getaway in Europe.
1. Belfast, Northern Ireland
Northern Ireland's capital city is not just a historical and cultural destination. Spending a weekend in this city can become a magical experience too.
As a rising cosmopolitan city in Europe, there is so much to see and discover as you walk, run, bike, or even drive around the city and its nearby resorts, fields, and outskirts. It is also highly recommended to check in to hotels and apartments around the area for easy access to all malls, pubs, parks, and attractions throughout the city.
Short tours are available for any weekenders. They offer a 48-hour ticket to almost any museum, cultural and heritage centers, and amusements that are found inside the city. The tours themselves feature a 90-minute ride-on ride-off tour to all the sightseeing spots in the city.
They're also best recommended for those who are in Belfast for the very first time. For those who wish to travel to Belfast on the weekend ala carte, there are a lot of things to see and places to visit in the city, especially within the Cathedral and Queen's Quarter.
Best places to visit in Belfast. With limited time, you need a shortlist of what to see. These are traveler favorites:
Belfast Botanic Garden
Ulster Folk and Transport Museum
Titanic Memorial Museum
St. George's Market
Belfast City Hall
Where to eat and stay in Belfast. Here's a shortlist of some recommended restaurants and accommodations for your weekend getaway:
Edo
Muriel's Café Bar
Tara Lodge
Bullitt
2. Santorini, Greece
Considered the blue-white paradise on a volcanic island in the Aegean Sea, Santorini makes for an amazing weekend getaway for those who wanted to enjoy the sparkling blue Mediterranean Sea while staying in one of its whitewashed, seaside villas.
Although they are slightly more expensive than the rest of the Greek Islands, if you want to stay in a villa in Santorini, you shall be rewarded every time you look out the window at the stunning views.
This destination is popular among European tourists and American personalities who embraced the emanating beauty of the island and the relaxation it brings from the warmth of the people and its semi-dormant volcanic activity.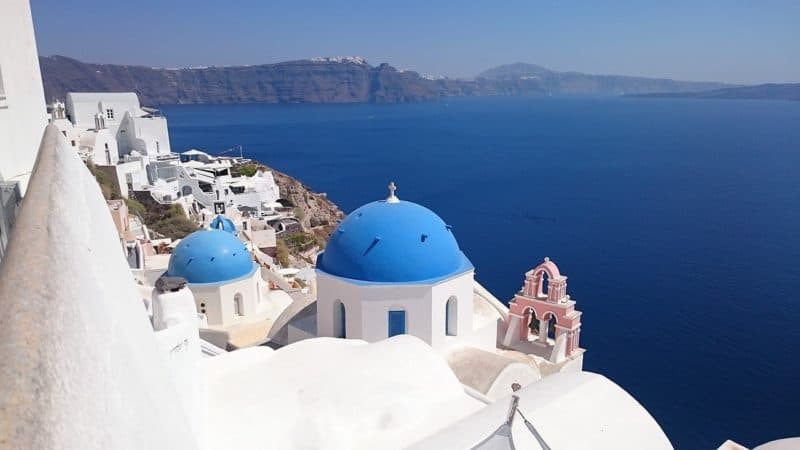 Most organized tours on the island are more like island hopping and yacht tours. However, Santorini is best traveled without anything in mind. It will let you discover what this Greek island really has to offer. You'll also find yourself wanting to stay longer, once you receive its relaxing aura and calming environment.
The sunset here in Santorini is what makes weekenders feel at peace after five days of work bustles. Enjoying the views from a boat brings the colors alive in a different perspective. Enjoy the views from a boat at sunset while sipping Ouzo or a nice Greek wine is the perfect ending to a day.
Recommended places and things to do when visiting Santorini are as follows:
Walking at the Nea Kameni volcano crater
Palia Kameni Island volcanic spa
Museum of Prehistoric Thira
Relaxing under straw parasols at Kamari Beach
Tasting local wines on a guided tour
Quad biking across the island
Where to eat and stay in Santorini. Meanwhile, you can choose to dine and stay in one of the following locations:
Kapari Wine Restaurant
Stoa Santorini Restaurant
Andronis Boutique Hotel
Pezoules Villa
3. Bruges, Belgium
This historic merchant city in Belgium is not just plainly cultural, many have attested to its romantic aura which makes Bruges one of the best weekend destinations for couples or married weekenders.
Nonetheless, this city is picturesque but has a lot of surprises in store for everyone who visits here. Adding the network of canals that flows water and boat tours around this culturally rich Belgian city, it is very appropriate that this city is aptly named the "Venice of the North".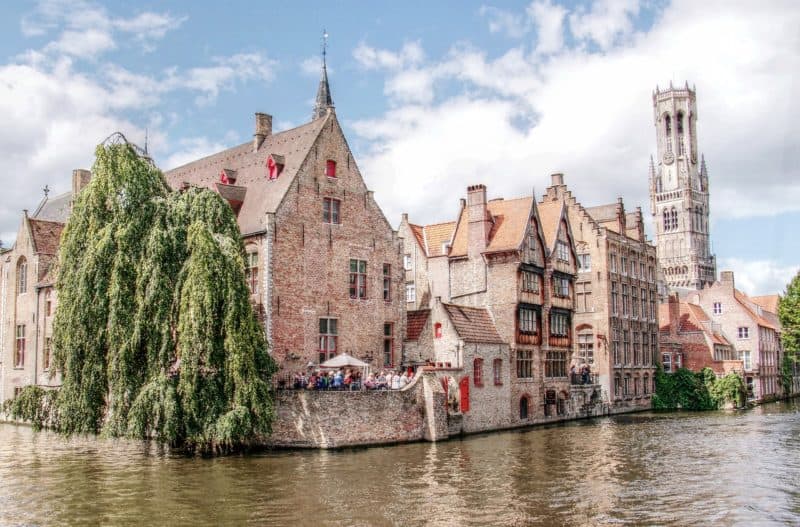 The city's cultural value makes everyone think it's too lavish for any backpacker or regular getaways. However, there are nooks that offer any backpacking tourists and short-time travelers a classy weekend trip on a budget.
As a Euro-trip stopover, you would simply want to explore Bruges historical richness over a can of Belgian beer and spend some time in the park while moving on to the next train station or decide to stay a little longer to explore this medieval city that has turned itself into a vibrant metropolis.
Recommended places to visit in Bruges include the following:
Minnimeer (Lake of Love) and Park
Basilica of the Holy Blood
Canal tours around the city
Brugse Ommeland Castle tours
Where to eat and stay in Bruges. You can also choose to dine and stay in the following:
St. Christopher's Inn
Snuffel Hostel
De Halva Maan
Find a place to stay in Bruges
4. Highlands in Scotland
Not anyone can expect that the wilderness in this beautiful country in the United Kingdom is considered the playground and weekend getaway of the royals and prominent individuals. Just like to Royals, you can also relaxed into a luxury Scottish tour around some of the most beautiful parts, which this country has in abundance.
Scotland is indeed a beautiful country with its epic lochs, beautiful landscapes and marvelously snow-capped mountains. The highlands can look like something out of a fairy tale and is therefore a great escape for those looking for a change of scenery.
Scotland's meadows are an ideal place for you to practice horseback riding, since there are so many places where you will be able to explore the countryside on horseback.
If you simply want to enjoy the beautiful Scottish scenery while savoring a cup of coffee or traditional tea, check in at one of the beautiful castles, mansions, and estates. There is always something on offer.
What to do in Scotland for a weekend. Scotland has so many most-loved places that it's hard to choose. Here are a few ideas:
Edinburgh Castle and Edinburgh Town
Ben Nevis trek and hiking trails
Loch Lomond
Horseback ride or hike around the Isle of Skye
In some places, you might also be greeted with a bagpipe march when you wake up in the morning. Many influential people have visited this country and totally loved it.
Where to stay in Scotland. If you're looking for a place to stay, here are some recommendations:
Savoy Park Hotel
Sunbank House Hotel
Number One at The Balmoral
Aizle
5. Seville, Spain
While some people are happiest to enjoy some moments of peace during the weekends, those who are itching to party all night somewhere else may want to check this beautiful Spanish city.
Seville has all that party-goers might want – old and new bars, DJs playing their mixes inside an old citadel, and even a good nightcap. There are some quaint wine and beer bars located around the city square (or "plaza" in Spanish terms).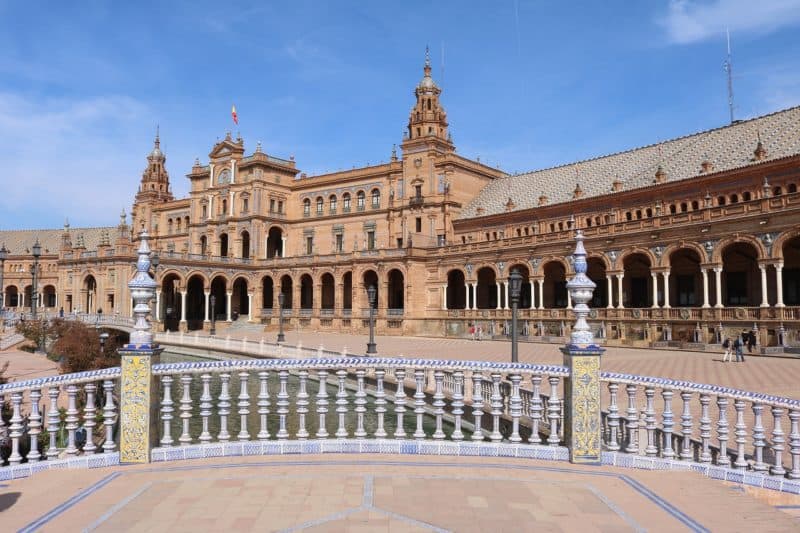 Actually, Seville has something for everyone. This rich Andalusian city is home to a lot of architectural wonders, parks, UNESCO World Heritage sites, and more. The cultural value this city offers to its visitors is so off-the-charts that visitors always end up wanting to stay longer.
You can take part in the following activities in the city:
Where to eat and stay in Seville. You can choose to stay or dine in one of the following:
Hotel Alfonso XIII
Hub Hostel Seville
Oasis Backpacker's Place
Toby Eats The World
Espacio Eslava
Cocome
Want to read this later? Save it to Pinterest!