A few years ago, we took an epic 6-week trip through 7 countries in Europe. We had a massive itinerary, beginning with a 10-day road trip around Ireland and a week-long Rhine River cruise soon after.
But no adventure should be "go-go-go" all the time. You need some down time to savor your experiences. Our cruise began in Basel, so we flew to Switzerland four days ahead of time relaxing.
Okay, I'll confess that we had no intention to "relax," because we suffer from FOMO, "fear of missing out." We planned a one day Zurich itinerary, because we want to get the most out of visiting a new place. At the very least, it's fun to see a few things and experience a bit of the local culture and food.
One day in Zurich
Rhine River cruises begin in Basel, and the nearest international airport is in Zurich, which happens to be the largest city in Switzerland. We flew in a few days before our cruise because, well, delays can happen … and um, we forgot we could get travel insurance for things like that.
Aside from spending a day in Zurich walking around and a day trip to Mount Pilatus and Lucerne, it was kind of nice having nothing much planned besides Swiss chocolates, cheeses, and Alpine ambiance. That's enough to keep people like us entertained.
Even with travel insurance, it makes no sense to us why people will fly in the day of a cruise, board the ship, and set sail right away. Talk about missed opportunities! Why don't they arrive a few days early? I mean, isn't that why people take river cruises, because they want to see Europe?
Located in northeast Switzerland, Zurich can proudly boast of over 50 museums, more than 100 art galleries, and the most flamboyant and lively nightlife anywhere in the country. It's one of Switzerland's best tourist destinations.
Swiss sticker shock
There's a huge price difference when using the Swiss Franc vs. the Euro and US Dollar. Switzerland's franc has more purchasing power and thus a stronger currency in the region—which in "financialese" means that everyday things are more costly here.
It's a good thing that there are a lot of free things to do in Zurich.
ⓘ BUDGET TIP: The city's Zurich Card offers unlimited public transport and free admission to most museums. BUY IT HERE.
What to see in Zurich
We began our day in Zurich with a scenic round-trip tram ride through town because it is a an overview of the city. What we saw gave us enough reason to explore the town center on foot.
Zurich is a pretty city, well kept and clean. Church spires tower above the rooftops, and a clear river flows through the middle of the town, and snow-capped mountains form a dramatic backdrop to a massive Alpine lake.
ⓘ TIP: If you have limited time, consider a guided tour. This 5-hour Zürich City Tour includes a 1-hour cruise AND chocolates!
We're suckers for medieval town centers, so we pretty much stuck to the Altstadt (Old Town). However, if you're only in Zurich for a day, you probably want to see a bit more.
So okay, we'll help you along. Here are some of the best things to see and do in Zurich.
Altstadt
Zürich was founded by the Romans over 2000 years ago. While a few Roman ruins still exist, the city is centered around Its medieval Old Town, known in German as the Altstadt.
The Altstadt spans both sides of the river Limmat as well as the hip Zurich West district.
Swiss churches
Zürich's most iconic churches are in the Altstadt: Fraumünster, St. Peter's, and Grossmünster.
Fraumunster – The Church of Our Lady dates back to the 13th century and has a 9th-century crypt below the church. It has remarkable frescoes as well as five magnificent stained glass windows that were created by glass artist Marc Chagall.
St Peterskirche – 9th-century St Peter's Church has a huge clock face on its tower. The tower was used as a fire watch tower until the middle ages. If you visit, don't miss the baroque nave and medieval murals.
Grossmünster – Although archaeologists have found a Roman burial ground onsite, the current Protestant "great minster" is a 12th-century, Romanesque church. According to legend, Charlemagne founded the Grossmünster after his horse fell to its knees over the tombs of Zürich's patron saints. Thanks to its unmistakable twin towers, it is one of Zurich's most famous landmarks.
ⓘ TIP: If your knees can handle the 187 steps to the tower, you'll get spectacular views over the city from there. Cost: 4 CHF.

Limmat River
River Limmat bisects the city and the old town and offers fantastic views of the city. The riverfront also offers some wonderful al fresco dining options.
Also, if you'd like a new perspective on Zurich, take one of the cruises up the river. We regret not doing that, as we really enjoyed our Amsterdam Canal Cruise and the one on the Singapore River.
National Museum of Zurich
The Swiss National Museum focuses on Switzerland's multicultural history: handicrafts, everyday objects, sculptures, and paintings.
The museum is open Tuesday to Sunday from 10 am to 5 pm (7 pm on Thursdays). It costs 10 CHF to enter, but the "Simply Zurich" exhibit on the first floor is free of charge.
Bahnhofstrasse
Zurich's largest shopping street is Bahnhofstrasse. This is where you'll find the most luxurious brands and upmarket boutiques, including Chanel, Cartier, and Louis Vuitton. Expect to see lots of well-dressed people here.
Lindenhof
If you like city views, you'll want to visit Lindenhof Hill. A 4th-century Roman fort once stood here, but today it is a beautiful park that makes a great place to rest your feet and switch off.
Zurich Opera House
Built in 1891, the Zurich Opera House is a grand building right next to Lake Zurich. With limited time, you may not have time to take in a performance, but you may wish to take a few photos from the outside.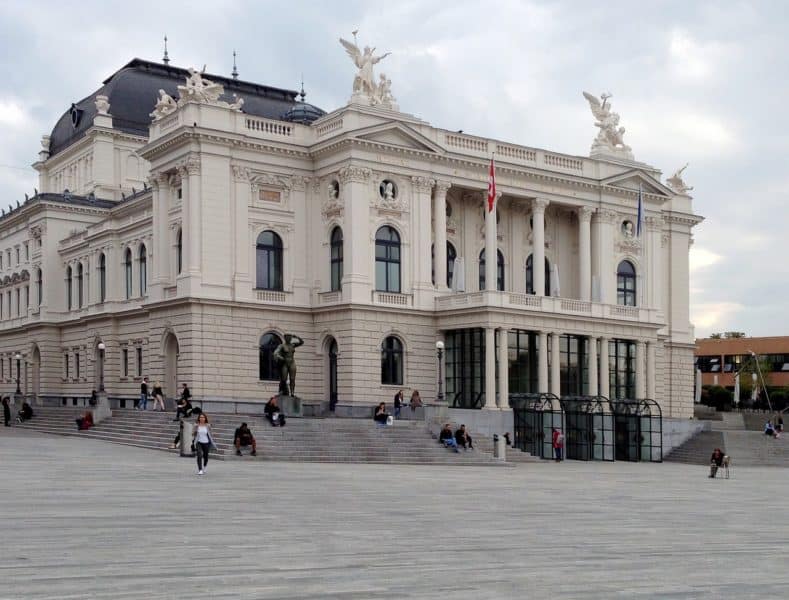 Walk along Lake Zurich
Our second favorite area was along Lake Zurich and the walkways along the lakefront. The mountain lake just added to the feel of what you would expect Switzerland to be.
Beyond the lake, the magnificent Swiss Alps rise into view. By the numerous boats that we saw in several marinas it was easy to see that the locals love their lake as well.
ⓘ TIP: Capture that perfect selfie? Why not memorialize it with an aluminium print? BUY IT HERE.
We thought it was gorgeous, but the lakefront turned out to be our second favorite place.…
Swiss chocolate is a Zurich attraction too
One of the highlights from our time there was spending 12 Euros in a ridiculously large chocolate shop that we -erm- not-so-accidentally wandered into. Sprungli has been around for over 170 years and is known worldwide for its excellent Swiss chocolate and confectionery.
The many colorful choices and flavor selections on offer would confound anyone. It was a daunting task to select which ones to take with us. This was the biggest challenge of visiting Zurich: not walking out with one of everything.
We purchased six chocolates with luscious fillings like "champagne truffle" and "Grand Marnier," and shared each one 50/50. Every decadent bite was exquisite.
Swiss fondue … in Switzerland!
When dinnertime rolled around, we went in search of one of Switzerland's iconic dishes: fondue.
Normally it's eaten in the colder months, but tourist restaurants serve it year-round. Dan had long wanted to enjoy fondue in its home country so, Who care's if it's August? We did it anyway.
Besides, it's hard to resist dipping crusty cubes of freshly-baked bread into a big pot of fragrant, bubbling cheese.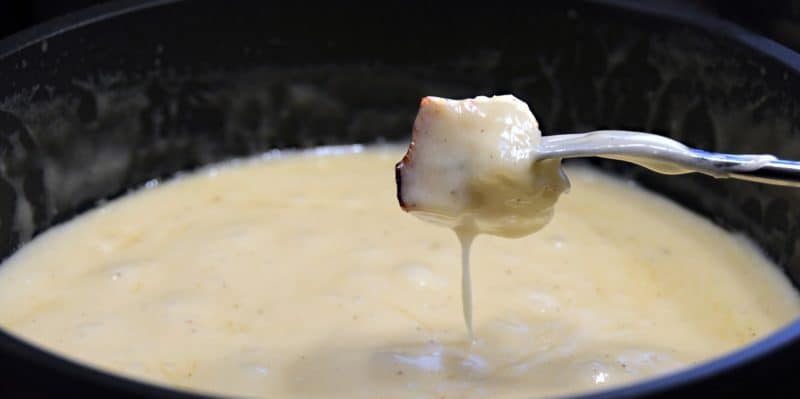 A musical evening in Zurich
Finally, we wandered to the lake's edge where an impromptu music festival was going on. Nothing more on the agenda but listen to bands and watch the various musicians sharing their talents with the crowds.
What a wonderful environment! The sun was setting, the full moon was rising and it was the end to a perfect day in Zurich.
Want to read this later? Save it to Pinterest!