The Granville Hotel in Waterford, Ireland is the best-known hotel in the city, and probably the classiest. It's also one of the country's oldest, dating from the early 1700s. Couple that with its fabulously central location, overlooking the marina and within walking distance to everything, and it's no wonder that so many people stay there.
But wait … is that an American flag above the entryway?
Why Granville Hotel flies an American flag
Although the Granville Hotel was built as a private residence, the building has quite a varied history, not the least of which is that it was once the headquarters of Ireland's first public transportation system. As a hotel, it became well-known because of the many illustrious people who have been here, such as Charles Stewart Parnell, Daniel O'Connell and Lord Frederick Roberts.
Be that as it may, the Granville is best known as the birthplace of Thomas Francis Meagher, who designed the "Irish Tricolour" (Ireland's green, white and orange flag) and first flew it in Waterford City.
Thomas Francis Meagher is known for more than a flag, though. His name may not sound familiar to Americans but he also played an important part in U.S. history. He was a decorated hero of the American Civil War, pall bearer at Abraham Lincoln's funeral, and ultimately became the Governor of Montana.
And that's why they fly an American flag front-and-center outside the hotel.
Our room at the Granville Hotel
As guests of the national tourist bureau, it was easy to see why they wanted us to stay at this hotel: Granville Hotel won the coveted Georgina Campbell Hotel of the Year for 2013. In Ireland, that is a Very. Big. Deal. It was also a big deal for us. Unlike the cold sterility of the chain hotels we're used to, it had character and warmth.
I found our room enchanting and comfy, especially the cozy sitting area and bed nook. We were also pretty impressed with the size of our bathroom. Plenty of space for two to move around in.
Tea kettles are as ubiquitous in Ireland as coffeemakers are in the U.S., and I daresay they are better equipped, as long as you like tea and consider instant coffee drinkable. Either way, the setup came complete with real cream and biscuits (cookies). Not being in the mood to join me for a cuppa, Dan immediately opened the drapes to discover that we had a balcony that overlooked the quay and the town's ancient clock tower.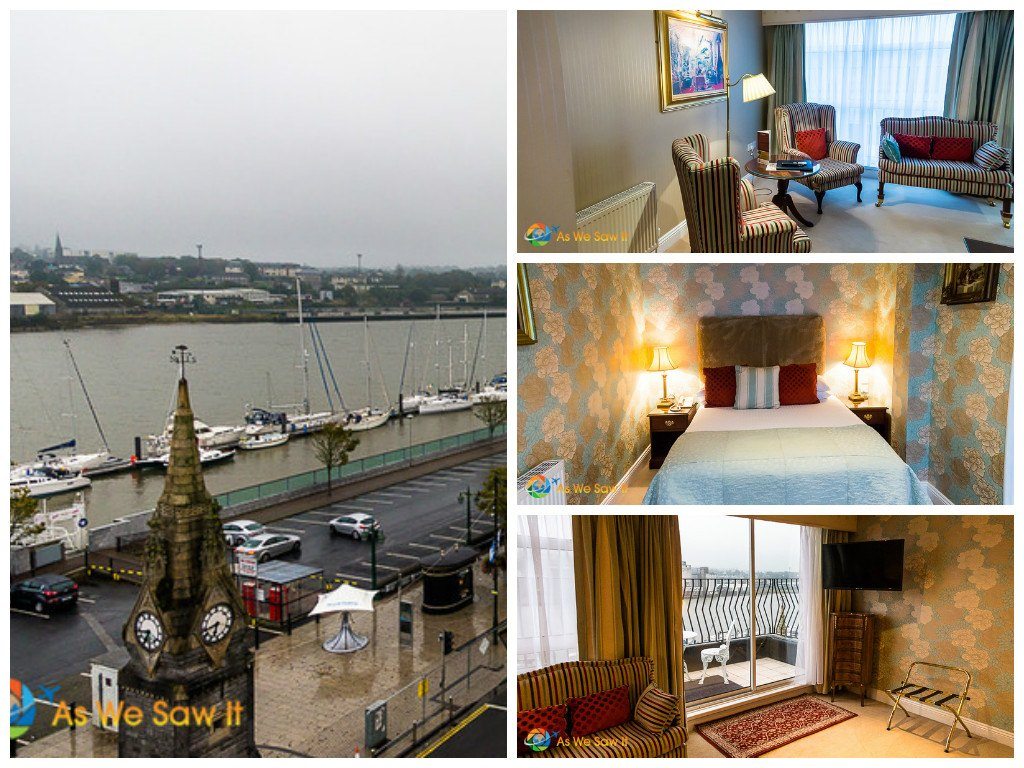 I also got a kick out of the personalized welcome note and two jars of their very own strawberry preserves (which airport security happily removed from my possession later. But we won't go there. It makes me sad.)

Dining at the Granville Hotel
We dined at the hotel's award winning Bianconi Restaurant that evening, courtesy of our hosts. I sneaked a peek at the menu on my way to the "loo" and the prices were excellent, which surprised me because it's a white linen type of place. Even better, the ingredients are locally sourced.
Anyway, after a caprese salad starter, Dan chose to enjoy a medium-rare beef filet served with a crushed pepper-Irish whiskey sauce while I had a creamy wild mushroom risotto with parmesan shavings.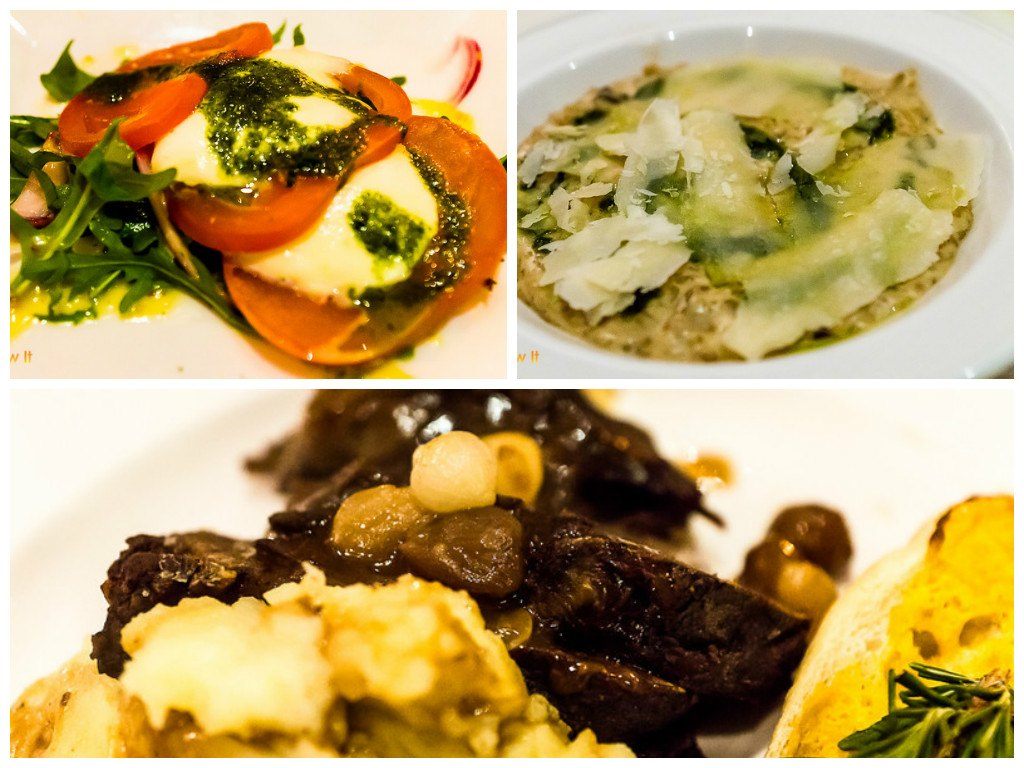 After dessert, our hosts had a treat in store: Irish coffee, complete with lessons in how to make it (read our "Irish Coffee" story here). This was my only disappointment at the hotel, as they made it with instant coffee instead of fresh-brewed. What high class hotel serves instant coffee?! The nerve!
Dan says I really shouldn't blame the hotel; for the most part, that's the way the Irish enjoy their coffee and besides, I have admitted to being a coffee snob. Well okay, he had me there. Blame it on having lived in Bali, Panama and Ecuador, spoiling myself with freshly roasted local brews.
Perhaps I should have asked for a serving of Irish, hold the coffee ….
An Irish breakfast, Granville style
Speaking of food, let me tell you about breakfast the next morning. How about a poached egg delicately perched atop a Waterford blaa and then covered in silky hollandaise sauce? Yep, Dan ordered a vegetarian eggs Benedict. Delicious.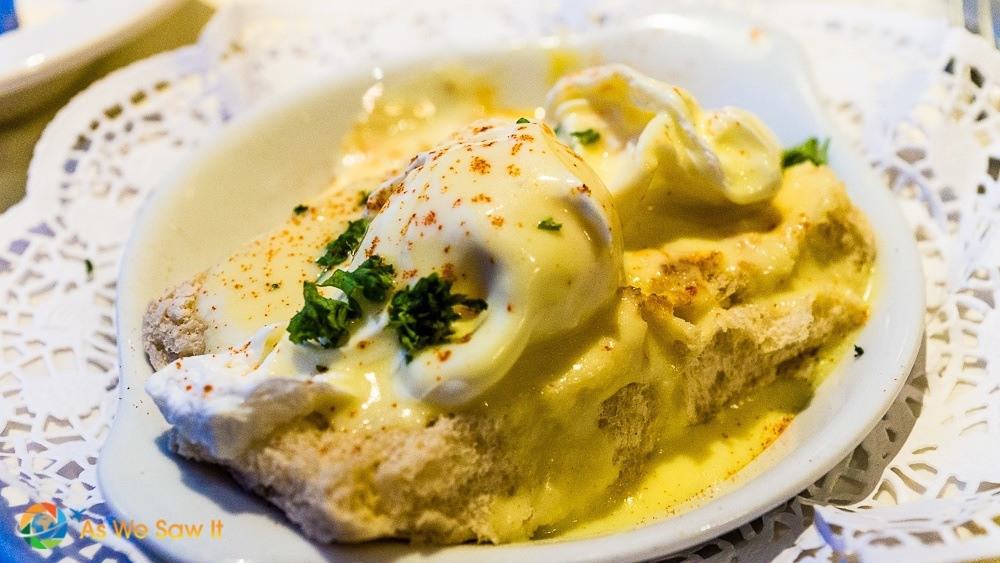 Granville doesn't ignore those of us who avoid wheat, however. Our waitress had a suggestion that I couldn't resist: an excellent Irish oatmeal produced by Flahavans (the nation's favorite, produced locally). The breakfast station offered a variety of accompaniments. You have your choice of Baileys Irish Cream, whiskey, or local honey. Completely out of character for me, I had two helpings of the porridge, each with a generous pour of Bailey's plus a touch of whiskey to kick it up a notch.
You must try it, too. Ahh-mazing.
So that's about it for our overnight stay in Waterford. Thanks to both Fáilte Ireland and the Granville Hotel for sponsoring our stay and not expecting to say nice things we didn't feel. I'm not good at that. As you may have noticed by my disdain for instant coffee, I don't hold back when something isn't to my liking.
Plan your Waterford trip with these resources
Read more about this part of Ireland