Kevin Dundon's name may not be well-known to most Americans, but it is to the Irish. A popular TV and radio personality, Kevin Dundon is an Irish version of celebrity masterchef Bobby Flay. He's one of those creative masters of the kitchen who can blend the familiar with the new and come up with something truly sublime for the table.
If his name isn't familiar to you yet, it may be soon. He owns Raglan Road, an Irish pub and restaurant in Orlando's Disney Springs and is marketing his own line of kitchenware in America, Kevin Dundon Home.
I say all this because he and his wife Catherine have converted an 1830s Georgian Manor House into Dunbrody Country House Hotel, a luxury 1830s country house in Arthurstown, Ireland. The hotel boasts elegant rooms, acclaimed dining, a cookery school and spa.
It's a 30-minute drive from Waterford and an hour from Kilkenny … and while we were in County Wexford we had the good pleasure of staying there.
Hook Peninsula is in Southeast Ireland, just east of Waterford. We cannot recommend Dunbrody House highly enough if you are staying in the Waterford area. It may seem too far to drive from Waterford (45 minutes) but it is totally worth it. Plus, you will enjoy a lot of beautiful scenery along the way.
Inside Dunbrody House
The dramatic bright blue of the front door and trim was an unexpected pop of color. It hinted that perhaps we would find other surprises within.
As we stepped into the lobby, we immediately felt at home. Yes, it was elegant, but in a relaxed sort of way. Beneath our feet were the original 1830s Irish oak floors and above us was a high ceiling holding a twinkling chandelier. And then I saw their logo: a goose with a bib. I thought, this may be luxury but it is definitely not a snooty place.
I confess to having a fondness for those traditional Laura Ashley-style patterns and fabrics, which is probably why Dunbrody is my favorite of all the hotels we stayed at in Ireland. I absolutely adored the decor. They somehow managed to find a way to blend elegance and informality into something that I'd like to call Irish country chic.
As nice as it is, Dunbrody House doesn't have the snob factor that you might get in other spa hotels. It's luxe, yes, but with a cozy, make-yourself-at-home ambiance that made me want to indulge myself by curling up in front of one of their roaring fireplaces with a good book. (Thanks to the Irish climate it was far too dreary for my taste to go for a walk through their acres of woodlands.)
I actually got the feeling that Catherine and her staff wouldn't have liked anything better than to see me kick off my shoes and warm my toes near a turf fire. They were like that.
The room we stayed in
Climbing the stairs to the top floor, the first thing that struck me when we opened the door to our room was how large it was. Dan immediately opened the sliding door and discovered that we had a little balcony overlooking the back garden.
Desk, table with chairs, dressing area, and even a seating area with a view … all very nice, but most impressive was that they had splurged on a nice king-sized mattress for the bed. That may not sound like such a big deal to an American, but most European hotels just have a couple of single beds pushed together. I hate that because somehow both Dan and I seem to always manage to roll over and find ourselves in the gap in the middle of the night.
A massive bed, plus fine quality linens! We heaved a collective sigh. We could look forward to a sound sleep.
Kevin wasn't there during our stay (he was in Orlando) so he and Catherine had "apologized" by leaving an autographed copy of his newest book, Modern Irish Food, as a gift in our room. Dan uses cooking as his therapy and this was probably the best thing we could have received.
As you probably know, we travel with only one small carryon each, so there's very little room for extras. Yet this cookbook was well written and well worth the space and weight. It rode along with us for the next 5 weeks until we made it home to Ecuador.
Tea in the bar
Back downstairs, we were invited into the bar to try the hotel's special "Mrs. Tea" and canapés. The delicious tea was made up of jasmine tea infused with elderflower cordial and Hendrix gin, drizzled with lemon juice. Instead of the gin flavor I'd expected it had the subtle taste of tea and flowers. Very nice. If I ever find elderflower cordial I am definitely making that.
I expected scones or biscuits for tea but instead we were served cute little puff-pastry rounds, each with a dollop of creamy, herbed goat cheese. Those little morsels were so scrumptious I could have devoured the entire delicious tray.
Dan and I wandered through the public areas and made sure to visit their very well-stocked wine rooms, one refrigerated, one not.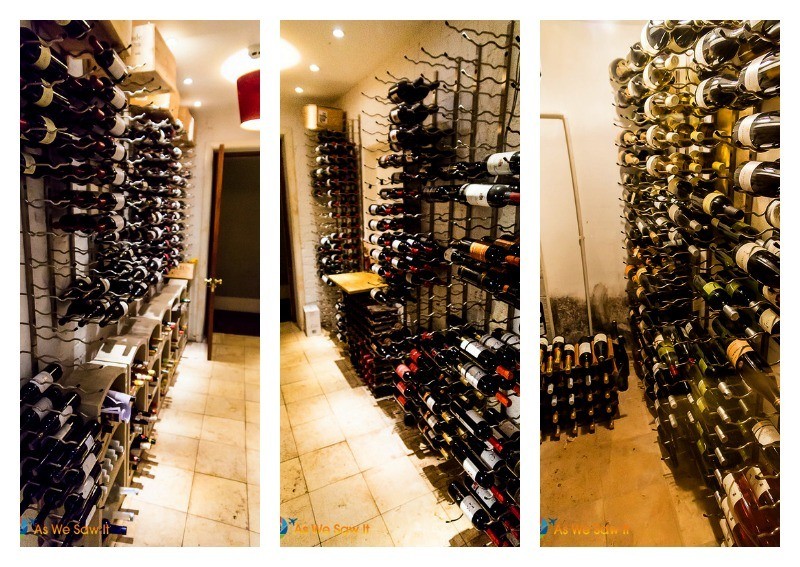 and finally ended up in the spotless kitchen chatting up the friendly chefs.
Recipe for the canapés
According to the chefs, those canapés they had prepared are quite easy to make if you have access to puff pastry (many grocery stores carry it).
Here's how to make the Dunbrody canapés:
Defrost the puff pastry
Cut out small rounds (a shot glass is the right size) and lay them out on a cookie sheet
Bake them on a sheet until they have risen and the top is a crispy, golden brown. (Keep an eye on it though, because it only takes a very few short minutes.)
Let cool. Separate the top and bottom and fill each one with whatever strikes your fancy, such as herbed goat cheese, tuna salad, or a smoked salmon-cream cheese mixture. Alternatively, you might prefer a fruit-and-whipped-cream concoction or double cream with preserves.
This is so easy, it's almost a non-recipe.
Foodies at work: Dining at Dunbrody Country House Hotel
Fortunately (or unfortunately, as I could have snacked on those canapés all evening) Catherine Dundon interrupted our tea in order to invite us to the Harvest Room next door for dinner. This was what we had been most looking forward to, as the hotel has won awards for their restaurant. With a celebrity chef as one of the owners is it any wonder? Food is a bigger deal than normal here.
There, a roaring fireplace warmed the autumn chill and a thoughtfully set table awaited. It was such a welcoming sight and we happily sat to continue our chats.
Knowing that foodies were present, Kevin and the chefs had planned a special menu to show off their locally-sourced ingredients. Actually, most of the produce they use in their kitchen is grown in Dunbrody House's own gardens.
Before I describe the menu let me apologize. It was the first time I'd ever tried a white burgundy wine and I was so impressed that I didn't think about anything more than enjoying it. I could kick myself for not writing down its name.
What else is at Dunbrody Country House Hotel
Besides a hotel and restaurant, the property has a cookery school, with courses that cover everything from the basics to a dinner party for 6 to a 5-day Masterclass at €695 per person. All of the courses have been personally designed by Kevin Dundon. We were offered a chance to join a course on how to cut up a pig and what the different cuts were, but as you may know we don't consider pigs to be acceptable food. So we declined.
Thoughtful as ever, Catherine came up with a fabulous alternative. While our traveling companions got their hands bloody, we enjoyed an informative and interesting private tour of the grounds, orchards and organic gardens from the master gardener. We definitely got the better deal.
Nearby, they have converted a barn into a coffeehouse-pub, and another original stone building into an indulgent spa with all the modern conveniences and luxuries, which I'd really like to experience. (Maybe a couple's massage?)
We'd like to thank Fáilte Ireland and Dunbrody Country House Hotel and Restaurant for hosting our stay and allowing us to give our honest opinions.
Inspired?