If you're like most people, you enjoy traveling with your dog. They provide a sense of adventure and excitement that can be hard to find elsewhere. Unfortunately, unlike taking your dog on a plane, road tripping with a dog takes a lot of planning and forethought.
In this post, we're going to share 27 dog road trip tips and hacks that will make your trip easier and more enjoyable for both you and your dog. So, whether you're just starting to plan your journey or you're already on the road, read on for some helpful advice!
How do I take my dog on a road trip? Tips and travel hacks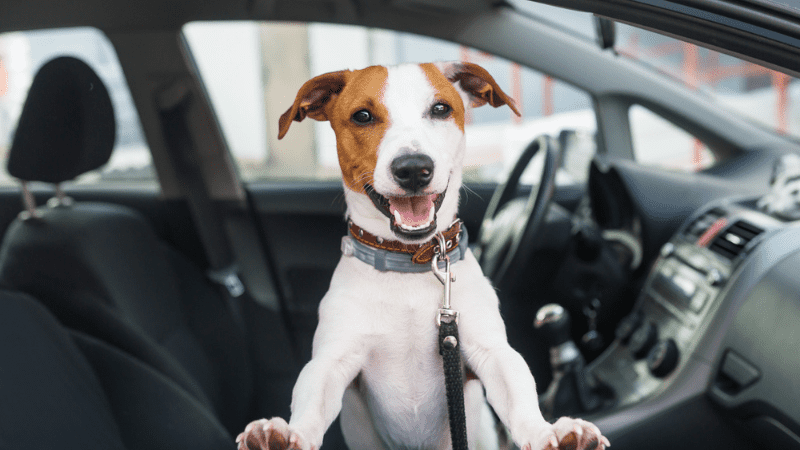 Before setting out on a trip with your dog, you'll need to collect all the important documents, make the necessary appointments, and get your dog accustomed to sitting in a car. And that's just for starters.
Let's have a look at some of the best road trip tips for dog owners. They will ensure both of you have a fun and memorable time on the road to your final destination.
ⓘ TIP: To keep your dog comfortable and safe, you can find a lot of excellent pet safety gear on Amazon.
Planning and preparation: Important documents you'll need
No matter whether we're going on an epic road trip or a weekend getaway, we all want a hassle-free trip. There are dozens of things to prepare before traveling, and that goes for a dog as well.
1. Be sure to carry all the valid documentation that proves you keep your pet healthy. Ask your veterinarian for copies of vaccine and health records, medication prescriptions, and healthcare certificates.
2. Before you book a hotel room, call and ask about their animal policy.
How to get your dog used to riding in a car
3. Some dogs love long car rides, while others can't even handle short trips. If you want to travel long distance with your dog and need to get your pup used to car travel, try taking him for short rides around town first and gradually increasing the distance. Start with a few miles, take frequent breaks, and see how it goes.
4. If your dog tends to get carsick, give him a window seat. Dogs love being able to look outside and feel the wind on their face.
Dog road trip essentials
Different dogs have different requirements. You must make a list of all the important dog supplies, food items, and other essential items you may need on the trip. (A local pet store can help with that, or you can buy everything on Amazon.)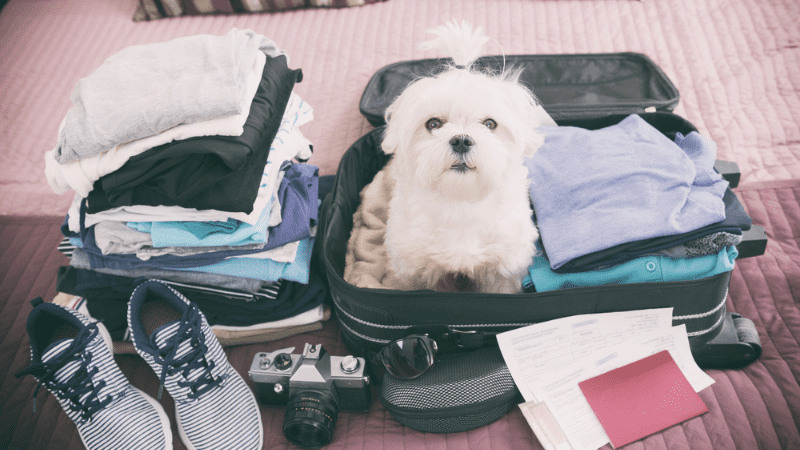 Here's a checklist of road trip essentials for dogs:
5. Remember the toilet accessories ― disposable dog poop bags, towels, and dog diapers.
6. Pack a pet pram or dog sling ― you'll need safety gear in case you decide to get out of your car and roam around.
7. Keep a leash and extra collar or harness handy ― for bathroom breaks.
8. Food and water gear is essential ― a travel water bowl and spill-proof food bowl will keep messes to a minimum.
9. Bring a few toys or treats that they don't usually get.
10. Bring a familiar blanket in case your pet needs security or it gets cold.
Food and treats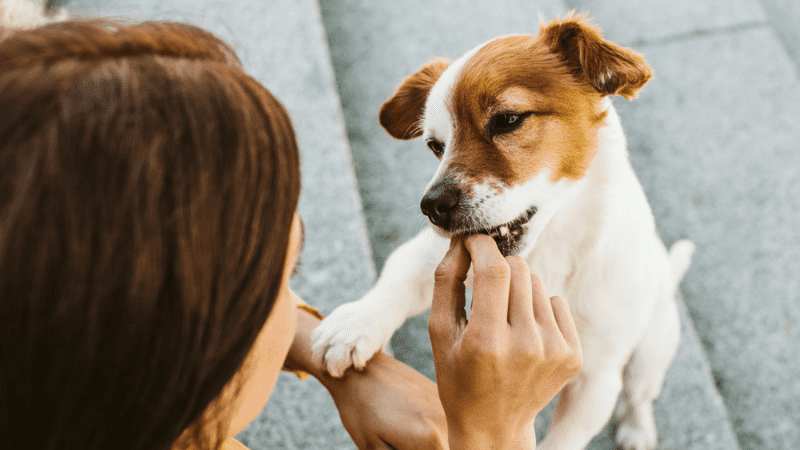 11. Bring regular food and other treats that they are used to.
12. You can also surprise your travel buddy with a favorite treat as a reward for good behavior during the journey.
13. If you do not have the time or money to purchase exclusive doggie snacks and food items, don't worry about that. There are plenty of human foods that dogs can eat. That way, both of you can share.
ⓘ PRO TIP: Beef jerky is a great snack to bring on a road trip. It has a lot of protein, is easy to transport, doesn't spoil, and is completely natural. It's also safe for your dog to eat. Old Trapper is a high-quality choice and is widely available.
Use a pet ramp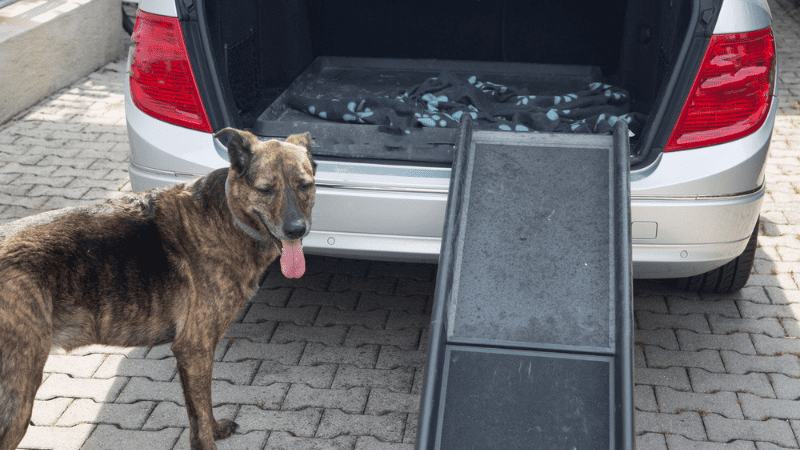 14. Dogs love to go for rides. Most will happily get into any vehicle going anywhere. But puppies, seniors, and pets who have health issues, pain in the joints, or injuries can benefit a lot from a pet ramp.
Pets are at the risk of falling off and injuring themselves while hopping into and out of a car. With a pet ramp installed, your travel buddy can easily get into and out of a vehicle without assistance.
Keep a first aid kit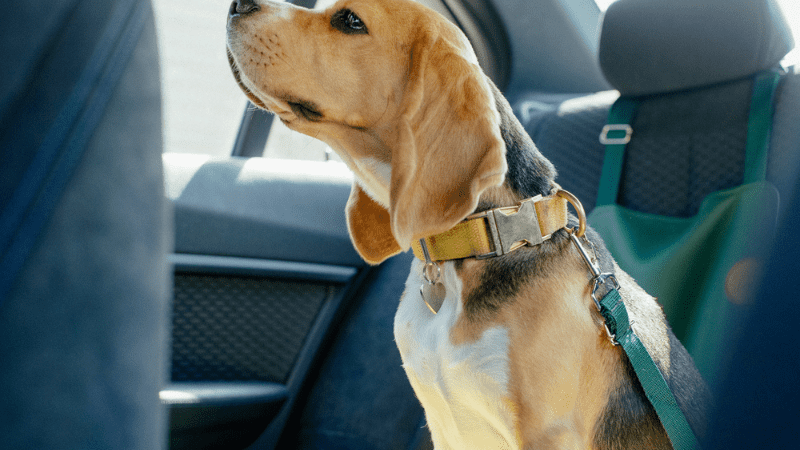 15. Keeping a first-aid kit handy can protect you from the perils of a sick dog. Yes, there are first aid kits just for dogs! Some of the important first aid kits essentials include:
cotton balls for the application of medicines and cleaning up of wounds
bandages and adhesive tapes for injuries
a pill box of all the vital medicines, and
antiseptic wipes.
16. Traveling in a car for long hours can make anyone motion sick, including your pup. Motion sickness is as common among animals as it is among humans. If he seems a little queasy, open the window for some fresh air, or sit him in front of the air conditioner vent.
Keep your pet entertained and calm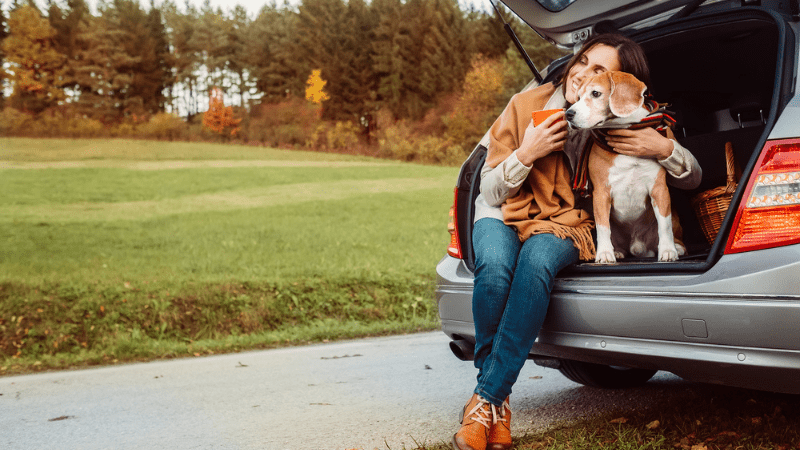 It is very common for dogs to get stressed and anxious while traveling from comfort to a new, unknown location.
17. Help Fido get familiar with the car's interior before setting out. When your pup is comfortable with the peculiar smell of your vehicle, it is more likely to help keep your dog happy, relaxed, calm and composed throughout the ride.
18. Bring along some favorite toys. Kongs, tennis balls, and chew toys can all keep your best friend occupied for hours.
Finding dog-friendly destinations
Taking trips with your dog is a great way to see the country. And there are plenty of dog-friendly destinations to choose from.
19. Before setting out, check to see if the destination you're planning to visit is pet friendly. Some parks, such as Lake Tahoe National Park in California and the Great Smoky Mountains National Park in North Carolina and Tennessee, have strict regulations and specific areas are off-limits to pets. But most national parks welcome well-behaved dogs on their hiking trails and campgrounds.
20. If your dog isn't accustomed to long hikes on trails, it's worth taking him for a few training walks around your neighborhood before you set out.
21. It's always a good idea to carry water for both you and your pet, so bring along his bowl and a few bottles of water. Don't forget some snacks, too!
Save these dog road trip hacks for later!
Pin this to your favorite Pinterest travel board.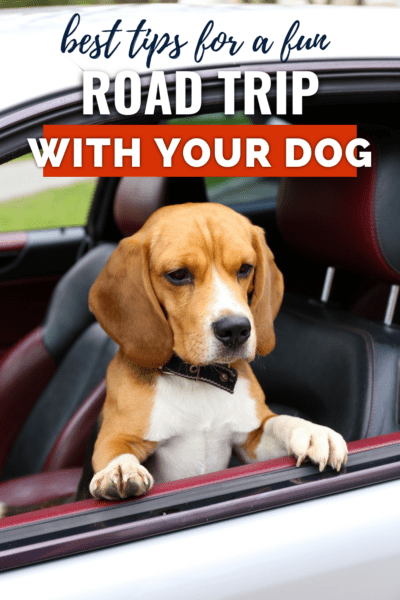 How to keep your dog safe on a road trip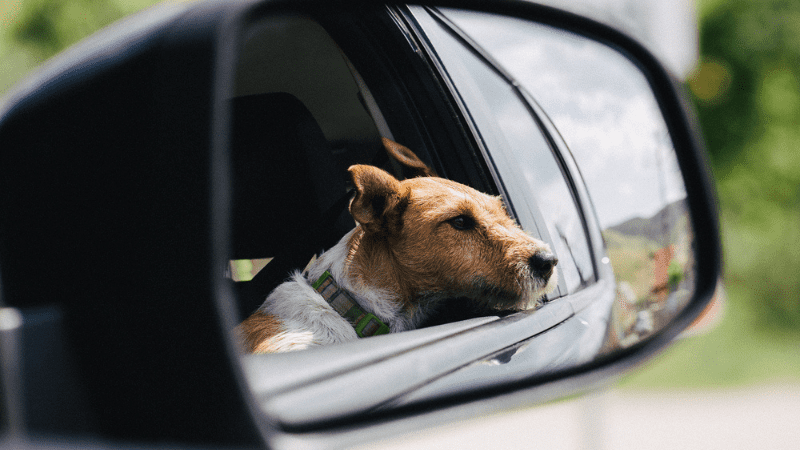 22. First and foremost, it goes without saying that you should never leave a dog in a hot car. If you have to make a quick stop, get your dog out of the car and give him plenty of water.
23. Your dog needs to be able to pant and cool down, so don't use a muzzle unless absolutely necessary. If you do use one, it should be for a very brief period of time.
24. To keep your furry friend safe, either (a) buckle him into a safety harness in the back seat or (b) keep him in a sturdy crate or carrier that won't slide around.
25. If you want your dog to wear a safety harness on the road trip, make sure you have one in the right size before leaving home.
26. If you let your dog roam free in the car, consider installing a gate between the front and back seats. It will help keep him from being thrown around in case of an accident.
27. Look for rest stops with a dog park so you can take your pet off leash. Fido will appreciate frequent stops so he can stretch his legs, get some fresh air, and relieve himself.
ⓘ TIP: Love's Travel Stops has begun adding dog parks to every one of its highway gas stations.
Pros and cons of road tripping with a dog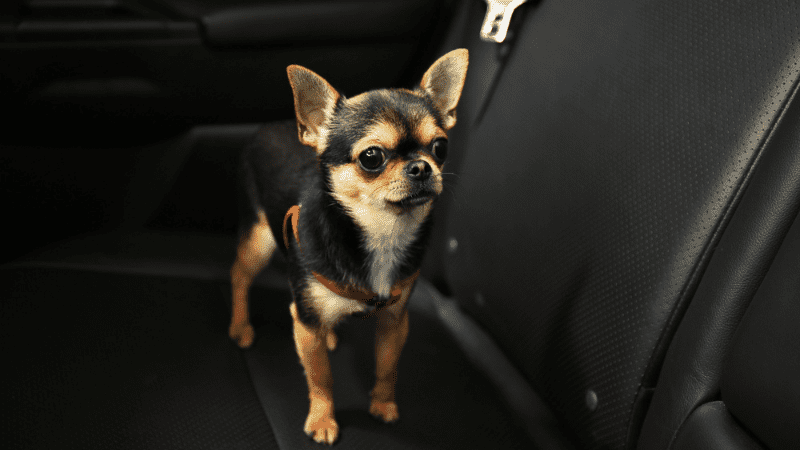 Did you ever notice when you blow in a dog's face, it gets mad at you? but when you take it in a car, it sticks its head out the window!
There are both advantages and drawbacks to driving with a dog in a car. If you have a trip planned, keep a note of the following pros and cons to make the most out of your trip.
Pros
Dogs are great company. They will keep you awake, entertained, and in good spirits through their positive demeanor and exuberance.
You won't have to worry about your pet being left alone. Instead of calling back every hour to check on him, you can have an exciting outing together.
You will enjoy pleasant social situations and interactions with people you meet along the way because of your dog. Especially at local dog parks
It will give you the opportunity to bond with your four-legged friend, understand his likes and dislikes, and build a strong connection with him.
Cons
Some dogs can get nervous and eventually fall sick after traveling in a car for long hours at a stretch. If your dog isn't used to traveling too often, it can be quite stressful.
If you are off for an overnight trip, you will need additional luggage for the dog essentials. This will require extra car space.
In some areas, it can be hard to find pet friendly accommodations.
FAQs about road-tripping with a dog
Are road trips bad for dogs?
The answer depends on a variety of factors, such as the age and health of the dog, the length and type of road trip, and the dog's temperament. It's important to pay attention to your dog's behavior because some dogs love road trips and others can get carsick. If your furry friend seems uncomfortable, pull over and take a break.
How often should you stop on a road trip with a dog?
It's best to take breaks every two hours when traveling with dogs. This will allow them to relieve themselves and get some exercise.
How long of a road trip can a dog handle?
Dogs can generally handle road trips of up to about 10 hours, but it depends on the dog's age, size, and personality. Younger dogs or those who are more active will be able to handle longer trips, while older or more sedentary dogs might need shorter trips or potty breaks more often.
Where can I find a list of pet friendly hotels?
You can find a list of dog friendly hotels on BringFido.com and PetsWelcome.com. You can also call the hotel directly and ask if they allow pets.
Are dogs allowed in national parks?
Yes, dogs are allowed in national parks as long as they are on a leash. Pets are not allowed in certain areas of the park, such as in buildings or on trails. Regulations can vary, so be sure to check the park's regulations before you go.
Conclusion
You don't have to fret going down the road with your dog. By following all the tips we've mentioned, there is very little possibility of experiencing hiccups while roving around the world.
Stick to the hacks mentioned above, click plenty of pictures, and we're sure you'll both have a paw-some time!
Additional resources