Officially called United Arab Emirates, the UAE is a group of fascinating emirates with magnificent deserts that exist alongside glamorous skylines.
No two emirates are the same, which means that the country has a lot to offer. Even if you visit the region umpteen times, you will never get bored. There are plenty of destinations and activities here that will keep you busy for weeks and introduce you to the traditional Emirati culture.
We've created this 7 day UAE itinerary as an introduction to one of the most fascinating countries in the Middle East. Combine it with our list of things to know before visiting the UAE for a better understanding of what to expect.
Where to stay in the UAE
From hotels to apartments, there are hundreds of places to stay in the Emirates. And while it's not a budget destination, you can find accommodation in a wide range of price points.
ⓘ BUDGET TIP: You can book Dubai hotels & save more if you plan well in advance. Also, this list of ways to save money in Dubai offers some useful budget ideas.
For this itinerary, you'll stay in Dubai for the first three nights, and the last two. We'd recommend booking hotels in different areas because each has a different flavor Depending on your budget, you can stay in:
Downtown. This area is the most expensive in the city, with high end shops and impressive skyscrapers like the Burj Khalifa.
Bur Dubai/Dubai Creek. The best place to stay if you want to immerse yourself in Dubai's tradition and culture, accommodation is cheaper here. Old Dubai is full of wind towers, twisting streets, and lively souks. It's easy to lose yourself in the experience. Just remember to bring an extra camera battery!
Deira. A good budget neighborhood, Deira is similar to Bur Dubai but more modern. It has the largest traditional souq and is very walkable.
Palm Jumeirah (or The Palm). This palm-shaped island is one of Dubai's most remarkable landmarks. It's best for those looking for high-end luxury resorts and who want to spend their vacation on the beach.
You'll be in Abu Dhabi for the next two nights. The two best areas are the Corniche, an 8 km-long waterfront promenade, and Saadiyat Island, which is Abu Dhabi's culture and heritage center.
United Arab Emirates in 7 days
UAE is made up of seven emirates, some small enough that they can be toured in one day or less. But while they all have something to offer, that doesn't mean you need to visit them all.
On this 1 week UAE itinerary, Dubai and Abu Dhabi are featured because they are the country's two largest cities. We figure that if you plan to spend only one week in the UAE, it's best to focus on the best attractions, and most of the best things to do in the Emirates are here.
Sure, you could spend a day visiting each of the emirates, but then you'd spend a lot of your time driving from place to place. Maybe it's doable if you'll be there for two weeks or more, but who has time to waste with a one-week itinerary? You need to make the most of your time!
With that in mind, consider booking a premium Dubai Chauffeur service. Not only does it offer comfortable travel, but it also allows you to maximize your time, as you won't have to worry about navigating through traffic or finding parking spaces. Plus, it adds an element of luxury to your travels, making your UAE experience unforgettable. Trust us, you'll appreciate the convenience and ease that comes with a dedicated driver service, especially when you're trying to see as much as possible in a short period.
Leave the rest for your next visit.
💰 BUDGET HACK: Unlock incredible savings with a SuperSaver Pass for Dubai and the UAE! Select from 3, 5, or 7 attractions and gain access to a variety of unforgettable experiences across the Emirates. Click here for the details.
Day 1: Dubai – City highlights
This UAE itinerary begins in Dubai, which is the country's second-largest emirate.
First stop: Zabeel Park and one of the newest attractions in Dubai, Dubai Frame. At about 500 feet tall, the gold frame is the largest picture frame in the world. You will get some fabulous views of the Burj Khalifa from there and walk on a clear glass walkway 100 meters from the ground.
Then head to Dubai Mall's food court for lunch. Said to be the largest mall in the world, it has over 1,300 shops and 200 eateries, and is also home to Dubai Aquarium & Underwater Zoo, the Olympic-sized Dubai Ice Rink, and VR Park, a unique virtual reality attraction.
Afterwards, follow the signs inside the mall to Burj Khalifa. The world's tallest building is undoubtedly Dubai's icon and major attraction, and you can only enter it from inside the mall.
If you're not intimidated by heights, you'll want to visit the top of Burj Khalifa. The high-speed elevators will take you to the top of the 160-story building, and from here you can enjoy awesome views of the city and surroundings from the observation deck.
ⓘ BUDGET TIP: Buy your tickets in advance to skip the ticket line and head straight to the top of the Burj Khalifa.
Click here to find out about the ticket prices for Burj Khalifa:
Return to the mall for dinner, then head to nearby Dubai Fountain, which is located on Burj Khalifa Lake. Every evening, the fountain puts on a magnificent water show with 6,000 lights and 22,000 gallons of water, all choreographed to classical, contemporary Arabic and world music.
The fountain is a popular attraction and quite crowded, so keep an eye on your travel partners so you don't get separated. The best way to avoid the crowds is to book a traditional wooden "abra" water taxi. The 30-minute cruise on Burj Lake will give you time to admire monuments and views before you enjoy the water show close up. Check prices here.
Day 2: Dubai – desert experiences
Getting out of town into the desert is another essential part of any UAE itinerary. While you're in Dubai, take the opportunity to book a tour and see Dubai in a different way.
There are dozens of things to do near Dubai, so you can choose from a wide range of experiences.
Flyboarding
Sandboarding
Hot air ballooning
Falconry
Quad biking in the desert
Sand dune bashing in a 4×4
Visiting a Bedouin campsite
Take a camel ride
Visit a camel farm
Get a traditional 'henna' design on your hands.
If you want some fun selfies, get dressed in traditional local clothing.
Watch a belly dancer dance to traditional Arabic music.
Most Dubai desert tours include a combination of these. For example, here's a description of one highly rated Desert Safari:
Experience Dubai as it was a half century ago on a full-day safari of the desert dunes. Following a pick-up from your hotel, head out to the desert landscape and explore it from the back of a camel.
Traveling like the ancient nomads, enjoy a stunning journey through the desert on a traditional camel convoy. This is the most authentic way to trace the footsteps of the Bedouin travelers.
Upon arrival at a Bedouin camp, soak up the atmosphere of the gentle flames from traditional lamps nestled inside a private royal retreat. Demonstrations of traditional activities, such as henna painting, falconry displays, and authentic folk music and dance will keep you entertained (not available during the Holy month of Ramadan).
Learn the traditional ways of making bread according to recipes handed down from generation to generation. End with a scrumptious dinner under the stars as history comes to life in an ageless landscape.
Day 3: Dubai – over-the-top theme parks and cruises
Dubai's theme parks are extravagant and over the top. The day is sure going to be fun if you are here with your family or someone special.
End the day with a Dubai Marina Dinner Cruise, which is like a floating restaurant. Enjoy glorious views of the city as you enjoy scrumptious cuisines served for dinner. Besides, there is some mind-blowing entertainment on board.
ⓘ BUDGET TIP: If you can't decide which park to go to, Dubai Parks and Resorts has a Two Park Pass that lets you visit two of their parks in one day. Get the details HERE.
Save this UAE itinerary to Pinterest!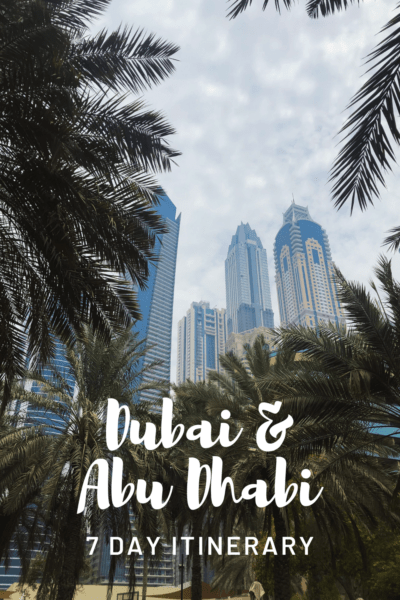 Day 4: Abu Dhabi – Emirati culture
Now that you're midway through your UAE itinerary, today is reserved for cultural experiences, beginning with visit the Sheikh Zayed Grand Mosque. It ranks among the largest mosques in the world and comprises 1,000 columns and 82 domes. What is special about the mosque with a white and gold façade is that it is the only mosque in the UAE that is open to non-Muslim tourists.
Later, visit Heritage Village that carries remnants of the original fishing village that Abu Dhabi once was. It is like a living museum as one passes past wooden huts housing workshops and some Bedouin tents. You will enjoy watching live demonstrations of craftwork such as weaving and metal working, and you can shop for local crafts and spices.
Day 5: Abu Dhabi – Al Gharbia region
Explore the Al Gharbia region, which is a perfect backdrop for desert excursions. Al Gharbia is an oasis of stunning natural beauty at the Emirate of Abu Dhabi. Within its vast edges extending between the desert and the sea, it's different than what you would experience in Dubai.
You could choose a wild dune buggy ride or opt for the traditional camel trek or a safari-style jeep ride to enjoy the deserts. You should not have any trouble as there are plenty of companies that offer well-organized tours of the Empty Quarter in the Al Gharbia region.
Day 6: Abu Dhabi – Yas Island
Begin your day early and head to Abu Dhabi. It is just 2 hours away by car or taxi ride.
Yas Waterworld is one of the best attractions in UAE. It's the perfect way to spend a day in such a hot country ,with over 40 slides and rides spread across 37 acres. Get ready for an ultimate water adventure for the whole family and enjoy slithering slides and 40 rip-roaring rides. spread across 37 acres. This is an adventure playground for everyone as there is plenty of speed and thrills at the park. Each island here boasts of an exhilarating ride and live shows, and a wide range of options for dining and shopping.
If you prefer automotive excellence to water parks, then plan to spend your day at Ferrari World. It's the world's only Ferrari theme park, with 37 thrilling rides and attractions including the world's fastest roller coaster. You'll also visit Yas Marina Circuit, where the Formula 1 Abu Dhabi Grand Prix is held. You can have a look at an impressive variety of vehicles such as Aston Martins, Mercedes-Benz vehicles, then race on the same circuit as the pros and even receive a lesson into how to drive the car from one of their Ferrari trained instructors.
Then check out of your hotel and return to Dubai. You'll be busy tomorrow.
Day 7: Shopping in Dubai
Even if it is not one of your favorite activities, you should make an exception today and keep the last day reserved for shopping.
No UAE trip would be complete without spending time in Dubai's unique souks and shopping malls. True to its reputation, Dubai offers the ultimate experience in shopping. Whether you are looking for luxury goods or some good bargains, you can shop here to your heart's content.
Some of the best spots for shopping in Dubai include
The Dubai Mall
Mall of the Emirates
Wafi Mall
Deira Gold Souk
Global Village
Souk Madinat Jumeirah
Al Fahidi Street
You can find everything from home appliances to the latest cellphones or look for high-end shops with luxury brands that sell jewelry, accessories, and high fashion items.
The textile souks sell Persian carpets, Kashmir pashminas, and local abayas and other garments. Browse those famous souks and look for local as well as designer items and shop for souvenirs, electronic gadgets, or local artifacts.
ⓘ TIP: If you're shopping for souvenirs, gold, spices, or Arabian clothes, head to the souks. They have a more authentic flavor, and you'll find better prices than what Dubai's shopping malls offer.
Ready to visit the UAE?
With so many cheap flights to the UAE, it's easy to plan a great trip here. Just use this well-planned 7 day UAE itinerary and you're sure to make the best of your trip.