What if we told you there was a place in the Middle East where you could enjoy the bustle and excitement of city life, while also being able to relax on pristine white sand beaches and go dune-bashing on rolling desert dunes? Yes, Abu Dhabi is that place – and it's waiting for you to explore!
When people think of vacation destinations, the United Arab Emirates' capital city is rarely the first place that comes to mind. We get it – after all, Dubai is the country's top vacation destination. Yet Abu Dhabi has the same high-end infrastructure as Dubai, as well as its own extraordinary sights. You'll find a versatile range of leisure and entertainment choices that exist nowhere else on Earth.
You really need to visit!
Best things to do in Abu Dhabi
We've created a massive list of the 15 best things to do in Abu Dhabi, so you can know which tourist attractions and points of interest are worth adding to your itinerary.
Let's begin with the most instagrammable spot in Abu Dhabi:
1. Sheikh Zayed Mosque
Fondly acknowledged as the Grand Mosque, Sheikh Zayed Mosque is one of the indispensable stops on any Abu Dhabi city tour and for all appropriate reasons.
This sprawling structure is fully clad in majestic white color and blows you away with its inspiring yet jaw-dropping features like ornate domes, columns, and the massive courtyard, which alone has the capacity to hold up to 30,000 people.
Add to this the reflective pools and stunning elements, including the biggest of its kind chandeliers (studded with Swarovski crystals) and the world's largest hand-knotted Persian carpet (which is found in the main prayer hall). That's why this is the most iconic symbol of Abu Dhabi of all.
ⓘ TIP: Depending on the time of your visit here, you may also get to see the Lunar Lighting at night, which depicts the different stages of the moon.
Hours: Sat-Thurs 9 am – 10 pm. Fri: 3 – 10 pm
Admission: Free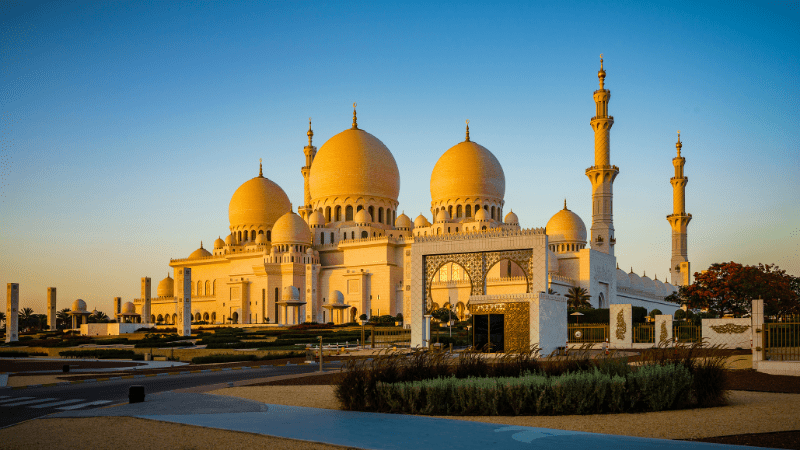 2. Al Qana National Aquarium
Abu Dhabi recently grabbed the headlines with the launch of Al Qana National Aquarium. An inevitable segment of the prestigious Al Qana project, it is not only the largest aquarium in the UAE but also in the whole of the Middle East.
Discover some rare and unique marine species from almost every category, from fish, sharks, and stingrays to reptiles, amphibians, mammals and corals. You will find them systematically showcased in its nine themed zones such as UAE's National Treasures, Atlantic Cave, Bu Tinah Island, Frozen Ocean, The Sub, The Flooded Forest, Ocean Magic, Red Sea Wreck, and Ring of Fire.
With your chosen ticket, you can look forward to being a part of a variety of experiences including Aquarium Journey, Glass Bottom Boat Tour, Animal Encounters, Glass Bridge Walk and Behind the Scenes Tour.
Address: Al Khaleej Al Arab Street, Rabdan Area, Abu Dhabi, UAE
Hours: Sun–Weds 10 am – 8 pm. Thurs-Sat 10 am – 10 pm
Admission: Starts from AED 105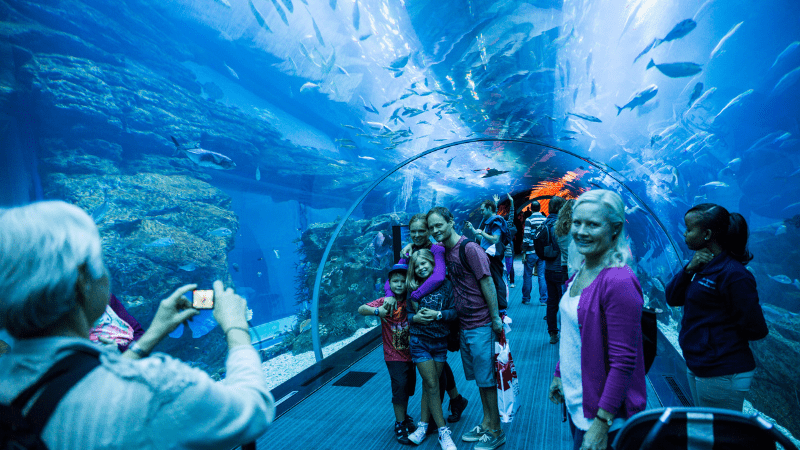 3. Qasr Al Watan (Presidential Palace)
Do you wonder how an Arabian working palace looks like? Don't miss to make a trip to Qasr Al Watan; it's one of Abu Dhabi's best attractions.
Qasr al-Watan st stands as an unequaled epitome of the rich Emirati traditions and legacy. Moreover, it is so richly designed and crafted that it gives you a slice of the celebrated Emirati royalty and opulence. The major draw is its several zones that shed light on the rich Arabian hospitality. This ranges from the imposing Great Hall and Spirit of Collaboration to the Presidential Bouquet and House of Knowledge.
With more than 50,000 books by Arabian scholar from diverse era, Qasr Al Watan Library is worth a visit. What's more, there is also a dedicated section, Presidential Gifts, where you get to see some of the choicest items gifted to the UAE by the foreign representatives.
ⓘ TIP: If you visit here after dusk, be sure to witness the Palace in Motion – an amazing light and sound show with three acts that depicts the journey of the UAE.
Address: Al Ras Al Akhdar – Abu Dhabi
Hours: Daily from 10 am – 8 pm
Admission: Starts from AED 60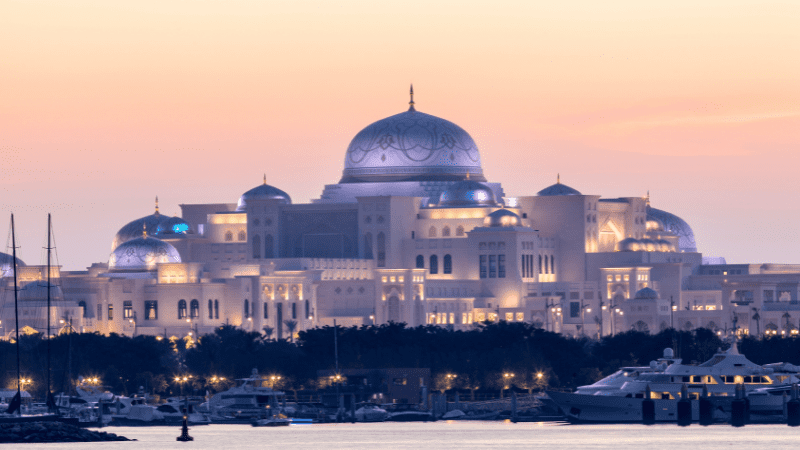 4. Louvre Abu Dhabi
Since opening in 2017, Louvre Abu Dhabi is one of the most visited Abu Dhabi attractions. Beyond its legendary name that reminds you of one in Paris, this museum at Saadiyat Island Cultural District is the first universal museum and largest of its kind in the Arabian world.
Occupying an overall of about 24,000 square meters, the museum has some nine themed galleries across its four wings. There are over 600 masterpieces loaned from some of the world's most acclaimed art venues. This gives you the rare chance to catch with the brilliant art pieces of Van Gogh, Claude Monet, Johannes Vermeer and Jackson Pollock etc, without traveling any far.
The museum is equally striking for its marvelous architecture, designed by the award-winning architect – Jean Nouvel. The major draw is a massive, perforated dome that allows sunlight sieve in through it. Situated about 500 meters off the Abu Dhabi coast, its stunning location along water further makes it a sight to behold.
ⓘ TIP: You can sign up for a leisurely kayaking tour to admire the beauty of this fabulous structure from water. Louvre Abu Dhabi one of the best and sought after instragrammable spots in the UAE!
Address: Saadiyat Island Cultural District, Saadiyat, Abu Dhabi
Hours: Tues-Sun 10 am – 6:30 pm. Closed Mondays
Admission: Starts from AED 60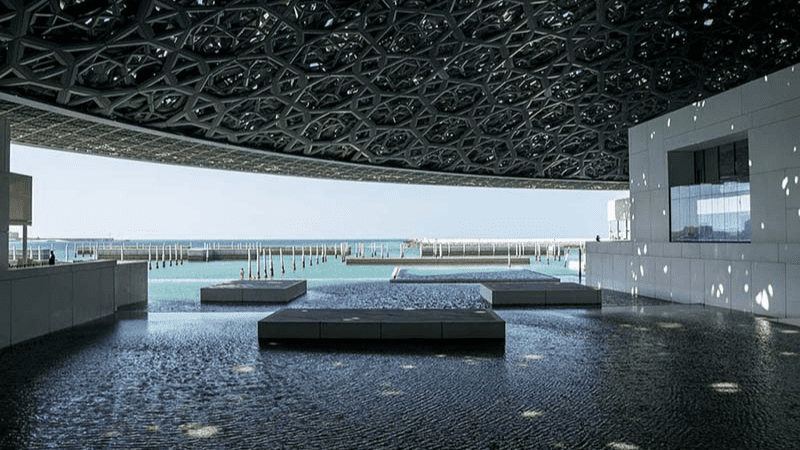 5. Jubail Mangrove Park
Tired of all the big-city action and craving a bit of nature and fresh air? Simply head to the Jubail Mangrove Park, a natural mangrove sanctuary that is just about 30 minutes' drive from the city center.
The park is a unique ecosystem that can be found nowhere else in the country. There are around 160 different species of trees here, as well as mangroves, falaj and other types of vegetation.
The park has a fantastic boardwalk, with three unique trails to explore, educational opportunities about nature and mangrove plants, and rest stops along the way. You can also take a ranger-guided nature walk or rent a kayak or paddleboard to explore the area at closer quarters.
ⓘ TIP: There is sometimes a queue to access the boardwalk. Book in advance to guarantee admission.
Address: Al Jubail Island – Abu Dhabi
Hours: Daily 7 am – 9 pm
Admission: AED 5 and up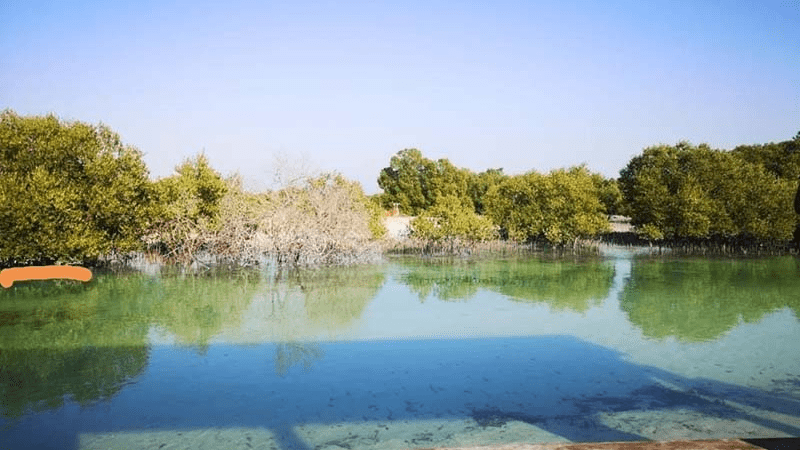 6. Desert Safari
Looking for an off-road adventure mixed with right measure of nature, culture and entertainment? Going on a desert safari is a unique opportunity to explore the vast sand dunes of Arabia and will be unlike any other experience in the Middle East!
Desert safaris offer a range of different experiences, such as camel rides, sand skiing, exploring the canyon by jeep, or getting an adrenaline rush on a wild 4×4 sand dune ride. There's also an opportunity to participate in multi-course meals with traditional Arabian cuisine or enjoy tea time with dates and Arabic coffee.
Morning safaris are perfect for a half-day adventure, while afternoons bring the chance to watch the sand dunes turn gold at sunset. you will be transported to an authentic Bedouin camp for a BBQ dinner and an extravagant Arabian show with dancers, drummers, and traditional music groups. It's also possible to book an overnight desert safari and camp under a sea of stars.
Address: Al Khattem, Abu Dhabi
Want to read this later? Save it to Pinterest!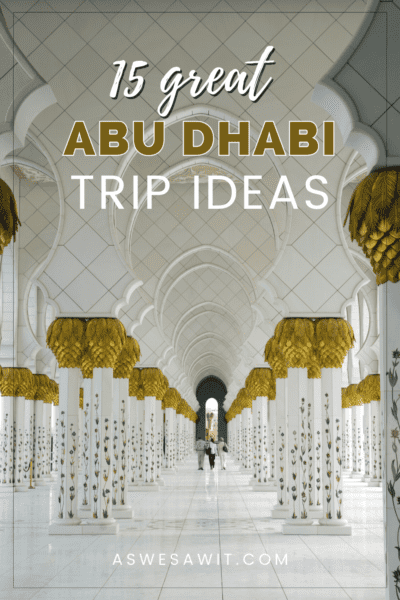 7. Observation Deck at 300
The Observation Deck at 300 is a must-visit attraction for anyone traveling to Abu Dhabi. Situated at the highest point of Tower 2 in the Etihad Towers complex, this observation deck offers visitors unparalleled views of the cityscape, Corniche, and the Arabian Gulf coastline.
While guests staying at the Conrad Hotel Abu Dhabi can enjoy free entry to the deck, non-guests can purchase Observation Deck at 300 tickets for a small fee. The ticket includes a voucher that can be redeemed for food and drinks on the day of your visit, making it a great value.
Whether you're looking for a light bite or a high-tea experience, the observation deck's restaurant has something you'll like. You can enjoy snacks and mocktails while soaking in the stunning views from 925 feet (282 meters) above the ground.
To access the observation deck, head to the second tower of the Etihad Towers and make your way up to the 74th level of the Conrad Abu Dhabi Etihad Towers. With its incredible views and impressive height, the Observation Deck at 300 is an experience you won't soon forget.
Address: Tower 2, Level 74, Etihad Towers – Corniche W St – Abu Dhabi
Hours: Daily 10 am – 7 pm. Afternoon tea 2 pm – 6 pm
Admission: AED 95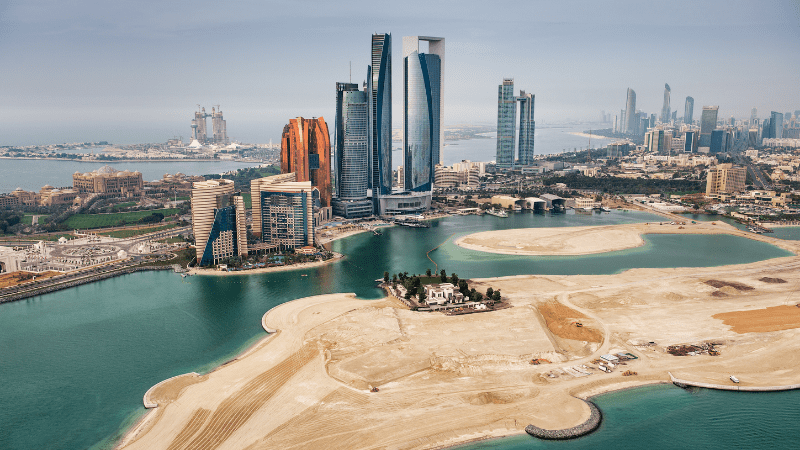 8. Qasr Al-Hosn
There is no better way to revisit Emirati history than with a trip to Qasr al-Hosn. Also known as the Old Fort or White Castle, it was built in 1793 as a palace for the ruling family and is now a national monument.
The fort is the oldest building in Abu Dhabi. It has been restored and contains a museum, an ancient watchtower, an 18th century Inner Fort and an Outer Palace, built in 1940s. The museum traces the history and culture of Abu Dhabi, with oral histories and plenty historical photographs on show as well.
Address: Rashid Bin Saeed Al Maktoum Street (2nd St) – Al Hisn – W3 – Abu Dhabi
Hours: Sat-Thurs 10 am – 9 pm. Fridays 2 pm – 10 pm
Admission: AED 30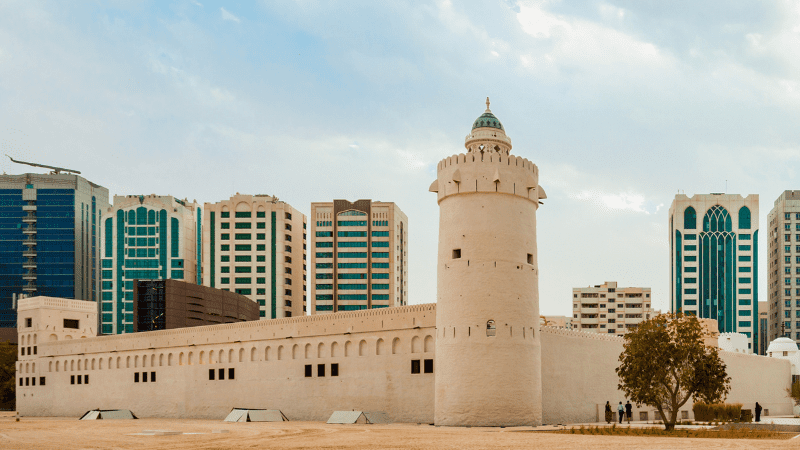 9. Heritage Village
If you'd like an idea of Emirati life before the oil boom, then Heritage Village is one of the best places to visit in Abu Dhabi.
This is another beloved spot for those interested in going back to the roots of the region's Arabian past. With Bedouin tents, camels and a souk, it is a replica oasis village, managed by the Emirates Heritage Club.
The museum is a treasure trove of information on the traditional day-to-day objects and what life was like before oil was discovered here (in 1971). You also get to see here craftsmen demonstrate authentic traditional Emirati arts, like pottery, weaving and metal works.
Address: Near Marina Mall – Abu Dhabi Theatre Rd, Corniche – Breakwater Rd – Abu Dhabi
Hours: Sat-Thurs 9 am – 4 pm. Fridays 3 pm – 9 pm
Admission: Free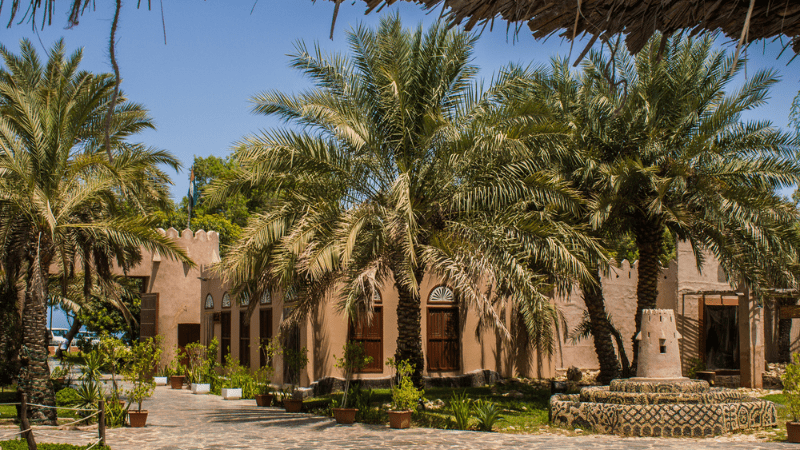 10. Yas Beach
Yas Island is a man-made island packed with activities and experiences, the ultimate destination for leisure, thrill and entertainment in the UAE. In fact, each of the attractions at Yas Island deserves a separate topic in this list, beginning with Yas Beach.
Yas Beach is the ultimate beach on Yas Island. From pools and sun-soaked sands to adventures through the mangroves and adrenaline-filled sports, there's no end to the fun here.
The beach is free for those staying on Yas Island, while visitors must pay to enter. A day pass gives you access to cafés, restaurants, and food kiosks, not to mention watersports like beach volleyball, kayaking, swimming, jet skis, banana rides, and all the sand and sun you could want.
That said, if you prefer to spend your day soaking up the sun with an umbrella drink, Yas Beach also has an impressive infinity pool and a wide expanse of beachfront. There are also plenty of as cabanas, sun loungers and shades available to rent.
Location: Yas Island
Hours: Daily, 7 am – 10 pm
Admission: Starts from AED 50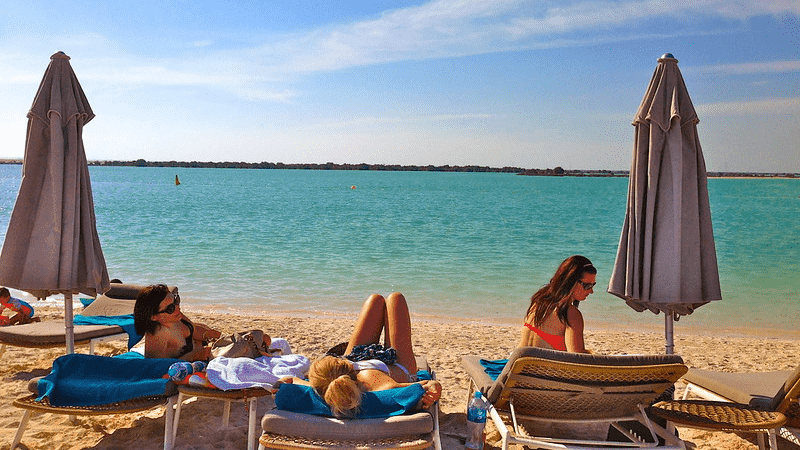 11. Ferrari World Abu Dhabi
As the first Ferrari branded theme park in the world, Ferrari World is a must-experience for Ferrari fans and hardcore thrill seekers alike. This Formula One theme park is home to 37 of the most innovative rides including Formula Rossa, the fastest roller coaster on the planet.
There's also Flying Aces, a 52 meter-high roller coaster loop (that's 170 feet!) that clocks speeds of 120 kph (~75 mph), and a zipline that goes through the circle of the Flying Aces.
Small children can develop their driving skills on the Junior GT track, while you do a roof walk on the park's red roof, or even drive a real Ferrari … but that one's an extra fee.
Location: Yas Leisure Drive, Yas Island
Hours: 12:00 to 20:00
Admission: Starts from AED 295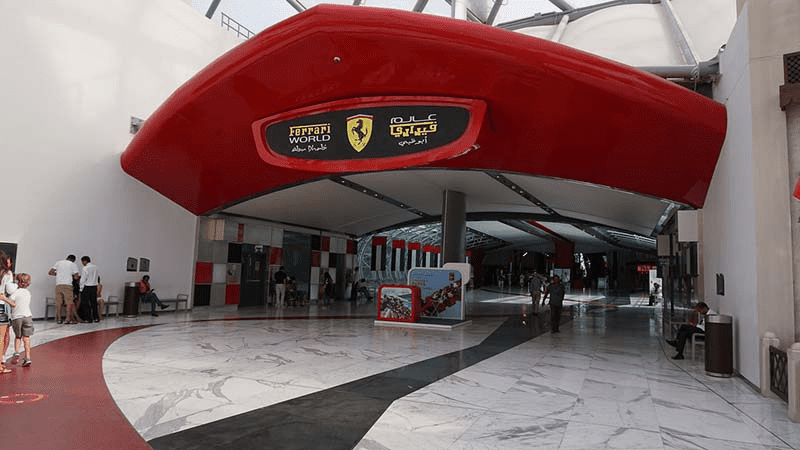 12. Yas Waterworld
If you're looking for things to do in Abu Dhabi that will keep your children entertained from morning until night, look no further than Yas Waterworld! And we're not just talking about your normal day of watersports here … The mega-mammoth facility spans 37 acres and includes 40 rides including multiple waterslides as well an inner tube river ride.
You'll find both play areas for young children as well as exciting rides for grownups. If you want serious adrenaline, there is the world's largest surfable sheet wave, the world's first hydromagnetic tornado water rafting ride; and one other thing that will make your heart race: The Jebel Drop – an 8-meter (26-foot) high speed slide, where the first part of the slide goes almost straight down.
Location: Yas Island
Hours: 10:00 to 18:00
Admission: Starts from AED 270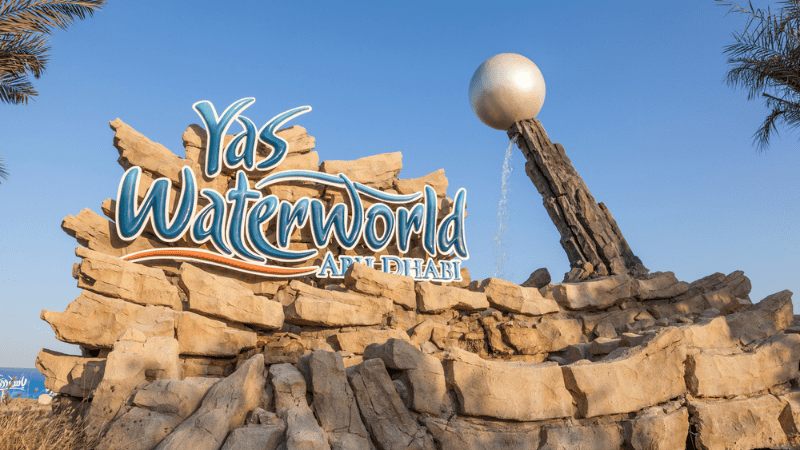 13. Warner Bros Abu Dhabi
A visit to this theme park is hard to miss for the fans of superheroes, cartoon characters and lively shows. This is one of the best places for families, thanks to its six lands which are a surefire delight for your kids and kids inside you. This includes Warner Bros. Plaza, Metropolis, Gotham City, Cartoon Network, Bedrock, and Dynamite Gulch.
Little ones will find their favorite rides at Bedrock and Cartoon Junction, but for more adult fun, head to Metropolis and Gotham City, which have roller coasters and 4D interactive fun.
Location: Yas Island
Hours: 12:00 to 20:00
Admission: Starts from AED 295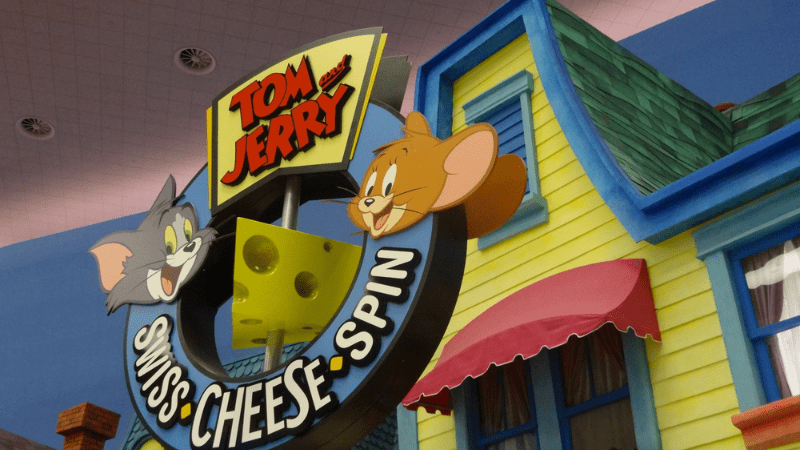 14. CLYMB Abu Dhabi
Want to take your penchant for adventure and amusement to next level? Head to CLYMB! You can't can imagine the amount of fun and thrill awaits you here.
CLYMB is an indoor skydiving and climbing arena on Yas Island. It has a 141-foot-tall climbing wall, with 13 indoor climbing routes. It also has the world's widest of its kind skydiving chamber. CLYMB also offers pre-flight courses for novice flyers, so no worries there.
Location: Yas Island
Hours: 13:00 to 21:00
Admission: Starts from AED 198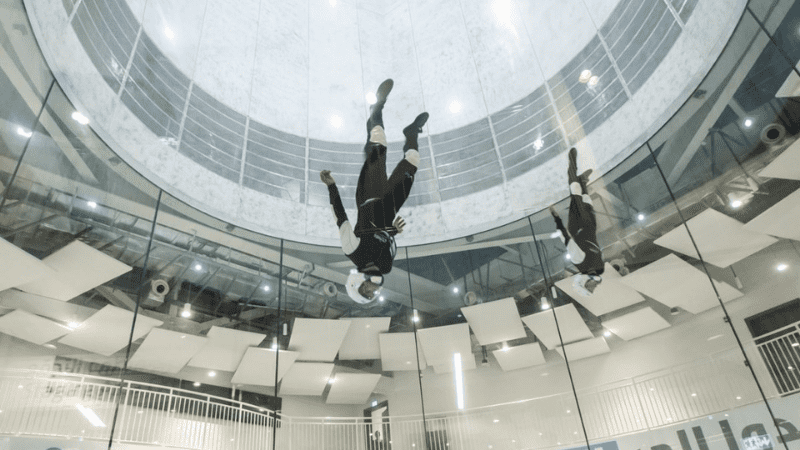 15. Yas Marina Circuit
Every November, Abu Dhabi is home to the Formula One Grand Prix. This is the city's biggest event, held at the most expensive racetrack ever built ($1 billion USD) and is a dream destination for racing fans worldwide.
If you can't make it to the race though, you can still get your Formula One fix. Yas Marina Circuit offers a behind-the-scenes guided tour of the entire facility that will give you a once-in-a-lifetime opportunity: a behind closed doors look at how your favorite drivers perform in real life.
On the other hand, if you'd prefer to get behind the wheel, you can even book a variety of drive experiences on the Formula One track itself. And you get your choice of cars!
Whether you wish to experience the thrill of driving a high-performance vehicle or simply want to have an up-close look at the prestigious venue of Abu Dhabi Grand Prix, this spot on Yas Island is simply second to none.
Location: Yas Leisure Drive, Yas Island
Hours: 08:00 to 23:00
Admission: Official tours cost AED 130 for adults and AED 65 for children.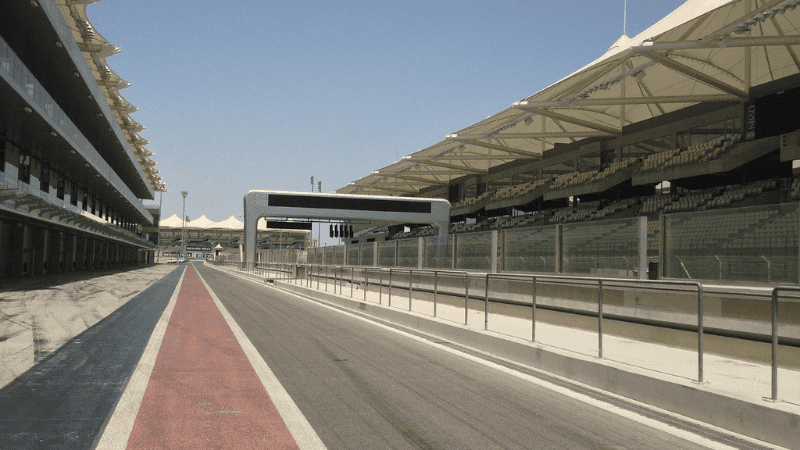 Best things to do in Abu Dhabi: Final thoughts
As you can see, Abu Dhabi is a fantastic destination with something to satisfy every age, whim and preference. Be it for its enlightening culture, distinctive arty side or top-notch amusement options, this Middle Eastern spot is a true surprise package with endless possibilities.
So¸ as you're planning your UAE trip, don't just restrict your visit to Dubai alone; add at least a day or two in Abu Dhabi as well. You won't be disappointed, and you'll enjoy every bit of it!