Sitting in the middle of the Mediterranean, Sicily has been a coveted piece of real estate for millennia. Every culture has left its mark, giving the island a flavor like no other. Thanks to its Norman-Arab-Byzantine culture, it is so unlike the rest of Italy that the island deserves its own separate travel guide. Yes, there are that many unique experiences in Sicily.
Blessed with rich scenery, historical hot spots, culture, tradition, and charming little towns, Sicily is full of treasures. Six of its sites have even earned UNESCO World Heritage status, and its food is a curious mix of African, Arab, Mediterranean and Norman flavors. Sicily will attack all your senses.
How to get to Sicily
There are several ways to get to Sicily. You can fly, take a train or bus and, yes, even drive. If you're flying, Expedia lets you set a flight alert to ensure you get the best prices. Both Palermo (code: PMO) and Catania (code: CTA) have international airports.
Sicily is about 300 miles/500 km from Rome. If you plan to arrive by land, Omio is a fantastic resource. Plug in your TO: and FROM: and it will show you prices and travel times by train, bus, and plane.
You're one click away from booking your Sicilian adventure.
ⓘ TIP: A travel guide is a great resource for finding local places to eat and Sicily experiences that will last a lifetime. We used this one.
Where to stay in Sicily
Changing hotels wastes valuable time that could be better spent enjoying the brilliant sun, stunning and breathtaking sights, and remarkable food.
Staying in a villa in Sicily for holiday can be an economical and fun option. You can shop for foods in the market and try all the local foods (and wines!) you want.
Palermo has wonderful markets, and it's a great base for seeing all the sights on the west side of the island without the need to change hotels.
You can also stay near Taormina or Catania and enjoy everything on Sicily's eastern (Mount Etna) side.
ⓘ TIP: Most places can be reached with public transportation, but be aware that buses are notoriously lax with their schedule. For convenience and flexibility, you may prefer to rent a car. Check prices here.
1. Climb Mount Etna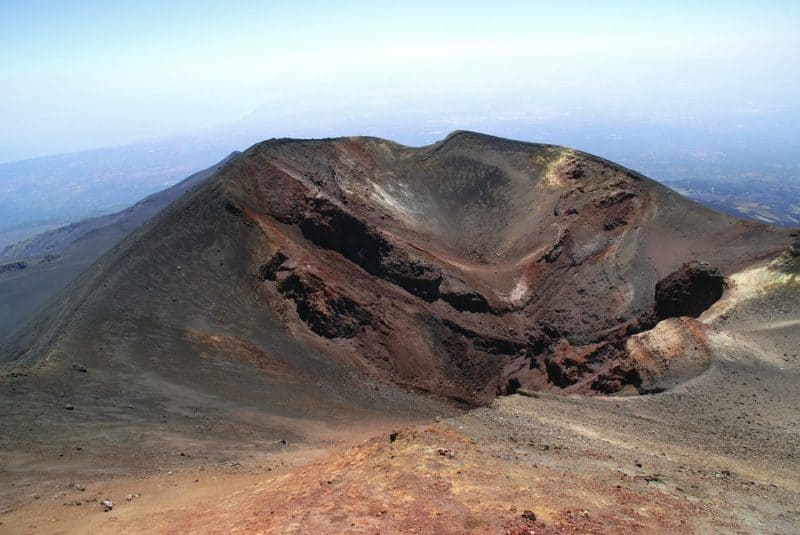 No visit to Sicily is complete without a trip to the main tourist attraction, Mount Etna. UNESCO named it a World Heritage site in 2013, but the smoking volcanic cone has been a mainstay in historical and cultural Sicily for ages.
Mount Etna, an active volcano, is in an almost constant state of activity. Visitors are attracted to the release of both smoke and new lava flowing from this Sicilian giant.
Interesting facts:
Etna is dubbed a Decade Volcano because of the constant activity and the dense population surround its base.
Its base measures about 93 miles in circumference and is nearly 11,000 feet (3,350 m) high.
Etna is among the highest volcanoes in Europe.
Volcano aficionados will probably want to also visit its neighbor, Stromboli.
Etna is an Italian wine DOC. Rich volcanic soils in the area support extensive vineyards, orchards and other agricultural farming.
Mount Etna is on Sicily's eastern side, between the second largest city of Catania and Taormina.
ⓘ TIP: Mount Etna tops the list of things to do in Sicily. Find everything from half-day treks to full-day excursions, at a variety of price points. All give a wonderful perspective of the volcano and the history behind this legend. FIND TOURS HERE.
2. The Catacombs of the Capuchin Friars in Palermo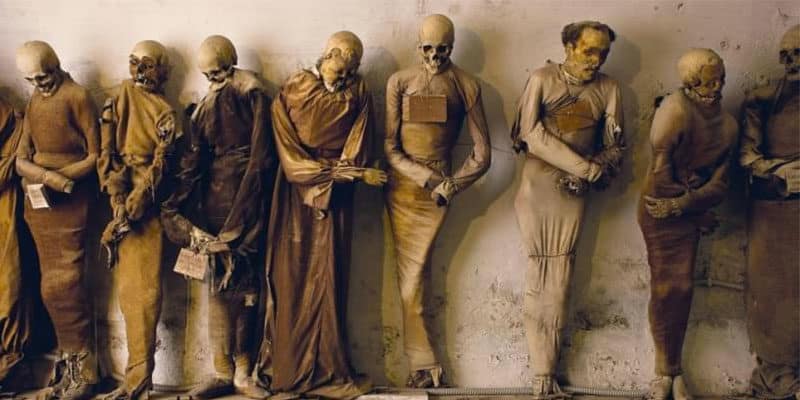 Sicily is a region rich in history and culture, and there's evidence of that littered across the island (such as the temple ruins of the temples in Solunto, The Norman Palace or The Cathedral of Monreale).
But maybe the easiest one to visit is the Capuchin Catacombs in Palermo. They are is located in the Cuba district and attached to the church of Santa Maria Della Pace.
Begun in 1599 to house dead Capuchin friars, the catacombs now contain about 8000 corpses and 1252 mummies (which line the walls). It's an eerie experience, but a fascinating and unique window into the past with a unique Gothic style.
Admission: €3
Open: 9:00-13:00, 15:00-18:00 daily. Closed on Sunday afternoons from late October to late March.
ⓘ TIP: This would be a nice way to end a Private 4-Hour Walking Tour of Palermo.
3. The views at Taormina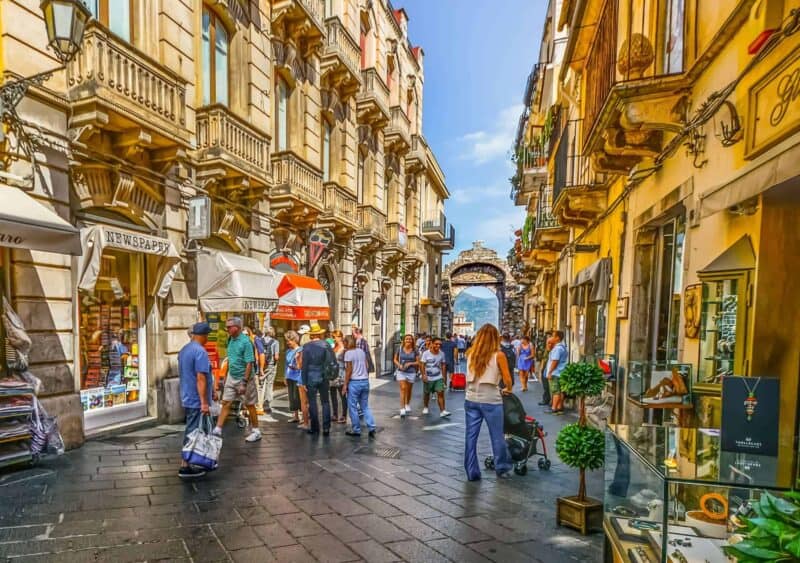 Located on the top of a cliff at over 200 meters high, Taormina offers an incredible view of the sea and Mount Etna. This little mountaintop town is immensely charming, but its biggest draw is a beautiful ancient Greek amphitheater.
The Greek amphitheater's construction dates back to the third century BC and is still well preserved. The theater can accommodate over 5,000 people and is still used for the performance of plays and concerts.
In just 30 minutes you'll have just enough time to take some pictures. Then again, the main reason to visit the theater is because of the view it offers. So maybe not.
On a warm summer's day, there is a selection of lovely beaches nearby. Bring your suit and chill out after a day of exploring.
ⓘ TIP: Avoid visiting Taormina's amphitheater on a day when a concert is scheduled. There will be a large stage in the middle of it, which may slightly spoil the atmosphere of the place.
4. The Valley of the Temples in Agrigento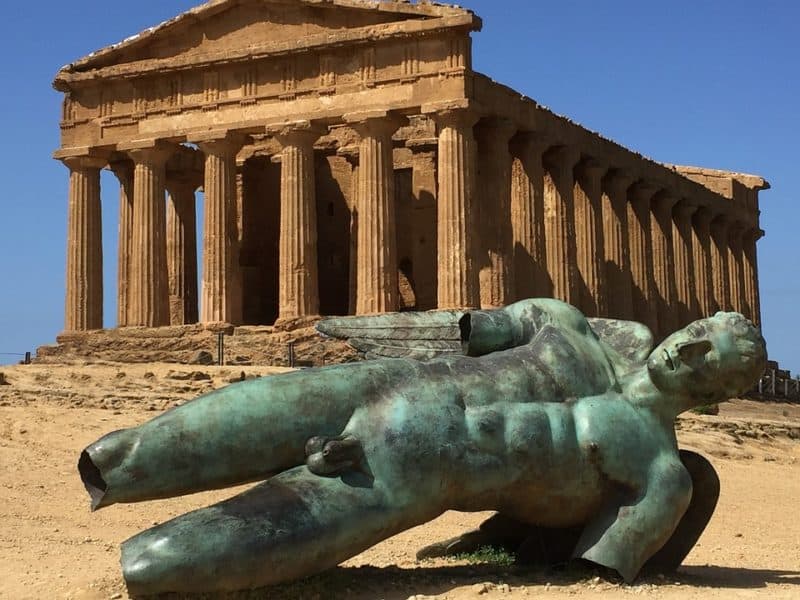 Magna Graecia's most imposing remains may very well be sitting on a ridge full of flowering almond trees in Agrigento.
Founded in the 6th century BCE as a Greek colony called Akragas, it endured wars and fell into decay and disrepair. Eventually, the Romans conquered and renamed it "Agrigentum." Still, they preserved its original Greek colonial design and many early buildings from an early period still stand. That's unusual, because people often convert structures to suit later tastes and cults.
No wonder the Valley of the Temples has been designated a UNESCO World Heritage site.
The ruins cover over 1,300 hectares, so unless you plan to take a tour like this one, be prepared to do a lot of walking. There's so much to see: 10 impressive temples, 3 sanctuaries; a large concentration of necropolises (necropoli?), two important meeting places, an Olympeion, a council hall, and more. And it hasn't all been excavated yet!
Admission: €10.00
Open: daily from 08:30 to 20:00
Want to read this later? Save it to Pinterest!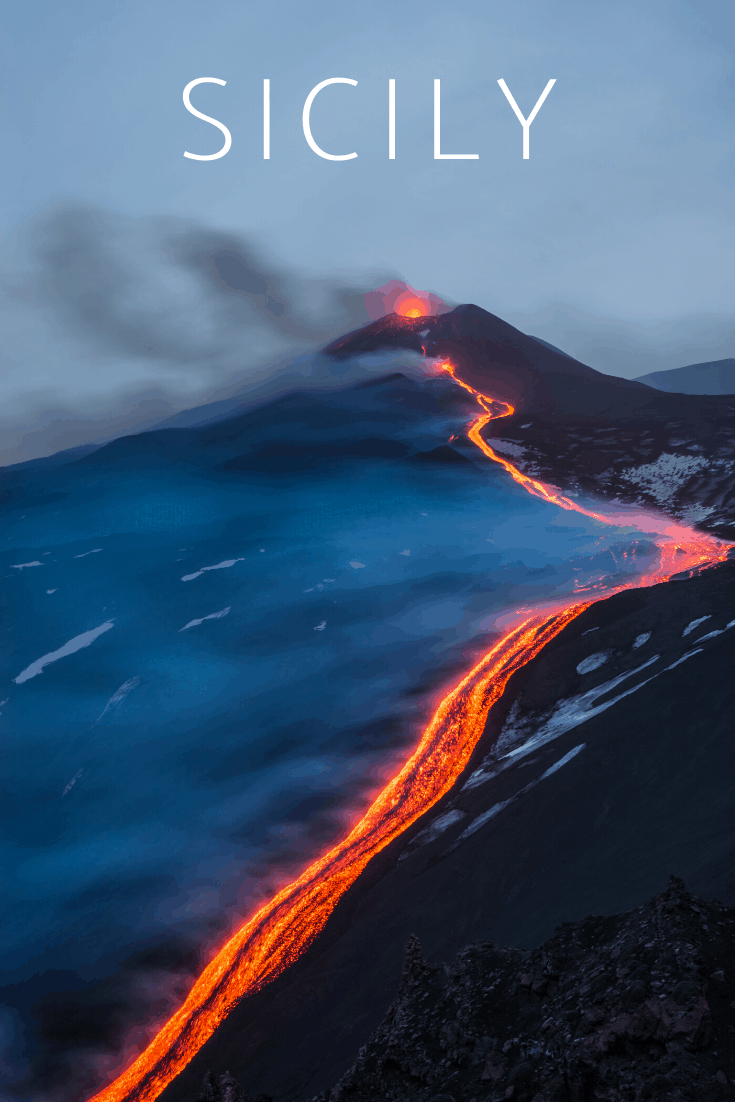 5. Palio dei Normanni festival in Piazza Armerina
One of the most unique experiences in Sicily is the Palio dei Normanni, or Ride of the Normans. This medieval pageant is the most impressive historical re-enactment of southern Italy.
Every August 12-14, Piazza Armerina re-enacts the arrival of Count Ruggero (Roger I), whose troops conquered Sicily and liberated the Christian citizens from their Saracen rulers.
The three days of celebrations begin with a parade in which Count Ruggero leads 600 people, all dressed as medieval dignitaries, knights, ladies, and Norman soldiers.
The highlight of the festival is the Quintana on the final day, where the city's four contrade (districts) compete in a jousting tournament.
6. Sicilian summer breakfast: granita and brioche by the sea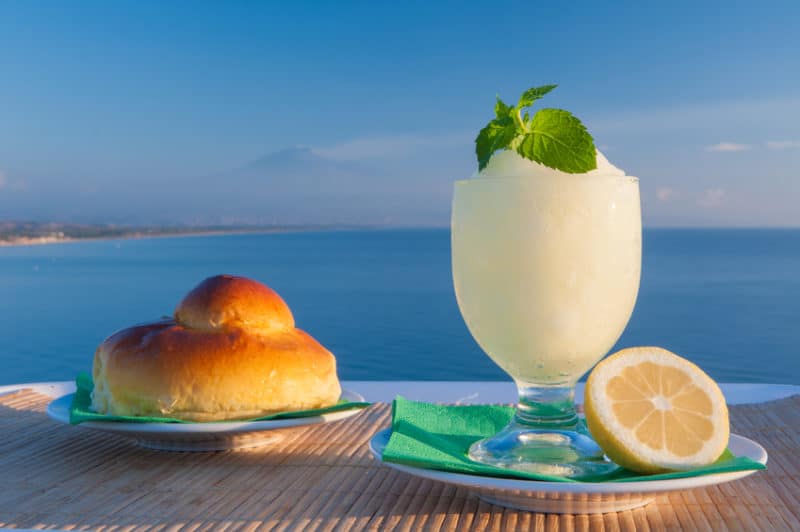 Sicilians like to start the day with sweetness and freshness, and the summer breakfast is not to be missed. If you're coming on holiday here, you've got to try it.
Traditionally, a Sicilian breakfast includes two of the island's most delightful delicacies. The first is granita, a semi-frozen dessert. It is a little like sorbet, but it has a lighter, icier texture. The most popular flavors are pistachio, almond, lemon, and coffee, but also, strawberry and black mulberry.
The typical Sicilian 'brioscia col tuppo' is a sweet brioche that's flavored with vanilla or citrus fruits. Two things make this leavened egg bread unique: its thin, soft crust, and its unusual shape. The briosche s topped with a smaller ball that rather looks like the traditional low bun that Sicilian women used to wear. The bun is known as a tuppo in Sicilian dialect. Hence the name.
The brioche is served hot and you're expected to eat it together with the granita. Sicilians like to use pieces of the hot brioche to soak up the icy, sweet granita.
ⓘ TIP: You can find shops selling granita served in a brioche at all hours of the day.
Final thoughts on Sicily
Sicily is on many bucket list because it's unlike anywhere else in Italy. Sicily is one-of-a-kind because the island has changed hands numerous times.
Sicilian life, history, and culture is the same, but different, so it's worth visiting this corner of Italy. Pizza, yes it's here. Special history? Of course! Sicily offers something for everyone.