Thinking of heading to Sicily? You can hardly choose a better holiday destination in Italy! This beautiful Mediterranean island has a rich culture, unrivaled cuisine, and hundreds of ancient Greek ruins and charming villages for you to explore. Plus, when it comes to beaches, Sicily does not disappoint. This island at the tip of Italy has some of the best coastlines in the world.
With so much choice, your biggest problem is deciding where to go. In this article, we will take a look at 10 of the best beaches in Sicily. So pack your swimsuit, sunscreen, and your favorite Sicily travel guide, and get ready to explore!
1. San Vito Lo Capo, Trapani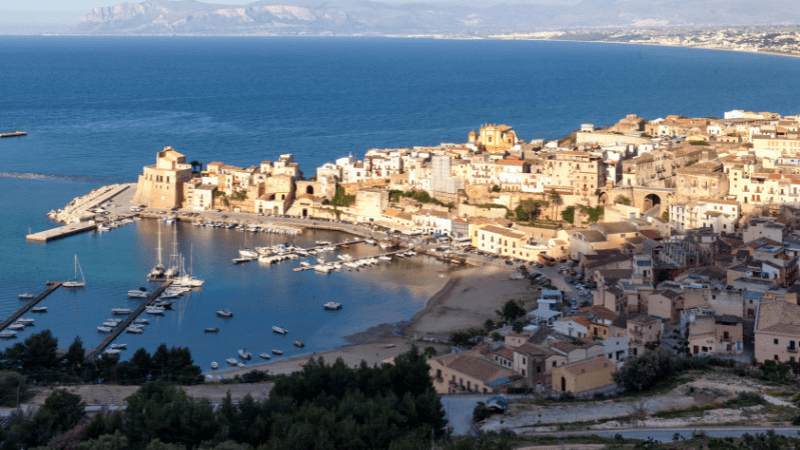 Sitting at the foot of Monte Monaco, San Vito lo Capo is a popular tourist and rock-climbing destination. It's close to many landmarks and attractions, making it a perfect location to include in escorted tours of Sicily.
Equally popular among sunbathers, snorkellers, and vacationers, San Vito Lo Capo is known for its white-sand beaches and azure waters. There are also several windsurfing schools in the area where you can take lessons.
When you're ready for a break from the beach, head into town. Once a quiet fishing village, San Vito Lo Capo now features a charming promenade that's hard to resist strolling along. The perfect way to end your walk is to stop in one of its many great restaurants, cafes, or gelaterias. We highly recommend trying a Sicilian specialty: ice-cold granita.
San Vito lo Capo is about 45 minutes from Trapani by car.
ⓘ TIP: Beaches in Italy can get crowded in summer. If you want to relax, visit during the off-season or early morning hours.
2. Scala dei Turchi, Agrigento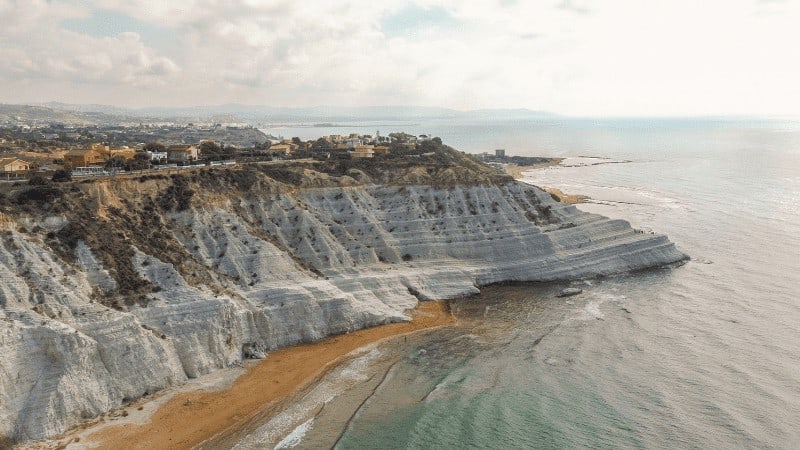 Any time you find a list of best Sicilian beaches, you can bet Scala dei Turchi will be on it. You can find this magnificent natural rock structure on Sicily's south coast.
The name "Scala dei Turchi" means "Staircase of the Turks", and it's said to be named after the Moors who used it as a lookout point to spot approaching enemy ships.
This fine white sand wonder is made of a soft, crumbly limestone rock known as marl, and its unique staircase shape has been carved over eons by rain and sea.
Today, the Scala dei Turchi is one of Sicily's most popular tourist attractions, partly due to the Inspector Montalbano books and TV series. Visitors can climb to the top of the cliff for stunning views of the coast, or take a swim in the clear blue waters. There are also several restaurants and cafes in the area that serve great Sicilian food, making it the perfect place to spend a day in the sun.
Alternatively, you can book a private boat cruise from San Leone and sail past iconic landmarks such as the Stair of the Turks, Cape Rossello, and Rocca Gucciarda.
Scala dei Turchi is 15 km from Agrigento.
3. Mazzaro beach, Taormina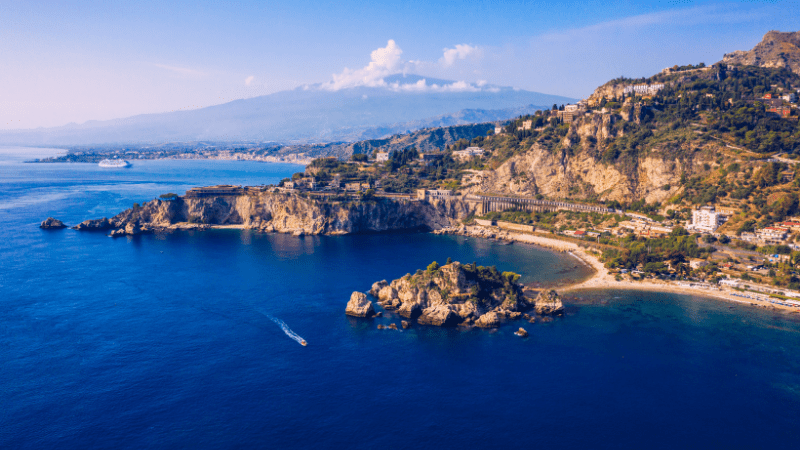 A 10-minute cable car ride connects the historic center of Taormina with Mazzaro, one of the most popular beaches in Sicily. Located below the cliffside town, the beach is close to many restaurants, cafes, and shops.
Mazzaro Beach is an elegant area. Its pebbly beach is a favored location for sunbathing on sun chairs. Similarly, its deep waters make for great swimming, and you can also take boat rides around the inlet or to nearby natural beauties such as the Grotta Azzurra sea cave and Isola Bella.
The beach is a mix of sand and pebbles, and there are several chairs and umbrellas available for rent. You can also find a few private beach clubs that offer day passes.
4. Isola Bella, Taormina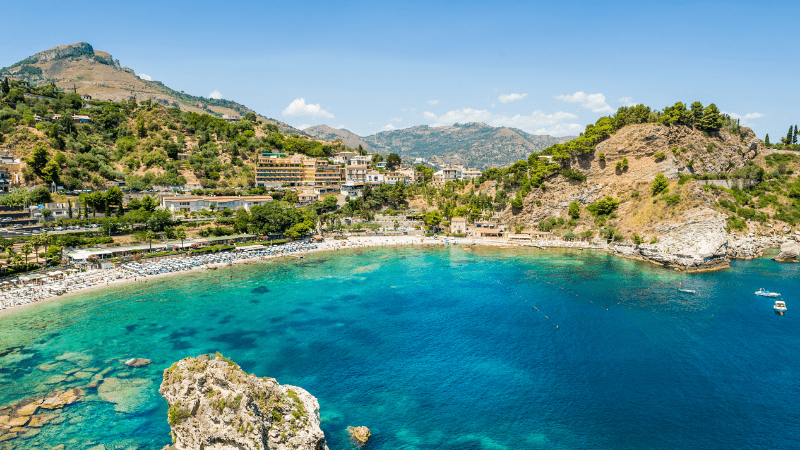 Just off Mazzarò Beach sits Isola Bella, one of the most beautiful beaches in Sicily: Isola Bella means "beautiful island." and it is a small island protected by the World Wildlife Federation as a designated Nature Reserve.
Isola Bella is only accessible by boat (book it here. Once you arrive, you'll find a lovely sandy beach surrounded by dramatic, rocky cliffs.
Because the nature reserve has a rough, pebbly beach, you might prefer to go with a chair in a beach club. Also, you should wear shoes, especially if walking on the beach or around island streets. You can also explore the house and exotic plants of Lady Florence Trevelyan, hike around Isola Bella, or snorkel in the shallow, cerulean waters surrounding the island. There are several kayak rentals available for exploring the island.
Isola Bella is about 500m from Mazzaro Beach.
5. Mondello Beach, Palermo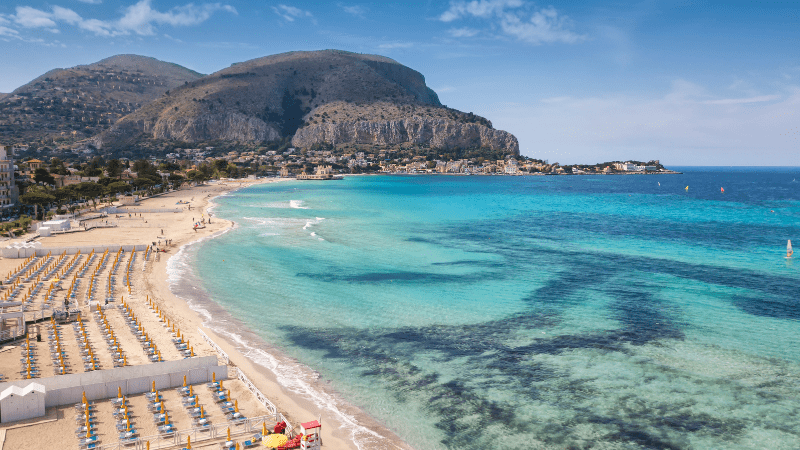 If you're looking for sandy beaches with a little more action, Mondello might be more your style. This Mediterranean seaside resort is less than an hour's bus ride from Palermo, Sicily's capital city.
Mondello is the most popular beach in Sicily, with a crescent bay, turquoise water, fine white sand, and an Art Nouveau bathhouse. It's the perfect place to relax and enjoy a friendly atmosphere while soaking up the sunshine.
Wade into the waves, hire pedal boats or take strolls among the many pastel-colored cabins – there's plenty to do here other than sunbathing. Plenty of restaurants, cafes, and gelato shops line the promenade, making it perfect for people-watching. Thanks to its shallow water, Mondello is also a great place for windsurfing, and there are several schools in the area offering lessons and rentals.
6. Cefalù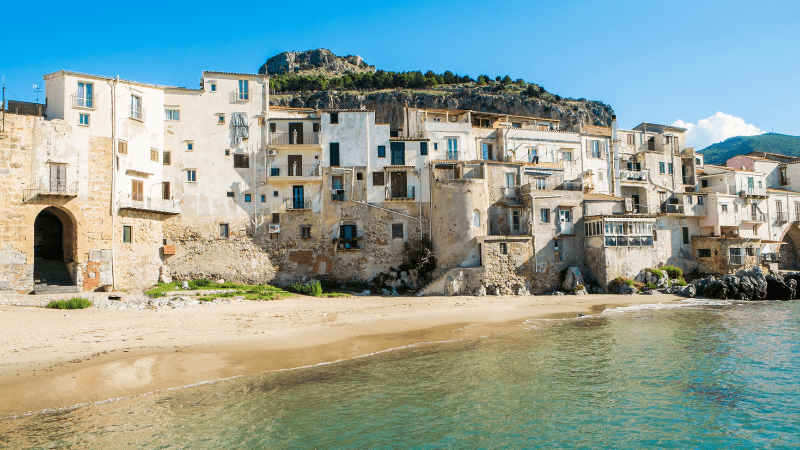 Cefalù has been around since medieval times. It is known for its 12th-century Norman cathedral, with elaborate Byzantine mosaics and soaring twin towers. But Cefalù is also a seaside town with a 3 kilometer long stretch of sand that is considered one of the best beaches in Sicily.
The beach, which is backed by a palm-lined promenade, is a mix of sand and small pebbles. There are several beach clubs with sun loungers for rent, as well as showers and toilets. The beach is also a great place for swimming, boating, windsurfing, and diving.
Cefalù's beach can get crowded in summer. The beach slopes gently into the Mediterranean Sea, making it perfect for swimming. There are several restaurants and bars on the beach as well as parasailing, jet skiing, and other water sports. The sand is a mix of fine sand and small pebbles, so it might not be the best place to relax if you're looking for a sandy beach.
Cefalù is on the northern coast of Sicily, about 78 kilometers from Palermo.
7. Sampieri, Ragusa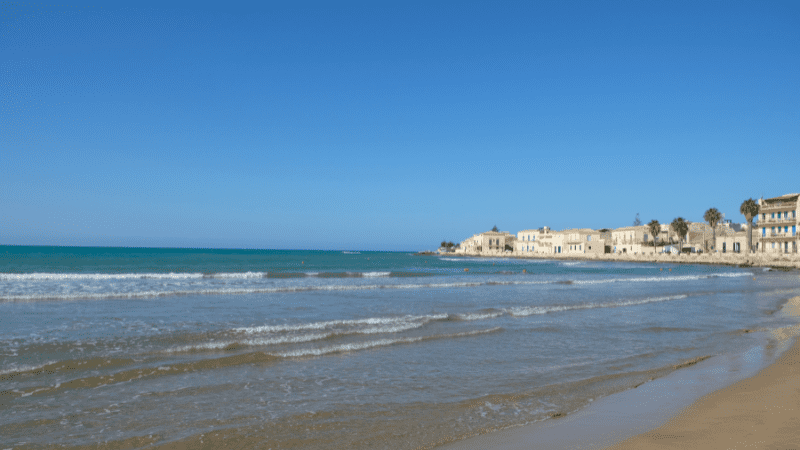 If you're looking for a beautiful unspoiled beach, Sampieri is the place to go. This lovely beach is located in the province of Ragusa and is known for its clear turquoise waters, golden sands, and gently sloping seashore.
Along with the usual swimming and sunbathing, Sampieri Beach is great for snorkeling, as there are several small reefs near the shoreline. The beach also has several good spots for fishing for sea bass, bream, catfish, and eel.
Sampieri Beach is about a 20-minute drive from Ragusa Ibla, the historical center of Ragusa province.
8. Cala Rossa, Favignana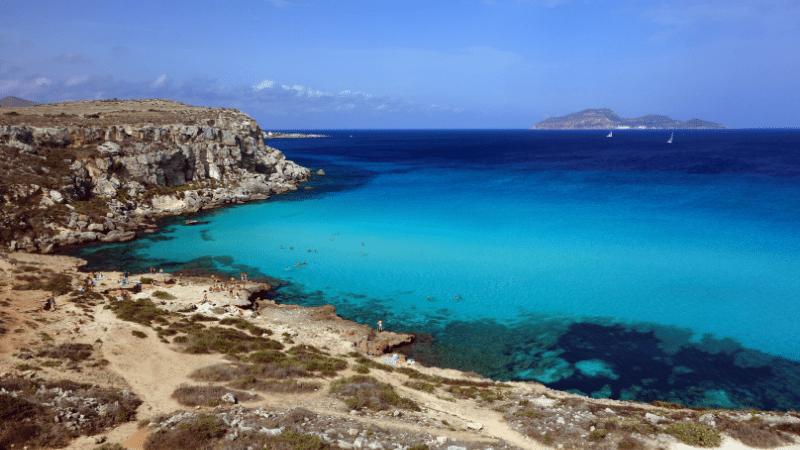 If you're looking for a quiet and secluded beach to relax on, Cala Rossa is the place for you. This small beach is located on the island of Favignana in the Egadi archipelago.
The white sand and clear turquoise waters make Cala Rossa one of the most picturesque beaches in Sicily. It's also a great spot for swimming, sunbathing, and snorkelling. And if you're feeling adventurous, there are some great caves to explore nearby.
9. Spiaggia dei Conigli, Lampedusa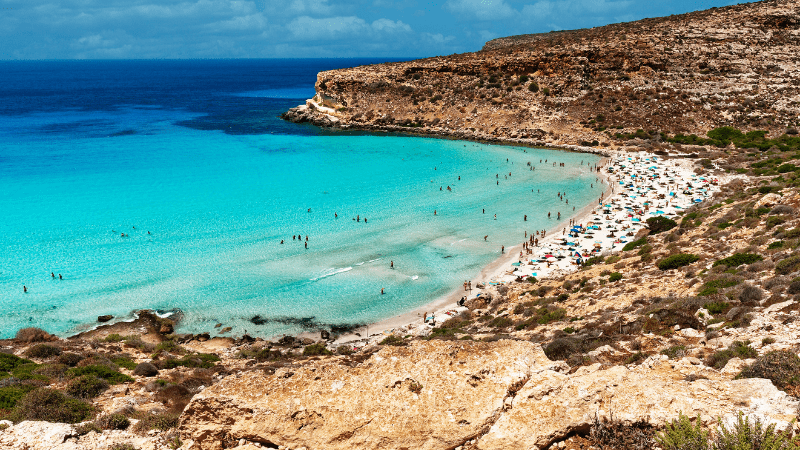 Lampedusa is a small island located about 186 kilometers from the coast of Sicily, making it closer to Africa than Italy. The island is known for its stunning beaches, crystal clear waters, and diverse marine life.
Spiaggia dei Conigli (Beach of the Rabbits) is one of the most popular beaches on Lampedusa and it's easy to see why. The white sand beach is backed by crystal clear turquoise waters and is home to a large number of dolphins. It's a great spot for snorkeling and diving.
You'll find several ancient ruins near Spiaggia dei Conigli, dating back to the Punic period. Two of the best are the remains of an ancient Roman villa as well as Byzantine walls dating back to the Middle Ages. So be sure to bring your camera along so you can capture some amazing photos!
Spiaggia dei Conigli is about a 15-minute drive from Lampedusa town.
10. Fontane Bianche, Siracusa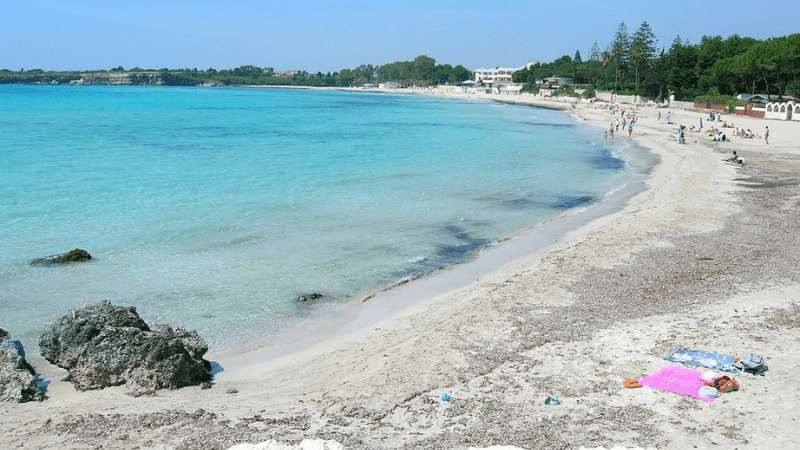 Fontane Bianche is a popular seaside resort town located about 12 kilometers from Syracuse. It got its name from the numerous small fountains that spout up from the white cliffs.
The snow-white beach here is a wide and sandy crescent, with warm and shallow waters that invite visitors to play a game of water volleyball or football right in the water. You can rent a boat, ride a catamaran, or go diving, but most people just rent a lounge chair for the day and relax.
Fontane Bianche is about a 15-minute drive from Syracuse.
Final thoughts about the beaches in Sicily
So there you have it – our list of the 10 best beaches in Sicily. We hope this gives you some inspiration for your next vacation destination. And if you've already been there, share your favorite Sicilian beach below!