Ireland has more going for it than Dublin of course, so it would be a shame to visit the country and spend the entire time in its capital. There's so much to Ireland that you could probably spend years just exploring its beauty.
If you don't have that luxury, be sure to place the Rock of Cashel high on your list of must-see sites while you're in the country. It's Ireland's most visited heritage site for a reason.
ⓘ TIP: If you'd like to visit Cashel from Dublin, you'll find a few tours below.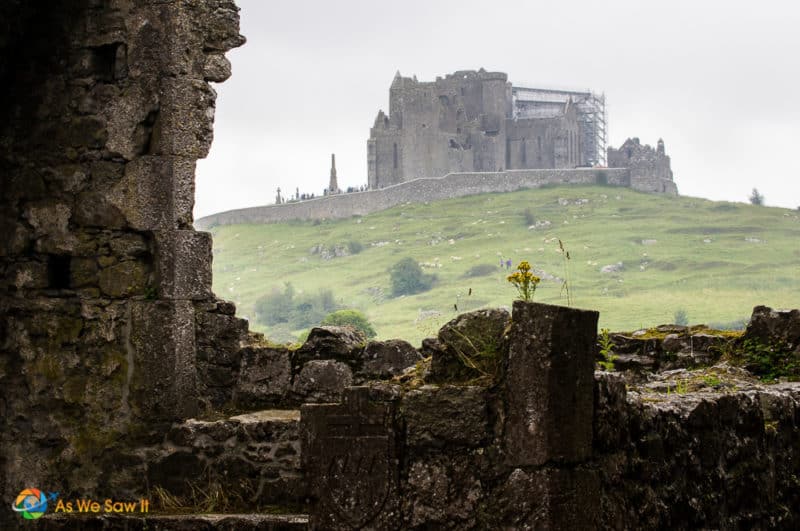 Why is the Rock of Cashel important?
Cashel, which means castle, is a town in the Golden Vale of Ireland's County Tipperary, and it is best known for the massive rock of limestone that sits in the center of the town.
The Rock of Cashel (Carraig Phádraig), more formally named St. Patrick's Rock, is also known as Cashel of the Kings. The site is quite literally a walled area, built atop a massive chunk of rock. It was a brilliant defensive choice, don't you think? An ideal spot for the castle the ancient rulers built there (hence the name).
St. Patrick baptized Aenghus the King of Munster here in the 5th century. As you might expect, his parish exploded overnight when the peasants wisely followed their king's lead. The Rock of Cashel remained the royal seat of the kings of Munster (basically, all of southern Ireland) until the Norman Invasion in 1169.
When you visit, look for this ancient stone cross. According to legend, it marks the spot where this happened.
What can you see at the Rock of Cashel?
Most of the buildings on the Rock date from the 12th and 13th centuries, and many are historically significant.
1. Hall of the Vicars Choral
The first buildling you will see is the Hall of the Vicars Choral, which dates from the 15th century.(The "vicars choral" were laymen who assisted in chanting the cathedral services.)
This recently restored building acts as the entrance to the Cashel complex. The Hall contains a small museum that displays artifacts excavated on the Rock of Cashel.
2. Round Tower
The oldest and tallest building is the 90-foot-tall Round Tower, built around 1100. Most of it is original, and it still has 6 floors. Only the roof has been rebuilt (19th century). Our son Jimmy, who had served in Iraq, said it reminded him of a missile. So much for being impressed by history.
3. Cormac's Chapel
Cormac's Chapel is almost as old as the Round Tower. The Romanesque chapel was consecrated in 1134, probably for Benedictine monks. It was undergoing massive restoration work while we were there, so we could only enter with a guide and only for a precious few minutes.
The entire chapel is surrounded by scaffolding and a metal roof in an effort to shelter the building from the persistent Irish rain. Nearly 1000 years of water have begun to infiltrate the interior and destroy the colorful frescoes inside.
The frescoes are the oldest Romanesque wall paintings in Ireland, but they were covered with whitewash at the Reformation (16th century) and remained hidden until the 1980s.
4. Gothic cathedral
The Gothic cathedral was built in the mid-1200s and was used for worship until the mid-1700s. At about the same time, the archbishop decided to remove part of it so he could build his own residence.
It's a shame that historical preservation wasn't important back then because it looks like it was beautiful.
5. Rock of Cashel cemetery
The grounds around the buildings are home to an extensive graveyard, which includes a number of beautiful high crosses and tombstones. There's an ancient sarcophagus behind Cormac's Chapel that's worth seeing. It is said to possess the body of King Cormac's brother, Tadhg.
Sorry there aren't many photos of the cemetery. We happened to be visiting while a funeral was taking place, so out of consideration we didn't wander about too much.
Sadly, the cemetery has run out of room.These days, you can only be buried there if you are a direct relative (child, parent, brother or sister) of someone who is already buried there. The burial we saw would be the next-to-last one ever, our guide said. The one remaining person was really, really old, and all of her children had already died.
6. Beautiful vistas
As I already mentioned, the entire plateau atop the rock is surrounded by a wall. We stood out in the drizzle, enjoying a spectacular view of the Plain of Tipperary.
The verdant farming area is broken up by low, grey stone walls everywhere. They still mark land boundaries. You can't help but wonder how long they have been standing.
7. Hore Abbey
As we surveyed the surrounding countryside, we were intrigued by a long-abandoned complex down in the Rock's shadow. Those desolate ruins are known as Hore Abbey.
I am not sure when it was built, but it was a Benedictine community until the Cistercians took it over in 1272. It was the last Cistercian monastery in Ireland.
How could we leave town without taking a closer look? It's a quick drive to the abbey from the Rock, and super fun to wander through the ruins.
Other things to see in Cashel Ireland (if you have more time)
The Brú Ború Centre at the foot of the Rock hosts regular traditional Irish music sessions and has audio-visual presentations of Cashel's history.
Cashel's broad Main Street has plenty of appeal.
The Heritage centre and Tourist Information office, located in the former Market House on Main Street, has a model of Cashel in the 1640's.
Hore Abbey, St John's Cathedral and the Dominican Abbey are other markers of Cashel's ecclesiastical history which are worth a visit.
Frequently asked questions about the Rock of Cashel
How long does it take to drive to Cashel?
The drive to Cashel from Dublin takes about 1 hr 45 min. It takes 1 hour to drive from Cashel to Waterford.
Can you go inside the Rock of Cashel?
Yes. You can tour the site independently or join one of the 45-minute guided tours that will show you the most important sites. Tours take place several times a day.
Is Rock of Cashel free to enter?
There is an admission fee. However, you can get free admission to the Rock if you spend €15 in one of the participating Chamber of Commerce businesses in Cashel Town. Ask your hotel or restaurant for more information.
How to get to the Rock of Cashel + tours
By bus – You can get to Cashel by taking the X8 Dublin-Cork line with Bus Eiranne. Take the bus from Heuston Station, stop 135401 to Cashel main street, stop 255231. Buses run every 4 hours. The journey takes 2 hours.
By car – Cashel is near the M8. Turn off at the R639 or R691. The Rock of Cashel is 500m from the town center off the Dublin Road. It takes just an hour and a half to drive there from Dublin. This just proves one thing: It's not a long way to Tipperary … at least, not from Dublin. 🙂
By tour – Many tour providers offer day trips from Dublin to Cashel from Dublin. You can hire a private guide for a full day in Cashel, or you can book a tour that includes Cashel plus other interesting places in Ireland. Conveniently, Cashel is a popular stop on the way to Blarney Castle, and it can just as easily be combined with a visit to Waterford or Kilkenny.
Rock of Cashel visitor information
For current operating hours and how much Rock of Cashel tickets cost, click here.
The official Cashel tourism website can be found here.
Plan to spend 1 – 1.5 hours, which will allow time for the free 45-minute guided tour, walking around the grounds, an audio-visual show and exhibitions.
The site is accessible to visitors with disabilities, with prior arrangement.
Hours: Open daily, 09.00 – 17.30 (Closes 16.30 mid Oct. – mid March and at 19.00 from June – Mid Sept.)
Admission: Adults: €8.00, Seniors: €6.00, Children: €4.00, Family: €20.00
The Rock of Cashel is an easy day trip from Dublin.
Best place to stay in Cashel Ireland?
If you plan to stay overnight, O'Brien's Cashel Lodge comes highly recommended.
See more