Hungry for a taste of Panama's national dish? Cozy up to a bowl of Panamanian sancocho, also known as sancocho de gallina Panameño. Or in other words, Panamanian chicken soup.
Sancocho is a delicious, filling, and economical dish that gets its distinct flavor from chicken, an herb called culantro, a bit of corn on the cob, and starchy vegetables such as ñame, yuca, plantains, otoe and yams.
I'm not sure if hot food really cools you off, but heat is one of the many things that Panamanian sancocho is said to remedy. Well, of course, chicken soup is mama's cure for all ills, worldwide.
Here in Panama, they also claim it helps to cure a hangover, and that may be true. It wouldn't surprise me if that was one of the reasons why it's eaten so often. After all, the local Abuelo rum is cheap.
In any case, no matter where you travel in the world, chicken soup has a reputation for making people feel better. Doesn't matter if it's Grandma's Panamanian sancocho made from scratch or a store-bought can of Campbell's Chicken Noodle Soup.
Our first experiences with Panamanian sancocho
I first tried sancocho at a little restaurant we found while we were wandering through Casco Viejo, Panama's old town. I kind of felt like I had to, since it's Panama's national dish. As soon as I saw the fresh culantro herb floating around on top, I figured it would be good. I wasn't disappointed.
Then we went on a day trip to visit the historic Camino Real, which lies on the outskirts of Panama City. Our guide brought us to a remote village, where we were served a home-cooked campesino meal. They had prepared a delicious lunch, cooked over an open fire on their community stove.
A meal highlight was a mega-pot of sancocho de gallina, a Panamanian chicken soup. Judging from their isolated location, they hadn't picked up the meat at the corner store. it was obvious that the chickens in the pot had been running around earlier that morning. No wonder the others kept their distance from us!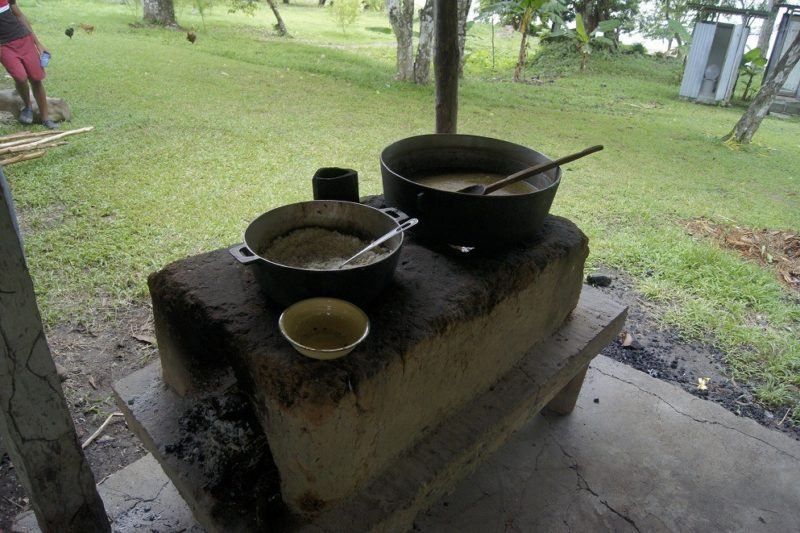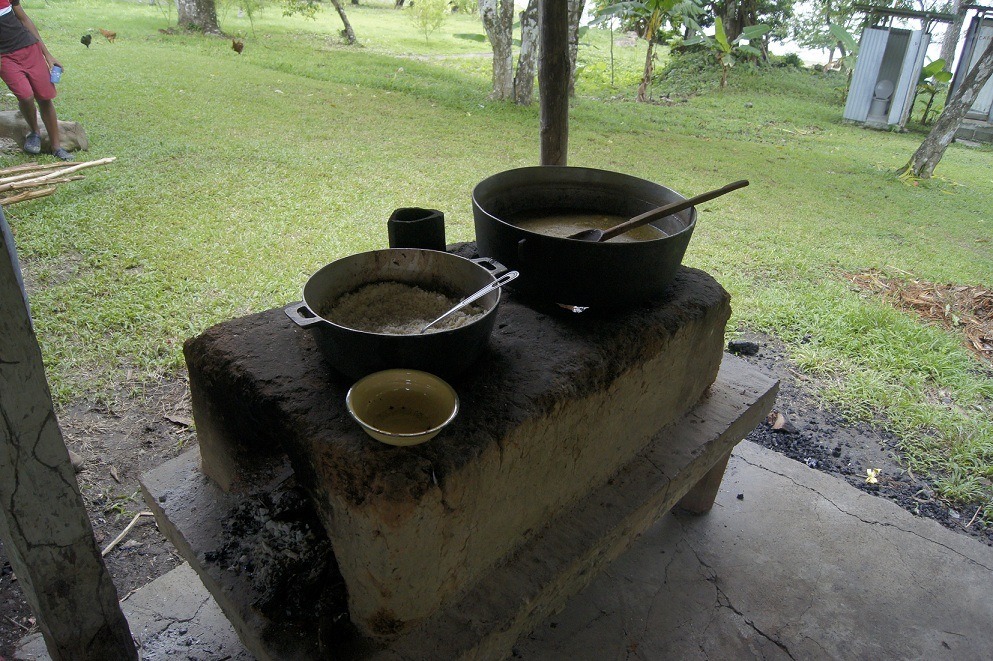 Regional varieties of Panamanian sancocho
Every sancocho recipe is a little different, depending on the region and the chef. The color and flavor can vary from light brown to bright green to yellow and orange.
The soup's ingredients may vary in many ways but all the varieties they serve in Panama share one characteristic: They are rarely spicy. We may be in Central America but unlike Mexicans, Panamanians aren't very fond of picante foods. Sadly, that means that there aren't many hot peppers to be found in the grocery stores either. When we crave anything besides jalapeños and habañeros, it takes a trip to a specialty grocery to find them.
As for the regional differences in Sancocho recipes,
The one they serve in Panama City is usually light brown because of the variety of root vegetables. Sancochos that are heavy in culantro have a bright, fresh flavor and a green hue. On the other hand, if you see a yellow or orange version, it's because the chef included a lot of squash (a.k.a. pumpkin) or yams.
Sancocho chorrerano (made in the town of La Chorrera, outside Panama City) is a spicy exception, made of only chicken, onions, garlic, chili peppers, oregano and ñame. I haven't heard of any other versions with a kick.
There's another version made in Chiriquí Province, which borders Costa Rica; it's called sancocho chiricano (duh) and contains a laundry list of ingredients, including squash. (We haven't tried that one yet.)
By the way, if you're lucky enough to be able to cook this over an open fire, your sancocho will pick up a hint of the smokiness, which adds another layer of flavor.
Places to stay in Panama
What is culantro?
Don't confuse culantro with cilantro. They may have a similar aroma and flavor, but they look completely different. Also, culantro's seeds aren't used in cooking. (Cilantro seeds are usually known as coriander.)
Cilantro will do in a pinch, but culantro has a stronger flavor. Panamanian sancocho gets its unique flavor from culantro.
Easy as pie? No, it's actually easier!
Maybe one reason sancocho has become Panama's national dish is because it's so incredibly simple to make. The most time consuming part is peeling the root veggies.
The recipe for sancocho that we are sharing below serves about 6-8 people, depending on how many veggies you put in. To eat it the Panamanian way, it should be accompanied by white rice. Panamanians will either mix the rice into the soup or take a bite with each spoonful.
[mv_create key="2″ type="recipe" title="Panamanian Sancocho Chicken Soup" thumbnail="https://www.aswesawit.com/wp-content/uploads/2012/07/A-delicious-bowl-of-Panamanian-Sancocho-e1413912758652.jpg"]
Sometimes the soup is also accompanied by patacones. Super yum.
Are you adventurous? Even if you haven't always harbored a secret desire to sample yucca or ñame, here's your chance. If you're a daring cook, consider this a perfect opportunity to try a new veggie or two, because now you finally have a recipe that explains how to prepare it.
Please try this recipe and then come back and let us know what you think.
Books about Panamanian cuisine:
Want to read this later? Save it to Pinterest!