Whether you're camping or traveling, sleeping in the great outdoors can change your outlook on life entirely! Rather than a hotel, you're now under the stars, and your accommodation for the night is your sleeping bag.
No matter what other backpacking essentials you bring along on your adventure, a comfortable night's sleep is the most crucial element when it comes to enjoying your time away from home. This article is all about choosing the right sleeping bag for your needs.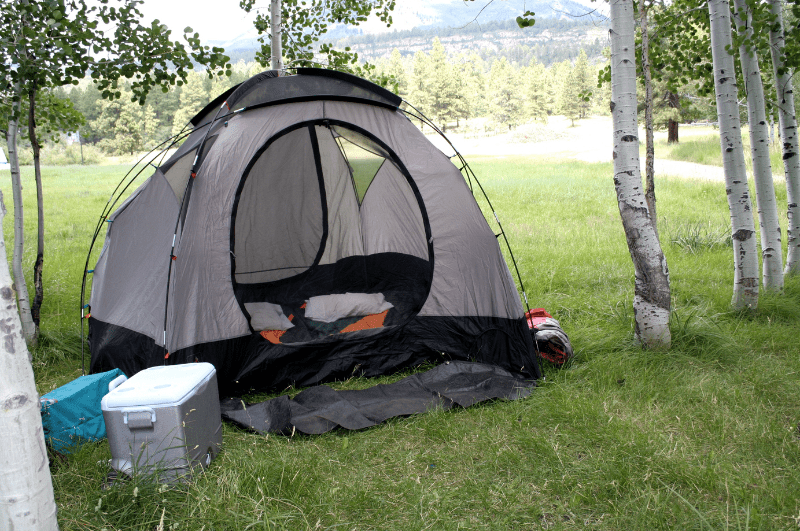 Why is having the right sleeping bag so important?
Imagine spending a long day trekking and hiking. What do you want to do after returning to your camp, tired and weary? Hit the bed and take a load off your feet, right?
A super-uncomfortable bag won't let you sleep in peace. Even if you're tired, a sleeping bag that's too hot, too cold, or too lumpy will make it hard for you to drift off.
To stay active throughout your adventure, you must sleep well at night. Head on to this link and see a great variety of outdoor gear available.
Features to look for in a backpacking sleeping bag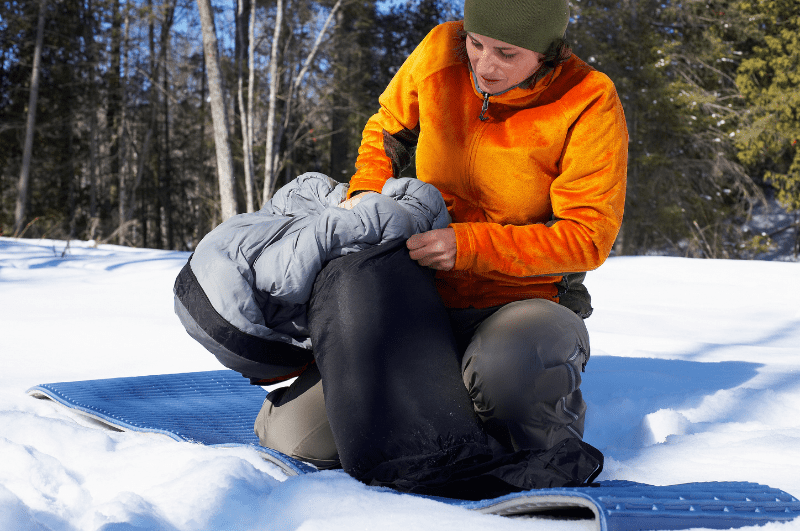 It can be hard to decide which sleeping bag to buy for an outdoor adventure, the many options may make it hard available that you won't be able to choose one among them.
To make it easier for you to find the best backpacking sleeping bag for your needs, here are a few features you should look for:
A hood helps to keep your head and neck warm, which is essential since these are body parts that lose heat quickly.
A waterproof outer layer will protect you from the elements if you're camping in a place where it rains or snows.
A comfortable inner lining won't irritate your skin.
A lightweight sleeping bag will be easy to pack and carry. You don't want to be weighed down by your sleeping bag, so pick one that won't add too much bulk to your backpack.
Want to save this for later?
Save this pin on your favorite Pinterest travel board.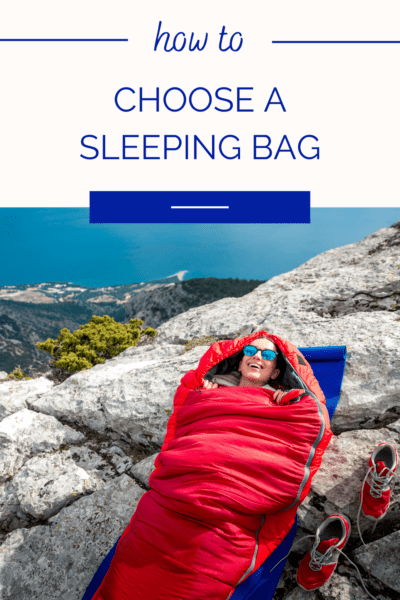 6 tips for choosing the right sleeping bag for your needs
When choosing a backpacking sleeping bag, keep all these factors in mind and you will be able to find the perfect bag for your next adventure.
1. Choose between a camping sleeping bag and a backpacking sleeping bag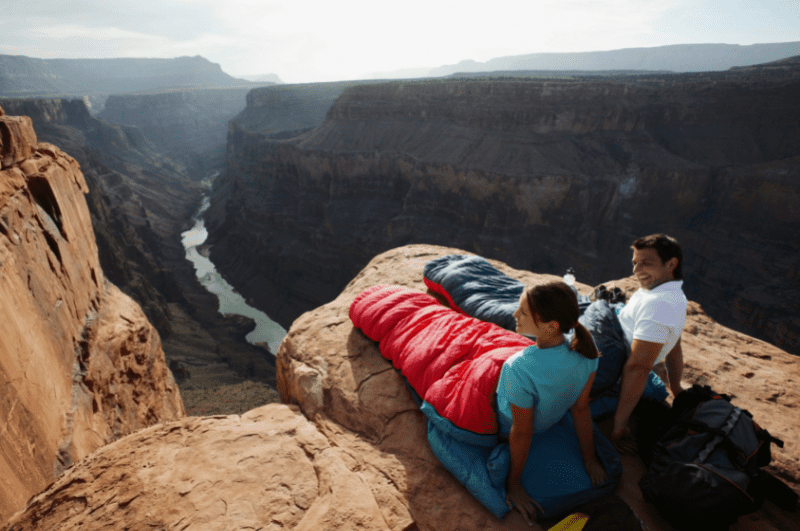 There is a vast difference between a backpacking sleeping bag and a camping sleeping bag, so it is crucial to choose the right one.
Backpacking sleeping bags are usually smaller, lighter, and more expensive. They are designed to be easy to carry and pack, so you can take them with you on long hikes and treks.
Camping sleeping bags, on the other hand, are larger, heavier, and less expensive. They have more filling and are designed for people who don't have to worry about carrying them very far. This type is best if you stay at one campsite for a while or car-camp.
There is also the option of choosing a hammock sleeping bag, which means you can avoid carrying a tent. Instead, you hang a hammock sleeping bag on a tree to sleep in. This option is perfect for warmer weather and lower altitudes where wild animals are rarely spotted.
ⓘ TIP: Hammock sleeping bags are ideal for those who enjoy sleeping under the sky. However, they are only recommended for use by highly experienced outdoor enthusiasts who can handle unexpected wildlife and other situations in the outdoors.
2. Check the temperature rating
Sleeping bags come with temperature ratings, making it easier to choose your desired bag. Temperature ratings showcase the lowest possible temperature at which the bag can keep a sleeper warm.
Three-season sleeping bags are designed for temperatures down to 20°F/-5°C. This is warm enough for most summer and shoulder-season backpacking.
If you are buying a bag for the first time or are a cold-sleeper, select a sleeping bag with a lower temperature rating than what you'd expect to experience. It will keep you on the safer side of comfort.
3. Check the insulation material
Another thing that you should be well aware of is the insulation material of the bag you are buying. You want the insulation material to be durable, lightweight, and quick-dry.
Bags with down insulation are very lightweight, which makes them easier to carry for long hours. However, a down sleeping bag is more expensive and may lose insulation power when wet.
In comparison, synthetic bags are more affordable, making it easier to stay within your budget. They are also a great choice when traveling in damp climates because they maintain their insulating power when wet.
4. Choose the right shape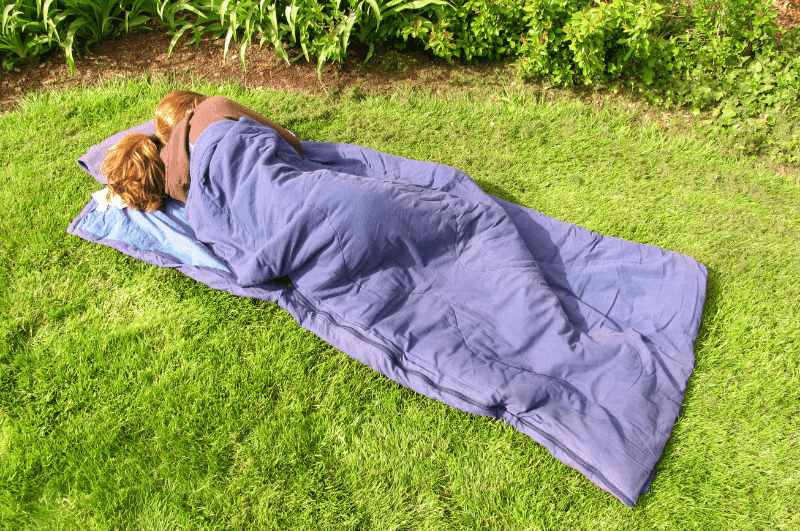 Now that you know what type of bag and insulation material you want, it's time to choose your ideal sleeping bag style.
Sleeping bags come in different shapes: mummy, rectangular, and barrel. Each style will affect how warm you stay during your adventure.
Mummy sleeping bags are tapered at the feet and have a hood, so they are great for cold weather.
Rectangular bags are more spacious and comfortable. They can be zipped together to accommodate two sleepers, but the extra airspace around the feet can get cold.
Barrel bags are a hybrid of the other two.
Choose your sleeping bag style according to your sleeping behavior.
If you tend to move around a lot in your sleep, a rectangular bag would be the best choice since it gives you more space to move. No matter how much you toss or turn while sleeping, it will keep you safe and warm. The trade-off is that rectangular bags are the heaviest of the three styles.
If you are planning an adventure to a cold site, a mummy bag will hug you tightly, and you won't feel any cold air hitting you from any side. This way, no matter how cold the weather gets, you will sleep comfortably.
Get the hybrid if you're an active sleeper who will be in a cooler climate.
5. Check the weight and packed size
The weight and packed size of your sleeping bag are also essential factors to consider while making your purchase.
Backpacking sleeping bags are usually lighter than camping sleeping bags because they need to be easy to carry for long hours. If you plan on doing a lot of backpacking, it is best to choose a lighter bag.
On the other hand, if you don't mind carrying a little extra weight, choose a warmer bag. It will be worth it when you snuggle into it at night.
As far as the packed size is concerned, choose a bag that can be easily compressed into a small space. This will make it easier to carry and will save you a lot of space in your backpack.
6. Check the warranty
Last but not least, don't forget to check the warranty of the sleeping bag before making your purchase.
Most companies offer a warranty of one year, but it is always best to choose a bag with a longer warranty. This way, you can be sure that you are getting a quality product that will last you for many years to come.
The right sleeping bag will enhance your experience
Choosing the right sleeping bag for outdoor adventures will make your whole experience pleasant. It doesn't only offer you comfortable nights but leads to adventurous days if it's easy to pick and carry while hiking.
So, what are you waiting for? Get your hands on the sleeping bag you have been eyeing for so long, and plan your adventure! There is nothing as rewarding as enjoying the sounds of nature and challenging yourself to become brave and strong, managing life in the wild while sleeping under the stars.