Places where you can stay
Greetings from Clifden, in Ireland's County Galway!
We came here in search of my (Dan's) family roots, and I found them in a tiny village named Kingstown. I wanted to see where my great-grandmother came from and formally meet my Irish cousins.
My emotions were overwhelming as I finally set foot upon the ground of our ancestors. This was truly the most exciting part of our trip around Ireland.
Galway
Clifden was my focus, but we didn't rush there straight from our hotel on the Dingle Peninsula. Ireland is so beautiful that it would be a shame to rush. Most of our day was spent in a leisurely drive to see some off-the-beaten-path cliffs that would rival Moher, sans the tourist hordes.
Read about it: Visit Loop Head Peninsula and Skip the Cliffs of Moher
We stopped for the night in Galway, staying at a B&B in the Salthill neighborhood. Our hostess pointed out a shortcut to the waterfront promenade, which has dozens of places to eat, drink, and enjoy some traditional Irish music.
Read about it: Buying an Irish Claddagh Ring in Galway
We loved Galway's vibe, with its cobbled stone streets, colorful buildings and bustling market place. It was quite cold for August, but the chilly and misty weather didn't bother us at all because of our excitement.
After walking about a bit, it was finally off to Clifden to meet up with our Irish relatives.
Kingstown, our ancestral home
My great-grandmother was born and raised in a suburb of Clifden called Kingstown. It is a very tiny village that lies even further out on the peninsula than Clifden does.
Our family roots are deep in the area and as I said, we still have cousins who live there. It had sounded like they were as excited to finally meet their American cousins as we were to meet them.
Even so, the first thing we did when we got into town was take a drive on the Sky Road loop. I wanted to get a sense of the area where our ancestors had lived all of their lives. The views were stunning, even though we battled the fog all the way around.
We ended up in town and discovered a museum at the former Clifden railway station. It helped us picture downtown Clifden as my great-grandmother would have known it.
Nora Canavan left her family in Ireland to join her sister near Pittsburgh back in the early 1900s. She sailed aboard the SS Majestic from Queenstown (Cobh), the same port that the Titanic had left from.
We were able to find a few of the sites Nora would have known, such as the school she had once attended. It has been repurposed and is now a small church. Jimmy lit a candle for his great-grandmother at Nora's old school.
The family home
To me, seeing the home her father built was the most impressive sight of all. Now used as a storage building, this small stone building was once the family home.
The door wasn't locked, so I walked inside. The emotions I felt while standing in this quiet place captured me as I pondered the days gone by. We have come so far, all because of one young lady's decision to seek a better life in the United States.
My newfound family
These are our family members who still live in Ireland. It is our hope that our grandchildren will someday be able to follow in our footsteps and visit our Irish kin. They will be welcomed with open arms, just as we were – and just as they did when my own Granny (Nora's daughter) and aunts visited a few years ago.
It was such a joy to see Jimmy's eyes reflecting the true love that he had for "HIS" Ireland. He felt so much at home and so much peace there after all the nightmarish experiences he had in Iraq.
Family mementos
They brought out the family photos and clippings. We pored through them together, finding family resemblances. I took photos of some of the things that they had, such as an old shot of the Canavan couple who built the home, so I could share it with our folks in the States.
This was one of the best days ever.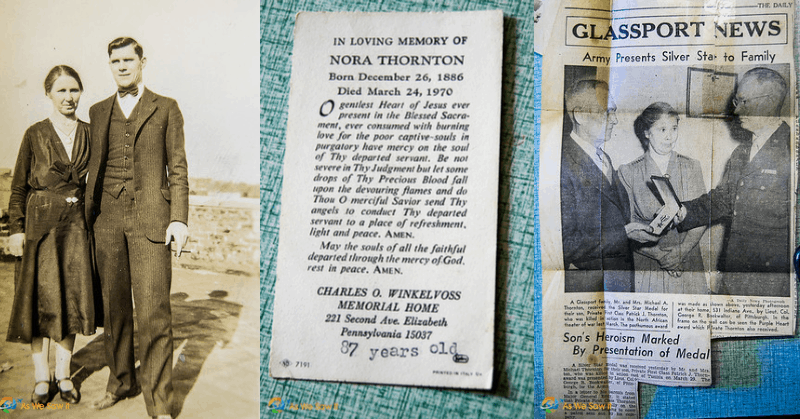 Goodbye from Clifden, County Galway. Having a wonderful time, wish you were here.
Dan, Linda & Jimmy