Out of the 1100 locations around the world, Australia is very lucky to contain 20 UNESCO World Heritage Sites. These give you so much variety from outdoor and naturally created iconic buildings, cultural areas, and ancient rainforests. Today, we'd like to give you a small taste of what you need to see when visiting the country.
Know that it takes an outstanding value, significance, and common importance to be awarded World Heritage status. Therefore, visiting the many different UNESCO locations in Australia will be an amazing. Along the way, you can enjoy the diverse landscapes, underwater life, and architectural creations.
So, let's explore some of the best UNESCO World Heritage sites in Australia below.
1. Fraser Island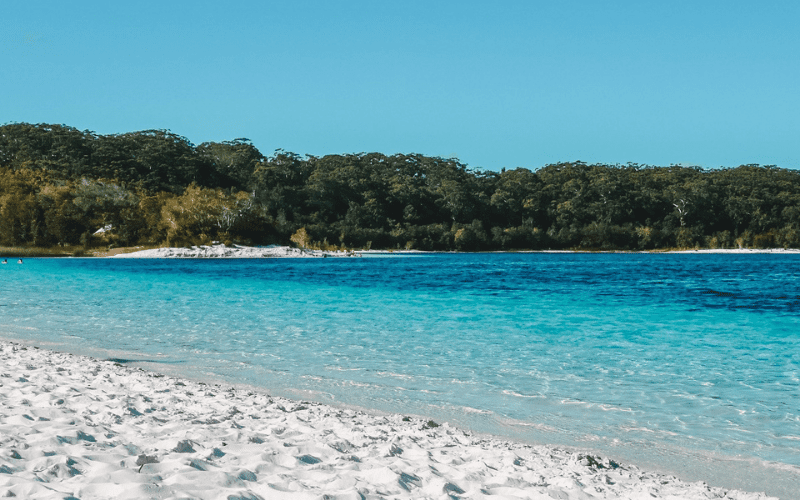 The Queensland state in Australia is lucky to contain the four largest sand islands in the world. Fraser Island is over 1600 square kilometers in size and is the biggest of all of them. It was entered into UNESCO World Heritage status in 1992 and contains many natural sites. Additionally, Fraser Island includes the only rainforest in the world that's growing in sand.
You can access Fraser Island by barge from Hervey Bay or Rainbow Beach, although alternative tours will leave from the capital Brisbane. You will need a four-wheel-drive vehicle to access the island, so it's sometimes more convenient to take a tour. Alternatively, if you're able to drive yourself, you will have a lot more flexibility and take your time seeing the amazing sites.
Obviously, you're on an island, so swimming places are in abundance with Lake McKenzie, Champagne Pools, Eli Creek, and Lake Wabby. Besides that, you can climb the Pinnacles rock formation, dive the SS Maheno Shipwreck, and go trekking through the rainforest.
2. Gondwana Rainforest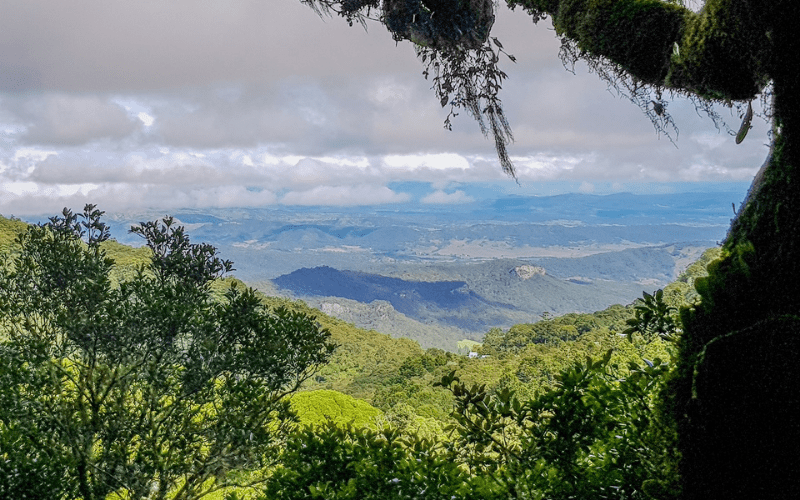 Gondwana Rainforest is situated in both New South Wales and Queensland. It was entered into World Heritage status in 1986 for the New South Wales portion but extended in 1994 to include Queensland. This area includes several rainforests like the Lamington National Park, Springbrook National Park, and Barrington Tops National Park.
Over 2 million people visit the Gondwana Rainforest area each year, and very popular touring from the Gold Coast. It was shaped by erupting volcanos, which left behind a mountainous range, amazing waterfalls, and ever-growing with more than 200 rare plant and animal species. Mount Warning (Wollumbin) is one of the best examples of erosion caldera in the world, where a land depression is formed from a volcano erupting and then collapsing.
There are plenty of hiking opportunities to enjoy, as well as waterfall swimming. The avid photographer will enjoy the different scenes, wildlife, and embarking through their peaceful surroundings.
3. Great Barrier Reef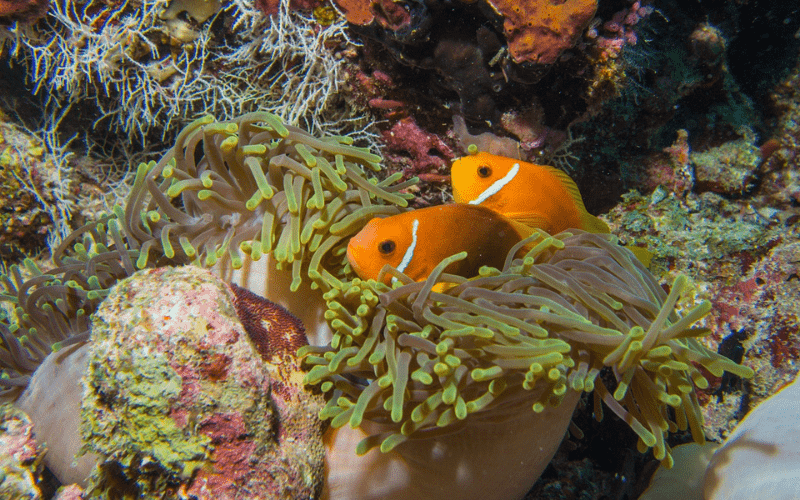 Considered one of the seven natural wonders of the world, the Great Barrier Reef has been an Australian World Heritage site since 1981. The 2300-kilometer-long reef stretches along the Queensland coast from Bundaberg to Port Douglas and can be viewed from space.
Contained within this magnificent reef system you have 300 coral cays, 150 mangroves, 600 continental islands, and 3000 individual reefs.
Tours will depart from the coast in several areas from the north to the south in the Great Barrier Reef. More popular from towns like Airlie Beach and Cairns, but also Agnes Water, Bundaberg, and Port Douglas. The Whitsunday network allows many choices for resort accommodation and is incredibly popular on Hamilton Island.
You can snorkel or dive the reef at all these locations and see anything from turtles to groupers, manta rays, whales, and thousands of fish varieties. Apart from that, you can laze the days away on the many white sandy beaches like Whitehaven Beach.
Want to save these Australian world heritage sites? Pin to Pinterest!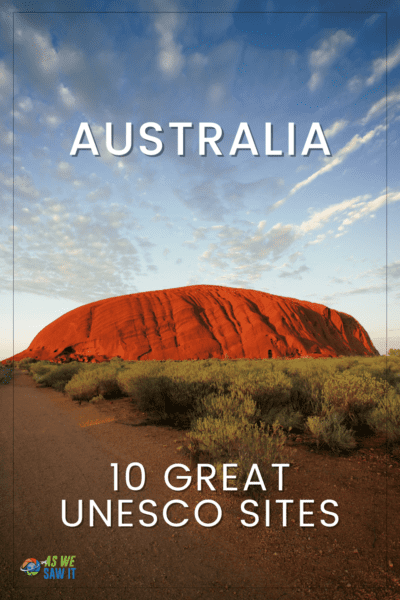 4. Sydney Opera House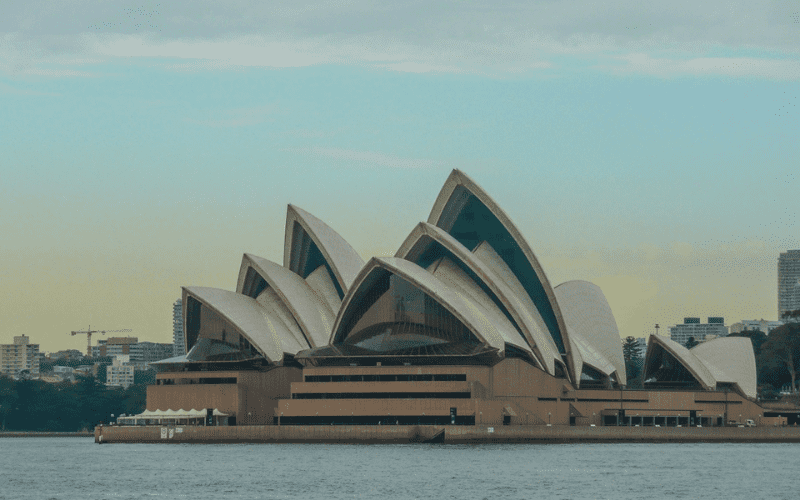 The Sydney Opera House became an Australian World Heritage site in 2007 and was included for cultural and architectural reasons. It's located in the large city of Sydney, an icon for the Sydney Harbour and visited along with the Harbour Bridge. The roof of the Opera House has been designed with white sail-shaped shells and is one of the most photographed, recognizable buildings in the world.
Over 10,000 men were used in the construction of this marvel, and it cost 102 million dollars. You can see the Opera House from several viewpoints around the Harbour, including the aerial view from the Sydney Harbour Bridge Adventure Climb. Alternatively, you can purchase tickets for the events, stage shows, or Operas inside the amphitheater.
You can uniquely experience the Sydney Opera House by visiting the Vivid Festival around June each year. This is where you'll see the sails decorated in an ever-changing moving light and art display. You won't regret it!
5. Uluru (Ayers Rock)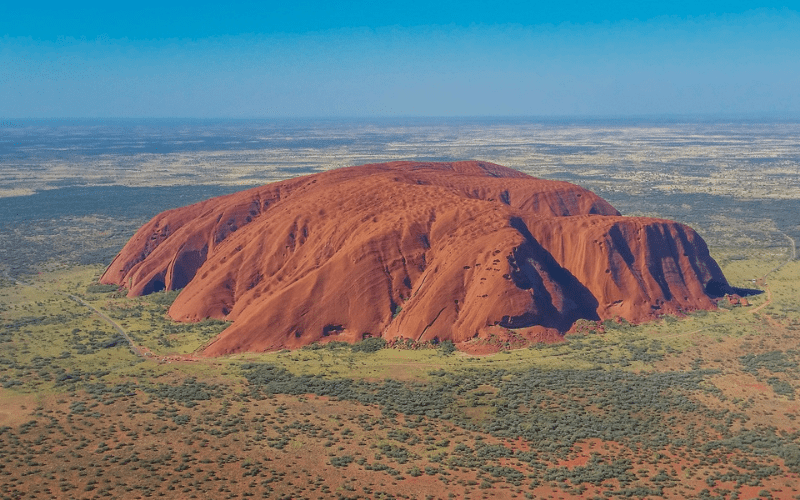 When you think of Australia, you more than likely think of Uluru or Ayers Rock. It's a large red sandstone rock formation in the middle of Australia and stands 348 meters (1142 feet) above the ground. In 1987 it was World Heritage-listed for its natural values and again in 1994 for its cultural significance.
You can walk around the base of Uluru in around 3 to 4 hours; the hike is about 10 kilometers in length. This journey will take you to small waterholes, caves, and cultural sites and get extremely close to the rock itself. On the other hand, specific roads have been placed to drive the way around (at a distance), and there are also car parks for optimal sunset or sunrise viewing.
Uluru is a part of the Uluru-Kata Tjuta National Park and is often explored with Kata Tjuta (The Olgas). Passes can be purchased to enter the National Park to experience hiking opportunities, balloon flights, a solar light bulb display, or helicopter flights.
The outback town of Yulara is 30 minutes away and was built to accommodate and provide facilities to all Uluru visitors.
6. Tasmanian Wilderness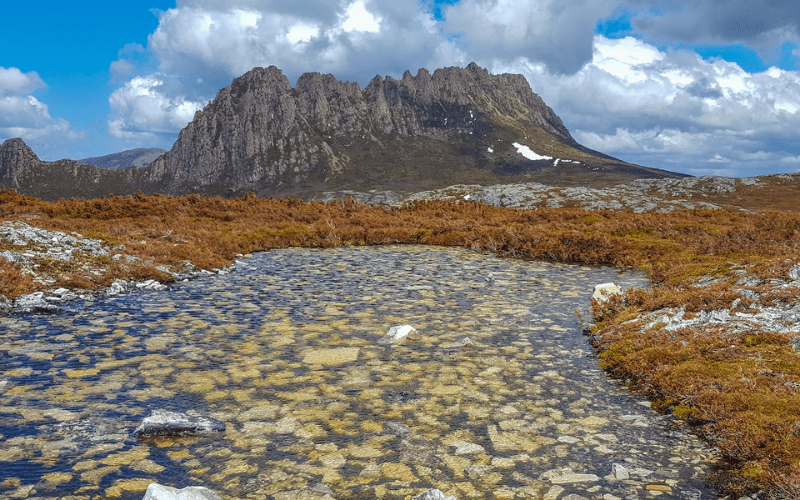 Tasmania is a small island located on the southern-eastern coast of Australia. Here is where you'll find the Tasmanian Wilderness, which was UNESCO World Heritage-listed 5 times between 1982 and 2013. What's unique about this area is that you need 10 criteria points to be heritage listed. While most sites only meet one of two criteria points, the Tasmanian Wilderness meets 7 of them.
There are 6 different National Parks that make up the Tasmanian Wilderness. This includes Cradle Mountain-Lake St Clair National Park, Franklin-Gordon​​ Wild Rivers National Park, Mount Field National Park, Southwest National Park, Hartz Mountain​s National Park, and lastly, Mole Creek Karst National Park. It covers 1.5 hectares in size and around a quarter of Tasmania's entire landmass.
The Aborigines have lived in this area for 30 thousand years, and it's one of the world's largest temperate wilderness areas. You can expect to see a lot of local wildlife, fantastic views, and raw natural beauty.
7. Purnululu National Park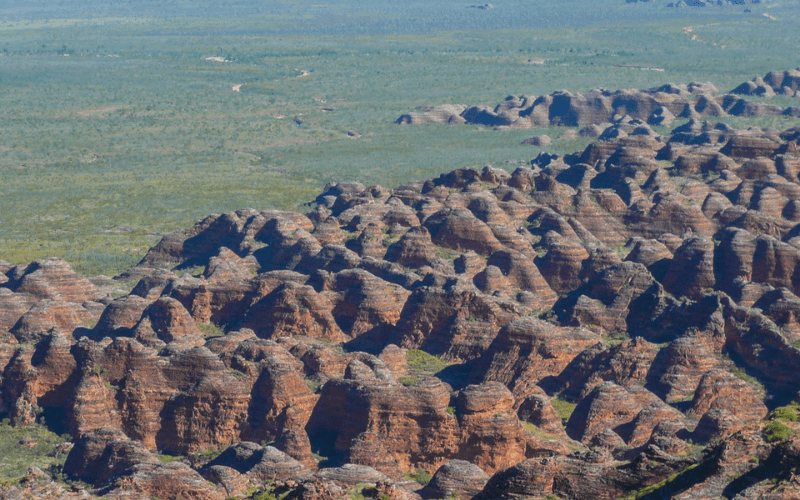 The Purnululu National Park is in North Western Australia and was World Heritage-listed in 2003. The area has several different sites worth visiting, but the Bungle Bungle range is what draws over 50 thousand tourists each year. The Bungle Bungles are giant beehive-looking rock formations, formed over 300 million years ago in several ways. This included different materials deposited over the area, erosion, and active fault lines.
This National Park can only be accessed by four-wheel drive, but several tour companies leave from Broome and Kununurra. You will see many different hikes, including in and around the Bungle Bungle domes and waterholes in Cathedral Caves. The caves are also a great spot for sounds echoing off the walls, which makes the perfect natural Amphitheatre.
This park lies in arid, outback country, and therefore, temperatures can get extreme during the summer months. The tourist season runs from April to October, when you'll find most of the accommodation and facilities open for business.
8. The Greater Blue Mountains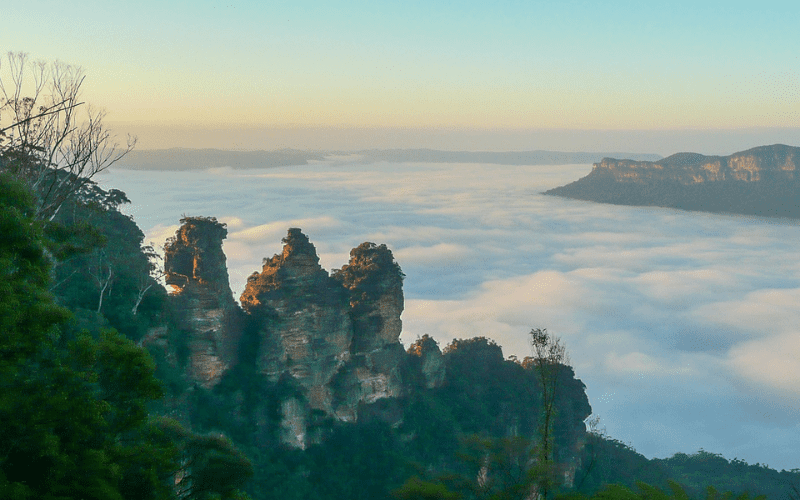 Just a short drive from Sydney, you'll find 1 million hectares of sandstone plateaus, caves, forests, slot canyons, and rock formations making up The Greater Blue Mountains. This encompasses the Wollemi National Park, Yengo National Park, Nattai National Park, and the Kanangra-Boyd National Park. Furthermore, in 2003, it was entered as one of the World Heritage Sites of Australia.
You can visit the Blue Mountains on an organized day trip from Sydney or access it with a standard two-wheel drive vehicle and mostly centralize your visit around the tourist town of Katoomba. It's here where you will find accommodation, arts and crafts shops, wineries, and all the facilities you will need for your visit. Highlights of the area include a suspended cableway, hiking trails, lookout points, and riding the Katoomba Scenic Railway, the world's steepest passenger train.
The Three Sisters rock formation is an iconic landmark, along with the Jenolan Caves with all the stalactite and stalagmite limestone pinnacles.
9. Ningaloo Coast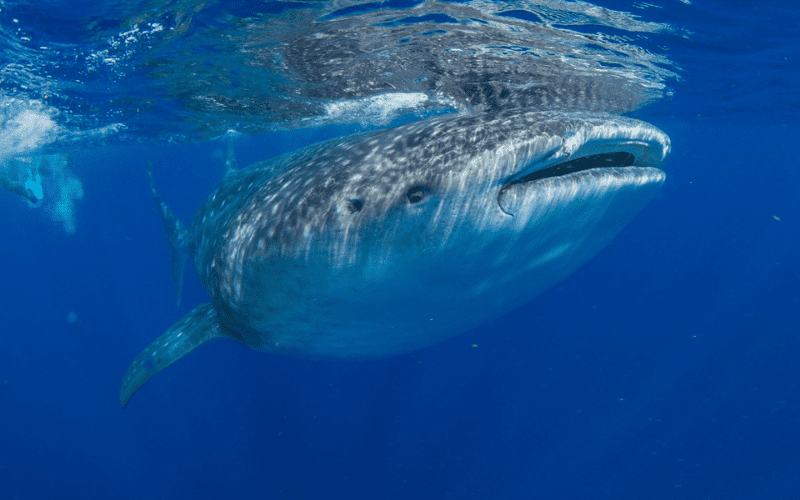 The Ningaloo Coast became an Australian World Heritage Site in 2011. Located in northwestern Australia, it consists of magnificent color contrast between the blue reef-filled waters, against the red sandy coastline. The colors are just amazing and must be seen to be believed.
There is an obvious contrast of marine life diversity, along with a major reef system, lagoons, and a continental shelf. If you're lucky to visit between May to August each year, the migrating Whale Sharks will pass by feeding on the coral spawn and other small creatures in the area. Tours will depart from Exmouth and Coral Bay each day to see these ginormous creatures, and you can snorkel alongside them.
As for the land itself, there are sandy beaches, estuaries, rocky shores, and mangroves to explore. they, along with hundreds of caves and watercourses, make up an extensive network called the Karst System.
10. Kakadu National Park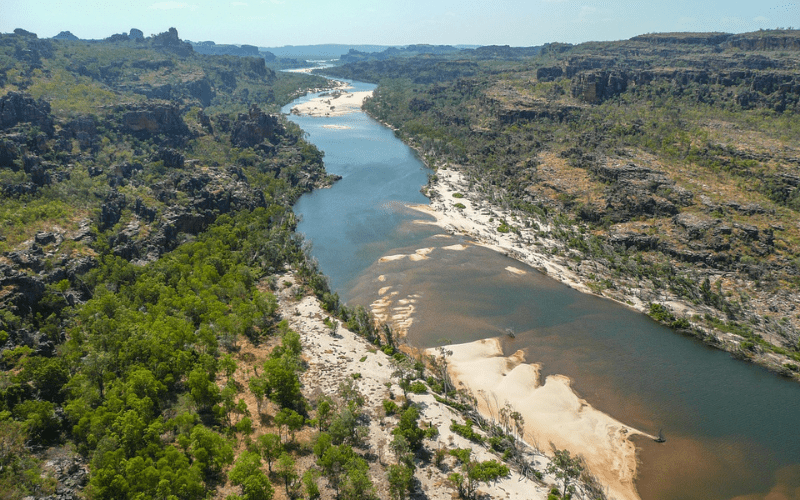 Kakadu National Park is in the Northern Territory and is one of the largest National Park in Australia. It's almost 20 thousand square kilometers in size, more than 65 million years old, and contains one of the oldest living cultures in the world.
The traditional owners (The Bininj Mungguy People) manage Kakadu National Park in partnership with Parks Australia. Over half the park is Aboriginal land and holds some of the oldest, viewable rock paintings, which are said to be more than 20 thousand years old.
Kakadu National Park is a place of biological diversity and home to a range of rare and endemic plants and animals. You'll also see the largest number of crocodiles, so be mindful of allocated swimming areas and waterholes.
This area will receive over 1.5 meters of rainfall each year during the summer months of December to February. Therefore, visiting during the winter season will make it more accessible. However, helicopter and fixed-winged plane flights are an excellent adventure during the summer, witnessing the flood plains and some of the biggest waterfalls.
Which UNESCO World Heritage Sites in Australia most appeal to you?
I hope you enjoyed reading about some of Australia's World Heritage Sites and learned a little more about what the country has to offer.
Which ones have enticed you to see, or look at planning for, on your next trip to Australia?
Chris Fry is the writer and photographer behind Aquarius Traveller, where she shares her journeys, provides valuable information and inspiration for your land and underwater travels. She lives in Australia and has travelled to 36 countries and across Australia.