In the northern part of California's exquisitely beautiful wine country, Sonoma County offers gorgeous scenery, laid-back culture, and a range of outdoor activities perfect for both business and pleasure travels. Sonoma County is a wonderful part of California and offers a variety of fun things to do from the fun wineries of the region to relaxation by the beach.
Best beaches in Sonoma County
From the sun-kissed beaches of Bodega Bay to the pristine serene beaches further north, Sonoma County is a paradise. The sound of the crashing surf will relax you as you enjoy sunbathing, or spend a day walking along the shoreline. Here are the 9 best Sonoma County beaches to add to your next trip to California.
1. Blind Beach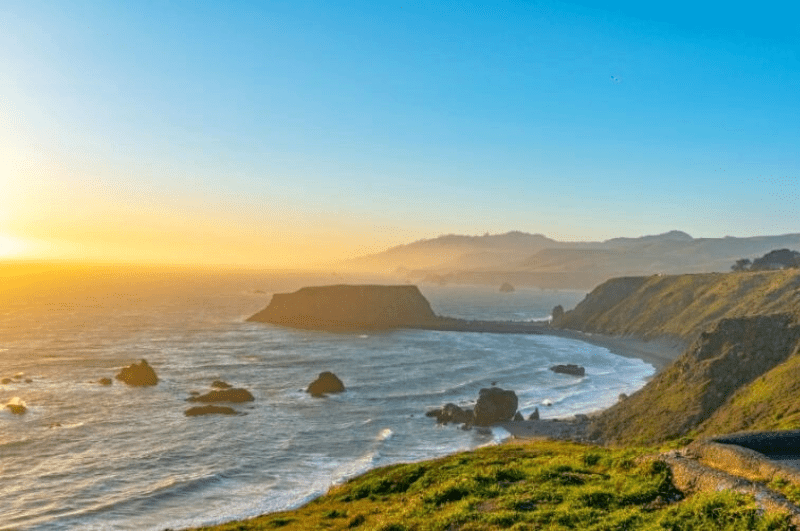 Blind Beach is a relatively secluded beach with photogenic rocky outcrops in the ocean. The beach is so sandy that it's perfect for building sand castles or beachcombing. The beach is long so you can run with your dog along the beach.
Attractions nearby
Sunset Boulders: A set of boulders that are great for rock climbing for kids and beginner rock climbers.
Mammoth Rock: A blueschist rock that existed since mammoths used to live here.
Peaked Hill: A lookout point that's a short and steep climb to experience panoramic views.
Amenities: restrooms and parking lot
Dogs allowed: Yes, dogs are allowed on leash.
2. Bodega Head Beach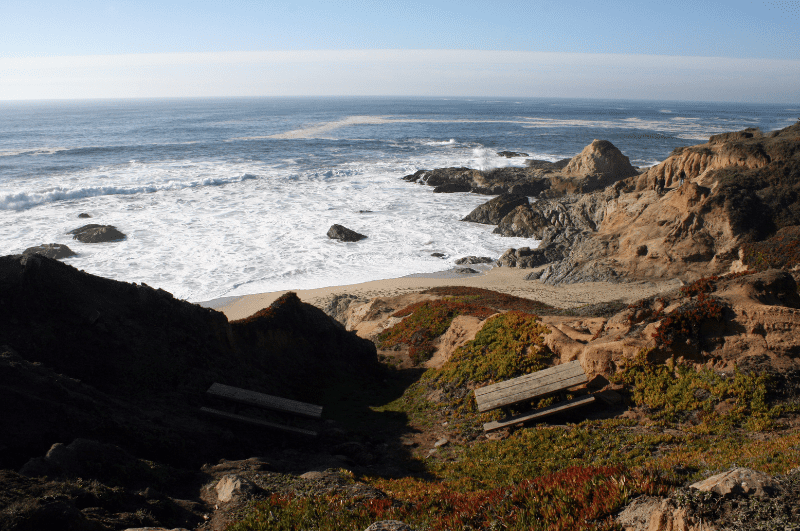 This is a must-see rocky beach when you're in Bodega Bay. Even though it's a small beach, Bodega Head Beach provides landscape views of the ocean.
It's a great beach to go whale watching or take a lunch break at its picnic area. The beach is surrounded by hiking trails so take the time to explore the headlands.
Attractions nearby
Bodega Dunes: Coastal sand dunes on Bodega Dunes Beach
Hole in a Head: Previously planned to be a nuclear plant, it is now a freshwater pond. You'll see lots of birds on and around the pond.
Westside Regional Park: A regional park that's great for hiking, boating, and fishing.
Amenities: restrooms, parking lot, and picnic tables
Dogs allowed: No dogs are allowed on both the beach and nearby trails
3. Doran Beach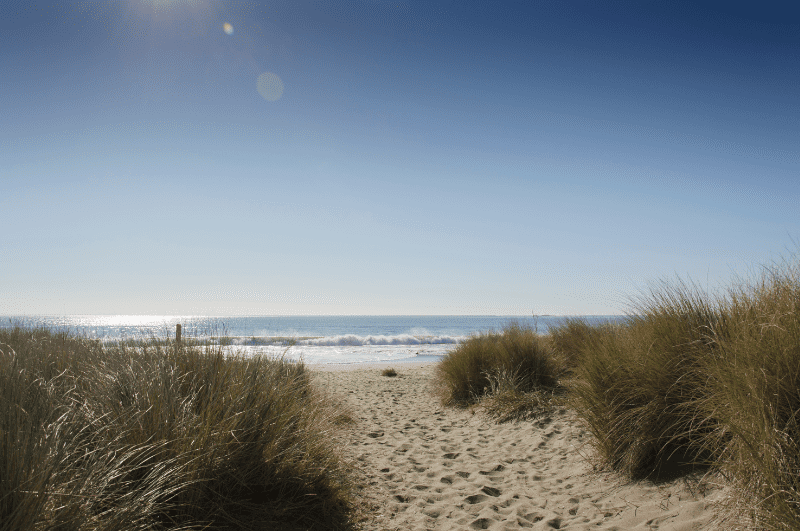 If you're looking to do beach camping, Doran Beach is the place to go. You'll find more than 120 available campsites to book any time of the year.
Doran Beach is a part of Doran Regional Park that's popular for bird watching and surfing. The beach is also a great fishing spot as it's got a fishing pier, boat launch, and other facilities.
Attractions nearby:
The Links at Bodega Harbour: An 18-hole golf course with beautiful ocean views
Bird Walk Coastal Access Trail: A 1-mile trail through a marshland; perfect for birdwatching
Bodega Bay North Jetty: A popular fishing pier
Amenities: restrooms, parking lot, picnic tables, BBQ pits, fire pits, boat launch, and a campground
Dogs allowed: Yes, dogs are allowed on leash.
4. Goat Rock State Beach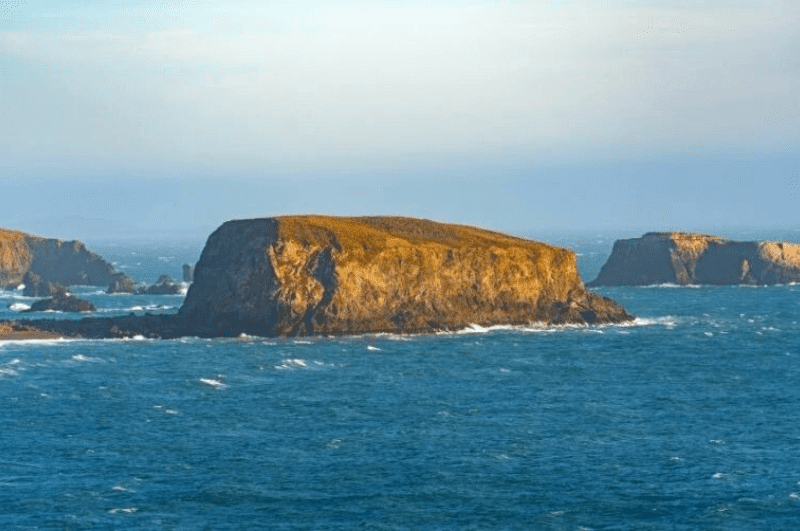 Popular for its dramatic view of Goat Rock, this beach is also popular for its big waves. If you are a fan of gulls, you can observe California Gulls, Western Gulls, and Ring-Billed Gulls flying around Goat Rock.
Look out for sea lions, river otters, and seals. If you're here between March and August, you can see harbor seals during its pupping season.
Attractions nearby
Russian River: The second largest river in the greater San Francisco Bay Area region
Russian River Bridge: A historic bridge that crosses the Russian River
Amenities: restrooms, parking lot, picnic tables, and BBQ pits
Dogs allowed: No dogs are allowed.
5. Portuguese Beach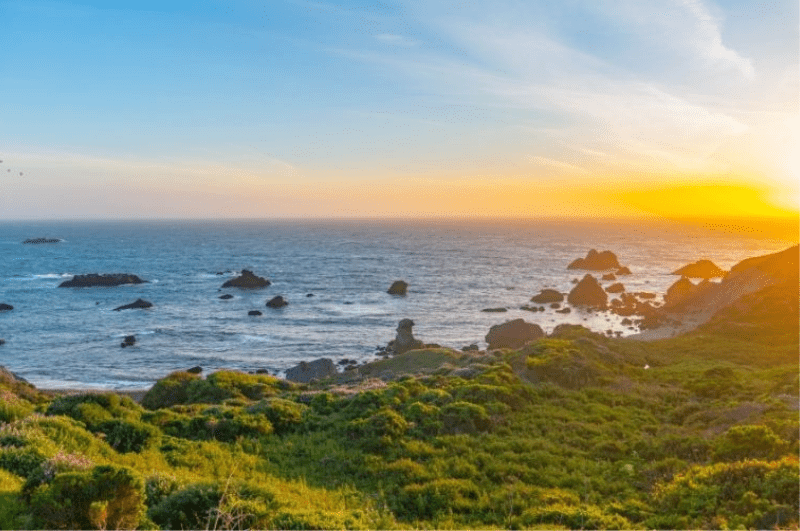 Portuguese Beach is one of the longest sandy beaches in Sonoma County so it's perfect if you love walking along the beach shoreline. Because this beach is so wide, it's great to watch the sunset and admire the colorful sunset sky. This beach's waves can be strong and unpredictable so provide with great caution.
Attractions nearby
Scotty Creek: A creek that flows into the Pacific Ocean
Nom Nom Cakes: a local bakery using organic and high-quality ingredients
Amenities: restrooms, parking lot, and picnic tables
Dogs allowed: Yes, dogs are allowed on leash.
6. North Salmon Creek Beach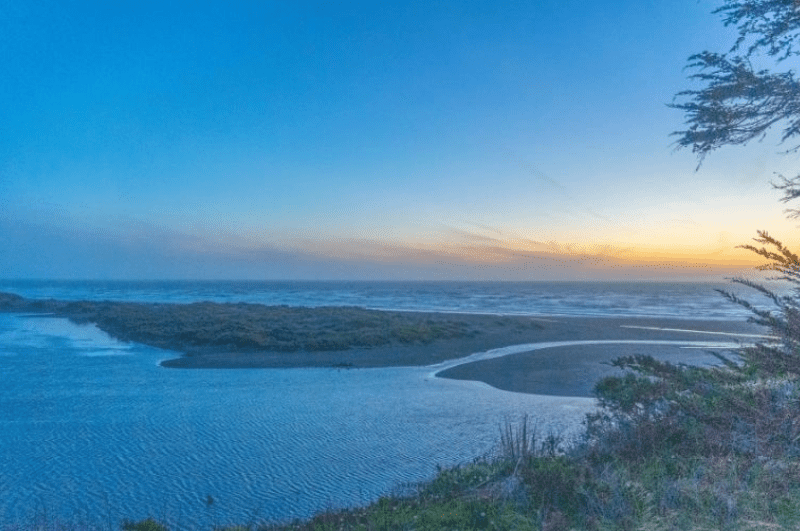 This scenic beach includes Salmon Creek and driftwood laying around the area. You'll also see teepees made from driftwood.
While the beach is beautiful, the waves can be dangerous. The North Salmon Creek Beach is infamous for shark attacks so it's best to enjoy this beach from the shallow waters.
Attractions nearby
Chanslor Ranch: A horse ranch that offers guided trail rides, pony rides, and more.
The Children's Bell Tower: A structure with 140 bells built in the memory of a 7-year-old boy.
Amenities: restrooms and parking
Dogs allowed: No dogs are allowed.
7. Schoolhouse Beach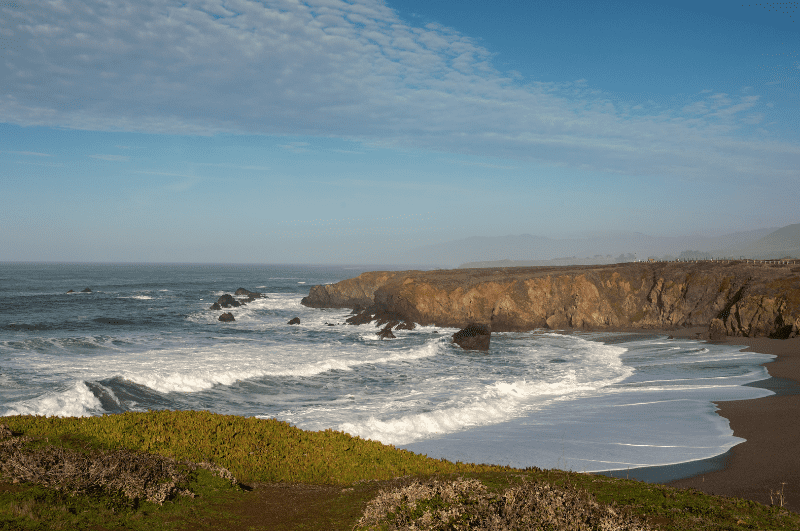 The Schoolhouse Beach is protected by a sandy cove and is known for fishing and its tide pools. In the tide pools, you can find a variety of organisms including starfish, clams, sea anemones, and mussels.
If this beach looks familiar, it's because it was one of the filming locations for the movie "I Know What You Did Last Summer".
Attractions nearby
Carmet Beach: A nearby beach that is small, secluded and rocky.
Arched Rock Overlook: A view of the beautiful Arched Rock.
Amenities: restrooms, parking, and picnic tables
Dogs allowed: Yes, dogs are allowed.
8. Shell Beach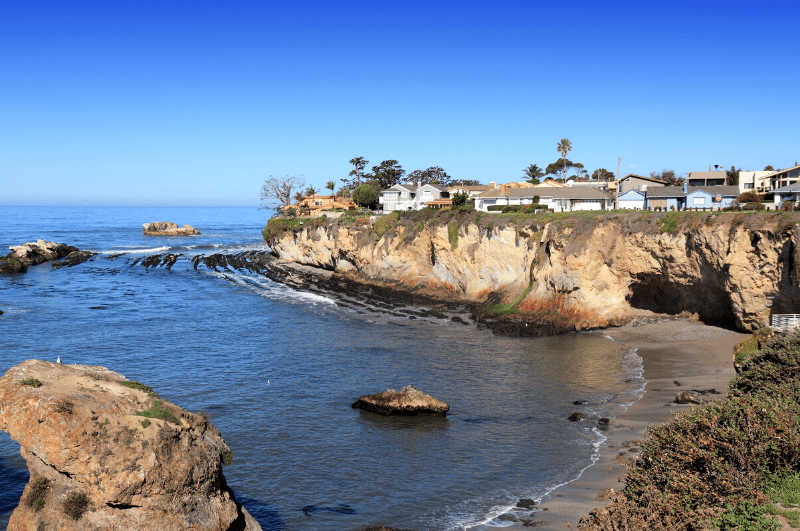 Compared to other beaches, Shell Beach is narrower but attractive for its tide pools and nearby trails. Look for shells and hermit crabs in and around the tide pools.
You'll also find mussel-covered rocks; perfect if you're fishing for mussels. This beach also has black sand; a nice contrast to the vivid sunset colors.
Attractions nearby
Red Hill to Pomo Canyon Trail: A 5.9-mile trail through the redwoods with views of the ocean.
Kortum Trail: A 8.9-mile trail along the Sonoma coastline.
Amenities: restrooms, parking, and a campground
Dogs allowed: Yes, dogs are allowed.
9. Jenner Beach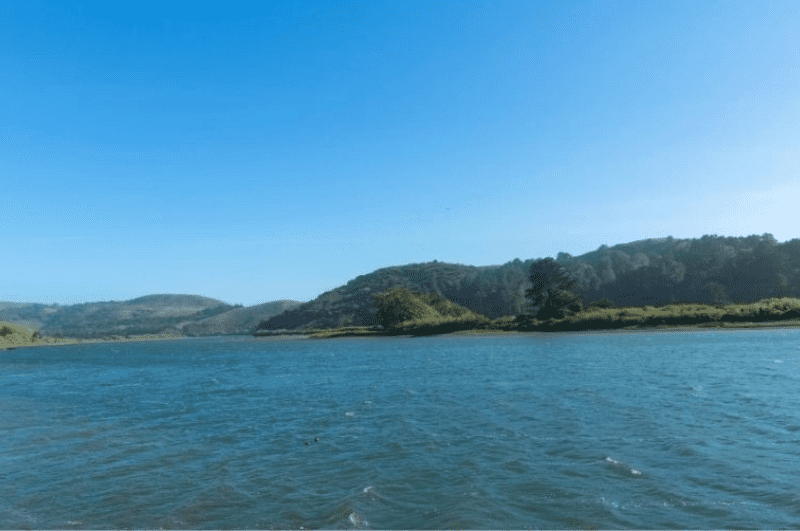 The northernmost beach on this list, the Jenner Beach provides scenic views of Sonoma's hills. You can also see the mouth of the Russian River flowing out to the Pacific Ocean at this beach.
You'll see sea stacks scattered in the ocean. This beach also has man-made teepees built out of driftwood.
Attractions nearby
Jenner – Sea Lion Restplace: A viewpoint to see sea lions relaxing near the beach.
Jenner Headlands Preserve: A nature preserve that takes you through Douglas-fir and redwood forests.
Amenities: free parking on the road
Dogs allowed: No dogs are allowed.
Save this Sonoma County beach list for later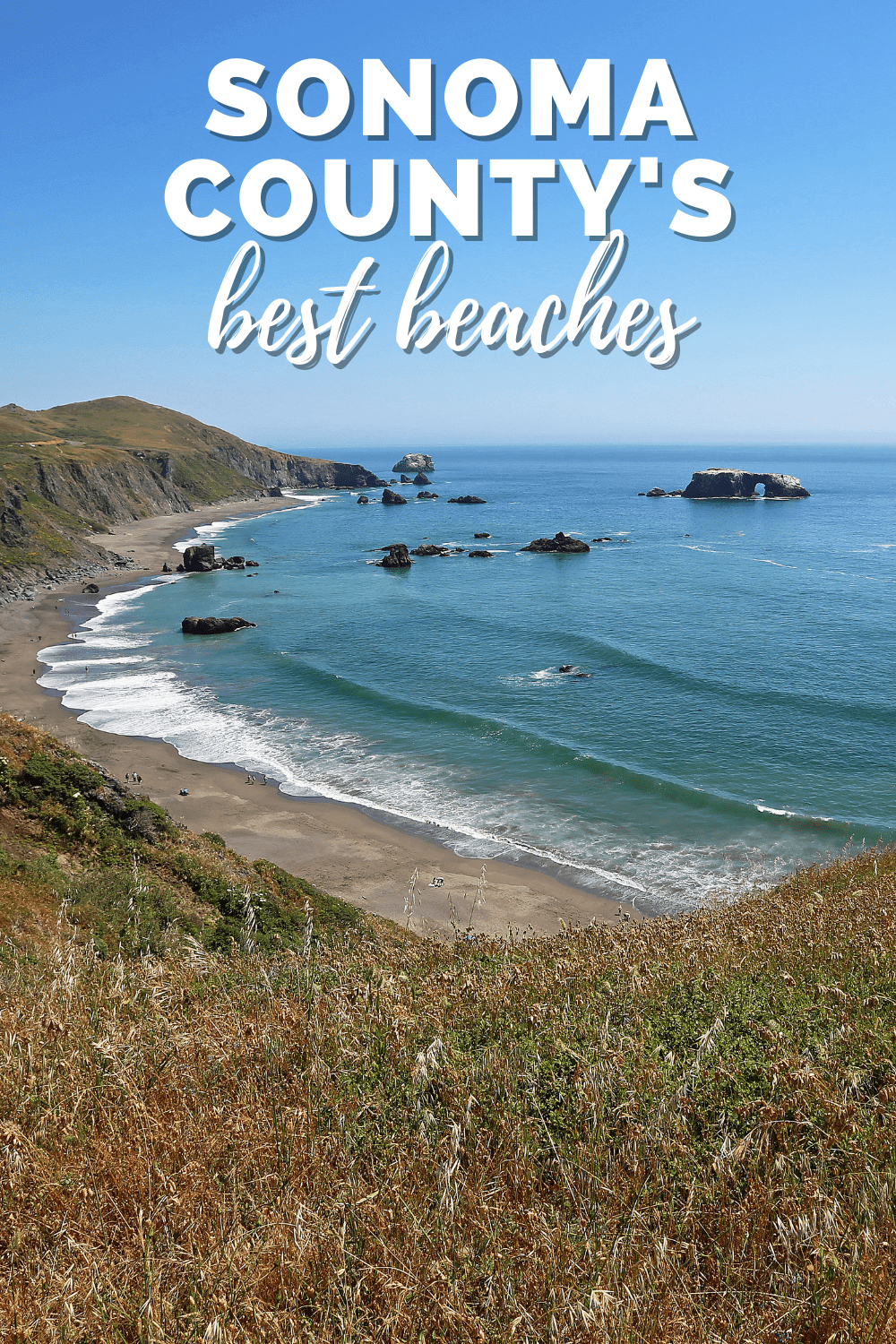 FAQ about Sonoma County beaches
While Sonoma County has some of the most beautiful beaches in California, you might still have some questions about these beaches before adding them to your itinerary. Here are the most frequently asked questions about the beaches in Sonoma County:
Where can I swim in Sonoma?
While most of the Sonoma Coast State Park beaches are not recommended for swimming due to their huge waves, there are still options along the coast. Both located in Bodega Bay, Campbell Cove and Doran Beach get milder tides and are great options to go swimming.
Are Sonoma Coast beaches open?
The Sonoma Coast beaches are open but it's best to check the California Department of Parks & Recreation website if there are any local restrictions. The Sonoma Coast State Park has an $8/day use fee.
Does Bodega Bay have a beach?
Yes, Bodega Bay has multiple beaches including the best ones on the list: Bodega Head Beach and Doran Beach.
Can you swim at Jenner beach?
The waves might be dangerous to swim, but you can try kayaking or canoeing on Jenner Beach. The waters will be shallow near the Russian River so you can dip your feet into the cold water but it's not recommended for swimming.
Where can you camp in Sonoma Coast State Park?
Beach camping is a one-of-a-kind experience and I highly recommend trying it on Sonoma Coast. You can choose to camp at any of the four campgrounds: Wright's Beach Campground, Bodega Dunes Campground, Pomo Canyon Campground, or Willow Creek Campground.
What's the best time to visit Sonoma County?
If you're visiting Sonoma County for its beaches, it's best to come between June and October. The weather gets cold, foggy, and damp during the rest of the year so summer is the best time to experience these beaches.
Before heading out to any of these beaches, check the weather to make sure it isn't too foggy or windy. It's also highly recommended to dress in layers due to the unpredictability of coastal weather.
Conclusion: Best Sonoma County beaches
Sonoma County is one of the most beautiful places in California, and in a county like this, there are many beaches you can visit that offer completely different experiences. So, whether you're looking for an ocean adventure or a more relaxing activity, you will find it here.
Rasika is the owner of the travel blog Bae Area and Beyond. She is from the Bay Area and her blog covers California destinations. She hopes that her readers will fall in love with California, just like she did.